Best Scooter and Bike Helmets For Kids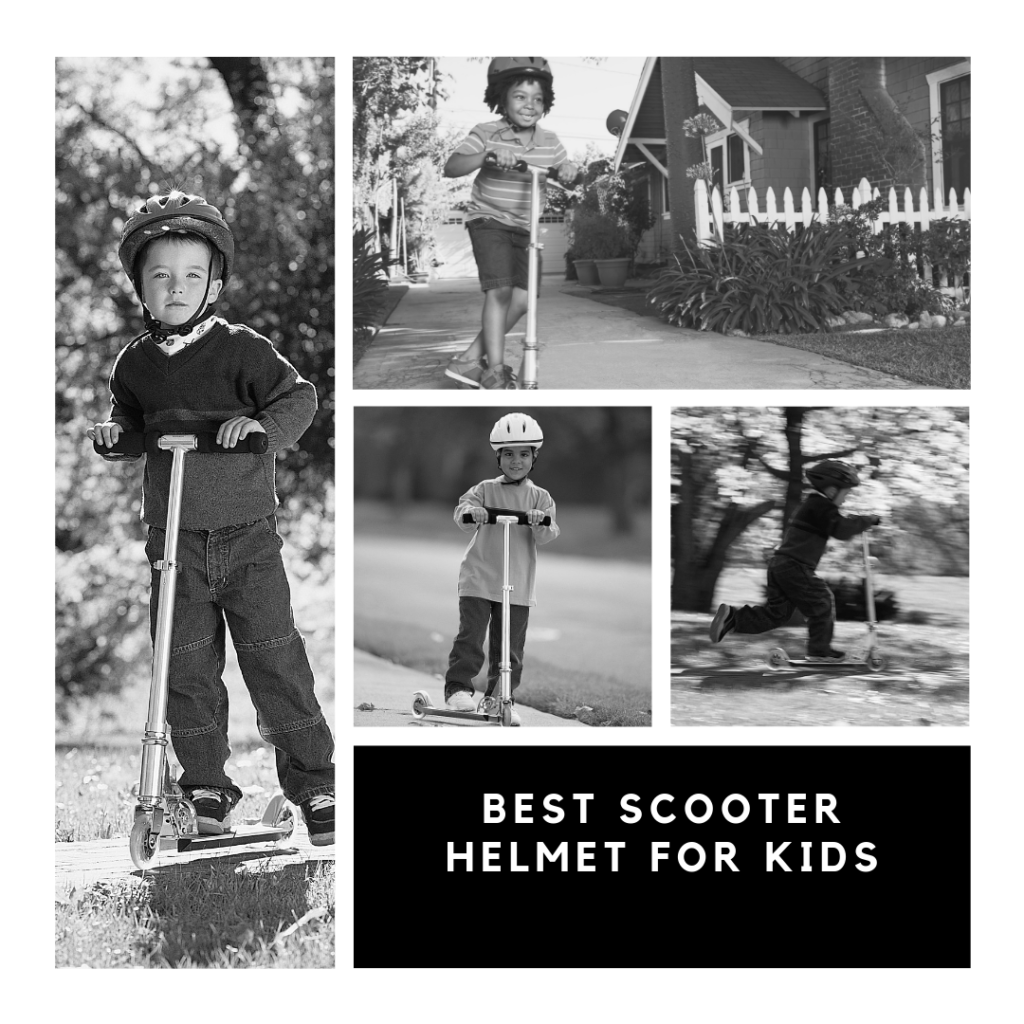 Safety is always the number one priority when kids are riding a scooter (or anything else speedy with wheels such as balance bikes). A helmet provides protection for the kids and peace of mind for the parents. But buy the wrong one and you will encounter a whole host of problems. Firstly it won't offer the right protection and secondly it's likely your child will refuse to wear it.
It's therefore very important to make the right choice? But, do not fear!  Find below a comprehensive guide on picking the right helmet for your child as well as lots of helmet suggestions to suit all budgets.
What to consider when buying a child's helmet?
1.) Choosing the right size - this is important for obvious reasons. A helmet which is too tight will be uncomfortable but if it too loose it will move around and not offer the protection needed.
Generally helmets will give a head circumference measurement in cm to help you choose the right size. When measuring you child's head take the following step use a fabric measuring tape and measure around your child's head about 1 inch above the eyebrows. Wrap around the head and keep it level to get the full measurement. If you don't have a fabric measuring tape, you can use some string, mark it and then measure it against a ruler.
This measurement is a good starting point, but to ensure the helmet fits correctly it should have about a gap of an inch between the eyebrow and the helmet. If the helmet is too big, it will move around too much. If it is too small too much of the forehead may be visible.
2.) Dial adjustments, straps and pads - most helmets come with straps and pads so you can adjust the helmet according to the size of a child's head and as they grow.
Lots of helmets also have dial adjustments at the back of the helmet which can be much easier to use and give an excellent fit.
Some helmets come with a range of inner pads which are interchangeable to help achieve the best fit for a child.
The adjust straps should form a tight v under a child's earlobes. The strap should be securely fit underneath a child's chin (snug but not too tight). They should still comfortably be able to open their mouth with it secured.
Foam pads and / or a dial at the back can also adjust to the size of your child's head. They may need adjusting to fit and as they grow.
3.) Ventilation and sweat lining - many helmets have holes for ventilation, so a child's head won't get too hot and sweaty which will ultimately lead them to want to take it off. Sweat saver lining may be fitted into the helmet to absorb any sweat. Some sweat saver lining are treated with anti bacterial properties. Others are removable and can be fully washed.
4.) Safety - what safety standards does it meet? Helmets in the UK should meet European Safety Standards of EN1078.
5.) Comfort - many helmets have foam linings so the head fits well and is comfortable. It's also worth checking how heavy the helmet is. Lighter helmets will be much more comfortable to wear.
6.) Does it appeal to your child?  A good idea to ensure your child will wear the helmet is to get them involved in choosing it. What style would they like. Younger kids may be attracted to gimmicky helmets where older kids will want something more grown up. If you are buying in a store, take them along to get them to try some on so they can pick the one which is most comfortable.
Terms You Might See
EPS foam - the interior of a helmet may contain EPS foam or an EPS shell. EPS refers to expanded polystyrene.
In-mould design / construction -  a popular helmet construction. The in mould helmet has a hard plastic outer shell bounded together with an inner shell with EPS foam to absorb impact. They design offers high levels of protection while cutting back on weight.
MIPS technology - MIPS stand for multi-directional impact protection system. The people behind MIPS realise that when people fall from bikes they tend to hit their head from an angle. So, whereas traditional helmets are designed to protect against a direct impact, MIPS technology is designed to produce better protection from angled falls and the rotational force that results from it.  It is the latest technology and does tend to cost more. There are arguments for and against MIPS. Some people believe it is a marketing gimmick but others are firm proponents that it offers increased protection from brain injuries.
Polycarbonate - polycarbonate is a type of plastic and is often a material used to make the outer shell of a helmet. It's very tough and therefore very hard to break!
XJD Helmets - Size suitable from toddlers to up age 13
The XJD helmet comes in different sizes and colours to suit boys and girls of all ages.
It's design with multiple vents and breathable foam helps keeps heads cool.
The inner shell has high density EPS inner shell and soft liner, which could absorb external pressure.
The durable ABS outer shell is impact resistant and durable.
It features an adjustable buckle and straps to achieve a better fit.
It also complies with EN safety standards.
As you'd expect from a big, well respected brand like Micro, these helmets are top notch quality.
It's sized for kids with a head circumference of between 48 to 52cm. There is a rear adjustment wheel to ensure a snug fit as well as adjustable straps and a quick release buckle.
The helmet has a lightweight inner shell. Theres extra padding for comfort and a snug fit. Added air vents keep the head cool.
It conforms to safety standard EN1078 safety standard. Perfect for scooting or biking.
3Style Scooters Safety Max Helmet (Awesome Designs to Choose From)

Looking for something funky at an affordable price? The 3 style scooter could be the perfect choice.
It has a circumference of 49cm to 53cm and is designed for kids aged approximately 4 to 9 years (although it's important to go by the head size rather than the age recommendation).
It's constructed of a foam interior with a rigid EPS outer shell and coated in durable plastic. It's tested to EN1078
There are 8 vents for ventilation.
For a snug fit, it has an adjustment wheels, adjustable straps and a buckle for fine tune fitting.
If you're looking for an affordable helmet from a well respected brand, Raleigh mystery helmets are one to check out.
The eyecatching spiderman and pink floral helmets will appeal to superhero fans and kids who love pink!
Not only do they look cool, they keep heads cool as well with 12 vents and air flow ventilation.
They have a flat back, which is ideal for kids sitting in child seats.
Achieve the perfect fit! They come in two different sizes and are fully adjustable with LED dial fit adjustment, cam lock side strap adjusters and a nexus chin buckle.
They have sealed inner pads for comfort. And the integrated visor will help keep the sun off their little faces. The helmet with full in-mould construction weighs 225g.
Giro Children's Tremor Helmet
Giro is a well respected brand for making both adult and child's helmets, and is of exceptional high quality. So what excels with the tremor?
Firstly the fit. It has a very easy to adjust dial system. It's large dial with a rubber grip makes it easy to use, especially when it's on a child's head. As the dial adjustment system is so good, the side straps on the helmet won't need adjusting. One less thing to do on a fidgeting child! It features a standard buckle to connect underneath the chin.
It's lined with high end sealed pads made of high quality performance material to absorb any sweat. The 18 vents will keep heads cool in warm weather.
It has a visor which extends out quite far (much more than most helmets) so will protect children's face from the sun.
The helmet is an in-mould polycarbonate shell with EPS liner.
Finally it comes in lots of different colours to choose from.
Grit Scamp - A Top Choice For Toddlers
Looking for a perfect fit for a toddler or small child? The Giro Scamp is an ideal choice.
It has two sizes, an extra small (43-49cm) and a small (49-53cm)
What really sets this helmet apart from it's competitors is the easy to use adjustment system. It features an easily adjustable dial at the back. The side straps also adjust for an optimal fit. The under chin buckle can be securely fastened to keep it in place. Perfect when trying to fit the helmet on a toddler who won't keep still!
The in mould construction with polycarbonate outer shell and EPS lining is lightweight and comfortable to wear.
The helmet has a narrower profile at the back and is well suited to trailer or bike seat use too.

Bell Sidetrack with MIPS Protection

If you're looking for a helmet with MIPS protection, the Bell sidetrack is a well respected brand and an excellent choice.
It features a mountain bike shape and boasts excellent head coverage with lower coverage of the back of the head.
There is a removeable head visor and ventilation is covered with 15 vent holes!
Construction is an in-mould polycarbonate shell with EPS liner on the helmet which fits a head circumference of 50 - 57cm
Easily adjustment with a sleek dial system for one handed adjustments. It's a smaller dial system than the tremor and no rubber grip, but it does the job! The sliders on the side straps can be adjusted to fit better  and the buckle clips underneath the chin.
Prowell K800 Cycle Helmet
Prowell are a designer and manufacturer of cycle helmets in the UK. They make helmets for adults and children using their own S.M.A.R.T technology and pride themselves on producing lightweight helmets which have fantastic ventilation.
The helmets are designed to protect riders in accidents where they may have an initial impact and then slide into a road or a kerb.
The helmet fits a head circumference of 52cm to 58cm (an age recommendation of approximately 5 to 11 years old.)
Prowell helmets use EPU material inside their helmets. EPU is Expanded polyurethane which is the same material used by some German car manufacturers in their car bumpers. They have designed a unique "dual-density" structure which means the outer shell of the helmet has a harder density to resist and distribute any impact to a wider area. The soft inner density then absorbs the shock energy.
The K800 has a small, built-in visor and rounded shape to protect against impact from the rear.  Large vents and C-rib structure provide top-class ventilation. This makes the K-800 not only a helmet of solid quality and rock safety, but also light and cool.
LA Sports Junior Kids Helmet
LA sports have an affordable budget helmet option. It's sized at 49.55 to 55cm for kids around ages 3 to 8 (as a rough gudie)
It's constructed with an ABS outer shell and EPS inner liner to aborb impact. There is a
n adjustment dial at the back which is accompanied by an adjustable chin strap to achieve the right fit.
11 air vents keep the rider's head cool and comes in lots of different colours.
LA Sport Dinosaur Helmet

If you're having trouble convincing a young child to wear a helmet, the dinosaur helmet from LA Sport
 may be the answer to your problems.
The design is very appealing to young children. It fits a head circumference of 49cm t0 55cm (for kids around 3 to 10 years of age).  Adjustable black straps and with buckle and separators ensure it
The rear adjustment wheel, adjustable blacks with buckle and separators can give a precise fit. The outer layer is plastic and the inner layer is EPS foam.
There's 7 air vents to help keep the head cool.
A fab choice for young dinosaur fans in particular.
How To Get My Child To Wear a Helmet
Many children are reluctant to wear a helmet. They resist and try to take it off. There are ways to help encourage them to keep a helmet on their hands:
1.) Lead by example. If you are riding a scooter or a bike, make sure you wear a helmet as well. Likewise, make big brothers and sisters wear their helmets too. Kids are more likely to wear a helmet if everybody around them is wearing one.
2.) Involve them in choosing the helmet. Encourage kids to look online or come with you to the shops to pick the design and colours they like.
3.) Talk to them. If they are hold enough, make sure they understand the reasons behind wearing a helmet and why it is important.
4.) Play hardball and be consistent. Let them know that it's their decision but they can't ride their scooters or bikes unless they wear a helmet. This can make it really simple as no arguments are actually needed. Just keep following the one rule.
5.) Reward them. If you prefer the carrrot rather than the stick, offer them a small reward for wearing their helmet.
6.) Make sure it's comfortable and it fits. This may be the reason behind why a child is reluctant to wear a helmet. It's not going to be something they want to do if it's uncomfortable to wear and doesn't fit correctly. Poor ventaliation can be another reason why children remove their helmet. Their head simply gets too hot and sweaty, so wearing it becomes uncomfortable.