Razor Power Core E90 Scooter Vs Razor E100 - Which One is Best?
If you're looking for the first electric scooter for your child, it is likely you've come across the Razor Power Core E100 and the Power Core E100.
They are similar in many regards; they are both recommended for kids aged 8, a kick start in hub motor and the same maximum rider weight capacity. They also have a lot of differences, one being the price. They have different tyres, motors and run times. So how do you know which one will be best for your child?
Read on to compare and understand the differences between these electric scooters.
*This post has affiliate links, which means we may receive a small commission if you choose to purchase through links we provide (at no extra cost to you). As an Amazon Associate we earn from qualifying purchases.
Comparison at a Glance
Feature
E90 Power Core
E100 Power Core
Age Recommendation
8 plus
8 plus
Price
Check Price on amazon
Check Price on amazon
Tyres/Wheels
Urethane
8 inch pneumatic front wheel
125mm Urethane rear wheel
Ride Time
80 minutes
60 minutes
Acceleration Control
Push button
Twist grip acceleration
Brake
Hand operated front brake
Hand operated front caliper brake.
Frame and fork material
All steel frame and fork
All steel frame and fork
Maximum rider weight
54kg
54kg
Batteries
12V
24V (2x12V)
Kickstand
Yes
Yes
Motor
Kick Start In Hub Motor
Kick Start In Hub Motor
Assembled Product Dimensions
32.5" L x 16" W x 36" H
33.7" L x 16.5" W x 35" H
Weight
10kg
12kg
The table may or may not help you decide which scooter is best for your child, so read on for some explanation of the different features and more comparison.
Razor Power Core E90 - Summary
The E90 is slightly lighter, so will be easier for a younger child to manage. If you are on a budget, it is also cheaper, although there isn't too much in the price. The push button control may also be easier for younger children to use rather than a twist grip acceleration.
​
The E90 features 2 urethane wheels whereas the E100 has a pneumatic front wheel. Pneumatic wheels give a smoother ride over pavement bumps but urethane wheels don't run the risk of a puncture.
The maximum speed is 10mph compared to 11mph on the E100.
A cool advantage the E90 has over the E100 is a significantly longer ride time at 80 minutes.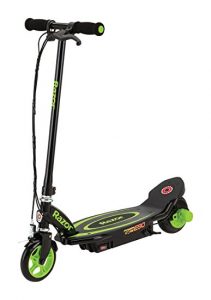 ​
Verdict 
- a brilliant choice
 for the younger child and if you are on a budget. If you are buying for an older child and you have more to spend, it may be worth paying that bit extra for the E100, especially if having a more comfortable ride with a pneumatic tyre is important to you.
Razor E100 Power Core - Summary
It is slightly quicker than the E90, with a top speed of 11mph.
One area where the E100 supersedes the E90 power core scooter is the front pneumatic tyre. Air-filled tyres offer a more comfortable ride over pavement cracks and bumps than urethane wheels. They also offer better traction over wet surfaces when it's been raining. On the downside, you may need to deal with a puncture.
The ride time is a lot shorter than the E90 power core scooter with 60 continuous minutes on the E100 compared to 80 minutes on the E90, so you will need to charge this scooter more often.
​


​Verdict - The pneumatic tyre is also a big plus point, and this may be the deciding factor. If you want the comfort and smoothness a pneumatic tyre offers, this is the choice for you. It's slightly quicker too, although the battery life is shorter.
Age Recommendation and Maximum Rider Weight.
The scooters are recommended for kids age 8 plus. However, there are younger kids who have used the scooter, so it may be okay for a mature 6 or 7 year old. It would be up to parents and carers to make a judgement.
​
The next scooters Razor make are recommended for ages 13 plus but again, 11 and 12 year olds may find these better options. So it's worth considering the Razor E200 and E300 for these children.
The maximum weight limit for use on both scooters is 54kg, so this may give you some idea of the length of use your child will have. If you have a 10, 11 or 12 year old getting close to this weight limit. It may be worth going for another scooter.
These scooters are obviously not for use by teens or adults.
Motors and Ride Time
Both the E90 and the E100 have an in-hub motor. The advantage of the in-wheel hub motor is that there is no maintenance to worry about (no alignment, no chain, no chain tensioner).  It also delivers a more efficient ride.
Kick Start and Acceleration
Both scooters require a kick start of 3 km/h in order to get started. Once the motors have started, the E90 has a push button that kids will press in order to start the motor. The E100 has a twist acceleration on the handlebar.
Neither of these have variable speed. Younger kids may find the push button slightly easier than the twist control but it should be fine for most kids.
Size and Scooter Weight
The E90 weighs slightly less than the E100 at 10kg vs 12kg.
The difference is minimal, but a lighter scooter should be easier for younger kids to control. It's also easier to pick up and carry when needed.
The frames are very similar in size. The differences are minimal so are not a major factor in deciding which is the best scooter. Surprisingly the E100 is an inch shorter than the E90 but it is slightly longer in length and width.
Wheels and Tyres
The Power Core E90 has urethane wheels. The major advantage of urethane wheels is that you don't have to worry about punctures. The downside is they wear quicker than pneumatic tyres. They also don't absorb the impact from bumps in the pavement as well.
The E100 does have a larger front wheel with a pneumatic tyre, which will result in a smoother and more comfortable ride.
Run Time
The Power Core E90 beats the E100 hands down in run time with 80 continuous minutes vs 60 continuous minutes.
A good way to get around a shorter ride time is to have a spare battery that you can charge while the other one is being used.
Other Features
Both scooters have a kickstand, which is really useful when storing the scooters.
More Reviews
If you're still unsure, it may be worth checking out other reviews for both scooters.
Find reviews for the Razor Power Core E90 on amazon.
Find reviews for the Razor Power Core E100 on amazon.
Videos of the scooters