Best Electric Scooter for Kids (by Age)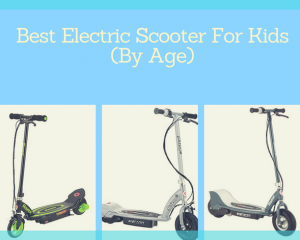 *This post may have affiliate links, which means I may receive commissions for ebay and amazon if you choose to purchase through links I provide (at no extra cost to you).
If you are buying an electric scooter for a child, than the age you are buying for will be very important. Younger kids will want a scooter with lower speeds to make sure that they are safe. Older kids, teens and adults will want more powerful scooters.
Do you know about twist grip acceleration, expected battery life, the best deck size and the top speeds you should be aiming for? As well as recommendations of electric scooters by age there are also top tips on what to consider when buying an electric scooter.
Age:  3 - 5 year olds
There are electric scooters for kids as young as 3 but the speeds they reach will be as little as 2mph. Otherwise you are looking at scooters with the lowest speeds of 8mph.  If you're buying for a very young child, it's a good idea to buy a 3 wheel electric scooter like the iscoot featured below:
Iscoot Electric Scooter
These 3 wheel electric scooters make a perfect first motorised scooter for little kids.
The top speed is 3.5 km / h so you don't have to worry about them going too fast.
There is  one button push control and there is a run time of 40 minutes on one charge. The scooter takes about 8 hours to charge.
✔️ 
Tyres - Electric scooters will have either polyurethane or pnuematic tyres. Polyurethane are fine for lighter use and for younger children but older kids and adults will definitely require pnuematic tyres to give them more tread when riding and to take the extra weight. However, pnuematic tyres will cost more.
Polyurethane wheels will only be suitable for use on smooth surfaces and it is more likely to wear quite quickly but they won't puncture. If you intend to use the scooter for long commutes or for use off road you will when to choose a scooter with pneumatic tyres. 
Razor E90: Recommended Age: 8 Years Old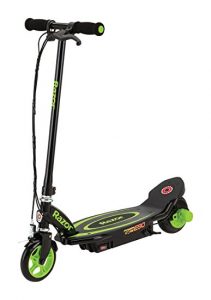 This Razor Scooter is aimed for kids age 8 plus. However, ther are 6 and 7 year olds that can used this scooter.
It goes up to speeds of 10mph. If they ride a bike, they may very well go faster than this electric scooter when riding a bike so that gives you a benchmark as to how fast the scooter is and whether it would be suitable for your child.
The scooter has a kick start and also a push button throttle.
It has a puncture proof urethane front wheel.
​It gives about 70 minutes of continuous use on one charge. It takes about 12 hours to charge.
There's a hand operated front brake. ​
Verdict - a good first scooter for younger children.
​
✔️ 
 Battery Life and Ride Time. Most scooters have a ride of around 40 to 50 minutes of continuous use on one battery charge. However, the more powerful scooters will require a larger battery to give the same amount of ride time. 
Razor E100 - From 8 Years Old
The E100 is also aimed at kids from aged 8 and goes up to 10mph.
It does differ somewhat in comparison to the Razor Power Core E90. The frame height and width is slightly bigger. It has a twist throttle on the handlebar rather than a push button throttle. It has a slightly higher maximum weight ride at 54kg.
It can have 40 minutes continuous ride time. The initial battery charge takes 12 hours but users report that it is quicker to charge when charged after this.
It features a 8 inch pneumatic front tyre and a urethane rear.​
Not sure whether to go for the Razor Power Core E90 or the Razor E100 electric scooter. Check out a comparison here.  ​
✔️ 
 Speed -
The speed of the most common and popular electric scooters tends to range from 10 to 15mph. There are some scooters which have 8mph as their lowest speed and  there are electric scooters that can reach speeds of up to 20mph. If you choose an electric scooter with a seat the speeds reach around 25mph depending on the weight of the rider.
Razor E200
This is another great electric scooter option with a recommended age of 13 years and above. However, there are reviews of much younger children using this scooter. It has a bigger frame than the E100 but smaller than the E300, it's a good size for older children.
It's features include a rechargeable 24V battery which allows the scooter to go up to speeds of up to 12mph / 19km/h.
It's easy to operate with a twist-grip acceleration control and a hand operated rear brake. The scooter has one speed, and no variable acceleration.
The E200 has two 8 inch pneumatic tyres (as opposed to just the front wheel on the E100) so offers a smooth and comfortable ride. It has an all steel frame and fork and a high torque chain driven motor
✔️ 
  Push button vs Twist Grip Acceleration -
Some scooters features a button which will start and stop the electric scooter. However, for finer control over the speed the scooter goes look for twist grip acceleration. A push button may be easier for younger kids to control and get used to whereas older children may prefer the functionality of twist grip acceleration. Many electric scooters for kids only offer one speed. However,
some electric scooters offer variable twist grip acceleration. These tend to be higher end models.
Razor E300 Scooter - Recommended for age 13 plus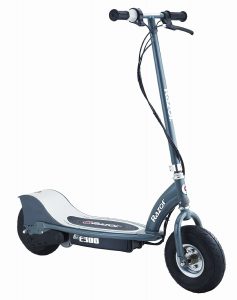 The two 12 volt batteries combined with a 200 Watt motor  makes this scooter powerful enough to travel up to 15mph.
It has rear brake controlled by the lever on the handlebars . It has solid air filled tyres which are inflated to around 40psi. The pneumatic tyres offer a comfortable ride,  It has plenty of tread for urban environments. It comfortably goes over about bumps and lumps on the pavement.
​You can fold the handlebars down so it's easier to transport or store.
The throttle is a twist throttle, it's either on or off. There is no variation in the speed.
It features a chain driven motor. The scooter requires a kick start. It can be used by adults and teenagers.
Not sure if the E300 is right for your child? Check out a comparison of the E100 vs E300 scooter to help you decide.
✔️   Foldable - Some electric scooters have the capacity to fold. This makes them easier to transport and store. It can also make it easier for commuting. For example, you can use a foldable electric scooter to go to the train or bus station and fold it down on public transport. 
Other Features To Consider
A Retractable Kickstand
A retractable kickstand is extremely useful. This will allow you to stand the scooter up when not in use.
Kick Start
Many scooters require a kick start of around 3mph before the electric motor starts. Some require less and some scooters don't require any kick start for the motor to work. Kids should have and trouble getting a scooter up to 3mph but it may be something you want to consider when purchasing.
Type of Terrain
If you are likely to use a scooter off road you will want a dirt scooter with pneumatic tyres designed to withstand rougher terrain.
Maximum Weight
Pay careful consideration to the maximum weight of the rider. Some scooters have a faily low weight limit so will only be suitable for children. The weight limit of the scooter may also affect the length of time your child will be able to use the scooter too.
Brakes
Scooters should either have a hand brake or a foot brake to slow down
Purpose
Why you are buying the scooter will very much affect the one you choose. If you are buying for a child, factors such as fun, safety and battery life will be most important. However, many people now use electric scooters for the commute to and from work or via a train station. Therefore considerations will relate to top speeds, battery life, the weight of the scooter (will you have to carry it on public transport?) or whether or not to have a seated scooter will affect the decisions of which ones to buy.
Built In Light
If you are choosing a scooter for the commute another feature you may want to consider is a built in light so you can see where you are going in the dark evenings. Some have just a front light. Others feature a rear one too
How long does it take to charge?
Another consideration is how long the scooter battery will take to fully charge. Again this can be important if you intend to use the scooter daily. A fast recharge time is definitely a bonus. ​
Seat or No Seat
Some electric scooters designed for commuting also feature a seat for extra comfort. Others have the option of removing the seat.
Cost
Obviously the amount you pay will have to be weighed up into consideration to the features the scooter has. When looking at the price of the scooter make sure you have the best features for the money you are paying