Best Scooter Shoes For Kids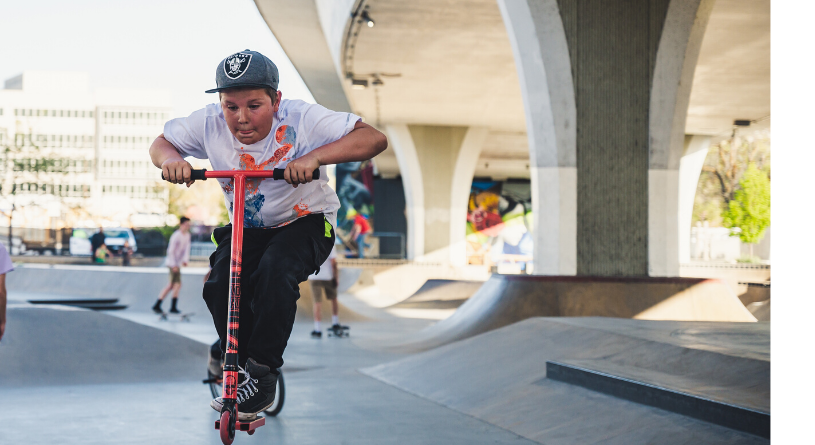 Do your kids scooter adventures ruin their shoes?
Are they getting scuffed? Worn down? Or even worse, have holes?
Yes, I hear you cry.  Then your child needs a pair of shoes designed for scooter riding.
What Type of Shoes Should You Get? 
They need to be hardwearing to withstand the scuffs from riding along the street and / or the impact from jumps and tricks at the skate park.
Whatever scooter adventures they parktake in all scooter shoes should be flat. The upper shoe area should be made of sturdy and hardwearing material. The areas between the different parts of the shoe should be at least double stitched  (or even triple stitched).
Having said this there is not a one size fits all approach. The best shoes for their scooter trips may vary between when and where they use their scooter.  Skate park shoes will be different than shoes used on muddy or wet surfaces. The later need to be waterproof and many shoes for the skatepark are not.
It should go without saying but the shoes also need to be comfy!
Another consideration is the shoe style. No tween or teen is going to want to be seen in something that isn't fashionable. But function is of course just as important.
Luckily there are numerous shoes designed for kids which are perfect for scooter riding on all kinds of terrain and surfaces.
We have 10 ideas below which have been divided into 3 categories
1.) Shoes for the Skate Park
(these should also be good for kick scooting)
2.) Shoes for the School Run
(shoes they can wear also wear at school)
3.) Shoes for Muddy Terrain
(great for dirt scooters)
*This post has affiliate links, which means we may receive a small commission if you choose to purchase through links we provide (at no extra cost to you). As an Amazon Associate we earn from qualifying purchases.
Scooter Shoes for the Skate Park
If your scooter enthusiast spends all of their time at the skate park, check out some shoes below. All of the shoes are designed for skate park use and generally come under the category skate shoes but they are perfect for stunt scooter use as well.
Vans Atwood Canvas Skate Shoe

It's difficult to go wrong with Vans Atwood low top snaker / trainer. They are super competitive on price, super comfortable and look amazing. The sole is made of gum rubber so is perfect for skate park use and the diamond waffle pattern on the sole gives added grip on a scooter.
The shoes are strong with a vulcanized construction with a lace up closure. The outer material is canvas so the shoe moves well with the foot and the inner material is textile which is comfortable to wear.
As it's canvas, Vans aren't the best shoes to wear in very wet weather but for summer scooting they're awesome!
Vans Boys' PALOMAR Trainers

Another option of Vans are the the palomar. These are inspired by modern skate silhouettes and feature Vans iconic side stripe branding.
One of the overiding features of the Palomar is they are designed with comfort in mind. The padded collar and heel area are two features which offer increased comfort and fit for a kids who loves to scoot.
They are strong and durable for skate park with a vulcanized construction, Van's original waffle tread design and legendary gum rubber compound.
Nike Unisex Kids' Stefan Janoski (Gs) Skateboarding Shoes


A longwinded name for this shoe! It features a low top and a low profile with little padding but this ensures maximum freedom of movement and a soft flex right out of the box.
It's made of a leather upper and cushioned midsole for a comfortable fit and excellent sensitivity when scooting.
Scooter riders will love the Nike Zoom Air unit in the insole for responsive cushioning. There's a vulcanised style rubber outsole with classic gum rubber and a soft flex right out of the box.
The full rubber outsole has a special pattern for better traction.
The finishing is also excellent with 4 metal outlets and  double reinforced style stitching.
This is one cool skate shoe!
Adidas Unisex Kids Gazelle

The Adidas Gazelle shoe has been around for a while. And you can see why. How awesome do these shoes look? The burgundy is a fantastic unisex color. They look amazing for skate park wear and everyday casual wear too.
They have an outer materialof leather and a gum rubber sole for durability. Super comfortable for daily wear and durable for the skate park too.
Perfect for kids, tweens or teenagers.
This is one cool skate shoe!
Etnies Unisex Kids Marana Skateboarding Shoes

The Etnies is one of the most durable skateboard shoes but not it's now even more durable - 3 times more durable to be precise!
Etnies has teamed up with the top rubber maker michelin and made a new Marana outsole. The shoe has a rubber toe cap and a hidden lace-up pocket to protect the laces.
The Marana has a lined tongue, a lined shoe collar and one per foam 1 insole for more comfort. Thanks to michelin, the shoe has a durable cup sole made from chicheling rubber.
Cupsoles are better for kids who do a lot of aerial jumps. Cupsoles have more cushioning and a thicker sole, designed for skaters who jump from higher distances. Kids who do more grinds and Ollies will probably prefer the flexbility of a scooter with a vulcanised construction as opposed to cupsoles.
DC Shoes (DCSHI) Boys' Court Graffik-Shoes

Perfect for boy from aged 8 to 16.
Like the Etnies shoe, these have cup construction which makes them more suitable for withstanding landings from aerial tricks.
The features include: leather upper, large DC heel logo, foam padded collar and tongue for comfort, vent holes for breathability and a lightweight mesh tongue.
DC Kids' Pure High-top Ev Skate Shoe

Since 1994, DC shoes has represented a balance of skate meets street casual.
The pure high top skate shoe look cool and are comfortable.
They feature hook and loop strap and elastic laces. A foam padded tongue and collar give added comfort. DC's trademarked pill pattern tread offers grip on the scooter.
Designed to withstand the test of child and skateboard! So perfect for scooter use!
Adidas Unisex Skateboaring Shoes
The Kids Seeley J from adidas combines a leather & synthetic upper with a durable rubber sole. Comfortable and durable for both the skate park and for scooter commutes.
The trainers feature lace up  fastening, cushioned insole and textile lining.
And finished with adidas branding. Cool styling for tweens and teens.
Scooter Shoes for the School Run
There are hardwearing shoes that are perfect for the school run as kids can wear them to scoot to and from school but also throughout the school day.
Vans Boys' Atwood Leather Low-Top Sneakers

If you're looking for a black shoe that could be for scooting on the school run and for school itself, check out the Atwood black sneakers.
They are lightweight and most probably better for the summer term. The outer black material and metal eyelets gives them the "school shoe look". They feature a double-stitching for extra durability.
The signature rubber waffle outsole make them durable and comfortable for scooting. The padded tongue and collar, along with vulcanized construction, offer increased comfort for general wear.
Adidas Unisex Kids' Running Shoes

Another trainer type shoe which is also suitable for school so perfect for the scooter school run is the adidas unisex running shoe.
They are ultra-light running shoes and ensure a comfortable and safe fit thanks to the soft cushioning technology.
The breathable upper made of mixed materials and the cage on the arch support provide extra support.
They have a synthetic fabric upper material and a manmade inner material. The rubber sole make this great for kick scooting along the road.
Scooter Shoes for Muddy Terrain
If your child, likes to ride a dirt scooter or take their scooter along uneven terrain, trail shoes may be the way to go. They aren't lightweight so wouldn't be a good choice for the skate park but if you want a shoe fora muddy / wet surface trail shoes could be the way to go.
Adidas Unisex Kids' Terrex Ax2r K Trail Running Shoe

The adidas unisex kids trail / running shoe is an example of the type of shoe that would be great when using dirt scooters.
Created for young hiking enthusiasts, these kids shoes are a versatile model suitable for all types of outdoor activities.
Featuring a low-cut ankle profile and a fabric upper with protective lining. The soft EVA midsole ensures lightness and cushioning, while the traxion sole provides superior grip on rocky surfaces.
Guide To Buying Skate Shoes for Stunt Scooter Use
Here are answers to all your questions when getting stunt scooter shoes for the skate park as well as lots of information about what to look for in skate shoe construction.
Do I really need skate shoes for using my stunt scooter?
Not really. Most flat pumps will be fine for stunt scooter use at the skate park. However, if you are using your stunt scooter a lot, ordinary pumps / sneakers will wear out quite quickly due to the extra impact they will be put under. Therefore skate shoes tend to be more durable for stunt scooter use.
Vulcanized Construction Vs Cup Sole Construction
There are two main types of skate shoe vulcanized construction and cup sole construction. The best ones for you will very much depend on the type of stunt scooter tricks and use.
Vulcanized shoes
Vulcanized shoes are thinner, lighter and more flexible. They are better for tricks like grinds as they are better with a flexible shoe so you can have greater control over the board. Vulcanized shoes don't have as much cushioning as cup soles but they offer more mobility.
Cupsoles
Cupsoles are better for performing aerial tricks, where the impact from landing is hard. Cupsoles offer more cushioning and a thicker sole.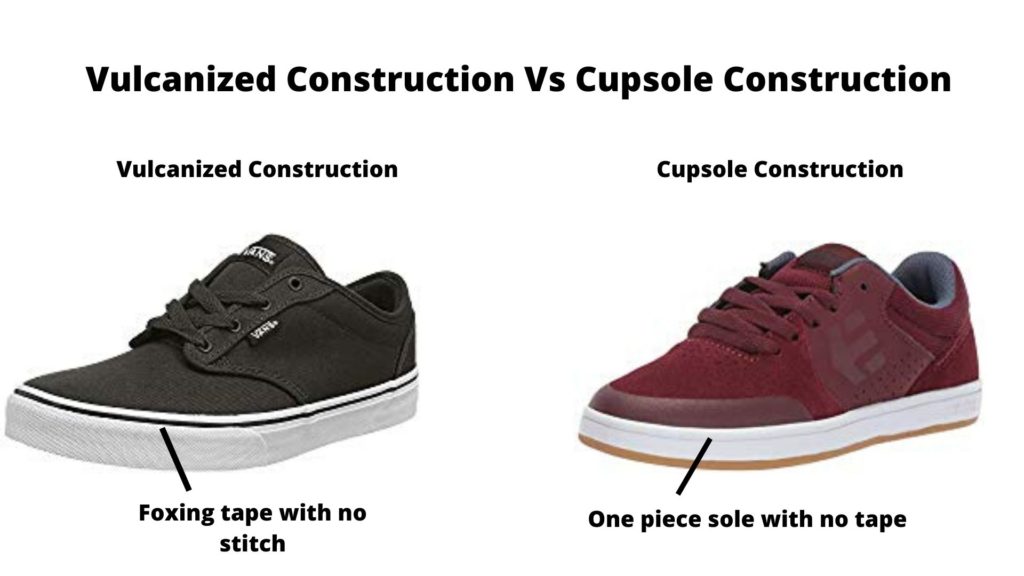 What Material Is Best for the Skate Shoe Sole?
The sole of a skate shoe is very important as it is the main point of contact between the scooter deck and the shoe. The sole should be flat. The best material is gum rubber. Gum rubber offers a lot of grip and is durable.
What about Comfort?
There are many factors which make a skate shoe more comfortable.
You will find that skate shoes have different levels of cushioning that can give added comfort when stunt scooter riding.
Most skate shoes have a midsole which is made from lightweight EVA foam that can help with impact when your foot or board hits the concrete. However, midsoles made from PU foam may last longer.
Some skate shoes have dual heel cushioning. Vulcanized shoes often have this extra layer of cushioning at the heel to make up for their thin soles.
Many skate shoes have a padded heel collar for added stability around the heel which will prevent the shoe from slipping off during a stunt scooter session.
A padded collar and heel area will also offer an increased fit for kids who loves to scoot.
You may also see a padded tongue which also adds to the comfort level.
Explain Profile (low – mid – high)
This is essentially how high the shoes comes up against your ankle. It really comes down to personal preference.
A low top shoe will offer more mobility and flexibility. Mids offer a bit more support but they aren't quite as flexible as a low top but not as supportive as a high top. Finally high tops will give you more support around your ankle but can also feel restrictive and bulky.
The best advice is to try out different types of shoes and see which one feels the best for you.