@nbsp;

Top 6 Best Dirt Scooters - Buying Guide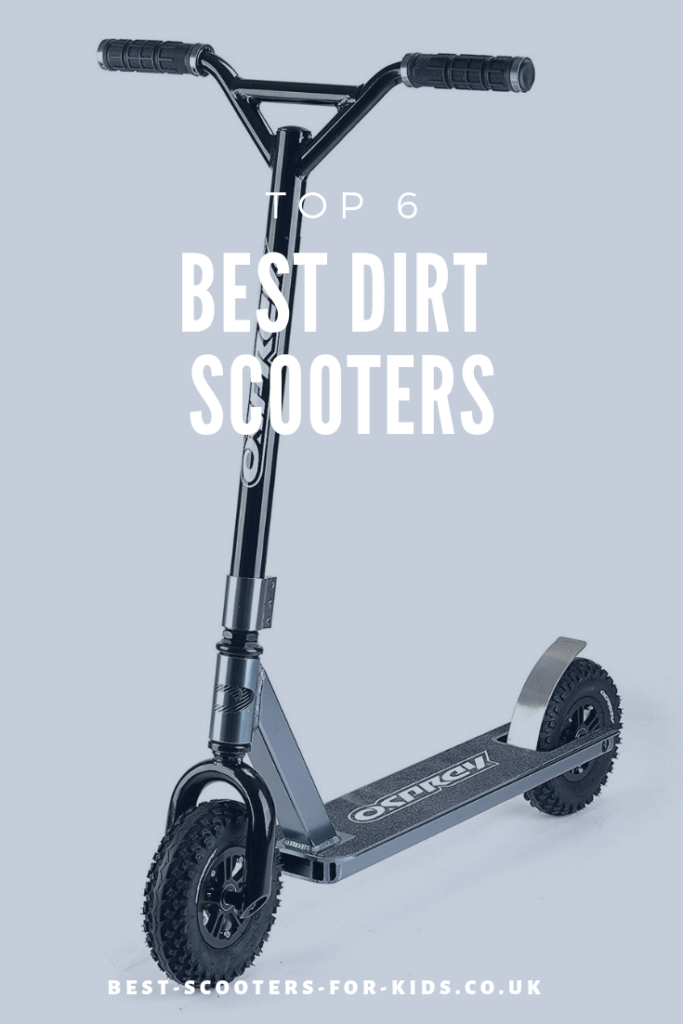 Dirt scooters are an awesome addition to a scooter collection. They are different to kick or stunt scooters in that they are designed to be ridden off road on all kinds of different terrain. They can cover all kinds mud tracks, drops, grass and other terrain which would be inaccessble on a traditional scooter. This access to new terrain adds another fun factor to the scooting experience. Dirt scooters need to cope with the uneven terrain such as mud. Therefore they do tend to be heavier, stronger, with bigger wheels and tyres to absorb the off road shocks.
Older kids, teens and adults may also be keen to use dirt scooters on bmx trails and dirt tracks where they can try out jumps and high impact manoeuvres. They are amazing for adventurous kids who want to try out something fun, exciting and a bit different away from the skate park. It's important to choose the right scooter which is strong but lightweight to cope with the extra force required in landings.
Skip the buying guide and go straight to the top dirt scooter picks.
What to consider when buying an dirt scooter.
Like all scooters, there is much to consider when buying a dirt scooter. Some questions will be can the rider cope with the extra weight of a dirt scooter?
Age
If you are buying for a child, than the age, height and weight of the child you are buying for will be need to be taken into consideration. It is important the scooter is strong enough to withstand off road riding, however if it is too heavy, it may be difficult for younger and smaller kids to control. In this case you will need to look for a dirt scooter which is specifically made for the younger rider. They will be lighter and easier for them to use. Some dirt scooters will have a recommended age range.
Weight of the Scooter
Some dirt scooters can be very heavy. This is fine if you are an older, stronger rider. However, ulitmately you want the lightest dirt scooter that your budget can accommodate as lighter dirt scooters tend to be easier to control and nicer to ride. More expensive scooters tend to be made with stronger materials but are designed in such a way that they are more lightweight.
Wheels
The main difference between traditional scooters and all terrain scooters are the wheels. The wheels are bigger and will feature high pressure, all terrain tyres so they can cope with the rougher ground. Like car tyres, they will have different treads and patterns. The type of tread may offer increased traction when riding so is something to consider.  Look for a nobbly tyres which will offer increased traction.
Wheel size
The wheel size may be a factor you want to consider when choosing your scooter. Larger wheels offer smoother ride on some of the toughest terrains which is why generally dirt scooters all have a large sized wheels. If you want a little more control perhaps to do a few off road jumps and stunts (perhaps on a bmx trail), you may want to consider slightly smaller wheels.
Wheel Hubs
If you're looking to use a dirt scooter to do jumps, tricks and stunts along dirt and bmx trails it is important to look for a wheel that has a metal core to withstand the extra external force demanded when landing
Split Core Hubs
Split core hubs on dirt scooter wheels are something to look out for as it makes it easy to change the tyres. However, they do tend to be on more expensive models and are not a necessity.
Maximum Weight of Rider
Like all scooters there will be a maximum weight that the scooter can accommodate. This is important to note as you want to make sure a dirt scooter will last for a growing child. You also want to make sure that it will accommodate a teen or adult if that is what you want from the scooter. If possible get the lightest scooter that will accommodate your weight.
If you or your child is not very heavy, a scooter with a high maximum weight will normally be more expensive, heavier to ride and you won't need it, so look for something lighter. As well as the maximum rider weight you may also see a maximum rider weight for agressive riding which will be lower.
This is the maximum weight for a rider who may be riding the scooter down drops or jumping over earth mounds and the like. This is because the impact on the scooter will be greater when used for these kinds of activities.
Type of Terrain
Most dirt scooters can be ridden not only on uneven terrain but on pavement and smooth surfaces as well. However, they may take a little more effort to ride on smoother surfaces and won't be as quick. Some dirt scooters are designed to be super strong so that they are perfect for heavier rides who want to do jumps on BMX trails and the like.
If you have this in mind, make sure that the scooter will take your maximum weight when riding aggressively. Also look for a dirt scooter with a fully welded aluminium construction which is light enough to do tricks but strong enought to take the impact. It would be possible to get a scooter that could for the school run in the week and off road fun on the weekend. If this is the case look for one that is easy to ride on smoother surfaces like pavements as well as off road.
Handlebars
The handlebars should be at a comfortable height so it's easy to control the scooter. This tends to be around mid hip to waist height although some people do prefer them to sit lower. The handlebar will be fixed, not adustable. This is because the scooter needs to be strong, a foldable or adustable handlebar creates weak points.
Wider bars are generally preferred for any stunts and tricks you may want to do. Most handlebars will feature soft grips for comfort when bumping over the ground. All handlebars should feature Hidden Internal Compression.
You will see a y style handlebar or a straight handlebar. Either is fine and is a matter of preference.
Kick Stand
Not all dirt scooters features a kick stand and it shouldn't really be a deciding features but a kick stand is nice to have so you don't have to store it lying down.
Deck
The decks should offer superior grip. They will vary in length and width. Like all scooters a shorter deck is better for smaller riders. Choose the deck which is more comfortable for you. Ideally it should be strong and lightweight.
Brakes
Most scooters will features a spring brake so you can slow down. Look for one which is easy to change if you expect to use this scooter a lot.
Cost
Higher end scooters will tend to feature stronger and more durable parts and should in theory last longer. They may also feature stronger parts but be lighter which is always an advantage. The amount you pay will very much depend on how much you will use the scooter, your budget and what specifications are important to you.
Which Brand Should I Get?
Depsite being such a new innovation, there are now quite a few scooter manufacturers which make dirt scooters. Perhaps one of the most well known brands is Razor who makes the RDS (Razor Dirt Scooter). But there a variety of other brands including JD Bug, Osprey and Grit that also make them. The one to buy will depend on what specifications are important to you. Check out an option below.

*This post has affiliate links, which means we may receive a small commission if you choose to purchase through links we provide (at no extra cost to you). As an Amazon Associate we earn from qualifying purchases.
​Osprey All Terrain Off Road Dirt Scooter

The Osprey all terrain scooter is perfect for tackling dirt tracks and downhill runs.
Wheels and Tyres
The large (200mm) off road tyres are perfect for scrambling around off road. The nobbly tyres offer excellent traction. The wheels feature three piece CNC aluminium metal hubs which are strong to withstand high impact manoeuvres.
Handlebars and Deck
The chrome handlebars feature large rubber grips to keep you holding on and comfortable when riding. The hardwearing aluminium deck is designed to take the punishment of any flying rocks and gravel on dirt tracks.
Stopping Power and Terrain
The stainless steel rear brake is built to offer you durable and reliable stopping power whatever the terrain. ​If you're looking for something which is solely for off road use, might like to try out a few dirt tracks or bmx trails and maybe do a few jumps and tricks - this is an excellent choice.
Maximum Weight and Age Recommendation
The maximum user weight is 100kg and it's recommended for older kids through to adult.
Bikestar Kick Scooter with Brakes, Mudguard and Air Tyres
The Bikestar scooter is a good solid and study scooter choice for younger children (around 7 plus years) who want to go off road over grass, muddy paths and uneven terran. It's not a great choice for BMX trails and couldn't be used to do jumps, tricks or at the skate park because it's too heavy. But it's a good choice for an off road and on road kick scooter for kids age 7 plus.
Wheels, Weight, Brake and Steering
It features 12 inch (approx 300mm) wheels with pnematic tyres great for handling grass and rougher terrain. It weighs 7.2kg so is heavy so it's not a scooter you want to have to carry for long distances or do tricks or jumps with on dirt trails.
There's big and strong rear and front wheel handbrake. The steering bearings make sure the scooter is easy to steer
Two Bare Feet Dirt Scooter
The two bare feet dirt scooter is a mid range priced scooter which is a possible choice for the kid who wants to have a go at navigating a few dirt trails. If you are serious about the dirt tracks and doing tricks, go for a higher end scooter which will have metal wheel cores and other features to withstand jumps and trick. This scooter is a good choice for younger children and those who are just out beginning and want an introduction to off road scooting.
Wheels The wheels have 190mm x 40mm pneumatic off road tyres. The wheels aren't as knobbly as some other dirt scooters but they do offer grip and traction on a variety of surfaces.
Weight - It weighs 5.5kg and has a total height of 76cm so it's should be fine smaller kids to manoeuvre and control on off road terrain.
Age Recommendation - it's suitable for ages 7 plus and has a weight recommendation of 100kg. The overall height of the scooter is 91cm.
Lucky Warthog Dirt Scooter
If budget isn't a problem, the Lucky dirt scooter is top of the range, extremely well designed and durable. This is an expensive dirt scooter, so what are you getting for your money? Well it's extremely strong while still being lightweight. If the kid you are buying for is serious about doing tricks and jumps on the bmx trails and dirt tracks, this will be an excellent scooter. And as a bonus it's a stylish too.
Construction - the bar is made of 4130 chromoly and TID welded so at 5.1kgs is extremely lightweight for a dirt scooter but super strong too.  It features a 5" wide x 25" long deck made from aircraft grade aluminum and robotic welded. The scooter has a total height of 97.5cm and the bars measure 58cm high and have a width of 58cm.The scooter features an SCS compression system which is the strongest compression system out there.
Brake - the brake uses 18 gauge spring steel. It's the perfect angle and comes with an anti-vibration pad which is brilliant if want a top of the range dirt scooter.
Grips - the scooter uses Lucky Vice Grips. They have been designed to be "super grippy" but are also super comfortable and durable. Fab when flying around over the mud.
Wheels - Lucky partnered with Kenda to add dirt-gripping 200mm wheels with strong aluminium cores which will have you flying down the dirt tracks.
Ascent Dirt Scooter
This is an excellent solid mid-range budget dirt scooter perfect for kids scooting off-road. If you are serious about tricks, the Lucky dirt scooter or Osprey are probably better choices. But this is great for younger kids who want to try out some off road scooting, along grass and uneven terrain.
Wheels - Heavy duty nylon 2 piece wheel hubs, (not metal hubs so not the strongest for withstanding aggressive impact) The wheels are fitted with 200 x 50mm pneumatic tyres
Scooter Weight is approximately 5.8kg, not the lightest but should be fine for scooting along off road.
Full scooter height - it measures 83.8cm from top to bottom. It's recommended for kids (aged 7 and above) through to adults. Ideally, the handlebar should come up to between hip and waist height for better control.
Razor Pro RDS Stunt Scooter
Another great dirt scooter for kids, the Razor Pro RDS Stunt scooter is a strong dirt scooter (on the lighter side) which has wheels and tyres perfectly designed for tackling the dirt.
Wheels The scooter features 200mm pneumatic tyres with an aggressive tread pattern which are perfect dirt tracks. The wheels feature molded Nylon 6 (PA 6) hubs with 60 psi to help withstand the impact from jumps and bumps on dirt tracks.
Handlebars The handlebars are fixed riser Y-style handlebar, measuring 510mm (20") tall, 495mm (19.5") wide. They feature soft rubber grips.
Age Recommendation It's recommended for ages 10 plus to adults and has a maximum weight of  100kg (15.7 stone)
Frame and Weight It has a strong but lightweight frame made of aluminium. The scooter weighs 5.2kg so is on the lighter side for a dirt scooter. The lighter weight and it's build and design make it good for use on BMX dirt trails (see the video below)