*This post may have affiliate links, which means we may receive a small commissions if you choose to purchase through links we provide (at no extra cost to you).
Madd Gear Mini Pro Rascal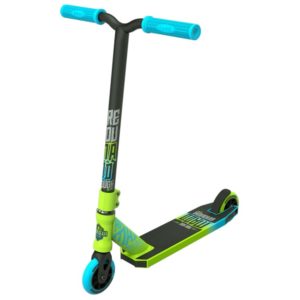 This is an awesome lightweight scooter aimed at kids as young as four which has been designed by scooter giants Madd Gear as the ultimate entry level scooter for the younger rider. The recommended rider height for the scooter is between 76cm and 111cm (2'6" to 3'8").
It is the lightest of all the stunt scooters featured in this article, at just 2.94kg. Being superlightweight means that it will be easier for ligher and smoother kids to have total control. They will find it easier to manoeuvre the scooter when learning basic tricks and jumps and for their first time on the ramps.
The wheels are 100mm wheels with nylon cores and high speed PU.
The bars are of a lower height of 18" (45.7cm)  and smaller width 16" (40.6cm). The smaller bars will  give optimum control to smaller kids.
The deck measures  17" (43cm) by 4" (10cm) which is shorter than a standard deck again making it easy for smaller kids to manage at the skate park.
The total height of the scooter is 68.5cm.
Nitro Circus Ryan Williams RW Junior Replica Complete Pro Stunt Scooter



Ryan Williams is one of the world's best scooter riders and he has recently launched his own scooter range.
As part of this Ryan and his team have designed the Ryan Williams Junior Replica pro stunt scooter. It's an ideal first complete scooter for the smallest and youngest of riders.
The 100mm wheels have a spoked alloy core which means they will withstand the impact of tricks and jumps (avoid plastic cores at all costs on a stunt scooter).
What makes this ideal for a beginner or young scooter rider? Firstly it's super light weighing just 3kg. The lighter the scooter, the easier it will be for younger riders to use and manoeuvre. Awesome for your first tail whips and  to start learning tricks. Yet, despite being so light the junior replica is strong and durable with it's steel threaded fork, steel y bar and 3 point brake.
The steel handlebar measures 49.4cm (19 3/8") in height by 44.5cm (17.5") and the super light deck measures 43.2cm (17") cm (l) by 10.2cm (4") (w). It's nicely sized for 5, 6 and 7 year olds. The smaller bar and deck sizes make it much easier for younger kids to manage. Soft feel bar grips make this comfortable for smaller hands to control.
Grit Extremist
The Grit Extremist is a good entry level scooter which is worth considering for the younger rider. It is lightweight for a stunt scooter at 3.4kg which is lighter than other stunt scooters for younger users to control.
It has a smaller handlebar height than other stunt scooters (from the deck to the top it measures approximately 73.6cm which is a smaller size than standard. The bar height is 21"(53cm) high by 20"(51cm) wide.
The deck is 19" long by 4" wide (48.3cm by 10cm).
The wheels are good. It features 88A PU wheels with an alloy core. As kids get taller and bigger a wheel with an alloy core is essential on stunt scooter to withstand the impact of bigger, taller kids doing tricks and jumps.
Slamm Tantrum VII Scooter

The Slamm Tantrum V​II scooter is designed for the younger rider with a lower handlebar. This makes it easier for younger kids to be able to control. It's designed for kids aged 4 years plus.
The features include 100mm 88A PU cast wheels with a nylon core, ABEC 7 bearings and the quad clamp for extra strength to withstand the impact from a younger rider's tricks.
The scooter bars are 19.75" tall x 19.5" wide (H:50cm x W:49.5cm).
The ride height on the scooter (the measurement between the top of the deck and the top of the bar grips) is 68cm. And the total height of the scooter is 74cm.
The scooters are hand built by Slamm. A strong scooter which looks cool too.
The maximum rider weight is 75kg.
Madd Gear MGP VX7 Mini Pro Scooter
The Madd Gear MGP VX7 Mini Pro scooter is designed for younger kids and is smaller than a standard scooter but it still has high end specifications such as only normally seen on expensive high end models. So the strength and quality of scooter you get for the price you pay is really good.
The deck is 2.5" shorter and the bars are proportioned for younger riders at 22" height x 18" width.
Some good design features of the scooter include 100mm MGP 88a alloy core with high rebound PU & anodized cores which like the other scooters featured should be perfect to withstand the tricks of a younger child as well as cruising the streets.
It's fairly lightweight for a stunt scooter at 3.55kg. This makes it a lot easier for younger kids to control and use for tricks.
Grit Atom

The Grit Atom is another good choice for the younger, smaller scooter stunt rider from around 5 or 6 years old. It is slightly less expensive than the Grit Extemist from above but forgoes some features such as the alloy core wheels
The bar measure 18" inches wide by 19.6 " high (46cm by 50cm). From the bottom to the floor it measure approx 70cm.
The weight of the scooter is around 3.3kg.
The wheels are 100mm 85A PU Nycore Wheels
​
Brake is a super coil spring brake.
​
It features a threaded fork,​
Micro Mx Ramp Beginner Scooter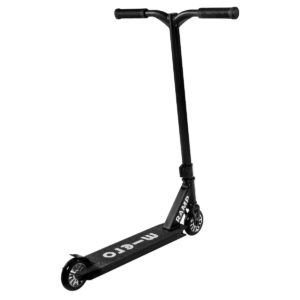 Micro are well known for their high quality, durable scooters. They are a well respected and well known brand, so you know if you buy one of their scooters it will be well made and well designed. The Micro Mx Ramp Beginner scooter seems to be no exception. It's a great scooter for kids to start learning tricks, hops and jumps - perfect for young beginner riders. It makes learning tricks easy.
It's been designed for kick scooting and occasional use at the skate park. If they want a scooter which will be solely used at the skatepark, it's probably best to go for another option.
The age recommendation is 5 to 12 years. It features a wide handlebar for great control. The deck measures 10.5cm by 33cm so is slightly smaller in width than other options. The handlebar height measures 74cm from the deck to the top of the handlebar and 81.5cm from the floor to the top of the handlebar.
The scooter weighs 3.7kg and has a maximum rider weight of 100kg.

Crisp Mini Blaster
The mini blaster is a perfect scooter for mini dare devils who want to do tricks at the skate park.
One of the stand out features is the 100mm wheels with crisp super high rebound alloy cores, which will withstand all the high impact jumps and stunts small kids can throw at them.
At 46cm in height and 50cm in width, the bars are ideally sized for smaller riders. The total height of the scooter is 72cm, so you can measure the height on you child  and ensure  it comes to around hip to waist height, so they will have the control they need when riding.
Other notable features for younger kids include a smaller sized than standard deck at 11.4cm by 43.1cm.
The scooter also features a spring less brake and the scooter weighs 3.4kg.
Micro MX Trix Stunt Scooter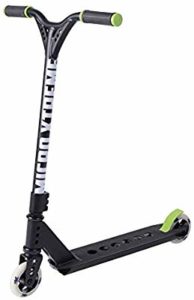 The Mx Trixx scooter is the next step up in the stunt scooters from the Mx ramp (featured above) for young children in the micro range. It's designed as an beginners / intermediate level scooter for kids aged 5 to 12 so that they can do  tricks, jumps and stunts.
It has a one piece aluminium deck and a triple clamp so is strong to withstand the impact of tricks.
The PU wheels are 87A in durometer and have a 5 spoke metal core so are also strong to withstand the abuse from jumps. They have ABEC 7 bearings and are a very high quality bearing so they spin fast which is ideal for use on the skatepark.
The total weight is 3.8kg which is on the lighter end for stunt scooters making it perfect for the younger rider. ​
If you are on a budget this is an excellent starter stunt scooter. The handlebars measure approximately 68.5cm from the deck to the top which is a good size for a younger rider. Also, the deck is slightly shorter which makes it easier for 5, 6 and 7 year olds to control.
It should last for quite a few years and be suitable to be passed onto siblings so worth considering as an investment.
MGP VX8 Shredder Pro Stunt Scooter

The VX8 shredder model scooter is based around the set up used by the UK pro rider Charly Dyson. It's designed for the smaller scooter rider.
The bars are 22"(h) by 18"(w), (56cm by 46cm)  so slightly taller than some of the bars on this page but will last longer as your child grows.
The wheels are standard 100m, 88a durometer with a force alloy core.
The deck is 4.5 inches by 17 inches (11.43cm by 43cm) and strong made with integrated T6 heat treated  aluminium alloy. The deck is slightly wider than some of the other scooters but this can give some smaller riders a more stable platform.
Comparison Chart
Scooter
Bar Height / Width
Deck
Wheels
Weight
Madd Gear Mini
Pro Rascal Scooter
45.7cm/40.5cm
44.5cm - 10.1cm
100mm
High speed PU
Nylon Cores

2.94kg
Grit Atom
50cm / 46cm
48.3 - 10cm
100mm
85A durometer
PU nycore wheels
3.3kg
Grit Extremist
51cm / 53cm
48.3 - 10cm
100mm
88A durometer
PU alloy core wheels
3.5kg
Slamm Tantrum VII
50cm / 49.5cm
48.25 - 11.5cm
100mm
88A durometer
PU nylon core wheels
3.63kg
MGP VX7 Mini Pro
56cm / 46cm
43.1 - 10.2cm
100mm
88A durometer
PU wheels
3.55kg
MX Trixx
53cm / 45cm
48 - 10cm
100mm
87a shore wheels
3.8kg
Gritt Mini Flux
50cm / 46cm
43 - 10.2cm
110mm
88a durometer
PU wheels
3.3kg
Crisp Mini Blaster
46cm/50cm
110mm
Alloy cores
3.4kg
MGP VX8 Shredder
56cm/46cm
43-11.43
100mm
Alloy core
88 durometer
PU wheels
3.5kg