Razor E-Prime Electric Scooter
The Razor E Prime ticks a lot of boxes. It's affordable, lightweight, portable, fun to ride and is perfect for short distances.
It's quick and nippy. Whizz around with top speeds of up to 15mph.
It's aimed at teenagers and adults aged 14 years and up.
The maximum weight limit of 80kg (12 and a half stone) means that it won't accommodate everybody.
But if you're under the weight limit and looking for an electric scooter for a short urban commute or a fun ride, this could be the right choice for you.
Speed
The Razor E Prime has a nippy top speed of 15mph which is similar to many other electric scooters.
A kick start is required to engage the motor. You'll need to get going to around 3mph which isn't very difficult to do. Once you get going the scooter has decent and smooth acceleration and riding it on smooth paths is a breeze.
The speed is controlled with a thumb-activated paddle control. Once the motor is engaged just use your thumb to press down on the black paddle control for variable speed acceleration. Push it right down to reach the top speeds of 15 mph.
Foldability and Portability
Weighing just 9.8kg, this electric scooter is very light compared to it's counterparts. It's still not light enough to carry for long periods of time. But if you need to carry it up some stairs, onto a bus or train or lift into the boot of the car, it's not a problem!
The E Prime is easy to fold too. When folded, it measures just 86x 36 x 46cm. This means it's one of the best electric scooters to store under a desk at work or keep in the boot of a car.
Razor also boasts that it features their anti-rattle folding technology, and the scooter does certainly feel solid.
Design and Build
A strong but lightweight aluminum frame gives the E-prime a solid, durable feel.
There are also some nice design features on the Razor E-Prime which contribute to a comfortable ride for the rider.
Firstly the deck is extra long and extra wide measuring 42.5cm by 14cm. This enables most riders to ride with both feet on the deck when needed.
The low deck makes the ride feel more comfortable and stable, especially when turning corners and on the kick start.  It also means you can even stop the scooter with your feet if you're not going too quickly (don't do this at high speed though!).
The slim design of the scooter makes it a good choice for navigating tight spaces as well.
Charge Time and Battery Life
Expect to spend approximately 4 hours charging the battery. Although this isn't a bad charge time, with a run time of up to 40 minutes, it could be that you have to charge the scooter quite frequently if you use it on a daily basis.
Bear in mind that battery life will be affected by many factors. If you use the scooter full out at the top speed you will obviously run the battery down more quickly. But rider weight and the terrain on which you are riding can impact the length of battery life too.
The scooter features a 5 stage LCD battery indicator, so you can anticipate when the battery is getting low and you need to charge it.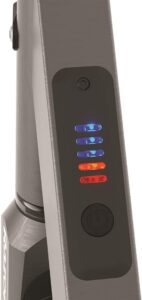 And one really useful thing about the scooter is that you can ride it as a normal kick scooter if the battery does run down.
Quality of the Ride
The Razor E-Prime features airless rubber 8 inch tyres. These are ideal for riding on smooth pavements and other smooth surfaces.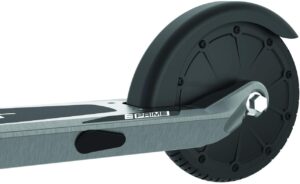 One of the downsides of the scooter is the ride quality isn't optimal on imperfect surfaces. The lack of suspension means that vibrations from bumps, cracks and potholes in the road will very much be transferred to the rider. And if you ride on cobbles or the like, expect to feel it. It can handle these kinds of roads, but it isn't pleasant. If you're likely to be travelling on bumpy surfaces a lot, you really want to choose an electric scooter with suspension.
Electric scooters with suspension do offer a much more comfortable ride and will absorb the shocks and impact from the road much more. However, generally these scooters are more expensive and they tend to add more weight to the scooter too. So, having suspension is a feature you may be happy to forgo,  especially if you're not prepared to compromise on price and you want an exceptionally light scooter.
Braking
The scooter features both a hand controlled electronic brake (which is activated by the paddle control to the left of the handlebar) and a manual rear fender brake.
Perhaps one of the biggest criticisms of the Razor E-Prime is that the braking lacks some power. Riders find that they need to engage both the fond and the back breaks for very quick stops. This means that in crowded areas it is important to ride cautiously at a lower speed.
More Features
Hand Grips
The hand grips are an important part of rider contact with the scooter and the soft rubber prism shaped grips are comfortable for rider's hands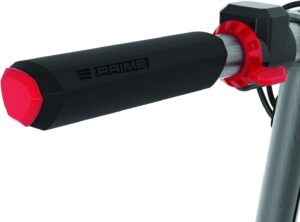 Adjustable Handlebar
There are two height adjustments on the handlebar so you can adjust it to the optimium height for the rider.
Kickstand
A handy, retractable kickstand allows you to store the e scooter upright.
Overall Verdict
The Razor E Prime electric scooter certainly isn't for everyone. However, it is ideal for many teens and adults who are under the 80kg weight capacity.
It has many plus points. It won't break the bank but delivers a quick ride which is ideal for short journeys.
It's perfect for many situations. A quick trip to the corner shop. A couple of miles to commute to work. Or perhaps a zippy finish for that last mile once you've got off the train. Saving many commuters time and money.
And if you're looking for something that's just fun, it's great for that too.
Specifications at a glance
| Feature | Razor E Prime Electric Scooter |
| --- | --- |
| | |
| Price | Check Price on amazon |
| Age Recommendation | 14 plus |
| Max Speed | 15mph (25 km/h) |
| Max Rider Weight` | 80kg |
| Weight of scooter | 9.8kg |
| Wheels | 8" rubber tyres |
| Foldable | Yes |
| Brake | Electronic with thumb-activated paddle and manual rear fender. |
| Battery Life | Up to 40 minute run time |
| Charge Time | Approx 4 hours |
| Scooter Folded Dimensions | 86cm x 36cm x 46cm |
| Scooter Dimensions | 102cm x 46.2cm x 103cm |
| Kickstand | Yes, retractable |
Frequently Asked Questions
Is it legal to use the electric on the Road? 
Currently, UK legislation means it's illegal to ride an electric scooter on the road or pavement, being only legal on private roads. However, this legislation dates back to 1835 and the government is currently set to run trials of electric scooters rental in cities which could lead to an overhaul of UK laws in the near future.
Other countries have their own regulations regarding e-scooters so it's worth checking out where you live what the regulations are before purchase.
Is it okay to ride this scooter on wet roads? 
In short, the answer is no. It's not advised to ride the scooter in or near any water.
Can you use this scooter as a manual / kick scooter? 
Yes, the Razor E Prime can be used as a kick scooter. This is especially advantageous if the battery runs out.
Can you attach a carry strap? 
Unfortunately, it's not possible to attach a carry strap to the scooter.