Stunt Scooter Ramps For Kids
Are your kids crazy about learning and practising new stunts, jumps, hops and tricks? Then having a scooter / skateboard ramp is a must. Check out our top picks of scooter ramps for kids, enabling beginners to increase their confidence when they are hitting the ramps at the skate park.
Factors To Consider When Buying a Scooter Ramp
1.) Size - make sure it can fit in your garden (or anywhere else you wish to use it) so that there's enough space around it for tricks. The bigger the ramp, the more landing space you'll require. You may also need to think about where you are going to store the ramps.
2.) Portability - if you require the ramp to be portable, ensure it's light enough to carry and transport. If you wish to take it in the car to transport make sure it can fit in easily too.
3.) Stunt scooter ability - beginners will probably prefer mini ramps which are smaller and more portable. Small ramps are also easier for beginners to get to grips with and increase confidence. Intermediate and advanced scooter riders may prefer a large ramp.
4.) Weatherproof - can you leave the ramp outdoors in all weather? This will depend on the type of material it's made out of.
5.) Level of use - ensure that it's designed for the level of use that you require. Mini ramps that are made of lightweight moulded plastic are great for beginners and smaller riders but for an intermediate, taller rider you may require something stronger. Larger ramps are able to withstand impact from greater weights.
Brands
Most of the ramps featured in this article are from Rampage. Rampage is the biggest selling ramp brand in Europe and has quite a few different types of ramps to choose from.
There are other manufacturers of ramps suitable for stunt scooter use that are featured towards the end of the article.
*This post has affiliate links, which means we may receive a small commission if you choose to purchase through links we provide (at no extra cost to you). As an Amazon Associate we earn from qualifying purchases.
Rampage Single Mini Launch Ramp

This small ramp is perfect for scooter riders who are beginners at stunts. Ideal for building confidence before trips to the skatepark.
It measures 56cm (1) by 39cm (w) and 15.5cm in (h).
At 1.3kg, it's lightweight and easy to carry wherever you need to, from the garden to the front of the house to play with friends or to the park.
It's made from high impact polyurethane and is designed to withstand impacts with a maximum weight load of up to 90kg.
It can be left outside without any worries of being damaged as it's resistant to hold and cold temperatures.
Ready to use with no assembly required.
Rampage Unisex Double Mini Ramp

A double ramp has two opposing ramps so kids can scoot up one side and then scoot down the other.
The double ramp features has the following dimensions 81cm (l), 39.4cm (w), 15cm (h).
Like the single ramp it is designed to portable, so perfect for use in the garden or on flat ground anywhere safe.
Rampage Mini Airbox Launch Ramp Set

Box jumps are two ramps with a flat surface in between them, and the offers a lots of opportunities for different kinds of stunts and tricks.
The rampage airbox, is a mini styled box jump which is perfect for use outdoors in the garden.
It's easy to put together, takes just a few minutes to assemble without any tool.s
It's fairly compact, measuring 135cm (l), 39cm (w) and 16cm (h), and lightweight so can fit in most people's gardens or use for anywhere else wth a flat surface. Easy to transport from the back garden to use with friend's in the local partk.
JumpStar Large Skate Stunt Ramp
Looking for a single stunt launch ramp that is a little bit bigger than a mini ramp but just as affordable?
Then check out the Jumpstar.  It's a large launch ramp measuring 99cm (l), 71cm (w), 31cm (h) and has 135º transition to easily launch and land stunts
It's bigger so weighs a lot more than the mini ramps at 10kg but it's still portable so can be taken from the garden to the driveway or wherever you can transport it.
It's made of high impact pp (polypropylene plastic). It has anti-slip grip strips to adhere to multiple surfaces to prevent ramp sliding around.
The maximum user weight is 100kg and it's suitable for ages 8 and up.
Rampage Mini Four-Way Fun Box Launch Ramp Set
A mini sized ramp with lots of opportunities for action.
The Rampage mini four way box ramp measures 151 cm (l) x 119 cm (w) x 16 cm (h).
Like all the rampage ramps, it's high impact injection moulded and made from polyethylene (a type of plastic). It can withstand weight loads up to 90kg.
It's ready to use, only two minutes tool free assembly to put it together.
Icebreaker Ramps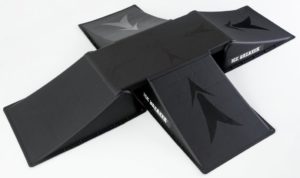 Another manufacturer of ramps made of high impact plastic is the Icebreaker range.
They make a number of different sized and types of mini ramps including single launch ramps, double ramps, 2 and 4 way box jumps with varying dimensions.
Stunted Mini Scooter Ramp
Another option of mini scooter ramp is the stunted ramp. Its easily portable and comes with anti-skid pads. It's robust and hard wearing and made with high impact PP material.
Easily portable, it features anti-skid plates for easy and secure positioning. It's single-moulded and there are no parts to assemble or attach.
The dimensions measure 56.5cm x 39.5cm x 15.5cm.