What Are the Best Scooters for Teens?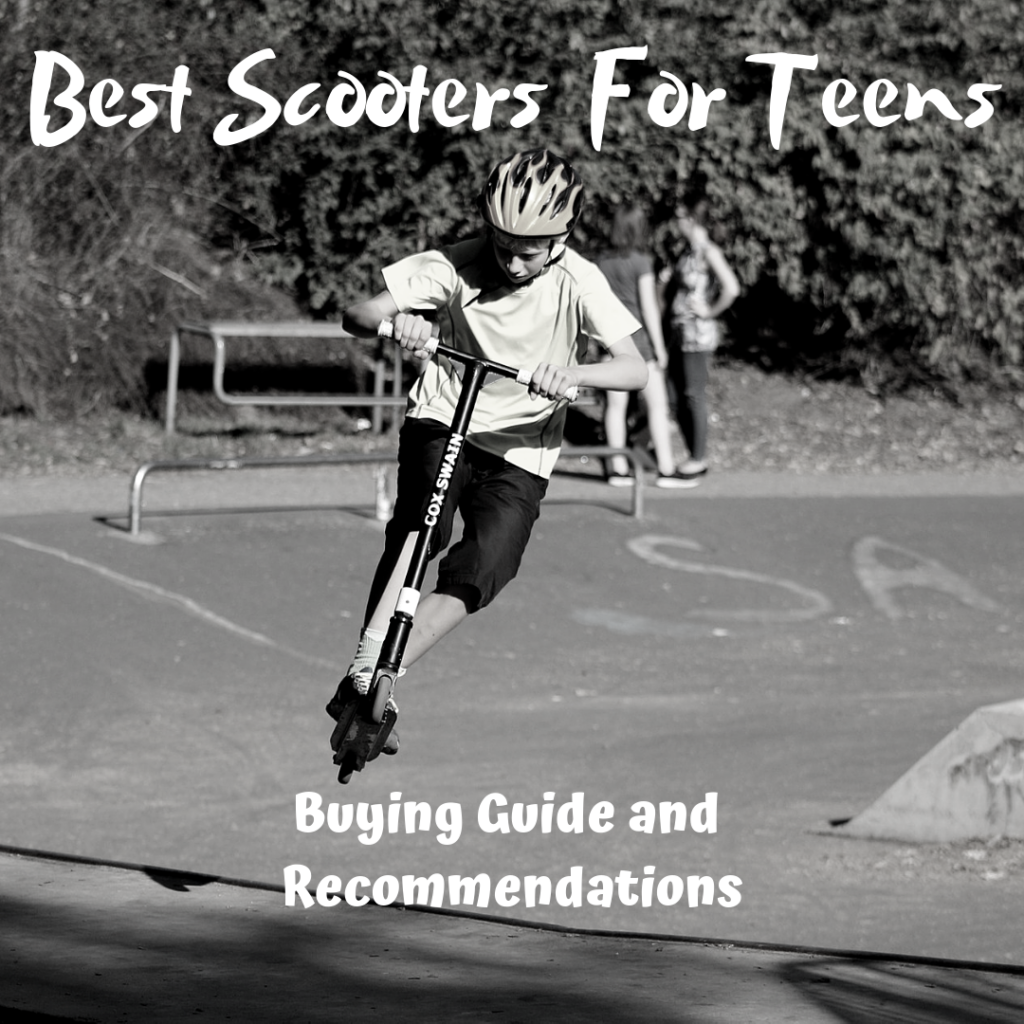 The best scooter for a teenage girl or boy will very much depend on what they want to use it for. If they want to use their scooter to do jumps, stunts and tricks at a skate park, then it's important to get a stunt scooter which are designed to withstand the impact.
Other teens may just want something cool to get the from a to b (perhaps to school) and then you can consider a traditional kick scooter or an electric scooter if speed is their aim.
This article has tons of information to help you choose the best scooter for a teenager depending on their wants and needs.
*This post may have affiliate links, which means we may receive a small commissions if you choose to purchase through links we provide (at no extra cost to you).
Razor A6 Kick Scooter
The Razor A6 scooter has everything a teen will need to get him or her from a to b quickly. The urethane 254mm big wheels take you faster, further and it's easily foldable for taking on public transport or storing under a desk.
The height adjustable handlebar will suit teens of all different heights. It adjusts all the way up to 106.7 cm so if your teen has a massive growth spurt this scooter will accommodate the very tallest of teens.
If your teen is planning to travel long distances, the 254mm wheels will get him there quickly and in no time at all. Bigger wheels are better if you want to go further and faster. And it takes less effort to get up to speed with bigger wheels too.
The scooter is foldable and the folding mechanism doesn't rattle.
The Razor isn't the lightest of scooters at 5kg (bigger wheels will always add extra weight to the scooter). However, most teens will have no trouble folding a 5kg scooter. They can take it on and off public transport and put it away into storage when they needed.
The Razor also has a kickstand and rear fender brake for quick stopping.
Overall Verdict
A great big wheel scooter from a well known brand which will suit teens who want to go far and travel quickly and on their kick scooter.
Micro Sprite Deluxe Scooter


Micro have revamped the Micro Sprite one of their best selling 2 wheel scooters to make it suitable for teenagers up to 16 years old. In fact, there's no reason this wouldn't be a suitable scooter for any adult under the 100kg weight limit.
The Deluxe sprite's exciting new features include an integrated front light (constant and flashing settings) for the better visibility on darker days. The light gives parents peace of mind when teens are scooting home from school during the darker evening of the winter.
There's a longer brake with inbuilt reflectors for bigger feet and added safety. The wider, curved handlebar makes it easier to balance and gives greater control.
Perhaps one of the most important changes is that the highest setting on the fully adjustable handlebar is at 102cm (compared to 92cm on the standard sprite). This will suit taller riders and ensure lots of growing room for younger teens.
There's a 120mm wheel at the front and a 100mm wheel at the rear. It's a small wheel scooter but it's agile, light to control and manoeuvre, fold down and carry.  The deluxe sprite is super light and weighs just 3.3kg, which makes it an ideal option if you need to take it onto public transport or carry it for any reason at all. Scooters with smaller wheels are always mor compact when folded too.
The kickstand is another useful feature.
Overall Verdict
A well designed compact, super light, folding kick scooter designed especially with teenagers in mind. The front light is a unique feature on an outstanding kick scooter from a leading brand.
JD Bug Scooter

The JDBug MS 150 has mid sized 150mm wheels, which means fast and easy transport but still keeps the weight limit low enough to carry the scooter for longer distances if needed. Great for scooting round campus or to and from school and friend's houses.
The 85a PU 150mm wheels offer a fast but smooth ride. 150mm wheels won't roll as quick as a scooter with 200mm wheels but they keep the weight of the scooter low while still being speedier than standard 100mm wheels. The ABEC 9 rated bearings provide a fast and smooth roll along footpaths.
The footplate measures 51cm long by 10cm wide.
The scooter is easily foldable so perfect for storing at school / home, putting in the boot of the car and taking on public transport.
The MS 150 folds down to a compact 69cm (l), 10cm(w), 20cm (h). This can be useful if it need to be kept in a locker or small space under a desk.
The scooter weighs 3.3kg which is super light especially considering it's 150mm wheels, making it easy to carry onto a bus or train.
It comes in lots of different colours. And more good news - it's extremely competitive on price. 
Overall Verdict
Exceptionally good bang for your buck! JD Bug is a leading brand and the scooter is perfect for teens, particularly if it's used for short commutes to and from school. It offers a speedy ride while being very light to carry and fold down compactly too.
Hudora Big Wheel RX-Pro 205
The Hudora Big wheel scooter is a big wheel, sturdy kick scooter which is competitive on price. It is suitable for older children, teens and adults. It's big wheels mean that it can pick up some speed when travelling to friend's houses or school. It also has an adjustable handlebar height from 79 to 104 cm so will be ideal for growing teens.
The 87a 205mm PU wheels are durable, offering speed and comfort when scooting along paths and pavements. The bigger the wheel the faster you can go and big wheels also offer a smooth ride even if you go over bumps in the pavement so the wheels are a good size for gettting places.
The handlebar adjusts from 79cm to 104cm so it suits kids from about age 8, through the teenage years and even adults who are under the maximum rider weight of100kg.
Other notable features include a practical folding mechanism, a carry strap and a kick stand for upright storage.
Overall Verdict
An excellent choice if you want a big wheel scooter but don't want to break the bank. The big wheels make this a good option for speedy school or college runs.
Beginner Stunt Scooter for Teens​ - MGP VX7 Team
If you're looking for a quality beginner stunt scooter for a teenager the Madd Gear MGP VX7 Team stunt scooter. With it's bars at 24 inches in height,  the Madd Gear MGP VX7 scooter is a good size for most teenagers. It's the 2017 version of the scooter. As it's a couple of years old, you can pick it up at a much cheaper price than the MGP Team VX9 scooter (for 2019 ).
It's features include 110mm wheels. Ideally, the wheel size on stunt scooters for a teen are better at 110mm rather than 100mm. 110mm wheels are faster, last longer because they have more urethane, look good and mean a taller scooter.
​
The bars measure 24" in height by 20"in width - a good size for most younger teenagers. You will find bars for stunt scooters for teens tend to be around 23" to 26". Some scooter riders prefer lower bars for stunts, others prefer a waist height bar so it might depend on your teen what size to get. But obviously a very tall teen may prefer a taller bar. For a taller bar, check out the MGP VX Extreme scooter below.
 The VX7 is light at 3.9kg.  Lightweight stunt scooters are better for doing tricks as they are easier to control. It's heavier than the 2019 MGP version but you will save some money buying the VX7 rather than the VX9.
Strong and durable with a threadless fork, alloy core wheels with a neochrome finish and full printed grip tape.
If you're not sure what any of this means, check out the brief guide to important features on a stunt scooter below or read more in depth detail in our stunt scooter buying guide.
Overall Verdict
A solid, durable and cool scooter, from a well respected stunt scooter brand which will be perfect for trips to the skate park.
MGP VX9 Extreme Scooter
The MGP VX Extreme is a stunt scooter designed for the 12 plus age group (from 4 foot 6 in height). It's an ideal choice for a teen who is serious about the skate park and doing stunts.
The real wow factor regarding this stunt scooter is that it's amazingly light but despite this it doesn't compromise on being an industry leader in strength.
It weighs just 3.19kg which is 9% lighter than their previous model. A light scooter will make jumps and tricks easier at the skatepark.
The chromoly handlebars measure 26″ high by 23″wide and the deck is fluted and heat treated, so strong enough to withstand the impact of all those arial trips.
The finish looks really cool. The soft TPR swirl grind grips match the color and design of the rest of the scooter and they are grippy, durable and long lasting.
The 120mm wheels with alloy cores and ABEC 11 high speed chrome bearings are super fast. This scooter will fly!
Overall Verdict
This is a special scooter. Amazingly light but super strong. Perfect for teenagers who want an intermediate / advanced stunt scooter to improve their skills but being so light also makes it ideal for beginners.
Micro Crossneck Pro Stunt Scooter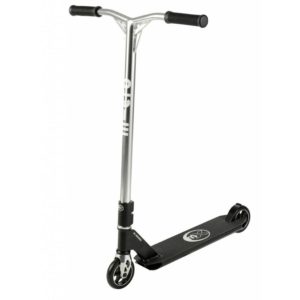 The Cross Neck scooter is designed and made by the Micro scooter brand which is well known for it's quality and excellent design with kids scooters. It's designed for kids and teens between the ages of 7 and 15, so would make a good choice for younger teens who are starting out at the skate park.
The Cross Neck is so named because of its strong one-piece head tube and down-tube construction.
It features 110mm wheels with a 5 spoke metal core to withstand the impact from jumps and tricks.
The handlebar measures 85cm from the floor to the top of the handlebar.
It weighs 4kg, so not the lightest of stunt scooters but not too bad.
The great thing about Micro scooters is that they are designed to ensure that key parts of the scooter can be repaired or replaced, no matter how many Micro miles it clocks up.
Overall Verdict
Micro crossneck is designed from one of the leading scooter brands well recognised for their quality. It's a good choice for young teens who want to venture into the world of stunt scooters.
Blunt Prodigy S8 Complete Stunt Scooter


This is an awesome option for intermediate and advanced riders. It's light, durable and strong and features fast 120mm wheels. There are several different designs to choose from and each colour and look is really unique and nice so you will stand out at the skate park.
It's very light at 3.8kg - not quite as light as the MGP VX9 extreme but still very light for a stunt scooter.  The major cutouts like the fork in the headtube and in the deck cut down the weight on the scooter without compromising on the strength.
The 120mm wheels with ABEC 9 bearings are great for intermediate riders who want some extra speed for their tricks. The bigger wheels also means it's faster when getting from a to b along the streets as well. So it mixes well between the skate park and on the streets.
The bars measure 24.4 inches (62cm) in height and 21.25 inches (54cm) in width. The complete scooter height is 84cm (33 inches).
The deck is 49.5cm (19 inches) by 12cm (4.7 inches).
The long nylon brake with grips will stop your foot from slipping.
Overall Verdict
This is a excellent, high quality, stunt scooter for intermediate and advanced riders. With a unique design for teens who want to stand out. Also great for cruising along the streets.
Razor A5 Air Commuter Scooter​

Razor are a well known brand of scooter and this is their A5 commuter scooter which has air filled / pneumatic tyres as opposed to the urethane / PU wheels that you find on many scooters.
The scooter has been designed for students on campus or for urban commutes. It's recommended for kids from aged 8 all the way up to adult. So it's perfect for the teenage crowd.
The 200mm pneumatic /air filled tyres give a smooth ride over bumps and cracks in the pavement much like a bicycle would.  The wheels are tough enough to withstand the urban terrain (great over cobbles etc). The  tyres are also superior to PU wheels found on other kick scooters when riding over wet surfaces, giving the rider extra grip.
The anti-rattle handlebars add to the comfortable scooter ride and are height adjustable.  They feature soft rubber grips for enhanced comfort, grasp and control.
The scooter is foldable featuring a super strong easy fold t-tube.
The deck measures 35cm (13.4 inches) in length and it supports riders up to 100kg.
The scooter weighs approximately 5.6kg
Overall Verdict
This is a great scooter for teens whether it's for the school run, using around college, running errands or getting to friend's houses.  The pneumatic tyres are shock absorbing so offer a comfortable and smooth ride even over rougher urban surfaces.
Crisp Evolution Scooter
Another intermediate to advanced level scooter is the Crisp Evolution has tall bars, 120mm wheels and a wide deck but it's still super lightweight at just 3.4kg. Despite it's awesome specs, the scooter is very competitively priced against similar scooters.
The 120mm wheels are super high rebound with ABEC bearings.
The chromoly t-bars bars measure 24 inches (610mm) by 26.4 inches (670mm) so are a good size for a taller teen.

The concave triple channel deck is wider than standard measuring  4.8" x 20.5" (121.9 mm by 521mm) for more foot space.
It also features a SSL spring brake, crisp forged alloy fork, integrated / threadless sealed headset with nylon HIC shim and HD double clamp.
Overall Verdict
The Crisp evolution is another excellent choice for the intermediate / advanced teen rider with higher 26.4" bars, but at a lower price point that the MGP and Blunt scooters.
Electric scooters for teens
Considering an electric scooter? Then the E300 razor electric / motorized scooter is an excellent choice for teenagers. It is the speediest scooter that razor make with a top speed limit of 15mph. Teens will enjoy whizzing along on it.
It has 40 minutes of continuous use on one battery charge which should allow up to 9 or 10 miles. There charge time for the E300 is 12 hours.
It is a heavy scooter weighing 19kg, so not one you want to be carrying around for any length of time. It's not foldable either so if you want an electric scooter you want to carry, there are much better options. But great for zooming around and having fun. It can support riders up to 100kg.
The extra wide 10 inch front and rear pneumatic tyres are fairly wide so you can expect a speedy, comfortable and smooth ride.
The scooter features twist grip acceleration control, a hand operated rear brake and a retractable kickstand. It's also a quiet ride, so you don't need to worry about disturbing the neighbours.
Overall Verdict
The Razor E300 is a speedy electric scooter which equals lots of fun. It's a great buy for teens who want to try out an electric scooter for the first time, reliable and exciting to ride.
Osprey All Terrain Off Road Dirt Scooter
The Osprey dirt scooter is ideal for teens who want to go off road for scooting fun. It's great for scooting on dirt tracks, bmx trails, grass and other rough terrain. The Osprey is strong and durable and can also withstand the impact of jumps and tricks along the trails you ride.
The scooter features tough pneumatic rubber all terrain tyres and is supported on aluminium core wheels. The tyres have excellent traction so they can withstand the impact on different terrains.
The strong aluminium deck is designed to withstand the punishment of flying rocks and stones hitting it.
And the stainless steel rear brake offers durable and reliable stopping power in road conditions.
The handlebars have strong rubber grips for comfort and extra control.
Overall Verdict
A superb scooter for off road riding. Ideal for teens who are open to trying a new way of scooting over trails or bmx paths. Also great if your journey includes scooting over grass or dirt tracks.
Iscoot Ultimate X50 Scooter
The iScoot Ultimate x50 is a budget commuter scooter which has many good features for the money.
The 200mm PU wheels make this another top choice for a faster ride with less effort. The bigger the wheel the quicker the ride so these wheels are big enough to get teens where they want to get to quickly.
Impressively for the price, the iScoot also includes built in front and rear suspension. Suspension offers a more comfortable ride and is normally only seen on higher end scooters.
Furthermore, there is a handlebar which can be adjusted to three different heights (89cm, 97cm and 105cm).
With its one button folding system, the iScoot is also quick and easy to fold.  It folds down to 83cm x 13.5cm x 32cm and can accommodate riders up to 10okg (15.7 stone).
The deck size is fairly large compared to similar scooters at 46.5cm by 13.5cm
This scooter has lots of other cool features which includes a carry strap for easy carrying, a mud / rain guard to stop splash from the wheel hitting your trousers as you scoot and it comes in different colours too.
The question with this scooter, is all this too good to be true? Reviews suggest it may lack some durability but if you are after a big wheel scooter for some shorter journeys at a good price, the iScoot is worth considering.
Overall Verdict
A very competitively priced lightweight scooter with big 200mm wheels and some impressive features including suspension, carry strap, kickstand, mudguards and easy folding system. Good for beginners who want to try scootering for the first time without parting with serious cash. Less durable than other scooters such as those in the Micro range.
Micro Flex Deluxe Scooter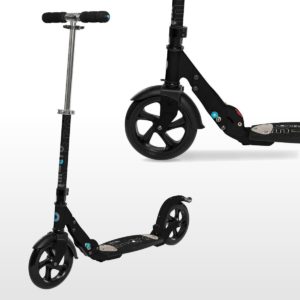 If you're looking for a top of the range commuter scooter for your teen, it's difficult to beat the comfort and quality of the ride of the Micro suspension scooter featured. Micro scooters are well known for their superior engineering, quality and design. Their scooters are built to last and could last your teenager for years to come.
One of the USPs of this scooter is the deck. It's designed to be ultra flexible (being made of flexible fibrewood and glass) so it helps absorb the shocks and vibrations from the road adding to smooth and comfortable ride.
It's also light for an adult kick scooter, weighing 4.7kg. This makes it a good option if you need to fold it and carry at any point (perhaps up a flight of stairs or on public transport.
Ergonomically designed for superior comfort, the Flex Deluxe features  a low deck to lessen the strain on your back. The footplate measures 33cm by 13.5cm.
An excellent commuter scooter, as the PU 200mm wheels area great size for getting from a to b. Get around faster and will less effort with the big wheels. Also brilliant for any fast journey. Perfect for scooting round the town or city.
The Micro Flex Deluxe is built to last. As with all micro scooters each key part of the scooter is replacable or repairable keeping the scooter out of the landfill and in working order for a lifetime.
The scooter can accommodate riders up to 10okg.
The handlebar are adjustable from 72cm to 103cm, which should be fine for most teens. There are scooters which adjust with handlbars up to 106cm, (such as the Razor A6 featured above) for very tall teenagers.
The handle grips are durable and provide unbeatable control and incredible comfort.
Despite the big 200mm wheels, the Flex deluxe folds down to an impressively compact 74cm x 12.5cm x 30cm. For scooters that fold down smaller, you will probably need to look for smaller wheels.
Overall Verdict
A 200mm wheel scooter which is extremely light despite it's big wheels. An investment which is perfect for commuting quickly to school and college or whizzing around towns and college. A superior, comfortable ride on a scooter that can last years if looked after properly.
Self Balancing Scooter
Another type of scooter with a high fun factor which will appeal to many teens is a self balancing scooter. Also known as a hoverboard (although they don't actually hover in any way!).
Everything is controlled with your feet, legs and torso rather than handlebars.
The one featured goes up to 10 to 15 km/h. It also comes with built in bluetooth speakers and it also has a carry bag. The carry bag is useful if you need to carry it when going uphill.
​These types of scooters don't do well climbing up steep hills, so the weight can influence which one you get. The scooter featured weighs 10 kg.
​
It provides up to 6 hours ride time is provided with a 2 hour charge. ​Check out the self balancing scooter guide for more information on what to look for when purchasing the best model.
Scooter Buying Guide For Teens
All the Info in One Place! 
 Big Wheels vs Small Wheels on Kick Scooters  - The wheels sizes on scooters vary from 98mm up to around 254mm. Bigger wheels (around 200mm and higher) are popular on commuter scooters as they get you from a to b quicker. Bigger wheels will wear out less quickly as they have more urethane. However, some people prefer smaller wheels as they add less weight to a scooter so they scooter will be lighter to carry when needed. Scooters with smaller wheels also fold down more compactly. They tend to be less expensive as well.
 Pneumatic Tyres - some scooters have pneumatic (air filled) tyres. The advantage of these is that they will offer a very comfortable ride over bumps and cracks in the pavement or path. They are particularly good if you have to go over rougher surfaces such as cobbles on your journeys. They also offer more grip when it's wet. The disadvantage of airfilled tyres is that they will require some maintenance to ensure they are pumped up to the correct pressure (like you would have to do on a bicycle) and you might have to deal with punctures. They also tend to add some weight to the scooter so will be heavier to carry when needed.
 Handlebar on a Kick scooter - When looking for a kick scooter for a teenager, consider that the handlebars should really come up to waist height for a comfortable ride.  A foldable handlebar is fab for easy storage and for carrying and taking onto public transport.
 How Much To Spend? - scooters vary wildly in price so it can be difficult to know how much exactly to spend and what you are getting for your money. The level of use may dictact how much you spend on a scooter for a teen. If they are likely to be using it everyday it makes sense to spend as much as you can afford to make sure that the scooter is durable and lasts. Brand name scooters like Razor and Micro often make good choices as they are built to last and Micro scooters in particular can be easily repaired and have parts replaced. If they are only using a scooter occasionally it makes sense to go with a less expensive scooter.
 Kick Scooter Vs Stunt Scooter - Kick scooters are designed to get you from a to b whereas stunt scooters are primarily designed for doing jumps and tricks at the skate park. Therefore a stunt scooter has to be stronger but still as lightweight as possible to withstand the extra impact needed. This means a stunt scooter will often be more expensive than a kick scooter. Kick scooters tend to be lighter, foldable and have height adjustable handlebars. You won't see folding mechanisms and height adjustable bars on a stunt scooters as these would be weak points when doing tricks. Stunt scooters will always have a one piece handlebar.
 Handlebar height and width (stunt scooters) - the handlebar on a stunt scooter generally comes up to around hip to waist height. However, some teens may have a preference to whether they like taller or shorter bars. But generally you don't want bars that come up over your waist or really low to your thighs. Beginners will probably feel more comfortable with bars about waist height but as they get more skilled with their scooter, they may develop a preference for a lower bar. The width of the bars should be about the same as the width of your shoulders.
When choosing a stunt scooter, it's best to look at the height of your teen rather than their age. If they are very tall, it may be better to go for a scooter with taller bars. Bars generally range from 58cm in height to 68cm, with 58cm being good for older kids and younger teens (10 to 14) and bars from 68cm plus being good for taller teens and adults.
 Wheels on Stunt Scooters - You will see 100mm, 110mm and 125mm wheels on stunt scooters for teenagers. The bigger the wheel, generally the more expensive the scooter. 110mm wheels tend to be the best choice for the beginner and intermediate teen. They go slightly faster than 100mm wheel, last a bit longer (more urethane) and look better. But a cheaper scooter with 100mm wheels may be fine for a younger teen and 125mm wheels a top choice for an advanced rider. Always go for wheels with a metal rather than a plastic core. Metal cores can withstand the impact from jumps and tricks whereas plastic cores won't last as long.
 What level of use on a stunt scooter?  Whether you buying for a  beginner, intermediate or pro will affect how much you spend. A beginner will want something they can just get started on, you can upgrade parts such as wheels if they pursue the hobby.
What about an electric scooter for a teen?  Electric scooters are fun and will enable teens to get use them without breaking out a sweat which is good if you need to be somewhere and looking good! The downside is that at the time of writing it's not currently legal to ride them in the pavement in the UK. However, due to the fact that electric scooters are an eco friendly way of travel an overhaul of travel laws may mean that it may soon be legal to allowed on British roads.
Off road or dirt scooters - are great fun, teens will love them. They are great for going on dirt tracks, bmx trails, on the grass and other off road terrain. Dirt scooters tend to have bigger wheels with pneumatic tyres as they offer a smoother ride on rougher terrain. There is no reason why you couldn't ride an off road scooter on the pavement and use it on other terrains at other times. Check out the dirt scooter guide for more information on what to look for in a dirt scooter.
More Advice on Scooters for Teens
There are  a few other points worth considering when buying a scooter for a teen.
1.) Coolness factor - let's be honest, most teenagers want to look and feel cool. A scooter that isn't cool is likely to stay in storage at home. There may be brands of scooters that they would prefer. If in doubt, just ask them. Or if it's a surprise, ask their friends.
2.)Safety - consider helmets, knee and elbow pads.
3.) Ramps - they may appreciate a small ramp to practice tricks and jumps at home. A perfect compliment to a stunt scooter.