Best Budget Stunt Scooters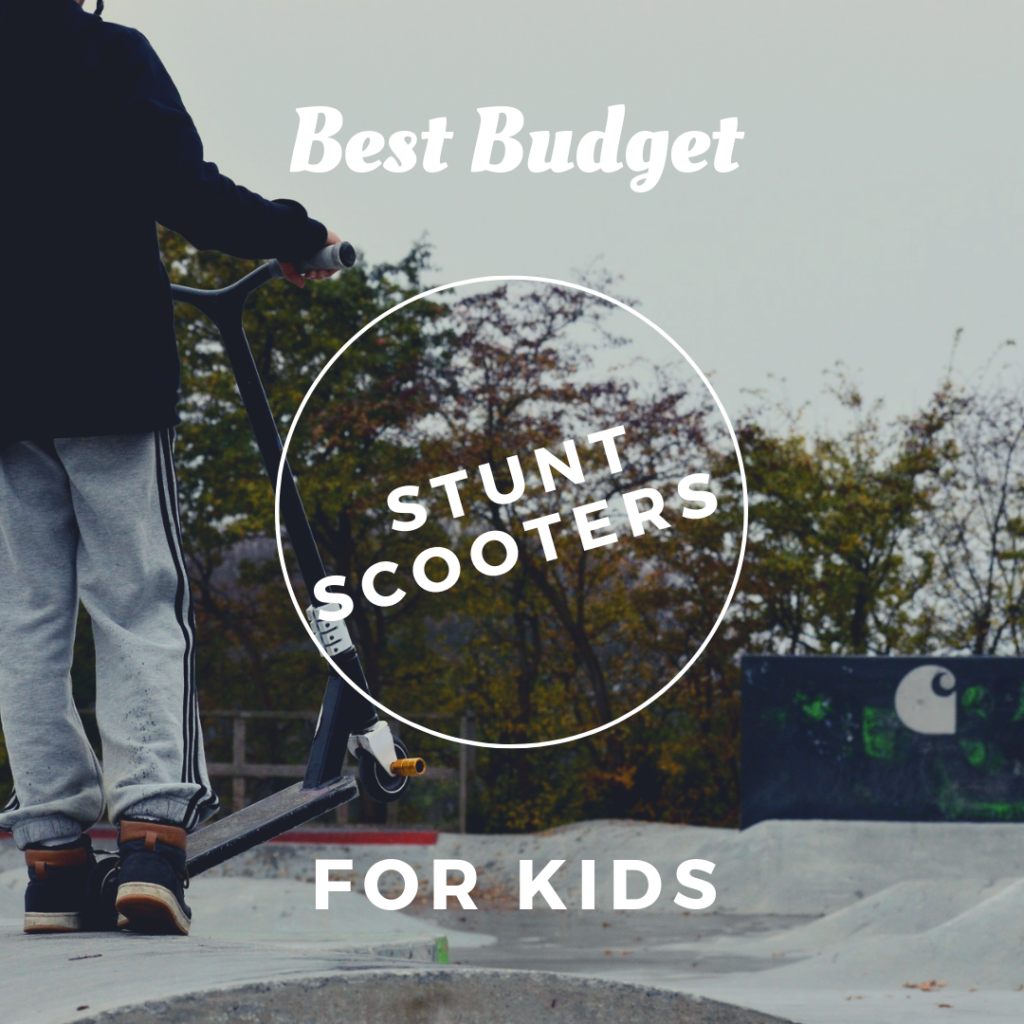 Stunt scooters can definitely be expensive.
​
​This is because they have to be built with strong but lightweight materials in order that they can withstand the punishment kids put them under when doing tricks, stunts and jumps.
However, it is often difficult to justify spending an awful lot of money on a stunt scooter when your child may decide doing tricks on a scooter isn't really for them a couple of months after spending pounds on an expensive scooter.
Therefore in this article there a range of cheaper stunt scooters with an explanation of what you are getting for your money.
*This post may have affiliate links, which means we may receive a small commissions if you choose to purchase through links we provide (at no extra cost to you).
Razor Beast Stunt Scooter (££ - midrange)
This scooter is an excellent budget stunt scooter for kids around 8 years plus and it has excellent reviews.
It's a good one to try out first stunts and tricks. And if they decide stunts aren't for them, it can still be used from getting from a to b.
Some of it's features include:
Metalised urethane wheels - the metalised cores are not as good as alloy cores but will withstand the extra impact needed from stunts. The urethane wheels offer a smooth ride.
Fixed riser handlebars - always go for a fixed handlebar on a stunt scooter and not an adjustable one. An fixed handlebar will make sure that the scooter is strong enough to withstand the extra impact from tricks.
Aircraft-grade aluminum frame - lightweight but a strong frame. fairly lightweight at 3.5kg
Summary - This is a great option for younger kids to have a first go at the skate park. Lightweight but strong enough to withstand those first tricks. A good budget buy.
✔️ Advice - Wheel cores. The core of the wheel is very important as they need to be able to withstand the excessive force from landings. On pro level scooters you will always see metal (alloy) core wheels and these are the best. Entry level stunt scooters will often have nylon core wheels (a strong type of plastic) or other plastic cores. Nylon cores are strong but generally better for cruising. Metal core wheels are generally much better than nylon or plastic core wheels as they are more durable and stronger to withstand the abuse of tricks. Nylon/plastic core wheels are cheaper and can be found on budget scooters. Alloy cores should definitely be sought out for teens and adults. Scooters for younger kids (age 6 or 7) often do have nylon cores and these are generally okay while kids are younger and lighter as there is not as much force on landings, although metal cores are still better.
Slamm Classic (££ - Midrange)
Sometimes it's good to choose a well known high quality scooter brand to make sure the scooter is high quality and will last. Slamm scooters are reasonably priced but the UK company have been making freestyle scooters for years.
The Slamm classic has some excellent features. It makes a very good beginner stunt scooter for the 8 to 12 year age group. It has some top notch features including:
Fork / Compression - Threadless fork and IHC system
Wheels - 100mm alloy core 88A wheels (88a refers the durometer (hardness) of the wheel. 88a is a good number as it means the wheels are headwearing and durable. You generally won't see a durometer rating on lower end scooter, so the durometer rating demonstrates it's high quality. The 100mm wheels can be upgraded to 110mm wheels
Age Recommendation - 8 plus years
Rider Height -  76cm. The rider height is the height between the deck and the handlebars. Ideally you want the handlebar height to come between hip and waist height on a stunt scooter.
Other features - The scooter can be customised and upgraded if required. The scooter has impact resistant bar ends giving style and added protection to the ride.
Verdict - If you can stretch your budget, this is an excellent beginner stunt scooter.
✔️
Threaded Forks vs Threadless Forks
- most budget scooters will have a threaded fork whereas high end scooters will have a threadless fork. A threadless fork is stronger than a threaded fork so if you see it on a a cheaper scooter this can make it a better choice.
TBF Street Stunt (£ - Low Price Option)
This is the cheapest stunt scooter featured on this page. It has good reviews over on amazon. However it is unclear how many of those reviews are actually of kids doing stunts.
If you have a teenager or a child serious about doing tricks I would go for something a bit better. However if it's for a younger child who just wants to have a go at doing a few stunts and wants to use it as a stunt scooter as well it could be worth considering.
The features on this scooter include:
Handlebar / Deck /  Fork - Bar is 1 piece alloy T4 & T6 heat treated. The scooter has a heat treated strong robust deck and threaded reinforced fork.
Wheels - 100mm 88A PU super high rebound with plastic spoke cores. The wheels are perfect for street scooting. Ideally a stunt scooter should have metal cores as they are more durable. However if it's for a younger, lighter child who just wants to scoot around and do the odd trick or too at the skatepark, this scooter could be a good choice.
Scooter height - the overall height of the scooter is 83cm
Bar width - the bar is 44cm (17 inches). This is a good size for younger children, as children get taller and older they may prefer wider bars on their stunt scooter.
Weight - the weight is 3.5kg which is a good weight for a stunt scooter.
Summary - if you're buying for a younger child who just wants to try the odd trick or too this could be a good choice. Otherwise a scooter with alloy core wheels might be a better.
✔️
Wheel size
- most budget scooters will have a wheel size of 100mm. This size is fine for doing tricks and stunts for kids. On some more expensive scooters you will see a wheel size of 110mm and on pro scooters 125mm wheels. Bigger wheels do offer a bit more speed and more durability as they have more urethane but for a beginner scooter 100mm will be fine.
Dominator Trooper - (££ - Midrange)

The Dominator Trooper is a beginner stunt scooter at the 6 to 12 age group. It's has some excellent specifications at an affordable price.
Wheels - the trooper features 110mm wheels with 7 spoke alloy core wheels. The slightly larger wheels are a good buy for a scooter at this price point and the cores are strong to absorb the shocks from stunts.
Bars - the scooter features a one piece steel bar. The scooter height is 71cm but the bar itself measures 55cm (21.5 inches) by 20 inches wide. The bar is a good width for a scooter in the price range. Similar priced scooters tend to have narrower bars
Compression System - The Trooper also has a threadless compression system which you quite often only see on higher end scooters.
Weight - the scooter weighs a respectable 3.6kg
Verdict - all in all this is an excellent beginner scooter for kids at an excellent price point.
✔️ Weight - Stunt scooters need to be strong but lightweight. The more lightweight the scooter the better it is to do tricks. You may see stunt scooters between 3kg and 4.5kg. The more expensive stunt scooters are deisgned to be as lightweight as possible but with strong materials hence the extra cost. Sometimes lighter, cheaper scooters may have features such as plastic wheels that don't weigh as much but obviously aren't as strong.
3Style Scooters -
Shadow Stunt Scooter (££ - Midrange)

Spend a little bit more money for the 3 Style stunt scooter and get some really excellent features for the price.
Deck - It has a strong 6063 heat treated 4.25" (10.7cm) wide x 19" (48.2cm) long aluminium lightweight deck.
Wheels - 110mm 5-spoke CNC alloy core wheels (alloy core wheels are much more durable and able to withstand tricks than plastic wheels) . They also feature hi-rebound printed tyres (88a - the higher the number the more harder, durable and resistant the wheel). 110mm wheels are generally prefered by stunt scooter riders because they are faster and last longer.
Compression / Fork - Features and ultra strong CNC machined threadless steel fork and hidden internal compression.
Weight  - 3.4kg which is quite lightweight for a stunt scooter.
✔️
Reviews
- reading reviews can be a good way to determine whether the scooter is a good fit. However, even though sometimes a scooter has lots of five star reviews it may still mean the scooter isn't the best one for the rider in question, whereas the scooter with 3 star reviews is perfect! Sometimes people leave five star reviews for stunt scooters, but the rider is just using the scooter as a kick scooter and hasn't tried it out at the skate park at all. So it might be an excellent kick scooter but a let down at the skate park. It's also worth looking at the number of reviews. Quite often a stunt scooter with hundreds of reviews but with 4 stars overall will be a better fit than a scooter with a handful of reviews which are all 5 star. So drum down and read the reviews to get a true picture.
Albott Sports Pro Push Stunt Scooter (£ - Low Price)
Another option of a first budget stunt scooter for a kid starting to try out tricks is the Albott stunt scooter. Again, it's plastic core wheels mean it isn't the best choice for a kid who's going to be using at the skate park a lot. But for a younger child who just wants to have a go, it could be a good choice.
The features include:
Deck /Fork- A strong aluminum deck and threaded fork
Wheels - PU wheels with a plastic core
Weight - Lightweight at 3.3kg - a lightweight scooter makes it easier to use to do jumps and stunts
Scooter height  - 82cm - ideally with a stunt scooter you want the bars to come up to around just below hip to waist height, depending on the preference of the rider.
✔️
Who are you Buying for?
- the rider you are buying for can determine how much you want to spend and what type of scooter to buy. A younger, smaller rider will have less impact on the scooter when doing jumps and tricks, so the scooter may not need t to be as strong as for an older kids or teen. If they are using the scooter for occasional stunt use, there are scooters that are designed for a lower level of stunt use as well. If they rider is going to be using it at the stunt park everyday and giving it some abuse, buy the strongest, most durable scooter you can afford. /span>
Grit Atom
The Grit Atom is an entry level stunt scooter designed and sized for the younger crowd (5 - 7 years). It's ideal for a young beginner / intermediate scooter rider.
Look - it comes in six different colours with a y shaped handlebar and it really looks the a part with a y shaped handlebar.
Deck - the deck is smaller than standard which makes it easier for a younger, smaller rider to control. It measures 10cm (approx 4 inches) by 48.3cm (approx. 19.75 inches)
Bars - measure 21.25 high by 18 wide. The smaller bars again make it easier for younger kids to control.
Wheels - are nylon core (plastic). This wheels should be strong enough for a  younger, lighter rider
Grit - grit is a well known and respected Australian brand of scooters
✔️ Replaceable Parts - If a child's scooter is likely to take a significant beating at the skatepark or during general use, it's a good economical decision to look for a scooter where the parts are replaceable. These scooters do tend to cost a little bit more at the beginning but in the long run, it is cheaper to replace a wheel or another part than have to fork out for a new scooter. Additionally if kids become very passionate about scooting, they may wish to updgrade the wheels or other parts on their scooter.
Slamm Urban VII (££ - Midrange)
Another excellent entry level stunt scooter from Slamm which can be found at an amazing price point for the features. It's very similar to the Slamm classic above except the wheels are 110mm and features a dipped handlebar.
Fork / Compression - Pro scooter features include features a threadless headset, IHC system and threadless aluminium one-piece fork
Wheels - 110mm 88A PU cast alloy core wheels with ABEC-9 bearings
Interchangeable parts - all parts are interchangeable for custom upgrades
Age recommendation - 8 plus
Handlebar grips - Pro grips with impact resistant bar ends.
Ride height - (from deck to top of handlebar) is 76cm.
✔️
Wheel Bearings
- Wheel bearings are an important part of the scooter as they determine how fast the wheel spins. You will often see a ABEC rating generally between ABEC-5 and ABEC-9. In theory, the higher the number, the better the bearing as the wheels should spin more quickly, however the quality of the bearing itself isn't demonstrated by the ABEC number. For example, it's known that some ABEC-7 bearings will be much higher quality than some ABEC-9 bearings. Some well known scooter makes such as micro don't give the bearings rating but their wheel bearings are very high quality. So in short, take note of the ABEC number but don't let it be a deciding factor in choosing the best scooter.
Land Surfer Scooter (£ - Low Price)
The Land surfer stunt scooter is a good looking budget stunt scooter with a stylish y shaped bar which comes in a variety of colors. Possibly worth considering if your budget is tight for younger riders to try out a few jumps and tricks and use it as a kick scooter. Older kids and teens will probably need something a bit stronger. Might be worth stretching the budget if kids are serious about doing tricks.
Wheels - 100mm PU wheels (plastic core).
Weight - very lightweight at 3.2kg.
Bars - bars measure 78cm for floor to top. The are 50cm in width (19.6 inches).
Land Surfer Pro Stunt Scooter (££ - Midrange)
The Land Surfer pro stunt scooter is a step up from the standard Land surfer scooter (above). It's a good option for cruising and use at the stunt park. It's features include:
Deck - Strong anodised deck with a quad clamp
Wheels - Strong high rebound 100mm PU wheels with alloy core and ABEC-9 bearings
Weight - 3.7kg - an average weight for a stunt scooter
Bar Width - An oversized 21.5" (54.6cm)  bar
Slamm Tantrum (££ - Mid Range)

The Slamm tantrum is another awesome pick for the younger, smaller rider from around aged 6 plus.
Perfectly sized - the reinforced steel t-bar is strong and the a lower height making it the ideal size for the younger rider.
Wheels - 100mm nylon core 88 A PU wheels
Deck - a smaller sized 4.2 inch by 18.8 inch deck makes it easier for younger children to control
Fork / Compression - threadless fork and IHC compression system.
Updgradeable - like with all Slamm scooters many parts can be customised and are interchangeable. Easily upgrade the wheels to 110mm if required or the bar to a bigger size.
Verdict - a perfect scooter for the young beginners.