Best Budget Stunt Scooters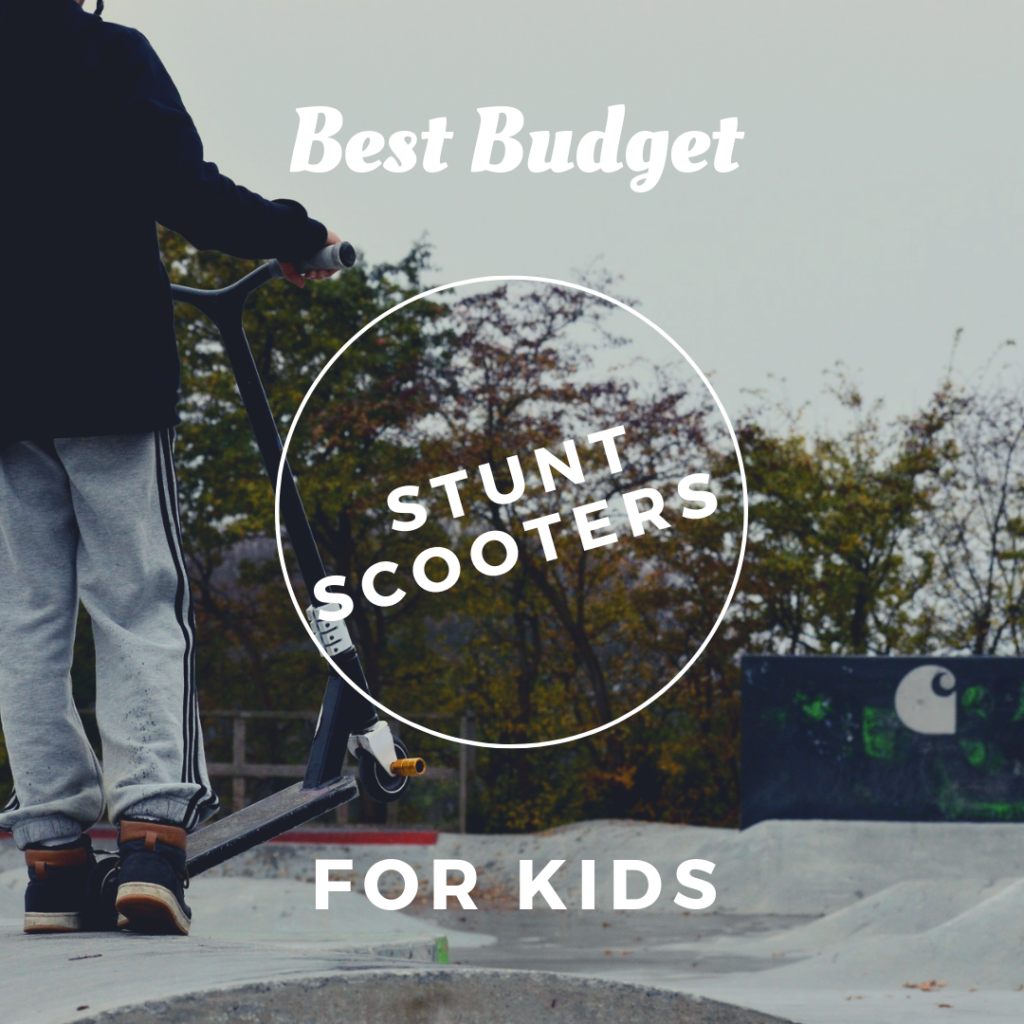 Stunt scooters can definitely be expensive.
​
​This is because they have to be built with strong but lightweight materials in order that they can withstand the punishment kids put them under when doing tricks, stunts and jumps.
However, it is often difficult to justify spending an awful lot of money on a stunt scooter when your child may decide doing tricks on a scooter isn't really for them a couple of months after spending pounds on an expensive scooter.
Therefore in this article there a range of cheaper stunt scooters with an explanation of what you are getting for your money.
*This post has affiliate links, which means we may receive a small commission if you choose to purchase through links we provide (at no extra cost to you). As an Amazon Associate we earn from qualifying purchases.
Grit Atom  (££ - midrange)
This scooter is an excellent stunt scooter for the younger child from around 5 0r 6 and up. The unique feature of the Grit Atom is it has two handlebars. As your child grows, you can swap the smaller handlebar to a larger one.
It's a wonderful entry level scooter for smaller kids to try out first stunts and tricks. And if they decide stunts aren't for them, it can still be used from getting from a to b.
Its key features include:
Two handlebars- the smallest handlebar is 500mm and the taller handlebar is 550mm. This means the total scooter's height can be increased from 72 cm to 77cm as your child grows. Ideally, you want a scooter bar to be between waist and hip height on your child.
100mm 85A PU Nycore Wheels  - the 100mm wheels are a good size for beginners. The nycore wheels (the inner part of the wheel) are sufficient for younger riders. As kids get older, scooter wheels should be alloy core to withstand the impact of tricks. However, younger kids should be fine with nycore.
360 degree bar - the bar spins 360 degrees for tricks.
Scooter weight - 3.3kg. Light enough for young kids to easily maneouvre.
Summary - This is a a wonderful option for younger kids to scoot from a to b and to try out some tricks. Lightweight but strong enough to withstand those first tricks. A good budget buy.
✔️ Advice - Wheel cores. The core of the wheel is very important as they need to be able to withstand the excessive force from landings. On pro level scooters you will always see metal (alloy) core wheels and these are the best. Entry level stunt scooters will often have nylon core wheels (a strong type of plastic) or other plastic cores. Nylon cores are strong but generally better for cruising. Metal core wheels are generally much better than nylon or plastic core wheels as they are more durable and stronger to withstand the abuse of tricks. Nylon/plastic core wheels are cheaper and can be found on budget scooters. Alloy cores should definitely be sought out for teens and adults. Scooters for younger kids (age 6 or 7) often do have nylon cores and these are generally okay while kids are younger and lighter as there is not as much force on landings, although metal cores are still better.
Schwinn Trance Scooter (£ - Low Price)

The Schwinn Trace Scooter is aimed at kids aged 8 plus, although there are many reviews of younger kids using this scooter. Schwinn is a well-established company primarily known for its bikes. They have been around for many years, so you'd imagine they have a reputation to hold up and are less likely to produce a rubbish stunt scooter. With that being said, let's look at the scooter's key features.
Construction and Scooter Weight - The scooter has a heavy-duty construction with a steel 'y bar' handlebar set up. The scooter build is solid and ready to take some punishment. However, it is on the heavy side. At 4.9kg it weighs a lot for a beginner stunt scooter, especially for a small kid looking to do his first tricks.
Wheels - The 100mm wheels have plastic cores which may not last long if your child is jumping and putting some pressure on with his or her tricks. These wheels are absolutely fine for scooting from a to b. They may also okay for occasional skate park use for young and lighter kids. However, if your child is serious about using this scooter at the park, you want a scooter with better wheels.
Aesthetics - Kids will love the look of the scooter with a green one-eyed monster graphic. They will also love its rear CNC alloy stunt pegs. The handlebar turns 360 degrees if they want to practice some tail whips. Schwinn boasts the scooter features soft PU rubber grips which provide ample grip and comfort. There's a steel spring-style brake for reliable stopping power at the rear.
Bar Height - With a bar height of 76.2cm (3o"), Schwinn recommends the scooter for the 8 plus age group.
Verdict -  if you're looking for a scooter that is primarily a kick scooter with occasional skate park use this could work. The downside for doing first scooter tricks is that it's heavy. Therefore, if you want a scooter for heavy use at the skate park and you can stretch your budget, there are better options.
✔️
Who are you Buying for?
- the rider you are buying for can determine how much you want to spend and what type of scooter to buy. A younger, smaller rider will have less impact on the scooter when doing jumps and tricks, so the scooter may not need t to be as strong as for an older kids or teen. If they are using the scooter for occasional stunt use, there are scooters that are designed for a lower level of stunt use as well. If they rider is going to be using it at the stunt park everyday and giving it some abuse, buy the strongest, most durable scooter you can afford.

Dominator Trooper - (££ - Midrange)

The Dominator Trooper is a beginner stunt scooter at the 6 plus age group. It has some excellent specifications at an affordable price. Perfectly sized for the smaller, younger rider.
Wheels - the trooper features 110mm wheels with 7 spoke alloy core wheels. The District wheels are a good buy for a scooter at this price point and the cores are strong to absorb the shocks from stunts.
Bars - the scooter features a one piece steel bar. The scooter height is 71.2cm but the bar itself measures 55cm (21.5 inches) by 20 inches wide. The bar is a good width for a scooter in the price range. Similar priced scooters tend to have narrower bars. In terms of height, it's important to get a stunt scooter that is lower than the belly button for safety and optimum control. However, too low and it can be uncomfortable to ride. The Trooper is appropriately sized for kids.
Deck - the deck is on the smaller side, measuring 17.1" by 4.5" which is a nice size for smaller feet. Standard decks tend to be 19 or 20 inches so it's appropriately sized for the younger rider.
Compression System - The Trooper also has a threadless compression system which you quite often only see on higher end scooters.
Weight - the scooter weighs a respectable 3.6kg
Verdict - all in all this is an excellent beginner scooter for kids at an excellent price point.
✔️
Scooter bar and height 
-  All stunt scooters have fixed handlebars rather than height adjustable ones. This is because the handlebar needs to be strong enough to withstand the impact at the skate park. A height adjustment mechanism adds weakness to the scooter bar and is more likely to break when being used for tricks and jumps. Obviously this can be dangerous. The scooter bar height is also very important when choosing the right stunt scooter. Most beginner riders do well on a stunt scooter bar that sits between waist and hip height. If the bar is too high, the scooter can be difficult to control.

Chilli Base Scooter (££ - Medium Price)

If you can stretch your budget, the Chilli base is really an excellent stunt scooter at an amazing price for the quality that you get. My 9 year old son had the opportunity to ride and review the Chilli base and you can read our in-depth review on the Chilli Base scooter here.
Perfect for beginners - It's an awesome beginner scooter that will withstand all the punishment young kids can throw at it. My son loved the look and feel of the scooter. What really worked for him were the wide handlebars which gave him great control when using the ramps for the first time.
Wheels - The wheels are perfect for young riders. They are 110mm wheels are slightly bigger than the 100mm scooters featured on some budget scooters. The bigger wheel gives a smooth and speedy ride. It is quiet and really is a dream to ride from a to b. The wheels feature spoked alloy cores so will also withstand the impact from jumps and tail whips. The great thing about this scooter is that it will last. The wheels can be replaced if they need to be.
Scooter Bar - The scooter bar is 79cm high and ideal for my 9 year old. It came up to around waist height (he is a little on the small side for his age). There is plenty of growing room as many kids like the scooter bars to sit lower when they get older .
Weight - It weighs 3.5kg, so is light - much lighter than the Schwinn scooter featured above.  A lighter scooter makes it easier for younger kids to control and learn their first tricks.
✔️
Threaded Forks vs Threadless Forks
- most budget scooters will have a threaded fork whereas high end scooters will have a threadless fork. A threadless fork is stronger than a threaded fork so if you see it on a a cheaper scooter this can make it a better choice.
TBF Street Stunt (£ - Low Price Option)
If you have a teenager or a child serious about doing tricks I would go for something a bit better. However if it's for a younger child who just wants to have a go at doing a few stunts and wants to use it as a stunt scooter as well it could be worth considering.
The features on this scooter include:
Handlebar / Deck /  Fork - Bar is 1 piece alloy T4 & T6 heat treated. The scooter has a heat treated strong robust deck and threaded reinforced fork.
Wheels - 100mm 88A PU super high rebound with plastic spoke cores. The wheels are perfect for street scooting. Ideally a stunt scooter should have metal cores as they are more durable. However if it's for a younger, lighter child who just wants to scoot around and do the odd trick or too at the skatepark, this scooter could be a good choice.
Scooter height - the overall height of the scooter is 83cm
Bar width - the bar is 44cm (17 inches). This is a good size for younger children, as children get taller and older they may prefer wider bars on their stunt scooter.
Weight - the weight is 3.5kg which is a good weight for a stunt scooter.
Summary - if you're buying for a younger child who just wants to try the odd trick or too this could be a good choice. Otherwise a scooter with alloy core wheels might be a better.
✔️
Wheel size
- most budget scooters will have a wheel size of 100mm. This size is fine for doing tricks and stunts for kids. On some more expensive scooters you will see a wheel size of 110mm and on pro scooters 125mm wheels. Bigger wheels do offer a bit more speed and more durability as they have more urethane but for a beginner scooter 100mm will be fine.
Crisp Switch 2020 (£££ - Higher Price)

Spend a little bit more money for the Crisp Switch 2020 and get some really excellent features for the price. The Switch is a good looking scooter where you get a lot of bang for your buck. Great for around age 8 to the early teen years.
Deck - The footplate is 19.5" in length with a width of 4.5". A great size for growing feet.
Bars - The bars measure 22" in height by 20" in width. The scooter has a total height of 81cm.
Wheels - 100mm alloy core wheels are strong for skate park use (alloy core wheels are much more durable and able to withstand tricks than plastic wheels).
Weight  - 3.7kg which is quite lightweight for a bargain stunt scooter of this size
At the price point, it's a real bargain and you can still expect good looks, IHC compression and an excellent solid build.
✔️ Weight - Stunt scooters need to be strong but lightweight. The more lightweight the scooter the better it is to do tricks. You may see stunt scooters between 3kg and 4.5kg. The more expensive stunt scooters are deisgned to be as lightweight as possible but with strong materials hence the extra cost. Sometimes lighter, cheaper scooters may have features such as plastic wheels that don't weigh as much but obviously aren't as strong.
MX Ramp (££ - Midrange)
Micro aren't very often associated with the word budget. But MX Ramp, their stunt scooter offering that is recommended for 5 to 12 year olds who are beginners is extremely competitive on price. Simply put, it offers excellent quality at a brilliant price point.  Micro suggest the minimum height for this scooter is 128cm (4' 2") so despite the recommended age range, it might be big for some 5 and 6 year olds.
It's marketed as a kid's first stunt scooter for doing occasional tricks. It's designed to make learning basic tricks easy, making it a good choice for younger riders who are starting out.
So what's to like about the scooter :
Wheels - 100mm metal core wheels. Metal core wheels are much better for stunt scooters to take the impact from the jumps and tricks.
Light - the scooter weighs 3.7kg. A light frame makes it easier to learn tricks.
Handlebar Height -  68cm fixed height handlebar. The ride height (which is the height between the deck and the handlebar) is 74cm. Ideally, you want the handlebar height to come between hip and waist height on a stunt scooter, and no higher than their belly button.
Footplate - the footplate is smaller than standard (33cm (l) by 10.5cm (w) which will make it easier for little feet to control.
Built to last - The scooter has replaceable parts. If the scooter is looked after, it can be kept out of landfill and passed down to siblings or sold on ebay once finished with.
Verdict - This scooter is ideal for occasional tricks and getting from a to b.
✔️
Reviews
- reading reviews can be a good way to determine whether the scooter is a good fit. However, even though sometimes a scooter has lots of five star reviews it may still mean the scooter isn't the best one for the rider in question, whereas the scooter with 3 star reviews is perfect! Sometimes people leave five star reviews for stunt scooters, but the rider is just using the scooter as a kick scooter and hasn't tried it out at the skate park at all. So it might be an excellent kick scooter but a let down at the skate park. It's also worth looking at the number of reviews. Quite often a stunt scooter with hundreds of reviews but with 4 stars overall will be a better fit than a scooter with a handful of reviews which are all 5 star. So drum down and read the reviews to get a true picture.
Blazer Pro (££ Mid Price Range)
If you're looking for a stunt scooter the younger crowd (5 to 7 years), the Brazer Pro is an excellent scooter at a brilliant price point.  It's ideal for a young beginner / intermediate scooter rider.
Deck - at 17.7" the deck is shorter than standard, perfect for smaller feet. However, it's designed to still be quite wide at 4.5", this gives beginners a stable platform to learn their tricks.
Bars - the bars are 19.68" by 18.1"(50cm by 46cm) These are smaller bars than scooters aimed at the 8 plus age group. Shorter bars make it easier for younger kids to control their ride at the park.
Wheels - amazingly, at this price point, Blazer Pro has equipped their mini offering with 100mm alloy core wheels. Usually, you would see scooters within this price range with nylon or plastic cores.
Blazer Pro - Blazer Pro scooter are a well known and respected brand within the scooter community.
✔️ Replaceable Parts - If a child's scooter is likely to take a significant beating at the skatepark or during general use, it's a good economical decision to look for a scooter where the parts are replaceable. These scooters do tend to cost a little bit more at the beginning but in the long run, it is cheaper to replace a wheel or another part than have to fork out for a new scooter. Additionally if kids become very passionate about scooting, they may wish to updgrade the wheels or other parts on their scooter.
Nitro Circus Ryan Williams RW Replica Complete Pro Stunt Scooter (£££)
If you can stretch your budget, this makes a great first stunt scooter for the 8 to 11 year age group. It's a fab entry level scooter with great spec.
Bars - The bars are 22" in height and 18" in width with a total scooter height 0f 80cm
Wheels - 110mm with spoked alloy core wheels with ABEC-9 bearings. Again,  with this scooter you get the alloy core wheels which will withstand the impact at the skate park. 110mm size wheels are fine for beginners. Bigger wheels are generally preferred by the pros. They spin faster. And more urethane means they will wear out less quickly.
Weight - 3.4kg. Very light - this is perfect for beginners to start speedily learning tail whips and other tricks. Lighter is easier to control.
Deck - the deck is 19" by 4" which is appropriate for this size of scooter.
Look - Visually appealing gold and black dual colour scheme, it will look awesome at the park. You can get it in just black too.
Other features  - steel threadless fork and a 3 bolt flex brake.
✔️
Wheel Bearings
- Wheel bearings are an important part of the scooter as they determine how fast the wheel spins. You will often see a ABEC rating generally between ABEC-5 and ABEC-9. In theory, the higher the number, the better the bearing as the wheels should spin more quickly, however the quality of the bearing itself isn't demonstrated by the ABEC number. For example, it's known that some ABEC-7 bearings will be much higher quality than some ABEC-9 bearings. Some well known scooter makes such as micro don't give the bearings rating but their wheel bearings are very high quality. So in short, take note of the ABEC number but don't let it be a deciding factor in choosing the best scooter.
Land Surfer Scooter (£ - Low Price)
The Land surfer stunt scooter is a good looking budget stunt scooter with a stylish y shaped bar that comes in a variety of colors. Possibly worth considering if your budget is tight for younger riders to try out a few jumps and tricks and use it as a kick scooter. Older kids and teens need something stronger. Might be worth stretching the budget if kids are serious about doing tricks.
Overall Build - the overall build seems strong and solid. It is worth checking and tightning the bolts. Many reviewers have highlighted thsi.
Bars - The total scooter height is 78cm and the bar width is 50cm, making it a good size or the 8 plus age group.
Wheels - 100mm PU wheels (plastic core). The wheels may be okay for some light tricks from younger kids. But avoid if you have a child who is going to give their stunt scooter some serious punishment. Unfortunately, the quality of the wheels seems to let this scooter down. There are quite a few reviews of the wheels falling off which obviously isn't ideal!
Weight - very lightweight at 3.2kg. The lightness of the scooter will make it easier for young kids to control.
Deck - the 360° swivel deck is 48cm by 10 cm. Kids can have a go at some tail whips with the deck, but again a heavier older child will need something with better wheels.
Overall verdict - the Land surfer is at the budget end of stunt scooters. It has good reviews over on amazon but many of these are kids using the scooter to get from at to b rather than at the skate park. Might be okay for occasional tricks for lighter kids but there are better options for heavy skate park use.
Land Surfer Pro Stunt Scooter (££ - Midrange)
The Land Surfer pro stunt scooter is a step up from the standard Land surfer scooter (above). It's a good option for cruising and use at the stunt park. Its features include:
Deck - Strong anodised aluminum deck with a quad clamp. The deck measures 50cm (l) by 11cm(w) so there's quite a lot of footspace.
Scooter height - the scooter measures 80cm from the floor to the top of the deck making it a good choice for the 8 and 9 plus age group
Wheels - The strong high rebound 100mm PU wheels feature alloy cores and ABEC-9 bearings. The alloy cores on the Land surfer scooter are designed to withstand the impact from tricks and jumps at the skate park.
Weight - 3.7kg - an average weight for a stunt scooter.
Bar Width - An oversized 21.5" (54.6cm)  bar. Wider bars give young beginners optimum control at the skatepark and are very comfortable when riding.
Reviews - there are some reviews of the scooter rattling and the scooter parts snapping which is a little worrying. Again it's another good candidate for a kick scooter with occasional stunt use. If you have a serious stunt scooter user, I would consider another pro scooter.
Slamm Tantrum (££ - Mid Range)

The Slamm tantrum is another awesome pick for the younger, smaller rider from around aged 4 or 5 plus.
Perfectly sized for young riders   - the reinforced steel t-bar is strong and the lower height makes the Tantrum an ideal size for the younger rider. The scooter measures 74cm in height.
Wheels - 100mm nylon core 88 A PU wheels are ideal for the smaller child who is learning their first tricks.
Deck - a smaller sized 19.5"(l) x 4.5"(w) deck is the same size as a standard sized scooter. Slamm have designed it to give plenty of foot space and stability for younger riders.
Fork / Compression - the Tantrum features a threadless fork and IHC compression system.
Weight - it weighs 3.6kg, there are lighter scooters but it's still pretty lightweight for doing first tricks.
Upgradeable - like with all Slamm scooters many parts can be customised and are interchangeable. Easily upgrade the wheels to 110mm if required or the bar to a bigger size.
Verdict - a perfect scooter for young beginners.