Razor A5 Lux Scooter Review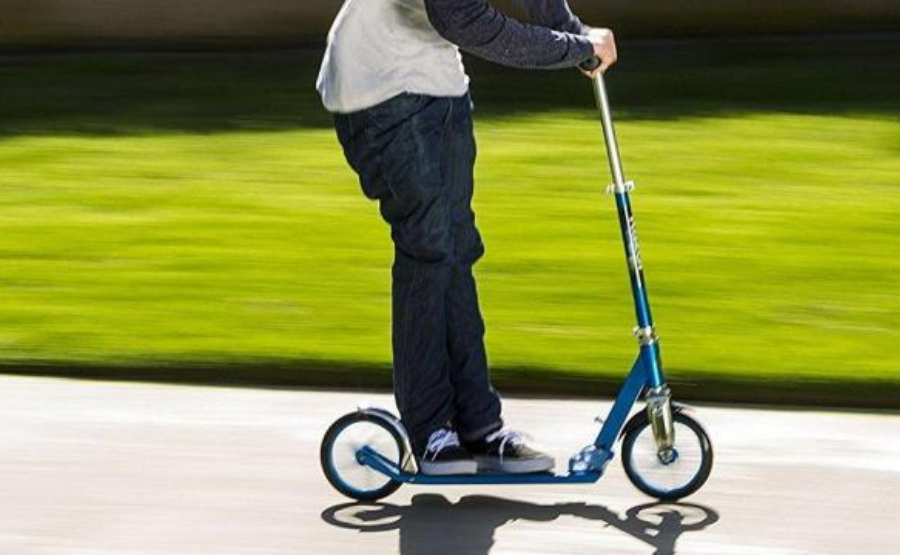 If you're looking for a fast, effortless ride for older kids, teens and adults, definitely check out the Razor A5 Lux.
It's competitively priced for a big wheel scooter. The 8 inch wheels ensure a smooth, quick ride. Plus, it's easily folded and lightweight so perfect for taking on trains and buses.
Ideal for fun rides, commutes and weekend jaunts.
Who's It For?
The Razor age recommendation is 8 years and up. Kids, teens and adults can all use this scooter. It can and has been used by many people for daily commutes but it's not suitable for every adult. If you are on the taller side, it may be worth checking out the Razor A6 instead as the handlebar extends up to 106cm.
There's also a maximum weight capacity of 220Ibs (100kg).
Handlebar
The handlebar extends up to 97cm. This is fine for most adults, but as previously said if you want something taller, check out the Razor A6 as it's handlebar extends quite a few cms higher.
The quick release handlebar adjustment works well enabling riders to adjust the height quickly and easily. You can adjust the handlebar within the height range to any point and make it the perfect height for your size.
Footplate
The footplate is big enough for most adults to fit one foot on the board at a time. Experienced riders will be able to change over feet while riding. And you can rest the non pushing foot on the side of the deck slightly when you are cruising if you wish.
Some people may find the footplate a bit too narrow, especially if their feet are on the larger side. However, it's worth bearing in mind that larger decks can make it easier for the kicking foot to catch on the footplate while scooting, which can be annoying and may hurt!
What's the Ride Like?
First, the big positive is the extra large wheels. The 200mm (8") polyurethane wheels ensure a quick and smooth ride. The wheels are larger than on standard sized scooters which makes the A5 great for commutes and longer rides. Bigger wheels get you where you want to go faster and with less effort. Fewer kicks are needed to travel further.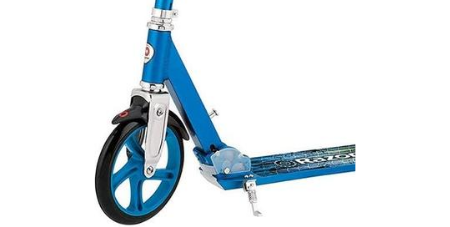 The bigger wheels are also less likely to get stuck in cracks and bumps in the road. This ensures a smoother and more comfortable ride compared with scooters with a smaller sized wheel.
The deck is just 2.5" off the ground which is very low. This can be very advantageous as it means that the kicking leg doesn't need to bend as deep when you are kicking, making the ride more comfortable. However, sometimes, the bottom of the deck can be scrapped. Be careful when you are going over speed bumps and the like.
Perhaps one of the major criticisms of the A5 Lux is that it can be noisy. There is rattling as you ride, which can be distracting for some. Something to bear in mind.
Another disadvantage is that it's not great in the rain. It can feel slippery as the wheels don't offer much traction on wet roads. So you will need to go slower for safety and allowing more stopping time in wet conditions.
The foam grips offer comfort when you are riding. They should be fine for most adult hands, although some adults with bigger hands may prefer foam grips which are slightly larger.
Like most scooters, the A5 features a rear fender brake which is very good. Just press on the brake on the back wheel to slow down. Another method of slowing down is just to use one of your feet to stop. You have both options, so use the one which feels more intuitive and comfortable on your ride.
What about Portability
The A5 Lux scores highly on portability. It's easy to fold and is fairly compact when folded given the large 8" wheels. Additionally, the handlebars can be folded down for compact storage.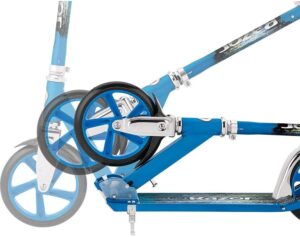 It's also light to carry weighing just 8.38lbs or 3.83kg. Razor have done a good job of creating a big wheel scooter that isn't too heavy.
Many big wheels scooters can be quite heavy due to the larger size and extra weight of the wheels. Heavier scooters are more cumbersome to pick up and take on public transport. The A5 Lux overcomes this problem, being both light and has big wheels which can be considered a rare combination in a scooter. This makes it a good choice if you do need to take it on a bus or a train.
Other Features
There is a handy kickstand. No longer do you have to lay your scooter down where you stop. Keep it upright when stopping and in storage.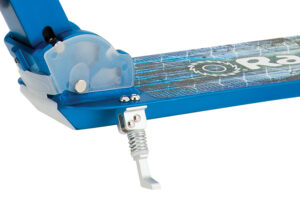 Assembly
One of the plus points of this scooter is that practically no assembly is required. Just pop the handlebars up and you're good to go.
Price
The great thing about the Razor A5 Lux is that for a good quality big wheel scooter, it is extremely competitive in price. Generally, you can always pick this up for under £90. Yes, you can get scooters that offer more traction with air filled wheels. You can also get scooters with bigger wheels and handlebars which will extend higher. But you will pay more for the extra features.
If you're looking for a light commuter or fun filled, big wheel scooter which is foldable with an adjustable handlebar, it's hard to compete with the Razor A5 Lux on price. You may find cheaper big wheel scooters but it's likely you will be compromising on quality or features such as how heavy it is to carry.
The Razor A5 Lux has been around for many years, so it's really stood the test of time.
Who are Razor?
Razor are based in the USA and manufactured their first scooter in 2000, so have now been around for 20 years! They were part of the movement that made the kick scooter so popular. Since they made their first scooter, they have sold over 34 million products.
Razor are one of the leading brands of scooters both in the USA and the UK. Their products have around for so many years that many people can testify to their high quality and durability.
Specifications at a glance
Feature
Razor A5 Lux
Scooter Pic
Price
Check Price on amazon
Handlebars (height adjustment)
75 - 97 cm
Wheels
200mm
polyurethane
Deck Size
32cm x10.5cm
Scooter Weight
3.83kg
Max Rider Weight
100kg
Foldable
Yes
Brake
Rear Fender Brake
Bearings
ABEC-5
Deck Height
(from ground)
6cm
Other Features
Kickstand
Overall Verdict
If you're looking for a reasonably priced commuter scooter from a reputable brand, it's very hard to go wrong with the Razor A5 Lux. It offers a smooth, quick ride and is extremely portable being lightweight with an easy to fold handlebar. The low deck and adjustable handlebar ensure the ride is comfortable for each rider. It's durable and retails at an excellent price point.
Having said this, the A5 Lux is certainly not for everyone. It won't be the right choice for taller and heavier teens and adults who are over 100kg. You may also prefer a scooter that works better on wet surfaces such as the A5 Air which has air filled wheels. And there are most certainly scooters with quieter rides.  However, any extra features need to be balanced out with the price you pay.  Some of the downsides may bother some riders but will not matter to others.
Overall, it's certainly a well thought out big wheel scooter and most older kids, teens and adults will absolutely love it.
Alternatives
If you aren't sure that the Razor A5 is the scooter for you, there are other scooters to consider.
Razor make various models of scooter including the Razor Air A5 scooter which has air filled wheels so offers more traction on wet surfaces. They also make the A6 which has even bigger wheels and a higher handlebar. Check out a comparison of all three scooters. 
Over the recommended weight limit? There are many other amazing kick scooters for heavier adults too.