What are the Best Scooters for 5 and 6 Year Olds?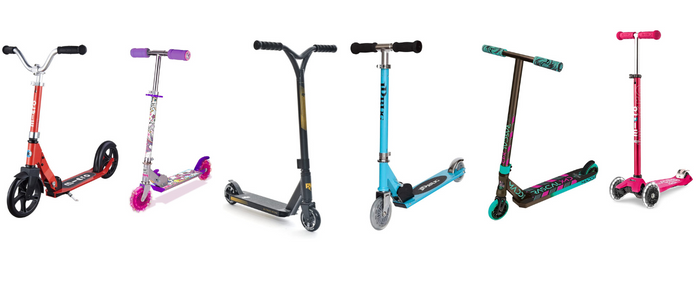 At age 5 and 6 years old, many kids are capable of riding a
2 wheel scooter
but there are some cool
3 wheel scooters
for this age group too. This article details the best features to look for in scooters for 5 and 6 year olds. Discover the best kick scooters we have tried as well as suggestions of
stunt scooters
,
electric scooters,
dirt scooters
and 
scissor scooters
.
*This post has affiliate links, which means we may receive a small commission if you choose to purchase through links we provide (at no extra cost to you). As an Amazon Associate we earn from qualifying purchases.
Best Two Wheel Scooter
JD bug are one of the leading brand of scooters in the UK. Their scooters are excellent quality at an affordable price. For 5 and 6 year olds there are 2 choices of JD bug scooters. The first is the JD Bug Junior Street Scooter which is designed for 4 to 8 year olds and the second is the JD Original Street Scooter.
JD Bug Junior Street Scooter


Designed for young kids aged 4 to a 8, the JD Bug Junior Street scooter is a great first 2 wheel scooter. It's ideal for the school run and scooter rides around the park.
The 120mm front wheel and rear 100mm give a fast, smooth ride. The bigger the wheel the faster you go with fewer kicks needed to pick up speed so the 120mm wheel (which is larger than standard 100mm wheels) is a great for scooter for cruising for younger school age children. The wheels are made of polyurethane and are very durable.
This foldable scooter is also super lightweight at just 2.3kg. It's a doddle to fold up and carry it when riders have had enough and want to walk.
An adjustable handlebar grows with your child. With a minimum handlebar height of 63 cm and a maximum height is 84.5cm, there is plenty of growing room.
In addition, a smaller footplate (44 cm x 90 cm) makes it easy for young children to control.
​This is a great choice for a 5 year old - perhaps for a 5th birthday gift. It comes in many colours for boys and girls.
Finally, the scooter scores highly on value for money. You won't find another scooter with the same excellent features at a lower price point.
JD Bug Original Street Scooter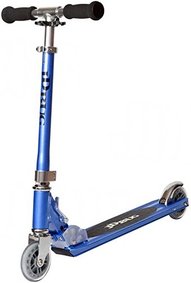 It's also worth considering the JD Bug original street scooter. It's a top choice scooter for cruising on the school run.  It's slightly more expensive than the JD Bug Junior but it's handlebar extends further meaning it could last your child until their tweens and beyond!
Coming in at just 2.7kg, it's another super light scooter. It also folds and the built in shoulder strap makes it a breeze to carry.
Hard wearing 100mm wheels offer a smooth, comfortable ride.
An adjustable handlebar extends from 630mm to a whopping 950mm. It has a maximum rider weight of 100kg so even a small adult could hop on the original street scooter. The footplate measures 51cm x 10cm so is slightly larger than the Junior scooter above making it a better ride for slightly older school age children.
Not sure whether go for the JD Bug Original Street scooter of the JD Bug Junior Street scooter? Then check out an indepth comparison of the JD Bug Junior vs the JD Bug Street scooter.
3 Wheel Scooters
3 wheel scooters are great for 5 and 6 year old kids who:
have never had a scooter before
are less confident when riding a scooter
Prefer three wheels to two wheels
Maxi Micro Scooter

Well known brand Micro's 3 wheel scooter for older kids is outstanding in it's field.  Recommended for kids aged 5 to 12 years, with a height range of between 110cm to 152cm, it's an ideal scooter for 5 and 6 year olds with plenty of growing room.
The big wins with this scooter are the smooth, quiet and quick ride. It's been engineered to perfection and is made with high quality, durable materials.
It's super light to carry at just 2.9kg.
With a huge height adjustment, you can set the handlebar height at any point between 72cm and 91cm. This ensures the scooter is the correct height for your child. It's also easy to adjust on the go if a sibling or friends wants a quick blast.
A grippy silicone deck adds to the stability of the scooter - no worries about slipping!
All parts on the Micro are replaceable and repairable and with some tlc you can keep this scooter on the road indefinitely.
There are various versions of the Maxi Micro deluxe scooter including a foldable version and a version with light up wheels. The Maxi Micro featured above is the classic version. It doesn't fold but you can take the stem out of the base for easy storage.
Foldable Maxi Micro Scooter

Read an indepth analysis of the maxi micro on our 3 wheel scooters for older children page.
Also, check out a comparison of the maxi micro and micro sprite 
3Style Scooter

If you're looking for an affordable 3 wheel scooter designed for older children, check out the 3style scooter. Kids will love the include spin and flash PU wheels. Parents will love the adjustable and foldable handlebar.
There's 4 different height adjustments starting at 58.5cm and moving to 78.5cm, 82.5cm & 86.5cm
It is a lot cheaper than the Maxi Micro but there are a few compromises on the features. It's heavier than the Micro at 3.3kg. The handlebar doesn't adjust as high (86.5cm compared to 92cm) so it won't last your child quite as long.
You can buy replacement parts on the 3style website which include the wheels. However, not every part can be replaced like on the micro so it's not going to last forever.
Read more about the 3style featured on the 3 wheel scooters for older children page.
Big Wheel Scooter - Micro Cruiser

The Micro Cruiser is a big wheel scooter aimed at kids between the ages of 5 and 10 years old. The minimum height recommendation for the Micro Cruiser is 110cm. Big wheel scooters can be better for cruising. You can scoot faster and further with less effort. Bigger wheels are often preferred by younger kids as they offer a more stable feel.
This scooter also comes in black, purple red  aqua and blue (all colours link to amazon.co.uk)
Like all micro scooters, the Cruiser is well designed and excellent quality. All  parts are designed to be repairable and replaceable if they wear out so this scooter can last for years and for more than one child! It saves the scooter from landfill.
Here are some of the cruiser's features:
Adjustable handlebar : the handlebar can be adjusted as your child grows from 74cm to 88cm. It is recommended for kids between 110cm and 146cm (ages 5 to 10).
Stability - this scooter has lots of features to give it a stable feel. The deck is low to the ground. A deck which is low to the ground is advantageous as little feet don't have to reach far to push along. The big wheels and wider handlebars give great control.
Wheels - the  200mm wheels are bigger than standard. This will allow them to absorb shocks from bumps in the road more efficiently leading to a smoother ride. Bigger wheels mean that kids can go faster and further with less effort needed to pick up the pace.
Steering - the steering is controlled via the handlebar like you would find on a bike.
Foldable - the scooter is foldable.
Weight - as this scooter has bigger wheels it does add to its weight, which is 4.5kg. So if you're looking for a lighter scooter, there are better options.
Popular in 2023 - Unicorn Scooter


If you're looking for inexpensive fun scooter, the Ozbozz unicorn scooter with light up wheels could be what you're looking for.
It's handy features include 3 adjustable height settings and a convenient fold and lock mechanism.
The flashing wheels are a hit with young kids.
One downside of this Ozbozz scooter is the quality is not going to rival a JD Bug or Micro scooter. The handlebar doesn't have the same range of adjustment as these scooters and the quality of the wheels and build isn't  as good.
However, if you're looking for a pink budget scooter with some cool, flashy features, this is a good choice.
Stunt Scooters
Some 5 year and 6 year olds are keen to do tricks and jumps on their scooter. If this is the case, it's important to get them a dedicated stunt scooter rather than a cruise or kick scooter. Many stunt scooters are recommended for kids aged 8 years and up. However, you can find stunt scooters designed and nicely sized for younger children from age 5.
Stunt scooters are designed to be sturdy and withstand the abuse from tricks and jumps. They can be more expensive than kick scooters as the materials used are stronger but still need to be lightweight for easier control.
 Stunt scooters all have a one piece handlebar. They can't fold or be adjusted in height as this would mean weak points in the bar which could snap under the impacts of jumps. Read our stunt scooter buying guide.  to see what you should be looking for. We also have a page with stunt scooters for 5, 6 and 7 year olds. Also find a good suggestion for a beginner stunt scooter below.
Nitro Circus Ryan Williams RW

The Nitro Circus Ryan William scooters has been especially designed for younger, smaller riders who want to enter in to the world of stunt scooters. It's aimed at kids from aged 5 to 8 years old.
It has a super light deck which is smaller than standard (17" by 4" or 43.1cm by 10.6cm) so little kids will find it easier to control when attempting their first tricks. Learn tail whips and other stunts super quickly with the scooter.
The handlebar is also shorter than standard for younger riders measuring 75cm from the floor to the top of the handlebars.
The scooter is the lightest of the range but with steel forks and a steel bar which are going to last forever.  It weighs in at just 3kg so super light for small kids to manoeuvre.
Madd Gear Mini Pro Rascal Stunt Scooter
The Madd Gear Mini Pro rascal is designed from the youngest of stunt scooter riders, the kids with a little dare devil inside them! This scooter has been very much sized down so it's a good choice for a small 5 year old. It has smaller bars to accommodate younger and smaller kids with a recommended height range of 76cm to 112cm. It is perfectly sized, designed and balanced for younger riders to control. Here are some measurements and specs.
Bar height and width - the bars are short at 48cm (18") in height so easier for little kids to manage at the skate park.  The bar width is 40cm (16")
Total height of scooter - the total height of the scooter is 68 cm
Deck - the deck measures 43cm (17") by 10cm (4"). It's much shorter than a standard deck making it easy to manage.
Total weight - at just 2.94kg the light weight of this scooter will make it easier for small, light kids to do jumps and tricks.
Wheels - the wheels measure 100mm and have composite cores with high speed PU.
Scissor scooters are fun! They have two footplates and you place a foot on each one. You can either move the scooter by moving your legs in and out. Or you can move your hips to get the scooter to move. They are best on flat, smooth surfaces.  They're a great way to keep youngsters fit and active.
Scissor Scooters

Scissor scooters are popular and lots of kids use them. I haven't been on one myself although my niece and nephew have both got one which they enjoy. They are good for building the muscles in your legs. It's unlikely they will replace traditional scooters in getting from a to b, but are good as a fun scooter to take to the park or to play with friends outside.
There are quite a few models to choose from but if you're looking for a younger child from 5 to 6,  make sure you get one that isn't too big. There are scissor scooters aimed at kids from around 3 to 6 or at age 5 plus and then other scissor scooters aged for older kids from 7 plus or 9 plus.
 Scooter with Air Filled Tyres
Scooters with air filled/ pneumatic tyres have many pros and cons.
Air tyres are much better for providing traction on wet surfaces. They are brilliant for scootering through muddy puddles or when it's been raining.
Additionally, they offer a cushioned ride over uneven terrain making them ideal for surfaces such as gravel and cobbles. They are more comfortable to ride on pavements as the tyres absorb the impact from bumps and cracks along the way.
On the downside these types of scooters are heavier, so can be a  harder for young kids to control and manoeuvre. They also tend to be more expensive.
The Bike Star scooter is designed for kids from age 5 years. It's a super strong scooter with a steel framework and an impact resistant glittering metallic paint finish, all contributing to the scooter's durable life span.
The 10" air filled wheels on quality rims guarantee a comfortable and smooth ride.
There is a height adjustable handlebar with a minimum height of 67cm and a maximum of 74cm, perfect for kids from 105cm tall.  The skid-proof footplate measures 29cm by 12cm which is smaller in length than a standard scooter so perfect for smaller feet to control.
Steel bearings make the scooter easy for little ones to steer.  There is both a hand brake and a rear foot brake so a choice of ways to come to a halt.
Another bonus is that the scooter comes 90% assembled with a simple final assembly required. Not too much work before you're on the road! It also a side kickstand.
It weighs 6.2kg so it is heavier than other scooters for this age group. This is to be expected due to the extra weight of the large pneumatic tyres and the steel frame.
More 2 Wheel Scooters
Whether you have a 5 or 6 year old that's never ridden a scooter with 2 wheels or a child that is completely confident on one, there are many more great 2 wheel scooters on the market. Many 2 wheel scooters for this age have additional fun features such as lights. There are also scooters which feature characters from their favourite TV shows or movies.
Electric Scooters
Razor Power Core E90
Top Of The Range Choice

The Micro Sprite scooters are 2 wheel scooters from the same company that makes the maxi and micro mini scooters.  The Sprite is aimed at kids from aged 5 to 12 years with a height range between 110cm and 152cm. It's more expensive than other 2 wheel kick scooters but is an investment. It can last for years and be passed on to younger siblings.
The stand out feature on the Micro Sprite is it's smooth, quiet and quick ride. The high quality 100mm 88A nylon core high rebound PU wheels are hardwearing and ideal for cruising along the streets.
The handlebar has a huge height adjustment range and can be set at any height between 66 cm to 96 cm.  The scooter folds for easy carrying and storage.
It weighs 2.7kg. so is super light for young kids to control and parents to carry. The steering on this scooter is excellent. It steers like a bike with 360 degree turning.
Another plus point is the kick stand which most scooters don't have. It can stand up when you store or park it. ​No lying it on the ground at the park, which helps prevent scratches to the paintwork.
Is the micro sprite worth the money? See a comparison between the JD Bug Original Scooter and the Micro Sprite to help you make up your mind.
Bopster Scooter

The Bopster is currently one of the bestselling scooters online.
Here is an overview of the scooter's features:
Lightweight - it weighs just 2.8kg, making it easy to transport and for young kids to control.
120mm PU wheels - the larger than standard wheels offer a smooth ride and less kicking is required for little feet to go faster and further.
Adjustable - There are 4 settings on the height adjustable handlebar. Set it at either 62cm, 74cm, 79cm and 84cm.
Other features - it features a rear brake for easy stopping.  The max weight load of 100kg  means that some adults can have a go on this scooter.
The scooter is competitive on price. It won't last as long as some of the more expensive scooters. It doesn't adjust as high as the JD Bug Original Street scooter or the Micro Sprite and there aren't Bopster replacement parts to repair the scooter if a part wears out.
Read more about the Bopster scooter. ​
Fun Themed Scooters

If you're after a fun, cheap scooter, there are lots of themed scooters available.
Character scooters tend to be cheaper than other scooters.
They are fun to ride but normally the quality isn't as good. Additionally, they may not last too long. However, kids love their fun factor.
The scooter featured is a dinosaur folding scooter which also has light up wheels.
​
It features a foam grip handles, a height adjustable handlebar and folds down for storage.
Razor S Scooter

Razor is a popular brand of scooter. It's a well known US brand which specialises in scooters, electric scooters, hoverboards and more.
The Razor S scooter comes in three fabulous colours (blue, pink or red).
​
It is foldable and weighs 2.4kg so is light to carry. It features 98mm urethane wheels, which have ABEC 5 bearings. The wheels offer a smooth ride.
There is a rear brake for safety.
It's designed for kids from aged 6 plus. Read more about the Razor S Scooter.
What To Consider When Buying a Scooter for 5 and 6 Year Olds
Foldable / Lightweight Scooter - at ages 5 and 6, there were times when my son had enough of using his scooter and he'd ask me to carry it. This is why a scooter that folds is extremely useful. A folded or light scooter is easier to carry. However, if they want a scooter to do tricks on they will need one without a folding mechanism. A scooter with a folding mechanism is not strong enough to withstand the impact from jumps, stunts and tricks.
A scooter that offers a smooth and fast ride - at ages 5 and 6, children want to be able to cruise quickly. Some 3 wheel scooters can be built so safely that they are slow and difficult to manoeuvre. Light 3 wheel scooters are normally faster than sturdier and heavier counterparts.
If you see an ABEC rating for the bearings, a higher rating generally means a faster and smoother ride. The best scooters usually have an ABEC rating of about 5.
Wheels made of high quality polyurethane (also seen as PU) generally offer a smoother and quicker ride too.
A safe scooter - safety is should be a top factor for anybody buying a scooter for a child. However, if safety is a major concern there are extra features to look out for. Look for a footplate which is close to the ground making it easier to get on and off and there's less room to fall. Make sure that the scooter is the right size. The handlebars should come up to about waist height, this means that it is easier to control. A smaller footplate is another feature which makes it easy for a small child to control the ride. Look for a foot brake that is easy to use and make sure they know how to use it. Don't forget helmets, knee and elbow pads. Little ones can wear bright clothes and reflective jackets so they can be easily seen by cars and other pedestrians.
Price and Longevity - you can buy scooters that will last your child for years. These are normally more expensive but will last and you can sell them if you decide to buy a different scooter. You may decide that getting a cheaper scooter which will last one or two years is a better decision. If your child is likely to grow lots, move from a 3 wheel scooter to a 2 wheel scooter or perhaps grow a lot in the next few years, it may be worth getting a less expensive scooter and buying a new one in a couple of years time.