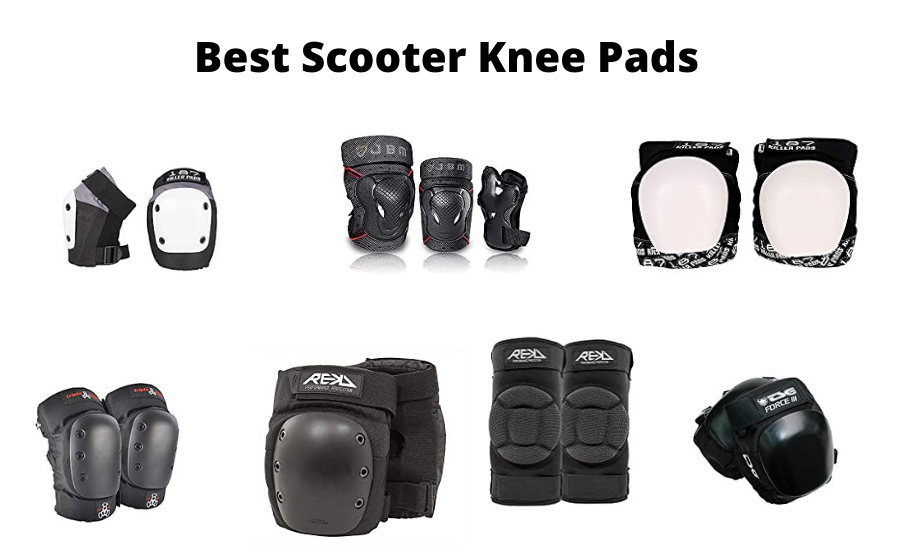 10 Best Scooter Knee Pads Reviews
Scooter knee pads are essential for protection from injury.
You may be a newbie or experienced at the skate park or a young kid looking for knee protection on a kick scooter, but knee pads will stop you from scraping your knees, getting big bruises or even worse!
What kinds of scootering you do will very much dictate what kind of knee pads you get.
If you're on a kick scooter or just staring out with tricks like grind rails at the skate park a basic level knee pad should be fine.
Stunt scooter riders attempting more complicated tricks on the ramps will want more durable protection to withstand the force of any hard impacts.
The article features knee pads to accommodate every level of the sport from basic level knee pads for kids, to pads for skate park beginners to the most durable, cushioned knee pads for extreme stunt scooter riders.
*This post has affiliate links, which means we may receive a small commission if you choose to purchase through links we provide (at no extra cost to you). As an Amazon Associate we earn from qualifying purchases.
Kids Knee Pads for Kick Scooters
The Osprey Kids Skate Pad Set is a great value set with knee pads, elbow pads and wrist protection for kids. It's a good option for kids who want extra protection when they are using their kick scooter along the street and want peace of mind that they won't scrap their if they fall off.
If you want knee pads for the skate park, it is probably worth looking at something more durable.
The set comes in three sizes small for 3 to 4 year olds, medium for 5 to 7 year olds and large for 8 to 12 year olds. Lightweight plastic moulded caps offer strong protection without weighing you down or limiting manoeuvrability
It's easy to find a comfortable and secure fit by adjusting the velcro straps.
The set includes two elbow pads, two knee pads and two wrist guards for full, all-round protection
JBM Knee Pads and Elbow Pads with Wrist Guards
The JBM knee pads are extremely competitve on price, but don't be fooled - these are great knee pads for beginners at the skate park. They are basic but do a good job and are excellent value for money. So a top choice for beginner who are just starting out.
They're made of tough and durable PP, PE materials with breathable polyester sleeves for maximum impact resistancy. The adjustable straps can be used to ensure a secure fit.
Some reviews suggest it may be worth buying a bigger size than you think to ensure the knee pads aren't too small.
Rekd Ramp Knee Protection
The REKD ramp heavy duty knee protection are ideal for kids and adults who want to go all out on the ramps.
They are designed to absorb impact energy and help you to slide out rather than abruptly stop. The high-density impact caps are ramp-friendly with countersunk ring rivets.
Double strapping gives you a secure fit around your legs, while the lining sock and extra 3mm padding behind the caps provide optimum comfort.
The size guide has been taken from the REKD website
Measure around 2-3cm above knee:
XS - To fit users up to 27-32cm around the knee
S - To fit users up to 30-36cm around the knee
M - To fit users up to 34-41cm around the knee
L - To fit users up to 38-45cm around the knee
XL - To fit users up to 43-45cm around the knee
Rekd Pro Ramp Knee Pads
A step up from the REKD ramp knee pads are the pro version. Designed for professional riders in mind yet suitable for all abilities.
The pro version is designed to give you extra protection as well as extra comfort.
The ergonomic knee recesses make these pads fit perfectly to the shape of your knee, comfortable with extra support and helping to keep the pads locked in place.
The hard-outer high-density pro impact ramp caps will help protect pro riders from hard slams.
The dual Neoprene butterfly closure on the rear of the pad makes putting them on and off a breeze, especially over clothing.
The size guide has been taken from the REKD website
Measure around 2-3cm above knee:
S - To fit users 35-39cm around the knee
M - To fit users 37-43cm around the knee
L - To fit users 38-46cm around the knee
XL - To fit users 39-51cm around the knee
Pro-Tec Street Knee Pads
The knee pad has neoprene that goes around your leg, so you will need to take your shoes off to put them on. The neoprene is stretchy and comfortable to wear.
There are velcro straps across the top and the bottom to hold it in place. They stay in place pretty well when on the skate park. You don't have to worry about them slipping off.
The lightweight design, anatomical fit and quality foam interior takes the impacts and keeps the pads comfortable for all-day use.
They can be worn over or under clothes.
Here is the sizing info for Pro - Tec: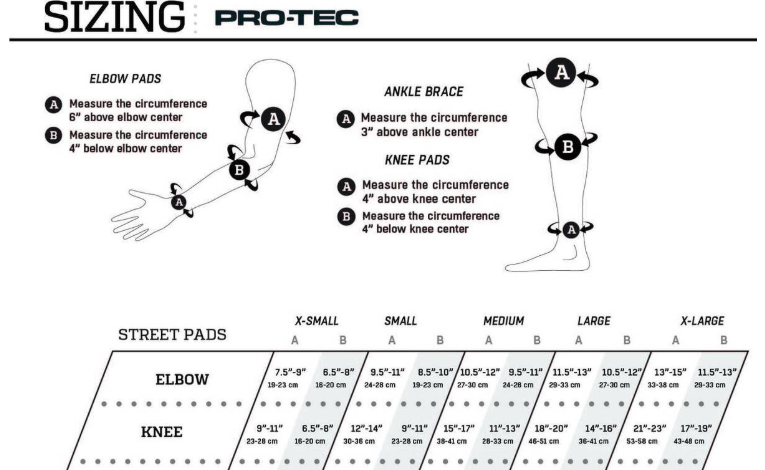 Killer Fly Knee Pads

The 187 Killer knee pads are an ideal choice for intermediate skaters who want a slim, lightweight and versatile pad which offers great protection.
It's a closed neck pad so you can slip it over your foot to put it on.
It's contoured form-fitting design cradles the knee while the superior foam system absorbs hard impacts.
The streamline shape and design increases mobility. There's a seamless interior finish which provides ultimate comfort
The ballistic nylon with industrial-weight stitching ensures durability.
Triple 8 KP 22 Knee Pad

If you're looking for something with a bit of extra padding but competitively priced, the Triple 8 knee pads might be a good fit for you.
The pads feature heavy duty EVA memory foam and the high-density impact-resistant knee cap has a flat cap design with reinforced rivets for longevity and stability.
The pads are sleeveless and are secured with reinforced webbed elastic straps on the top and the bottom. There's adjustable hook and loop closures for a secure and comfortable fit.
The trade off with the extra padding is that they are more bulky than some of their counterparts. But maximum padding is great for extra peace of mind and comfort.
They come in five sizes to fit kids, youth, and adults: Junior fits 11–12.5 in (28–32 cm), Small fits 12.5–14.5 in (32–36 cm), Medium fits 14.5–16 in (36–40 cm), Large fits 16–17 in (40–44 cm), and X-Large fits 17–19.5 in (44–50 cm).
To determine proper size, measure the circumference of the knee whilst extended.
Pads for Pro and Intermediate Stunt Scooter Users
Pro, advanced and intermediate stunt scooter users who will be at the skate park at lot will most likely want a knee pad that is extremely durable and long lasting.
The more hard slams and impact your knee pads are getting, the less time they will last for if they aren't the best quality. If you find you are going through knee pads every couple of months, it's time to get a heavy duty pair.
Yes, the initial outlay will be more expensive. However you will save money in the long run as you won't go through so many pairs.
The only thing to bear in mind is that more cushioned knee pads tend to be bulky. So if you hate bulky knee pads you might just have to go through a few more pairs of slimline ones.
Look for knee pads with replaceable caps. Then you won't have to replace the whole knee pad just the cap.
187 Killer Pro Knee Pads
The pro knee pads are for advanced stunt sooter users. They are thicker, heavy duty pads which will last - they are extremely durable.
The pro knee has an open back with a top and bottom strap. The advantage of this is that you don't have to take your shoes off to get it on and off.
The padding is excellent, they have a longer profile and very comfortable. The hefty closed cell padding that covers the the knee and surrounding areas.
The pads are also made from top of the line materials, and are built to stay cool on your knees. They have removable caps that can be replaced as they become used.
TSG Force 3 Knee Pads
Reviews suggest the TSG Force 3 knee pads are very comfortable with a lot of padding on the inside for protection of your knee and around it.
You just strap the knee pads around your knee - no need to remove your shoe!
They are very secure, once the straps have been put on, these knee pads are not moving.
The knee cap is replaceable.
If you land on your knees, it's going to feel like a cushion. You don't have to worry.
The downside is that they are very thick so may not be as versatile as a slimmer knee pad but they do offer amazing protection.
Knee Gaskets
Another piece of kit stunt scooter users should consider are knee gaskets. Knee pads have a hard protective plate and knee gaskets are fully flexible and lightweight but feature a tough material outer cover.
Knee gaskets can be worn alone. However they won't offer as much protection as a knee pad. Many people wear knee gaskets under knee pads for extra protection from bruises.
REKD Impact Knee Gaskets
The REKD knee gaskets are useful for those riders who don't want to wear a hard shell pad. They are perfect for wearing under or over clothing.
They feature an elasticated top and bottom v-cuts on backing for added comfort. The knee brace is made of neoprene. The padded knee protector is constructed from heavy-duty impact foam and coated with Kevlar. They pads should resist abrasion and some bruising but for use on the ramps , knee pads with plastic caps will give much more protection.
The neoprene sock has airflow holes so your knees won't get too hot!
There are dual elasticated Velcro straps so you can ensure a secure fit.
Here is the size guide:
Measured 3-5cm above the knee
S - To fit users 32-38cm around the knee
M - To fit users 36-40cm around the knee
L - To fit users 39-43cm around the knee
How To Measure Your Size for Knee Pads or Guards
Different manufacturers may ask you to take measurements at different places for your knee pads/ guards
One of the most common is around the centre of your calf. But other manufacturers will want you to measure 2, 3 4, 6 or even 8 inches from your knee cap. To determine where exactly you should be measuring, start in the centre of your knee cap and measure the number of inches you need. So if they ask you to take a measurement 3 inches about the knee, measure 3 inches from the centre of the kneecap and then wrap your tape measure around that place.
To get the correct measurement, simply take your tape, pull it around and get it decently snug but not too tight.
If you don't have a tape measure, do it with a piece of string in exactly the same way as a tape measure. Then lay the string alongside a ruler and get the measurement that way.
How do you choose the right knee pad for you?
Profile
Many stunt scooter riders may prefer a pad with a slimmer profile. They sit close to the knee and are more versatile than thicker pads. Many pads will slimmer profiles will offer excellent protection with EVA foam underneath for minimising the impact of knocks.
However, they may wear out more quickly if you are always falling down and are at the skate park a lot which many stunt scooter riders are. They will also offer less cushioning so the impact may be felt more than if you were wearing thicker pads. It very much comes down to personal preference. If you want a less bulky pad, go for one with a slimmer protection.
Socks vs Straps
You will find that many knee pads especially less expensive ones will require you to take your shoes off to get them on and off, as they are designed to be like a sock going around your knee. This is fine and generally offers a secure fit. However, it can be a pain to take them on and off.
Knee pads at the higher end of a range, generally have a top and a bottom strap which will hold the pad in place very securely. However, you won't have the hassle of having to take your shoes off to get them on and off.
Straps
Most knee pads will feature velcro straps to secure the knee pad and keep it in place. When choosing the knee pads for you there are a few things to consider.
When the straps are pulled over is there enough velcro to ensure all the excess strap can be stuck down. The last thing you want are bits of excess strap which will rub against your leg or just flap around.
Are the straps removable?  - removable straps will ensure that you can clean them if needed.