Razor A5 Air Scooter Review
The Razor A5 Air scooter is best for riders who want a comfortable, smooth ride on flat surfaces.
Recommended for older kids and teens, it can also be ridden by adults who are within the weight capacity.
There is an awful lot to like about this scooter. It's competitively priced, easily foldable and fun to ride.
However, there are a few minor issues which aren't always a deal breaker but may affect whether it's the scooter for you.
Read on to find out more.
Specifications at a glance
Feature
Razor A5 Air
Scooter Pic
Price
Check Price on amazon
Handlebars (height adjustment)
Adjustable
Wheels
200m
pneumatic
Deck Size
34cm(l)
Scooter Weight
5.6kg
Max Rider Weight
100kg
17.5 stone
Foldable
Yes
Brake
Rear Fender Brake
Bearings
ABEC-5
Other Features
Kickstand
What's the Ride Like On the Razor A5 Air?
There is a lot to like when riding the Razor A5 Air. Overall, you will get a comfortable and quiet experience. It's also robust, well built, foldable and portable. However, there are a few niggles.
Wheels
The unique feature of the Razor A5 Air is, of course, the wheels. The scooter is fitted with a pair of 200mm 60PSI pneumatic tires. The air-filled wheels have many advantages. Pneumatic tyres always offer a more comfortable ride with better shock absorption. You won't feel the bumps, cracks and gravel on the pavement. It offers similar comfort to the tyres on a bike.
The tyres also work better on wet surfaces. Whereas urethane wheels may skid and slid on wet pavements, the air filled tyres on the Razor Air will not.
Unfortunately, there are a few downsides. Firstly, air filled tyres will require some maintenance. For best performance ensure they are correctly inflated. The wheels also tend to need significantly more kick power to get up to the speed of a scooter with urethane tyres. In a nutshell, Razor A5 is slower than similar-sized scooters with urethane wheels. Therefore if you're looking for a scooter that will whizz from a to b, there are probably better choices. The Razor air rates better for comfort over speed.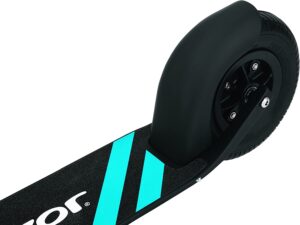 Deck
The deck measures 340mm in length and is very low to the ground. The main advantage of this is that your leg has less to move down to reach the ground and kick the scooter along. This can lead to a more comfortable ride compared to a scooter with a higher deck and your kicking foot doesn't have to reach as far.
However, some reviewers have found that the deck is a little too low to the ground in some circumstances. There isn't a lot of ground clearance when going over bumps which can scrap the bottom of the scooter deck which can halt your ride rather quickly and send you flying!  If you're likely to be scooting on pavements which have lots of bumps and ramps it's not ideal.
Generally, scooters with air filled tyres will handle harsher terrain well. However, the low deck Razor A5 Air scooter may get caught on bumps on uneven terrain, which makes it a better choice for flat pavements. There are definitely better dirt scooters if you want to go off-road.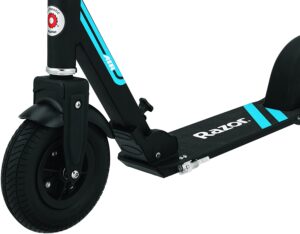 Anti Rattle Mechanism
A feature you will really like on the Razor Air is the anti-rattle folding mechanism. This stops the rattling when riding around, which means a quieter (and frankly less annoying!) ride.
Portability
How portable is the Razor A5 Air?
You can easily fold the scooter which is great when you need to put it in the car and for storage.
It weighs about 5.6kg, which isn't the lightest of scooters but that is to be expected as the air-filled tyres will always add a bit of extra weight to the scooter. Having said this, it shouldn't be a problem to pick up and carry to take on public transport or carry for short distances.
Age Recommendation and Weight Capacity
Razor age recommendation is 8 years and up. It holds a maximum weight of 100kg
Adjustable Handlebar
There is a height adjustable handlebar so you can adjust it to suit the rider. The handlebar extends up to 980mm and is 425 mm in width should accommodate most adults within the weight limit unless they are exceptionally tall. The tallest scooters have handlebars which extend up to 106mm, so you can get higher if you need something for a taller adult.
Other Features
Brake: A rear fender brake provides excellent stopping power when needed.
Handlebar Grips:  Riders like the soft rubber grips which provide enhanced comfort and control and are superior to the foam grips you find on other kick scooters.
Kickstand:  a retractable kickstand which conveniently allows it can be stored upright.
Assembly
The scooter comes ready assembled but you may need to inflate the tyres to the correct tyre pressure before riding.
How Could the Razor A5 Air be Improved?
As you may have guessed from the rest of the article, a slightly higher deck may be an improvement. Low decks are good as scooters with low decks are more comfortable to ride. But it's not ideal if your deck gets caught on a bump. If the pavements you are riding on a flat, this shouldn't be a problem, but something to be aware of.
Overall Verdict
The Razor A5 works best for a comfortable shock absorbing ride on flat pavements and surfaces. Avoid for surfaces with a fair few big bumps. It's most definitely a scooter that works wll on urban terrain.
It may be frustrating for riders who want to go very quickly, but if you are comfortable with a slower but steadier smooth ride, it could be the choice for you.
It's good for running short errands, fun for the kids as well as commutes on the shorter side.
Alternatives
There are many alternatives to the Razor A5 Air scooter. Both the Razor A5 Lux and the Razor A6 are worthy alternatives if you prefer a scooter with urethane wheels. Check out a comparison between all 3 Razor scooters.
If you are looking for another scooter with pneumatic tyres, consider the Hudora air 205 scooter. For something that handles off-road consider the Osprey dirt scooter (#amazonaffilatelink)