Micro Merlin Electric Scooter
If you're searching for a lightweight, nimble scooter it's difficult to go wrong with the Micro Merlin.
Exceptionally well designed and built with suspension for a comfortable ride, this scooter is jam-packed with top-notch features.
A 15 mile range and quick 3 hour charge, makes the Merlin an excellent scooter for adults.
Its compact size makes it an excellent choice if you need to take it on public transport, put in the boot of a car or store in a tight space.
Speed
The Merlin has an impressive top speed of 15mph which is similar to other scooters in this price range.
What sets it apart is it has 4 different speed modes which you can adjust according to the purpose of your journey. The speed modes are:
1.) Pedestrian mode
Pedestrian mode mimics the walking speed of adults which is about 4mph. It's ideal when there are a lot of people around.
2.) Eco mode
The speed on eco mode is 10mph. Use this mode when you want to maximise the battery life. It allows you to optimise distance above speed. Ideal for longer commutes.
3.) Standard mode
This is the best choice for cruising. It's the mode you are most likely to use for the majority of the time. The top speed is 15mph.
4.) Sports mode
Sports mode will give you a bit of extra power. It's ideal when climbing steep inclines and also has a maximum speed of 15mph. It uses more battery power so it's important to turn it off when you are on flat ground.
Additionally, the Merlin has the option of cruise control so you can set the speed you want and not have to worry about pushing the throttle for the whole ride. Just lean back (not literally of course) and enjoy!
Foldability and Portability
One area where the Merlin excels is portability. Weighing just over 11kg (25 pounds), it's one of the lightest electric scooters out there making it easy to pick up and carry. As it quickly folds, it's an ideal electric scooter if you need to take it on public transport or throw it in the boot of a car.
Additionally, being so lightweight makes the scooter easier to manoeuvre and control.
There are three positions in which you can fold the Merlin. Fully folded, upright and camel mode.
What is camel mode, I hear you ask. Camel mode is a partially folded position which allows the Merlin to stand up without a kickstand as seen in the picture below.
It's easy to fully fold the Merlin. Just engage the blue foot button with your foot whilst giving the handlebars a slight push forward.
Additionally, the handlebars fold down. This is very helpful for storage.  The Merlin is a brilliant choice if you need something that will fit into a tight space, perhaps under a desk. The folded dimensions are 95 x 15 x 35cm.
LCD Display and Controls
The LCD display is easy to read at a glance and sits between the two handles. The display will tell you the details you need to know to optimise your ride. They include your speed, battery life, how far you've travelled and even the outside temperature.
Just beneath the LCD screen are three buttons. The power button (far right), the odometer button (in the middle) and the headlights (far left). These are easy to toggle with your thumb.
The accelerator is to the right of the power button and the electric brake is on the left of the headlight button.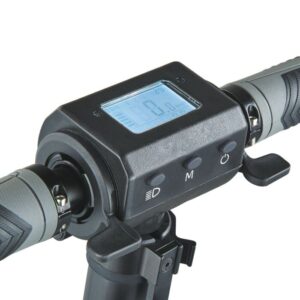 Charge Time and Battery Life
One thing that we really like about this scooter is it has a super quick charge time of just 3 hours. This means you could potentially charge it during the work day so it will be fully charged for the ride home. And if your battery is at 25% it will take just 1 hour to fully recharge.
Impressively, the scooter has a range of up to 15 miles. However, do bear in mind that the range will be affected by conditions such as whether you are travelling up inclines, the weight of the rider and the conditions of the roads you are riding on.
As already mentioned you can see the battery level indicator on the LCD screen. Please note that to get the most accurate battery level reading it's important to stop the scooter moving and stand it still.
When you receive your scooter it won't be fully charged and you will need to fully charge the battery before using the scooter for the first time. 
Wheels and Suspension
The Merlin features solid rubber wheels. The advantage of rubber wheels is that riders don't have to worry about punctures.
The downside is that pneumatic tyres are better at giving traction on wet surfaces (so will be better if it has rained).  Bear in mind, that it isn't recommended to ride most electric scooters when it's raining.
Pneumatic tyres also tend to absorb the bumps and shocks from the road better.
However, what the Merlin does have to add comfort to the ride is integrated dual suspension. The suspension will make a huge difference in comparison to scooters which don't have it. It ensures a smooth ride and will help absorb and reduce the shock from any bumps along the journey translating into a comfortable, smooth ride.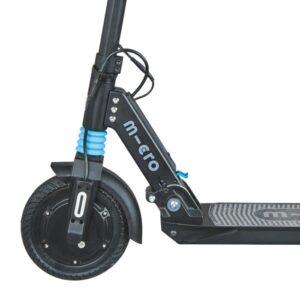 Braking
Another innovative feature to assist your ride is the smart regenerative braking. Basically each time your brake, the energy is poured back into the battery to add to the battery life. The braking is on both the front and rear wheels. So each time your brake, you will get a small charge to your battery.
You can engage the brake using the electric brake by the left handlebar or use the foot brake. The red tail lights become brighter when you engage the brake with either of these methods.
The brake is very responsive and can stop you quite abruptly. Therefore it's a good idea to practise using the brake at slow speeds when you first get the scooter.
More Features
Automatic Lights
Another unique feature is the automatic lights. There is both a front and rear LED light which will come on automatically when the light outdoors becomes dim. So you don't have to think about when to put on your lights or worry about pulling over to do so.
Hand Grips
Micro are well known for their attention to detail and high quality and this can be seen via the handgrips. The handgrips are one of your main points of contact with your scooter and it's important they are comfortable and hardwearing. The contoured rubber grips are designed for long lasting comfort while riding and your hands will thank you for it.
Adjustable Handlebar
The handlebar can be adjusted to your optimum height. It's easy to do. There is a lever at the front. Push to release fully and adjust to the desired position. There are two preset heights which you can use. It's advised to choose one of these if possible. But you can also adjust to any height in between these positions if you prefer. When you have the desired height, close the lever.
Specifications at a glance
| Feature | Micro Merlin Electric Scooter |
| --- | --- |
| | |
| Price | Check Price on amazon |
| Age Recommendation | 18 plus |
| Max Speed | 15mph (25 km/h) |
| Motor Power | 250 watts |
| Weight of scooter | 11kg |
| Wheels | 7.8" rubber tyres |
| Foldable | Yes |
| Brake | Regenerative front wheel brake & rear wheel foot brake |
| Maximum range | A riding distance up to 15miles / 25km |
| Charge Time | 3 hours |
| Scooter Folded Dimensions | 95cm x 15 cm x 35cm. |
| Scooter Dimensions | 110cm x 39cm x 110cm |
Important Things To Note For Scooter Maintenance
Save the box and interior packaging in case you need to have the scooter serviced
There are many ways you can help preserve battery life. Micro advise that you always store the scooter indoors at a temperature between approx 5 to 26 degrees Celsius. Fully charge the scooter at least once every 3 months during the off season. Fully charge the scooter within 3 days anytime the scooter battery has been completely drained.
Keeping the scooter clean, dry and properly tightened will help keep your scooter performing optimally.
Frequently Asked Questions
Is it legal to use the Micro Merlin on the Road? 
Currently, UK legislation means it's illegal to ride an electric scooter on the road or pavement, being only legal on private roads. However, this legislation dates back to 1835 and the government is currently set to run trials of electric scooters rental in cities which could lead to an overhaul of UK laws in the near future.
Does the scooter come with a warranty? 
Yes, the scooter comes with a 2 year manufacturer's warranty which covers any defective components such as the footboard, complete front assembly, brake pedal, motor, display and controller. All wearing parts, small parts and screws are excluded from this warranty. There is also a warranty period of one year on the battery. All warrenty claims need to be accompanied by proof of purchase.