Xiaomi m365 pro electric scooter review - A Review
The Xiaomi M365 pro is a popular entry / mid-range electric commuter scooter.
It's a worthy upgrade to the already popular M365 but with more range and power.
Reaching up to 15mph with a maximum range of 45km, it's perfect for short and mid length commutes.
And it packs a punch with its many, detailed, well-thought out features.
Everything You Need to Know About the Xiaomi M365 Pro Scooter
Do you have unanswered questions about the Xiaomi M365 Pro?
It can be difficult to know if you're investing in the right scooter when you're unsure what all the specs mean and how they will affect your ride.
That's why we have come up with an easy to read and understand guide explaining the pros, cons and specs of this remarkable e-scooter.
*This post has affiliate links, which means we may receive a small commission if you choose to purchase through links we provide (at no extra cost to you). As an Amazon Associate we earn from qualifying purchases.
Specifications at a glance
| Feature | Xiaomi M365 Pro |
| --- | --- |
| | |
| Price | Check Price on amazon |
| Age Recommendation | 16 plus |
| Rider Height | 120cm to 200cm |
| Motor | 300W |
| Max Speed | 25km/h |
| Weight of scooter | 14.2kg |
| Wheels | 8.5" pneumatic tyres |
| Foldable | Yes |
| Brake | Dual braking system |
| Battery Life | A riding distance up to 45km |
| Charge Time | 8 to 9 hours |
| Scooter Dimensions | 113cm x 43cm x 118cm |
| Scooter Folded Dimensions | 113cm x 43cm x 49cm |
Is the Xiaomi M365 Pro E-scooter for you?
The Xiaomi M65 Pro been designed with adults who are looking for an e-scooter for commutes and all round journeys with a purpose.
If you're looking for a scooter with an excellent range and decent power at a competitive price, this is a good choice
If you want a recreational electric scooter, it will also work. Although you may find something cheaper which will fulfill your requirements.
Speed.
Let's start with the spec most of you want to know! The Xiaomi Pro has an impressive top speed of 15mph (25km/h). Bear in mind, like with most electric scooters, the closer you are to the 100kg maximum weight capacity, the more likely you will see a drop in the top speed of the scooter. But speed wise it offers so much more than a top number.
There are three speed modes. Firstly the energy saver mode (ECO). The default mode for this scooter is ECO mode and this will reach a top speed of 10 miles per hour. This mode can be very useful when driving on busy roads. Obviously, the eco mode is best for extending the battery life on each charge.
The other two modes are drive mode (with a top speed of 12 mph) and sports mode (15mph). Riders easily switch between modes by double-pressing the power button.
A gentle kickstart is required to start up the scooter. When you are moving to around walking pace (about 2mph), hold the accelerator button and speed away!  The Xiaomi Pro has excellent acceleration on flat ground.
The M365 Pro is Bluetooth enabled so it can be paired with a smartphone app. The app gives extra features including a cruise control feature. When switched on, this feature automatically maintains a constant speed when it detects that you have been riding at this speed for a significant period. This allows riders to take their thumb off the throttle when riding longer distances.
Control Panel / LCD Display
The control panel is outstanding. It's bright, easy to read (even in full sunlight) and has 6 displays. This display includes your speed and the speed mode you are currently in. The remaining power display will remind you when it's time to charge your battery. It also displays repair warnings and bluetooth.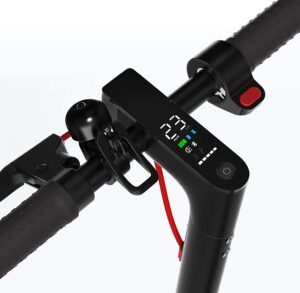 The power button 
The power button is between the handlebars and below the display. Tap the power button to turn the scooter on and hold it for three seconds to turn it off. While the scooter is on, tap once to turn the light on/off, or tap twice to switch between speed modes.
Design and Build
If you want an e-scooter that is visibly pleasing, you'll like the Xiaomi Pro's striking grey/black colour highlighted with distinct red accents. The scooter is covered in a super durable powder-coated finish which enhances the look.
The build quality is excellent, solid, well designed and built to last.
Deck
In a word, the deck is spacious. It has 19 by 6 inches of useable space for your feet. This helps increase comfort and is particularly good for riders with larger feet.
What you'll also like about the deck is that it has a rubber lined footboard with added grip and durability. Although it's not advised to use the scooter in the rain, it can help keep you on the road during the cold or wetter winter months.
Lights
Safety is paramount with the Xiaomi Pro. It features built-in front and rear lights to keep you be visible in the dark.
The red tail lights flash distinctively as a warning to pedestrians and other vehicles on the road.
The ultra bright LED front headlight is mounted high up and can light up the road ahead. Added safety for riding at night or in the dusk.
There is also an auto dimming function when the lights are turned on
Extra design features
The scooter is jam-packed full with extra design details which include a bell and a handy kickstand. The rubber handle grips are high quality and durable which is another nice added touch. These kinds of features mean the Xiaomi Pro doesn't feel cheap.
Foldability and Portability
Is it easy to fold and carry? 
Weighing just 14.2kg (31 pounds), the Xiaomi Pro is fairly light compared to many electric scooters. Having said this, it's hefty to carry the pro while you are walking. But taking just 3 seconds to fold with a single lever, it's easy enough to lift up and take on public transport as well as put in the boot of a car.
When folded, the scooter's dimensions are 1130mm x 430mm x 490mm which is small enough to fit in the boot of a standard car. It should also be easy to find enough storage space at work and/or at home.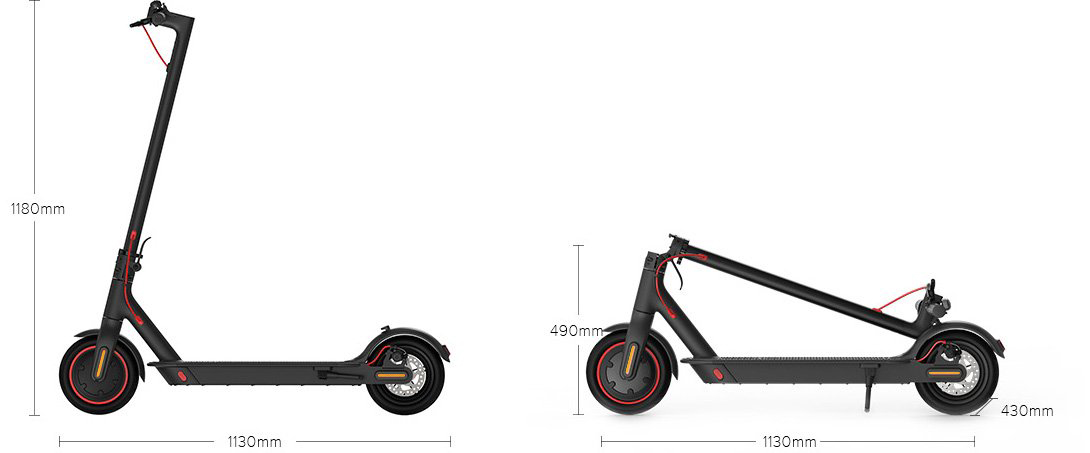 One minor gripe is that the handlebars themselves can't fold down, which makes the folded dimensions bigger than they otherwise could be. Perhaps an improvement Xiaomi could consider for future scooters.
Bluetooth and Smartphone App
As already mentioned earlier, the scooter can be paired with a smartphone app via bluetooth. You don't need to use a smartphone app to use the scooter, but it opens up some exciting features if you do
Cruise control is one feature that can be unlocked with the smartphone app but the app also allows you to turn the lights on and off and lock the scooter.
The app also lets you effectively turn your smartphone into a dashboard. Update the firmware, view mileage, remaining power and current speed,
or enable cruise control to save energy and give your wrist a break.
Motor and Battery Performance
Perhaps one of the most impressive specs on the Xiaomi M365 Pro is the extensive battery life. Featuring a highly safe 18650 power lithium battery, 474Wh capacity, large power supply and efficient acceleration, the scooter can take you up to a whopping 45km on a single charge. Additionally, you can easily check the health of the battery via the mobile app.
The battery takes about 8.5 hours to charge
The deck houses the charging port. The LCD display will show you how much the scooter is charged while it is plugged into the charger. This can be useful for charging the scooter just enough for short journeys.
If you're worried about noise, you don't have to be, the motor on the scooter is quiet. It does get a little noiser when going faster or uphill but is never excessive.
Braking
The scooter has efficient, responsive braking with two braking systems, a mechanical disk brake for added braking power which is also assisted by regenerative braking. If one fails you'll still be able to stop which gives added peace of mind when whizzing around.
Wheels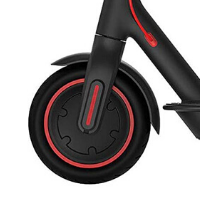 .
The 8.5" by 2" pneumatic tyres are superior to airless tyres on performance
Pneumatic tyres offer better ride quality. They allow you to stop faster, turn harder and maintain better traction in wet conditions. They absorb the shock when going over bumps and potholes.
Perhaps one of the biggest downsides of pneumatic tyres is they are prone to getting flats, but this is pretty much outweighed by the superior ride quality of air filled tyres.
The tyres aren't suitable for off road use, but they should handle bumps in the road without a problem.
Weight Limit
The max rider weight is 100kg. Bear in mind, the closer you are to the weight limit the more likely you'll notice a drop in mileage, slower acceleration, a slower top speed and longer stopping distances.
Hills
How Does the Xiaomi Mi M365 Pro cope with hills?
Due to the scooter's extra power most urban hills won't be a problem, although they may affect performance. Gentle hills are absolutely fine. The scooter may slow on steep hills but can generally keep going. Officially the maximum hill climbing angle is 12 degrees (which is fairly steep) so only the steepest hills will stop it. A kick can help the scooter along in these cases. Expect the scooter to perform slower on hills the nearer you are to the weight limit.
Where Could the Xiaomi Pro be Improved
In a perfect world, we would have liked the Xiaomi Pro to feature suspension to add to the comfort of the ride. However, suspension would have meant a more expensive scooter and it would have added to the weight. So it's a compromise worth making in our opinion.
It is worth adding, that if you plan to drive the scooter on roads with a lot of bumps and potholes, it may be worth looking at an electric scooter with suspension. But for roads which are generally looked after and smooth, the Xiaomi Pro should be fine.
Alternatives
Perhaps the most obvious alternative to the Xiaomi M365 Pro scooter is its predecessor, the Xiaomi M365 scooter.  The previous version is less expensive but also less powerful which is noticeably slower when going uphill. You will also find the battery life is longer on the Pro but the earlier version is lighter to carry. So there may be reasons why a rider would prefer the original version.
Xiaomi M365 Pro VS Xiaomi M365 Comparison
Feature
Xiaomi M365 Pro
Xiaomi M365
Price
Check Price on amazon
Check Price on amazon
Age Recommendation
Adult
Adult
Motor
300W
250W
Max Speed
25km/h
25km/h
Weight of scooter
14.2kg
12.5kg
Wheels
8.5" pneumatic tyres
8.5" pneumatic tyres
Foldable
Yes
Yes
Brake
Dual braking system
(Electrical + Mechanical)
Dual braking system
(Electrical + Disc brake)
Battery Life
A riding distance up to 45km
A riding distance up to 30km
Scooter Dimensions
113cm x 43cm x 118cm
108 x 43 x 114 cm
Scooter Folded Dimensions
113cm x 43cm x 49cm
108 x 43 x 49 cm