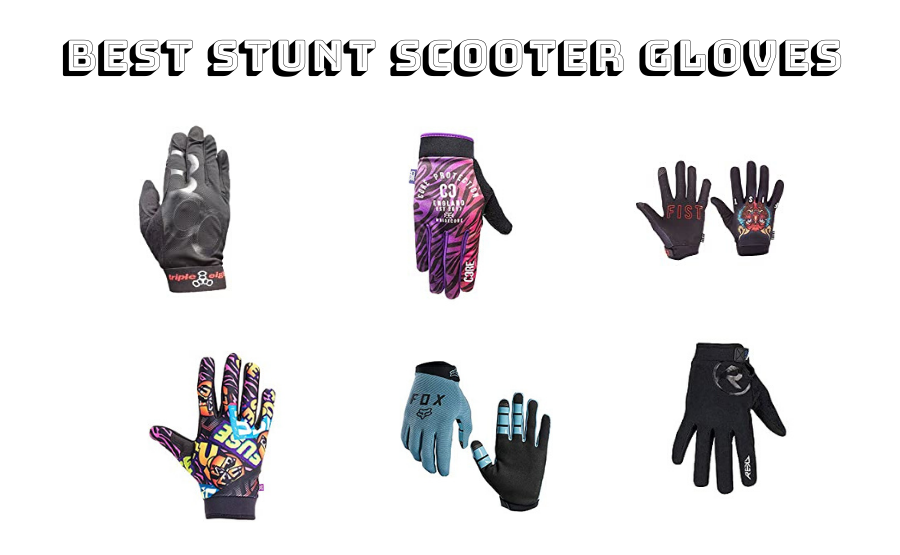 Why Get the Best Stunt Scooter Gloves?
A high percentage of scooter injuries affect the hands. Wearing gloves can help protect the hands from many scraps and bruises while riding a stunt scooter. Some gloves are also cushioned for further protection against injury.
Gloves are also great for keeping your fingers warm during cold weather. But they are also ideal in the summer. They ensure your grips don't get sweaty, so you still have a comfortable grip.
In the hot weather, look for a pair of gloves with maximum breathability to keep your hands and fingers cool. Many are made using breathable fabric and some have vent holes on the fingers too.
Many gloves are also screen friendly, so you can text or use your phones without having to remove them.
If you are at the skate park a lot, getting a pair of stunt scooter gloves is well worth the investment. Check out some awesome options of gloves for pro / stunt scooter riding whether that be at the park, the street or the trail.
*This post has affiliate links, which means we may receive a small commission if you choose to purchase through links we provide (at no extra cost to you). As an Amazon Associate we earn from qualifying purchases.
REKD Status Protective Gloves
Worried about your hands getting too sweaty while wearing gloves? Looking for a lightweight pair of gloves for the park?
Than these gloves could be good option. They are made using ultra-lightweight materials with a breathable palm material, vent holes on each finger to help your hands stay cool but protected.
Moreover, there's also a sweat absorbing micro-fibre cloth area. Conveniently, the micro fibre thumb, fingers and palm are touch screen friendly.
When you wear them, the super flexible ergonomic fit and the neoprene wristband that keeps the glove in place ensure these gloves - well fit like a glove! They are super comfortable.
Triple 8 Exo Skin Gloves

Triple 8 are a well known brand in the skate park world and part of their range includes the Exo Skin Gloves.
Another comfortable, lightweight skate / scooter glove with excellent grip when hitting the street, trail or park.
The lightweight construction with ventilated mesh upper keep your hands dry and the sweat off your grips.
It's easy to get these gloves on and off with a comfortable slip-on design with pull-on wrist tab.
The palm is reinforced for extra durability and as a bonus there is a sweatsaver brow-wipe on the thumb.
There are lots of different sizing options suitable for kids, teens and adults to ensure optimum comfort and fit.
TOFENR Unisex Gloves

Want a cool design that will stand out. The cool skeleton design on the Tofenr gloves certainly make an impact!
But they don't just look awesome, they're made of premium microfiber material which makes them breathable, comfortable, antibacterial, scratch resistant and skin-friendly.
And they do the job! The thickened pads and breathable material on the palms provide the perfect shock absorption, slip resistance and powerful grips for stunt scooter use.
In addition, the anti-slip fingertip design is convenient to grip the handlebar and brings you the perfect scooting experience
Find a perfect fit with the Velcro wrist which is easy to adjust the tension to meet your personal requirements.
Core Protection Gloves

CORE Protection is another top brand. Their gloves are specifically designed for both scooter and bike use, so perfect for stunt scooter adventurers.
What's really great about core protection gloves is the skin fit design. Make sure you choose the right size and you'll forget you have gloves on. The design allows for maximum feel and responsiveness whilst riding - no bulky glove.
The gloves are touch screen friendly so you can ride your scooter and check social media without removing your gloves.
For durability there's a reinforced thumb area (where most gloves rip) made from 50% synthetic leather and 50% polyester. Like other gloves featured, the material is breathable and comfortable, reducing sweat but still keeping your hands warm.
Lastly, they design looks amazing, you won't look out of place on the skate park wearing core protection!
Fist Demon Cleaner Protective Gloves


When you choose Fist's minimalist. lightweight designed gloves you are also choosing to keep that strong connection between you and your bars.
The fist gloves score highly on fit, with numerous sizes to choose from. The gloves certainly have a close with your hand due to the 4-way stretch twill spandex upper paired with a single layer Clarino palm .
And, as an added bonus you can still take your pics and write your texts with the touch screen conduction indes finger and thumb.
Fuse Protection Chroma Sticker Bomb Protective Gloves
Fuse Protection make gloves and other protective gear for bmx riders but their gloves work well for scooter gloves as well.
Their designs certainly are vibrant and look awesome. The gloves are made out of a wide range of materials. They palm material is hard wearing synthetic leather and has ventilation holes. The upper material is a combination of polyester + PU for optimum comfort and flexibility.
These gloves are durable, there's reinforcement on the index and thumb.
The adjustable velcro wrist strap will ensure they stay in place.
Fox Ranger Gloves

The Fox Ranger gloves are designed for mountain biking but work across a variety of disciplines including at the skate park.
They fit well with a compression molded cuff with hook and loop closure for secure fit and features an bsorbent micro-suede thumb.
You don't need to worry about landing on your palsm while wearing these gloves, with the TruGel strategically placed gel palm protection
And it doesn't skim on touch screen compatibility either with conductive threads at index finger and thumb.
The Ultimate Guide to Choosing the Best Stunt Scooter Gloves For You!
To make it super easy when picking out the best stunt scooter gloves here is a list of what to look for:
Secure and comfortable fit - this is the most important element of picking the right glove. Make sure you take your measurments correctly and choose the right sized glove.
You want your hands to be able to move freely and not be restricted but too loose a fit may mean they become irritable.
Many gloves also feature a wrist band on the top to keep the glove in place.
Summer or winter gloves - sometimes it makes sense to have a thicker pair of gloves in the winter and a more lightweight pair in the summer, although this may come down to rider preference. Obviously a thicker glove will keep your hand warmer but will make it sweaty in hot weather.
Material - Many gloves are very lightweight, are made of breathable fabric and have vent holes which can make them a better choice in the summer.
Many riders prefer material which is thin enough to give them good connection with the bars while still offering injury protection.
Gloves with micro fibre material can be effective at wicking away the sweat from your hands during warmer weather.
Some gloves feature spandex for stretchy skin like feel.
Durability - which areas or reinforced. If you are breaking your falls a lot with your hand, it's important to look for a glove with a reinforced palm as this is area which can take the most impact.
Read reviews - if you buy online, it can be quite good to read a few reviews before you buy to get an idea of how durable they are.