Pick the best scooter for 11 and 12 year olds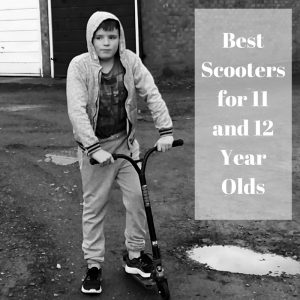 If buying a scooter for 11 or 12 year old the best scooter will depend on the following:
What the scooter will be used for? Stunts, cruising along pavements, off road use or all three? 
Bang for your buck - the best features for your money.
Height of your child - the scooter should be the right size for your child to use. If you anticipate that they will have a grow spurt in the near future, can the scooter accommodate this.
Cooless factor - is this important to the child?
Read on for some suggestions of some excellent 1.) kick scooters 2.) 
stunt scooters
 3.) 
three wheel scooters
 4.)
dirt scooters
 5.) 
electric scooters
for this age group
​
Top Tip
-  
If an 11 or 12 year old wants a scooter to do tricks on it is important to get a stunt scooter what fixed (non adjustable) handlebar which can withstand the punishment of doing tricks.  Check out some stunt scooters here.
Top Kick Scooter - JD Bug Pro street Scooter Version 3
This is a great scooter for cruising along the streets, great from getting from a to b, fab for the school run. It's not a good scooter for doing tricks if he wants to take it to the skate park look for a dedicated stunt scooter instead.
​
JD Bug is one of the most popular brands of scooter in the UK so it's difficult to go wrong.

Height Adustable Handlebar
The minimum height  is 630 mm and the max height is 950 mm
A handlebar is comfortable around waist height when using for scooting along so this should accommodate most 11 and 12 year olds and even offer some growing room.
Lightweight and Foldable
It weighs just 3kg. If the rider ever needs to carry or transport it for any reason, it's light for them to carry.
It's also foldable which is good for storing, for taking on public transport or for putting in the boot of a car.​
Stunt Scooters
Many 11 and 12 year olds will want a stunt scooter which enables them to do tricks, stunts and jumps at the skate park. Stunt scooters are more expensive especially than street / commuter scooters like the JD Bug above ​ as kids get older and bigger as they need to be built the scooter to withstand the weight of the child and the impact it takes when doing jumps and tricks.
Beginner Stunt scooter - ​Fuzion X-3 Stunt Scooter
If you're looking for a beginner stunt scooter on a budget, the Fuzion X-3 Stunt scooter could be a good choice.

Features include:
​
Wide handlebars - at 18", the batwing style handlebars are good for a beginner doing stunts

​Wheels - The wheels are 100mm cast PU wheels with Fuzion metalized ABS composite cores. It's always good to have metal cores on a stunt scooter wheel rather than the plastic cores you find on kick scooters. The PU wheels also give a smooth ride.
​​Lightweight  - at just 3.18kg, this is a great lightweight scooter to start while learning to do stunts.
​​Price - Around £60
Verdict - great for light beginner stunt scooter use. It's a good choice for when an 11 year old just wants to try out a few tricks and jumps without having to committ to spending huge amounts on a first stunt scooter. If he or she likes it, more can be invested in a stunt scooter later on. So it's a good entry level scooter so they can improve their tricks before progressing onto the next level.It's also a sturdy, lightweight scooter for crusing along the streets. As it's so lightweight it can easily be carried when needed. It's a good choice for the school run too.
What To Look for When buying a stunt scooter
How much you spend and the features you look for when buying a stunt scooter will very much depend on the what the kid wants to use it for and how much they are into scootering and doing tricks and jumps.
Beginner / Low stunt level use
If they are a beginner and just want to start doing a few tricks. Or perhaps they mainly use their scooter as to get from a to b but may do a few jumps or bash it about a bit on the street than one of the beginner style stunt scooters from Madd gear, Slamm or Grit will be a good choice.
Intermediate Riders

If they are a regular at the skate park and are using their scooters a lot, it's worth spending a bit more to make sure the scooter lasts. Again the Madd gear, Slamm and Grit brands are some good choices but look for the mid range price scooter starting at around £119. Other brands may include Lucky, District, Envy and Blunt.
Advanced Riders
An advanced scooter rider will probably have a clear idea of exactly what they want so it's worth consulting them.  Some scooters will start at around £200 plus but they will be designed to be lightweight with extra reinforcement. The detail on the design of the scooters will be find on the wheels and bars.
Slamm Urban VII
Key features of this stunt scooter. Summary - an excellent entry level stunt scooter. Offers a smooth ride for kids who like to cruise the streets as well as do some tricks.
​
Price - around £99

 

Wheels - 110mm wheels with an alloy core.  Most stunt scooters will have 100mm or 110mm wheels. The slightly larger 110mm wheels offer a smooth ride as the larger the wheel the less they are affected by uneven pavement surfaces. They are 88a PU cast wheels so are hardwearing and the metal cores mean they are durable for doing tricks.
​
Deck - 4.5″ X 18.8″ (approx 11.4cm by 48cm)  boxed channel deck. ​The wider deck provides a stable platform for riders.
Fork - Threadless aluminium one-piece fork
IHC Compression - it's fitted with an internal compression system. IHC compression is a lighter version of HIC compression.
Bars - the Slamm offers reinforced steel dipped Y-Bars with impact resistant bar ends, 20.5" X 22.5" (52cm by 57cm)
Flex brake
Scooter weight - approx 3.7kg which is on the light side for a stunt scooter. This is good for doing tricks. 
Ethan - Age 11 on The Slamm Urban VII
The Slamm Urban VII was the scooter we chose for our son on his 11th birthday. He's not very serious about doing tricks and stunts. He mainly uses his scooter to cruise around. However he does do a few jumps and gives his scooter some punishment moving around on it. Therefore I wanted to get him a scooter that was sturdy, durable and could take some roughness. The Slamm Urban VII seemed to fit the bill and he really does love it. Also if he decides he wants to take his scooter to the skate park he has the option to do it with this scooter.
What Features are important on a Stunt scooter for 11 and 12 Year Olds?
There are lots of things to know and look for when buying a stunt scooter. Here are some essentials explained:
Always make sure the bar is a one piece
Metal solid (alloy) core wheels are better than plastic core wheels. They will last longer. Alloy cores tend to be standard on all mid range stunt scooters.  The higher end metal end cores will weigh less, so it will depend on how much  you want to spend.  Also look for high quality PU wheels.
Bar height - the bar height on stunt scooters generally sit at or just below the hips.
Decks - decks come in all different lengths and sizes. Wider decks are better for street riding. So if he / she likes to ride his scooter along the streets as well as do tricks a wider deck is worth looking out for.
Compression -  scooters for beginner riders will use a threaded compression system, which clamps the bars onto a threaded fork.  More advanced scooters will have different types of compression. Look out for HIC ( Hidden Internal Compression), ICS (Inverted Compression System) and SCS (Standard Compression System). All of these compression systems are different but offer more resiliance, robustness and performance when compared to threaded fork systems.
You can read more about what the different specifications on scooters mean in our guide to stunt scooters.
Madd Gear ​MGP VX8 Pro Stunt Scooter
Madd Gear is another well known brand of scooters and there new stunt scooter range for 2018 includes the mgp vx8 pro stunt scooter.

Summary - an excellent choice of stunt scooter for the beginner and intermediate rider who wants to develop their skills. If there serious about scootering features can easily be upgraded as their riding does.

Price - around £149.95

Wheels -  110mm 88a solid corrupt core wheels with MGP's new polyurethane. Again a great wheel for a smooth ride over any bumps and durable too.
Deck: 4.5" (W) x 19.5" (L)  (approx 11.4cm by 49.5cm) A wide deck which is great for extra stability. A slightly longer deck than the slamm urban VII. 
Lightweight - the scooter has been a lightweight as possible compared to previous models.  The downtube cutout and the cut outs on the double clamp help this. It weighs approx 3.67kg
Bars - a one piece t-bar made from Japanese chromoly which is21" wide by 23" high (53.3cm by 58.4cm).
​Threadless fork
HIC Compression System
Brake - 110mm MGP Composite Blitz brake
Design - comes in tons of different colours and designs.
Blunt Envy Prodigy S6
Summary - A really cool looking scooter for beginner / intermediate riders who want to progress with their skills. The scooter is easy to upgrade with higher end parts if you want to.

Price - £199

Design - great color choice. A color choice on all the wheels too (different colors / gold lettering on some of the wheels etc). All aesthetically look great. Cool color. The  hand grips feature really cool colours too.

Bars - 4130 chromoly steel. It features gussets to make sure the bar stays strong.  No issues with snapping or bendingThey are 24.5 high by 22.5 inches wide. Great height and width for all from beginners to intermediate
Brake - a nylon, offers plenty of stopping power and is nice and quiet.
Wheels - comes with 120mm wheels.  Bigger wheels are better for a smooth ride.  £199 is a good price point for bigger wheels. The wheels can be upgraded up to 125mm if you want even bigger wheels in the future.
Compression - IHC compression.
Double clamp - nice clean look
Deck - is 4.75 inches wide vs 19.5 inches long. comes with plastic ends in the back of the dropout to protect ankles and other body parts from any sharp ends.  They help with sliding
Fork - thinned out fork, cool looking fork.
Hand grips - soft comfortable, cool colors, 160mm long.
3 Wheel Scooter  (Micro 2 in 1 scooter)
If you're looking for a 3 wheel scooter for an 11 or 12 year old, the micro kickboard 2in 1 is an excellent choice.

Age Recommendation
It's recommended for kids aged 10 plus to adult, so kids won't grow out of this scooter.

Wheels
The PU wheels with ABEC bearings give a very smooth, comfortable ride.
​
Height adjustable handlebar
The handlebar can be adjusted from 71cm to 100cm, so you can make sure it's the right height for your child.
2 in 1 Scooter
The scooter can be used with either the joystick or the t-bar handle
Price
It is expensive but this scooter is designed to last a lifetime with each main part being replaceable. It can easily be passed onto siblings and the 100kg weight limit means that most adults will be able to have a go.There are other 3 wheel scooters designed for older children. Check some out the
scooters for older children page.
Dirt Scooters
Strong
The chromoly handle bars with large rubber grips help give a comfortable ride. The tough aluminium deck withstands the punishment from stones and gravel on dirt tracks.  The stainless steel rear brake gives durable and reliable stopping power.
​​
Electric scooter - Razor E300
The E300 electric scooter is  a great electric scooter for 11 and 12 year olds with a high fun facto
Max speed
It can reach speeds of up to 15mph. There is one speed and you control the acceleration by a twist throttle on the handelbar
Ride Time
It offers up to 40 continuous minutes of rider time per charge.
​Wheels
It features pnuematic tyres on the front and back wheels so offers a very smooth ride over bumps in the paths.
Handlebars and kickstand
It also features a retractable kickstand and comfortable hand grips. The brake is also operated from the handlebar.
Weight
The maximum weight is 100kg so there's nothing to stop adults under this weight limit having a go too. ​