What Are the Best Scooters for Toddlers?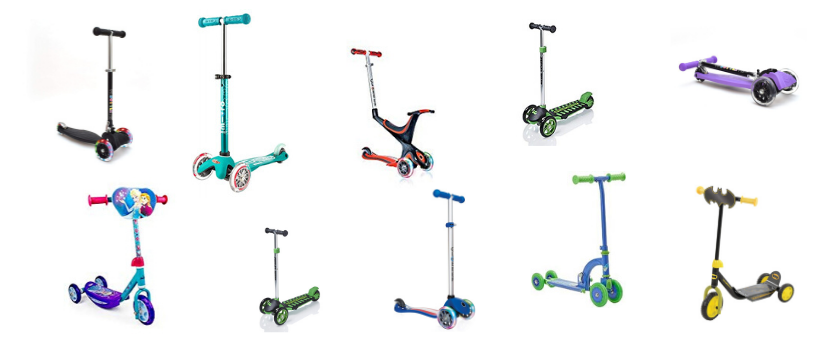 Choosing a good scooter for a toddler can be challenging. The trouble is there are umpteen scooters with a myriad of different features aimed at children aged 1 and 2 years old.
And so many questions...
Will my toddler be able to ride a scooter yet? Why are some toddler scooters a lot more expensive? Is it worth spending a lot of money or are budget scooters just as good?
If you need answers we have them. We have detailed everything you need to know about buying a scooter for your toddler. Read on to find out more.
Types of Toddler Scooters
One of the first decisions you will need to make is the type of toddler scooter your require. The type you choose will very much depend on the age of the toddler.  There are many variations on scooters for very young children including:
1.) parent handlebars to push a child along
2.) seat on a scooter so children can use it as a ride on and push along with their feet
3.) 3 or 4  wheels
Whatever type of scooter you choose, a burning question for many is how much to spend. While a £20 scooter may seem a bargain, it is often worth spending a bit more.
Cheaper scooters tend to be heavier, have clunky plastic wheels and be more difficult to control. More expensive models tend to be lighter and have polyurethane wheels which roll much more smoothly.
A light scooter is always a must for a small child. As well as giving more control, little ones may want to pick them up to change direction or to mount a kerb or a step. They are also easier for adults to carry when kids have had enough.
*This post has affiliate links, which means we may receive a small commission if you choose to purchase through links we provide (at no extra cost to you). As an Amazon Associate we earn from qualifying purchases.
Top Picks for Toddlers and 2 Year Olds
Globber Comfort Scooter
The Globber Comfort scooter is designed to grow with your child between the ages of 1 to 9 years. Additionally it's very competitively priced. Here are the three stages:
Stage 1 -  The parental handlebar gives full control of the bike to push your little one around while he or she sits on the seat and uses the footrest.
Stage 2 -  Remove the footrest and the parent handlebar to convert the Comfort scooter into a ride on. Your child pushes themselves along with their feet while sitting down.
Stage 3 - Turn the ride on into a scooter by removing the seat. You can adjust the t-bar as your child grows.
The scooter has a range of excellent features. The height adjustable handlebar has 4 height settings from 67.5 to 82.5cm. It's not the lowest (there are scooters with lower handlebars for tiny children such as the mini micro (more information below) but the stand alone scooter is for kids from approximately 3 years.
The Globber Comfort weighs 2.5kg when used as a stand-alone scooter. It's quite light but there are lighter scooters (again the mini micro.)
The steering is lean to steer (lean to go left and right). Uniquely, it features a button to turn off the steering while kids are learning. This means they don't have to worry about turning until they've mastered scooting in a straight line. This is a feature unique to the Globber.
The scooter can't be folded but you can remove the t-bar for easy storage in the boot or at home.
Mini Micro 3 in 1 Deluxe Push Along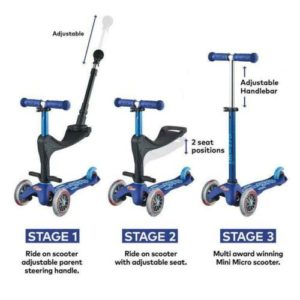 The 3 in 1 Mini Micro Deluxe plus has 3 stages to accommodate kids between 1 and 5 years old.
It allows the scooter to grow with kids in 3 phases:
Stage 1 - Parents guide little kids with the parental push bar.
Stage 2  -  Remove the push bar and allow the child to scoot on their own sitting down. They can push along with their feet.
Stage 3-  Remove the seat altogether. Kids are now riding the stand alone mini micro deluxe
The Mini micro 3 in 1 deluxe plus in super adjustable. The seat height has two seat height positions and can easily be adjusted from 25 to 29cm, to enable small legs to scoot along while seated. For parental comfort the handlebar is also adjustable from 40cm to 80cm. When kids start scooting, the handlebar on the scooter can be adjusted from 49cm to 67cm.
The maximum weight is 20kg with the seat and 50kg without. The maximum recommended height for kids using the scooter is 110cm, so it will last most kids until they are around 5, making the scooter an excellent investment for toddlers.
All mini micro scooters have polyurethane wheels which help give the scooter a really smooth, comfortable ride.
Micro scooters excel because they are so lightweight. This makes it super easy for adults to carry and kids to control. With the seat the scooter weighs 3kg. Without the seat the scooter weighs an amazingly light 1.8kg, making it  easy for the tiniest of kids to learn how to scoot.
Mini Micro 3 in 1 Classic Version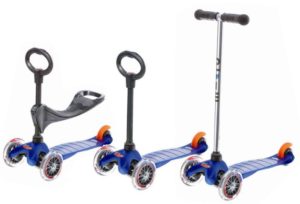 If budget is a consideration, another option provided by micro is the standard 3 in 1 version of the scooter. It retails at about £20 less than the deluxe version.
It omits the parent handlebar, so it is ideal for kids who are looking just to start off scooting around on a seat.
There are two handlebar options of different sizes that are included. The obar measures 48.5cm in height and can be used with or without the seat. The obar handle is a great option for tiny tots to start off scooting. It's a shorter and thinner handle bar which offers greater control.
When they are ready the obar can be swapped for a t-bar handle (which has a fixed height of 66cm) and the scooter transforms into the mini micro classic version of the scooter (as reviewed further on down the article).
Like the deluxe, there are two seat heights at 21cm and 27cm.
Mini Micro Deluxe
The mini micro deluxe is designed for kids from aged 2. It accommodates children who measure between 80cm to 110cm. The Min Micro is known for its award-winning design and engineering. It's a scooter that is built to last.
Handlebar height
This version of the scooter has an adjustable handlebar which has a lowest height setting of 49cm. This low handlebar makes it an excellent choice for toddlers. Ideally the handlebar on a scooter should be around waist height. If the handlebar is too high it makes it much more difficult to control. This makes it a fab choice for the youngest of children.
The maximum height of the handlebar is 69cm so the scooter will grow with your child and give them the perfect handlebar height at every stage making scootering easier.
Lightweight
Even though the mini micro deluxe has a folding mechanism, the scooter is still extremely lightweight at 1.8kg. A lightweight scooter is easier for toddlers to manoeuvre. They can lift it up the kerb and move it around with ease. Young kids quite often pick up their scooters to change direction when they're learning to scoot so a lightweight option aids with this too.
Removable handlebar - the handlebar can be removed for easy storage.
XJD Kids Scooter
The XJD scooter is competitive on price and has a low minimum handlebar height to suit the youngest of toddlers. Other exciting features including light up wheels and a "direction lock".
The lowest handlebar setting is 58cm, so it is an ideal budget option for older 2 year olds who are looking to start off scooting without a seat.
The handlebar is adjustable to 4 different heights with the maximum height being 76cm to accommodate 2 to 10 year olds.
The scooter features PU wheels which offer a very smooth ride, but what young kids will really love is that they light up while they are whizzing around - no batteries are required.
Parents will love the "direction lock". It alllows young kids to use the scooter locked in a straight line so they can learn to scoot before having to worry about turning. Once they have learned to scoot in line, you can switch the direction lock off and learn to turn left and right.
The scooter is light, not quite as light as the mini micro scooters, but it's still light enough for kids to move around and parents to carry rather easily.
The rear brake has been designed to allow the XJD to come to a halt quickly. Although many toddlers won't really use the brake yet - tending to use their feet to slow down instead.
Compared to the micro range of scooters, the XJD doesn't offer a telescopic handlebar that you will find on the micro, so you can't adjust it to any height within a range - just 4 settings. The XJD also isn't foldable but it does have an easy to use push and remove handle bar removal system for quick and easy storage. Also the micro scooters are made with the highest quality of materials such as a fibreglass deck and its parts are all replaceable which is why it is more expensive.
Having said all of this, if you're looking for something on that ticks most of the boxes and much more without breaking the bank - the XJD is an excellent choice. It definitely does the job!
3 Style Scooter
Handlebar: The handlebar can be adjusted from 52cm to 78cm so it will adapt to your child's height as he or she gets taller. 52cm is only a few cm more than the lowest handlebar setting on the mini micro deluxe (which is 49cm) so it's a great alternative and worth considering for young children. In comparison, the mini micro classic has a fixed handlebar of approximately 66cm.
Foldable: It can also be folded which is great when toddlers are tired. A folding scooter can be easily transported by being carried if needed. It takes up less space to store when not in use. It's also easy to put in your car or carry on top of a stroller or buggy.
Weight: It is lightweight. However, it is still heavier than the mini micro classic and mini micro deluxe which are only 1.5kg and 1.8kg respectively. The additional weight on the 3style is due to the weight of the adjustable handlebar and folding mechanism. Lighter scooters are easier for young children to manoeuvre  so is something to bear in mind when deciding which scooter is best for your child. However, it is still very light compared to other alternatives.
Wheels: The 120mm wheels are made of polyurethane. It comes in several different colours. The wheels also light up for extra fun!
Read an indepth comparison between a 3style scooter and a mini micro
Globber Primo Scooter
Another alternative to the mini micro is the Globber Primo scooter which is currently a very popular brand of scooter in the US and Australia.
The primo scooter has 3 wheels with two at the front and a one shock absorbing wheel at the back.
Steering
The Primo has lean to steer steering. What's unique about this scooter is there is a button where you can lock off the steering. This means they can learn to scoot in a straight line before they have to worry about turning.
​Handlebar
The lowest handlebar height is 67.5cm and it can be to 3 different heights with the maximum height being 77.5cm. This makes it better for older toddlers who are approaching age 3.
You can remove the handle for easy storage with the click of one button. It's easy to put in the boot of the car or store when needed
Deck
The deck is low to the ground, making it easy for little ones to get on and off.
Weight
It weighs 2.33kg which isn't the lightest but will be fine for bigger children approaching age 3.
​
Besrey Kids Scooter With Seat
The Besrey kids scooter with seat is designed for kids aged 2 to 8 years old. It has a foldable seat for the youngest of children. It scores highly on affordability. It's cheaper than other scooters which have seats.
It's weighs 3.36kg, which isn't as light as the micro scooter but not too heavy. Lighter scooters are better for young children, as it's easy for them to manoeuvre.
There are four different height settings at 63cm, 73cm, 78cm and 83cm. It features lean to steer steering. The seat can be folded up which can be good when they're learning to scoot, as you can easily switch between the seat and a traditional  scooter.
The scooter has large wheels with LED lights.
The Ridestar

The Ridestar is another 3 wheel scooter.  It includes an adjustable handlebar and foldable design. This is a great option of scooter for older / bigger toddlers if you are on a budget.  The minimum age is 3 but it's lowest handlebar of 58cm which is quite low so may suit some younger kids as well. 
Handlebar: There are four handlebar heights set at 58cm, 63cm, 68cm and 73cm.
Weight: It is on the light side weighing just 2.3kg making it easier for small children to handle.  The maximum weight capacity is 20kg.
Handlebars: The durable rubber handles provide excellent grip even when it's wet.
Wheels: Two front PU wheels and an extra chunky rear wheels give extra stability to young riders.
​
Overall Verdict
If you're looking for cheap and cheerful three-wheel scooter this is a good choice. Although it's worth bearing in mind, that the build quality won't be on a level with more expensive scooters.
3 Wheel Budget Option - Trail Twist
Steering and Wheels
It has some good features including polyurethane wheels which will help with a smooth ride over those bumps in the pavement. It features has a large deck.
The steering it has a lean and steer system. Lean left to go left and right to go right.
Weight
It weighs just under 2.3kg which is still lightweight but is heavier than the top of the range micro scooter.
Handlebar and Foldability
Bear in mind that it is aimed at 3 to 5 year olds and the height of the handlebar is 68cm so is going to be better for slightly taller toddlers. It's approximately 2cm bigger than the handlebar height on the standard mini micro. There are reviews of kids about 2 1/2 using this scooter.
The scooter isn't foldable or height adjustable. It's a budget scooter so it won't be the same quality of ride as the mini micro, but then the cost is much lower. If you're looking for a lean to steer scooter that's inexpensive this could be the right choice for you.
Four Wheel Scooter For Toddlers
Ozbozz My First Scooter
There is a lot to like about the Ozbozz scooter. Firstly, it's another great option if you're on a budget. There is a blue and green option and a pink and yellow version too. It has 4 wheels which change to 3 wheels and then down to 2. This is great to grow with your child. The 4 wheels give young children lots of confidence and stability. The wheels are PU so should give a smoother ride than plastic ones.
Foldable
It folds.  2 year old toddlers often get fed up with scooting and will want you to carry the scooter - a scooter that folds is just a lot easier to carry. It also makes it easy to fit in the car boot for trips to the park and holidays. The folding mechanism is chunky and easy to use.
Weight 
The specs show its weight is 1.6kg which is very lightweight - compared to 1.5kg on the mini micro. So it should be easy for younger children to use and control.
Deck
The deck is quite small but this should be fine for smaller children aged 2 to 4, which is the age range it's designed for.
Handlebar
The handlebar height is 67cm, which is the same or similar to most of the scooters on this page.
Bright Colours
There are bright colours on this option and the foam covered handles that are easy to grip for small hands. The scooter comes in either blue and green or yellow and pink.
It also comes with a small tool kit for easy assembly.
It's difficult to go wrong with this one if you want a low priced option for a very young child.
You can also pick up a Unicorn version of the Ozbozz 4, 3, 2 scooter featured below.
Character Scooters for Toddlers

There are lots of character scooters which will appeal to toddlers, 2 year olds and other small children.
These scooters have one wheel at the front and 2 at the back. Character scooters are sturdy and safe, which is great for peace of mind and to introduce very young children to a scooter.
However, they won't pick up a lot of speed. They may also be difficult to steer and manoeuvre.
On the plus side, they are inexpensive. They will really appeal to toddlers if they like the characters too. Frozen and Thomas seem to be popular at the moment. They will appeal to parents who are looking for something sturdy, slow and safe for their little one.
Handlebar and Wheels
The Thomas and Friends Tri scooter featured is a standard tri wheel design with two wheels at the rear and a wheel on the front.  You can adjust the handlebar from 63 to 69cm. It has a robust frame. Like most character scooters of this nature, the design, such as the large wheels and the way they are set out, means this scooter is stable and safe. However, it may be difficult to pick up a good speed like you can on the mini micro which can frustrate some children but will suit others.
The wheels are plastic, which aren't as good as the PU wheels you will find on more expensive scooters. But plastic wheels are what you would expect in this price range.
Frozen Character Scooter

Another option of character scooter is the Frozen themed scooter. Like the Thomas scooter, you can adjust the handlebar between 63cm and 69cm. The fully printed anti-slip footplate will appeal to young Frozen fans. 
Features on Toddler Scooters Explained
Wheels -  3 or 4 wheels are essential as children under 2 won't have the balance for 2 wheels.
Wheel Material - Wheels on scooters for toddlers tend to be either plastic/PVC wheels or polyurethane (also described as PU) wheels.  Plastic / PVC wheels can be durable but they often don't offer a very smooth ride. Scooters that have PU wheels tend to offer a smoother ride so this is the material to look out for.
Wheels size: Wheels on scooters for toddlers and 2 year olds also tend to be slightly bigger than standard size as this makes the scooter easier to control. Standard size scooters have wheels of around 100mm whereas wheels of 110 to 125mm are common on toddler scooters. Larger wheels are also better for cruising along the pavements as they go over bumps and cracks more easily offering a smoother and quicker ride.
Lightweight - a lightweight scooter is a must. Young children will need to be able to pick up and move the scooter when required. Picking up the scooter is often how they will move the scooter to change directions at first. They can also pick it up to go up kerbs or a step. A lighter scooter will also be easier for them to control when cruising. Additionally, when your toddler or 2 year old gets tired at the park or playground, it'll be you who will have to carry it home or back to the car.
Foldable - a scooter that folds is normally easier to carry and to store as well. Some foldable scooters can be heavier due to the extra weight of the folding mechanism. Other scooters aren't foldable but the t-bar can be removed from the stem for easy storage in the boot or a cupboard.
Balance, Safety and Stability - many scooters have some great factors to help balance, safety and stability. For example, a low, wide deck tends to be easier to get on and off and helps with balance.
Features to Grow with Your Child - young children grow, develop and change at a quick rate. To get the most out of your scooter, it's good to look for features which will grow with your child. These can include height adjustable handlebars. Some scooters have different stages with seats and ride on features so the scooter is suitable for toddlers between ages 1 and 5.
Handlebar height - ideally the handlebars should come up to around waist height on your toddler. If the handlebars are waist height they will find the scooter easier to control. Too high or too low is uncomfortable and harder to control.
Specific requirements
If you are looking for a scooter with a specific requirement, check out the info below:
Best For Tall Toddlers
If you are looking for a tall toddler, look for one with 3 wheels which has a tall handlebar. Ideally you want the handlebar to be around waist height on any child. A handlebar at waist height it is easier to control.  For this reason it can actually be easier to find a scooter for a taller toddler as most first scooters are aimed at 3 year olds who are naturally a bit taller. Many of these have handlebars around 66cm.
Another really good thing to look for is an adjustable handlebar. This 3 style scooter has a handlebar which has 4 height settings 52cm and moving to 70cm, 74cm &  all the way up to 78cm so this is a great option. Read reviews and check it out here.
Best for Small Toddlers
If you are looking for a small toddler, again the most important thing you need to look for is a handlebar that isn't too high.  If you think about it, a handlebar which is too high will be more difficult for anybody to use. Look for a handlebar that sits just above the hips.  There are a couple of options to choose from.
Firstly, there is the 3 style scooter which has a height adjustable handlebar with the lowest setting being 52cm.
If you are willing to spend a little bit more another great option is the mini micro deluxe which has a height adjustable handlebar with a low setting of 48cm.  This, of course, will accommodate the smallest of children who are old enough to ride on a scooter.
Best For 1 Year Olds
My recommendation would always be the mini micro 4 in 1 with seat and parent handle. This really does grow with your toddler. The scooter is well constructed and built to last. Kids use it and pass it onto siblings or it can be sold on eBay after being used.
The mini micro scooter is lightweight and it's lean and steer mechanism it's one of the easiest scooters for young kids to learn how to ride. It's also easy to carry when toddlers have had enough, which when they are young can be quite often. If you want to take it on holiday, the handlebar stem can easily be removed from the base for easy storage and it doesn't weigh a lot to put in your luggage.
However if you want a cheaper option, there is also the Outcamer 3 in 1 scooter has a seat for young toddlers and is aimed at kids from 2 to 8 years. The adjustable handlebar can be adjusted to 3 different heights at 49cm, 62cm and 71cm.  ​
Best Helmet
Safety is a top concern for most parents and carers and a helmet is a must. You will be surprised at how quickly a toddler can learn to get up speed up.
​
If you are looking for a helmet, pick one which is lightweight and which fits correctly. You will need to measure around the child's head above the ears and this will give you the circumference you need in cm so you can pick the right size helmet.
Best Budget
The best budget for you will depend on what you want to spend. Like most things you do get the quality based on your money. There are lots options that are £30 and under. However, you will compromise on something. It will depend on the specific scooter what that is. Lots of scooters of this price will be good for about a year, and then they often start to fall apart in some way or rattle.
The
Obozz scooter
is one of the cheapest available but pay just a bit more and the
3style scooter
is a better choice.
Best 3 Wheel
If you want the best of the best, you can't go wrong with the 
mini micro deluxe
.
  You will pay  more but it will last. It gives a very smooth ride (no rattling), it's very lightweight so extremely easy for a toddler to pick up and manage. It also has a high resale value on eBay. It's difficult to go wrong.
Best foldable
A foldable option can be  handy for carrying when your toddler has had enough. You can also hang it on the back of a pushchair. Sometimes a foldable option can weigh a little bit more as the mechanism which folds the scooter does add weight, so this is something to bear in mind. A lighter scooter is easier for very young kids to control.
The 
3style scooter
 is foldable, not too heavy and well worth checking out. ​
Scooter for an 18 month old
If you have a quick search on YouTube, you will find videos of 18 month old toddlers who are able to ride 3 wheel scooters. This proves it's certainly possible for kids of 18 months to be able to ride a scooter. However, these kids are exceptional. Most 18 month olds take a while to learn the co-ordination and balance needed to ride a scooter. Having said this kids vary in ability and if you think your child is confident enough to have a go the best recommendation for a very young child would be a very light scooter. The mini micro deluxe is the obvious option as the handlebar can be adjusted to a very low height and the scooter is only 1.8kg. Most 18 month olds are going to struggle even on a 3 wheel option. So for the majority of kids of this age it's best to choose go a scooter which has either a parent handle or a seat so kids can use the scooter as a ride on until they are ready graduate onto a 3 wheel scooter. The globber 5 in 1 is a great option to try out.
Scooters on Sale - Tips for cutting the Price
It can often be worth hunting around to find the best price for the scooter that you want. This is especially true if you're paying for one that is a little more expensive. Checking out prices online is often the best way to get a good deal. Here are some good links to try.
Deals On Amazon
Personally I always check out amazon. The prices are normally very competitive, especially if you have prime and will benefit from free shipping with your purchase. A good place to go is the 
bestsellers for 3 wheel scooters
 page on amazon. This lists the top selling scooters at that particular time, so if there is one on sale it will very likely be on that list. It's also a great place to compare prices. ​
eBay
eBay is another great online store to try. It's good to check out the resale value of your chosen scooter. You can also pick up some amazing second hand deals online. The mini micro is always a good one to see if you can get a good second hand deal. As all parts on the mini micro are replaceable even if the wheels or another part becomes worn you can easily change it for the fraction of the price of selling a new one.
Many sellers will post out to your or you can pick up a local bargain.