What Are the Best Scooters for Toddlers?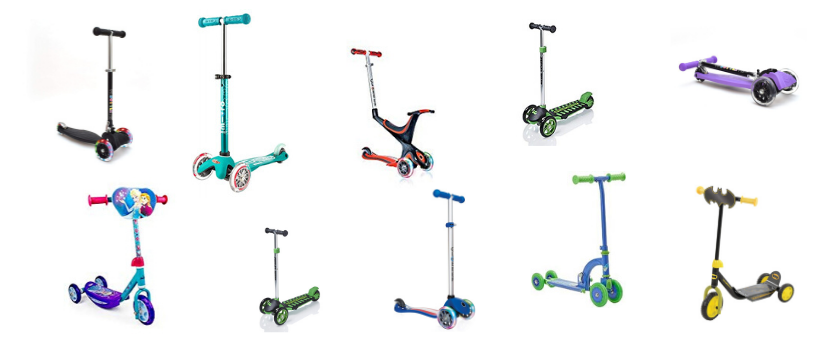 Choosing a good scooter for a toddler can be challenging. The trouble is there are so many different scooters at a wide range of prices. It can be hard to pick the right one.
In this article we've picked our top 15 scooters for 1 and 2 year olds. Whether you're looking for a budget scooter, a scooter that will last for a few years or are looking for the most comfortable ride, we have found the perfect scooter for you.  In addition, find out which scooter we chose for our son when he was 2 years old.
7 Important Questions To Ask Before You Buy a Toddler Scooter
Do you need a scooter with a seat? Many kids can ride a scooter from around the age of 2 years old. If they're younger than 2, or they're not quite ready to scoot, look for a 3 wheel scooter with a seat. The seat allows toddlers to use the scooter as a ride on. When they're ready, the seat can be removed and they can start scooting.
How many wheels?  All 1 and 2 year old children need a scooter with either 3 or 4 wheels.
How adjustable is the handlebar?  Ideally the handlebar should be around waist height. As toddlers grow quickly, the handlebar should adjust easily. Most 1 to 5 year olds require a handlebar within the range of 49cm to 69cm.
How much should you spend? A burning question for many is how much to spend. While a £30 scooter may seem a bargain, it is often worth spending more. Cheap scooters are heavy with clunky plastic wheels which are difficult to control. More expensive models are light with high quality, polyurethane wheels which roll smoothly.
How heavy is the scooter? A light scooter is a must for a small child. It gives more control, allowing little ones to easily manoeuvre and pick up the scooter to change direction or mount a kerb. It's also easier for adults to carry.
How does it steer? Most toddler scooters have a lean to steer mechanism, which means riders lean to turn left and right rather than use the handlebar to control the steering. This lean to steer method is intuitive for most toddlers. Some toddler scooters do have handlebar controlled steering, which is fine as well!
Does the scooter fold? A foldable scooter is not a necessity. However, many adults prefer one as scooters that fold are easier to transport and store.
*This post has affiliate links, which means we may receive a small commission if you choose to purchase through links we provide (at no extra cost to you). As an Amazon Associate we earn from qualifying purchases.
Mini Micro 3 in 1 Deluxe Push Along - Our Top Pick For 1 Year Olds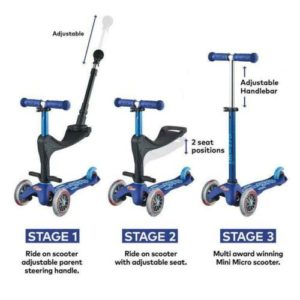 If you're looking for a scooter for the youngest of toddlers - the 3 in 1 Mini Micro 3 in 1 is an excellent choice.
Children as young as 18 months can use the scooter as a ride on. A removable parent handlebar allows parents to guide little kids. For parental comfort the handlebar is adjustable from 40cm to 80cm.
When they're ready the ride on converts to a scooter with an adjustable handlebar. Uniquely, the lowest handlebar on the scooter is just 49cm. This low handlebar height allows kids as young as 2 (or even younger) to have a go at scooting!
As your child grows you can adjust the scooter handlebar up to 67cm which will accommodate kids up to the age of 5.
There are a number features where the Mini Micro Deluxe scooter excels. High quality polyurethane wheels give the scooter a smooth, quiet and comfortable ride. You'll never hear any rattling parts with this scooter.
On top of this, the scooter is extra lightweight. This makes it super easy for adults to carry and kids to control. With the seat the scooter weighs 3kg. Without the seat the scooter is amazingly light, at just 1.8kg. This makes it easy for the even tiniest of kids to learn how to scoot.
Overall, if you have a child under the age of 2 this is a fantastic scooter.
Mini Micro Deluxe - The Scooter We Picked for Our 2 Year Old

We bought the mini micro deluxe scooter for our son when he was 2.5 years old and it was a great choice.
We chose this scooter for many reasons. Firstly our son was on the small side for his age and the handlebar on the mini micro deluxe is one of the lowest handlebar heights for young kids (at just 49cm). It's also a telescopic handlebar which means it can be adjusted to any height up to 69cm, making it easy to find the perfect height as our son grows.
Ideally a handlebar on a scooter should be around waist height on your toddler. If the handlebar is too high it makes it more difficult to control.
The mini micro deluxe scooter is extremely light at 1.8kg. A lightweight scooter is easier for toddlers to manoeuvre. Young kids often pick up their scooters to change direction when they're learning. A light scooter is also easier to lift up kerbs and steps too.
Another thing we liked is the deck is low to the ground. This makes it easy for young kids to step on and off. Plus little kids don't have to reach very far with their kicking foot to push along the ground making the scooter comfortable to ride.
The scooter has "lean to steer" steering, which means you lean left to go left and right to go right. Our son did take a while to get used to this. However, once he did there was no stopping him!
The version of the mini micro deluxe is not foldable, however you can take the stem out of the base for easy storage and transportation. There is a foldable version if you prefer.
The mini micro deluxe is one of the more expensive scooters on the market. However, it's excellent quality and designed to last. All parts are repairable and replaceable so the scooter is kept on the road and out landfill for years to come.
We liked the scooter so much, we bought one for our nephew too.
Other Versions of the Mini Micro
There are many different versions of the Mini Micro scooter. They include an eco friendly version which is made out of recycled materials and a foldable version (see below).
The Foldable Mini Micro
The foldable version has all the features of the mini micro deluxe but it folds too. It's slightly more expensive and heavier (2.1kg) but if a foldable scooter is important to you, this is a great option. You can buy the foldable version on Amazon. 
Globber Comfort Scooter - For Kids Between Age 1 and 9 Years!
If longevity is important to you, the Globber Comfort scooter is designed to grow with your child between the ages of 1 to 9 years.  It could be that you don't have to buy your toddler another scooter for a long time. Having said this, not all the Globber scooter parts are repairable and replaceable so it's longevity would depend on all the parts lasting.
The Globber Comfort scooter's design is very similar to the Mini Micro 3 in 1. However the Globber is cheaper and there are a few significant differences.
Like the Mini Micro 3 in 1, the Globber easily transforms from a ride on into a stand alone scooter. There's a parental handlebar for parents to guide little children around. When toddlers are ready, the handlebar can be removed and toddlers can push themselves along with their feet.
As kids approach the age of 3, the Globber Comfort turns into a scooter. You can adjust the t-bar to 4 different height settings (from 65.7cm to 82.5cm) as your child grows (in comparison to the Mini Micro scooters which can be adjusted to any height). The top height of 82.5cm could potentially accommodate a 9 year old child.
The Globber Comfort weighs 2.5kg when used as a stand-alone scooter.  Although not quite as light as the Mini Micro Deluxe, it's still is easy enough for most 3 year olds to lift it up kerbs and steps.
The steering is lean to steer (lean to go left and right). Uniquely, it features a button to turn off the steering while kids are learning. This means they don't have to worry about turning until they've mastered scooting in a straight line.
The scooter doesn't fold but you can remove the t-bar for easy storage in the boot or at home.
Scoot and Ride Highway Kick - Easy To Convert
If you want a scooter where your child can use the scooter as both a ride on and a scooter on the same day, this is the option to choose.  The ride on converts quickly and easily to a scooter. No tools are needed and you can do it whenever your child fancies a change of ride.
The ride on seat is adjustable at 3 different settings from 22.5cm to 29cm. The low seat setting makes the ride on excellent for the smallest of kids. The ride on part will probably last until about 2 years old and the scooter part until about 5 years old.
A safety pad at the front of the scooter which minimises the risk of kids tipping over on a scooter when they go over a bump or a stone in the road.
The scooter has 2 large front wheels (6 inches) and a smaller rear wheel. It's very stable to ride.
One negative is it weighs 3kg so it's not the lightest of scooters. On the plus side, it's probably the best convertible ride on to scooter because it's so quick and easy to convert.
3 Style Scooter - Best Budget Option


The main attraction of the 3style scooter is it's price. It offers similar features to competitors at almost half the price.
The handlebar is adjustable from 52cm to 78cm at 4 different height settings. The lowest height setting of 52cm is only a few cm higher than the lowest handlebar setting on the mini micro deluxe (which is 49cm) so it's a great cheaper alternative that's worth considering for young children.
It's foldable and light, making it easy to transport and store. It's a bonus to be able to fold  a scooter and put it on top of a buggy when toddlers are tired and have had enough scooting.
120mm wheels are made of polyurethane and offer a smooth ride. It comes in several different colours. The wheels also light up for extra fun!
One downside of the scooter is that if it breaks the parts aren't as easily repaired or replaced like they are on branded scooters such as the Mini Micro.
Read an indepth comparison between a 3style scooter and a mini micro
XJD Kids Scooter - Another Budget Option with a Direction Lock
The XJD scooter is competitive on price and has a low minimum handlebar height to suit the youngest of toddlers. Other exciting features include light up wheels and a "direction lock".
The lowest handlebar setting is 58cm, so it;s an ideal budget option for older 2 year olds who are looking to start off scooting without a seat.
The handlebar is adjustable to 4 different heights with the maximum height being 76cm. It should easily accommodate 6 and 7 year olds.
Young kids love the light up, polyurethane wheels which offer a smooth ride.
The "direction lock"  allows young kids to learn to scoot in a straight line before they have to worry about turning. Once they have learned to scoot in a line, you can switch the direction lock off and kids then lean to turn left and right.
The scooter is light, not quite as light as the mini micro scooters, but light enough for kids to move around and parents to carry easily.
The rear brake is designed to allow the XJD to come to a halt quickly. However, many toddlers won't use the brake just yet. Young children tend to use their feet to slow down instead.
The XJD doesn't fold but it does have an easy to use push and handle bar removal system for quick and easy storage.
If you're looking for something that ticks most of the boxes and much more without breaking the bank - the XJD is an excellent choice. It definitely does the job!
Four Wheel Scooter For Toddlers - Ozbozz My First Scooter (4, 3, 2 Wheels Scooter)

There is a lot to like about the Ozbozz scooter. Firstly, it's a fantastic option if you're on a budget. Secondly it's the only scooter which converts from having 4 wheels to 3 wheels and finally down to just 2.
Starting out with 4 wheels helps toddlers develop their confidence and riding ability. The wheels are PU so give a smoother ride than plastic ones.
It folds. 2 year old toddlers often get fed up with scooting and will want an adult to carry the scooter so a folding scooter is handy. It also makes it easy to fit in the car boot for trips to the park and holidays. The folding mechanism is chunky and easy to use.
The deck is quite small but this should be fine for smaller children aged 2 to 4, which is the age range it's designed for.
The handlebar height is 67cm, which is the same or similar to most of the scooters on this page.
There are two colourways. Choose between blue and green or pink and yellow. Foam covered handles are easy for small hands to grip.
It comes with a small tool kit for easy assembly.
Prefer pink? Pick up a pink version of the Ozbozz 4, 3, 2 scooter featured below.
Globber Primo Scooter - Best for Tall 2 Year Olds
The Globber Primo 3 wheel scooter is currently popular in the US and Australia. It's a good choice for older and taller toddlers heading toward their 3rd birthday.
Use the steering lock to turn off the lean to to steer steering. This allows them to learn to scoot in a straight line before they have to worry about turning.
The lowest handlebar height is 67.5cm which is higher than on other toddler scooters. This makes the Primo a better choice for taller toddlers or those approaching age 3. The handlebar can be set to 3 different heights with the maximum height being 77.5cm.
Remove the handle for easy storage with the click of one button. It's easy to put in the boot of the car or store when needed.
The deck is low to the ground, making it easy for little ones to get on and off.
It weighs 2.33kg which isn't the lightest but will be fine for bigger children approaching age 3.
Besrey Kids Scooter - Accommodates Kids Up to 8 Years Old
Intended for kids from aged 2 to 8 years old, the mid-priced Besrey kids scooter is another toddler scooter to consider.
It has all the features you'd expect on a first scooter for toddlers including 4 adjustable height settings. The lowest height setting is 58cm which is a nice size for the smallest of riders. Extend the handlebar height as your child grows to 62cm, 72cm and finally 77cm.
As you'd also expect the Besrey scooter is lightweight at 2.8kg and features lean to steer steering.
A wide deck of 5" gives small kids plenty of room for their feet. They will also love the LED lights on the wheels and the dinosaur or unicorn graphics on the deck.
The Ridestar - The Cheapest 3 Wheel Scooter for Young Kids

The Ridestar is a very low budget option for toddlers.  With an adjustable handlebar and foldable design the Ridestar scooter ticks quite a few boxes if you want something competitively priced.  The minimum recommended age is 3 but it's lowest handlebar of 58cm is quite low so may suit younger kids too.
There are four handlebar heights set at 58cm, 63cm, 68cm and 73cm.
It is on the light side weighing just 2.3kg which should be fine for older toddlers to manoeuvre.  The maximum weight capacity is 20kg.
Durable rubber handles provide excellent grip even when it's wet.
Two front PU wheels and an extra chunky rear wheels give extra stability to young riders.
If you're looking for cheap and cheerful three-wheel scooter this is a good choice. However, it's worth bearing in mind, that the build quality won't be on the same level as more expensive scooters.
Pink 3 Wheel Budget Option - Trail Twist

If you're looking for a budget option of a three wheel scooter, the trail twist scooter is a great deal.
It has some good features including polyurethane wheels which help with a smooth ride over bumps in the pavement.
The steering it has a lean and steer system. Lean left to go left and right to go right.
Weighing just under 2.3kg this scooter is super light,  although heavier than the top of the range micro scooter.
Bear in mind that it is aimed at 3 to 5 year olds and the height of the handlebar is 68cm so it's better for taller toddlers.
The scooter isn't foldable or height adjustable. It's a budget scooter so it won't be the same quality of ride as higher end scooters but then the cost is much lower. If you're looking for a lean to steer scooter that's inexpensive this could be the right choice for you.
Character Scooters for Toddlers

There are lots of character scooters which toddlers will love. Peppa Pig and Paw Patrol themed scooters are popular with young kids.
Themed scooters have one wheel at the front and 2 at the back. They are sturdy and safe, which is great for peace of mind and to introduce very young children to a scooter.
However, they don't pick up a lot of speed. They may also be more difficult to steer and manoeuvre.
On the plus side, they are inexpensive. Kids love the characters which often makes them have more enthusiasm for riding the scooter. They're often good to introduce young children to scooting before they move onto something quicker.
Characters scooters appeal to parents who are looking for something sturdy, slow and safe for their little one
The Paw Patrol scooter featured is a standard tri wheel design with two wheels at the rear and a wheel at the front.  You can adjust the handlebar from 63 to 69cm. It has a robust frame. Like most character scooters of this nature, the design, such as the large wheels and the way they are set out, means this scooter is stable and safe. However, it may be difficult to pick up a good speed like you can on the mini micro which can frustrate some children but will suit others.
The wheels are plastic, which aren't as good as the PU wheels you will find on more expensive scooters. But plastic wheels are what you would expect in this price range.
Peppa Pig Scooter

Another option of character scooter is the Peppa Pig scooter. Like the Paw Patrol scooter, you can adjust the handlebar between 63cm and 69cm. The fully printed anti-slip footplate will appeal to young Peppa Pig fans.
Features on Toddler Scooters Explained
Wheels -  3 or 4 wheels are essential as children under 2 won't have the balance for 2 wheels.
Wheel Material - Wheels on scooters for toddlers tend to be plastic/PVC wheels or polyurethane (also described as PU) wheels.  Plastic / PVC wheels are durable but they often don't offer a very smooth ride as the material doesn't absorb any shocks from bumps on the pavement. Scooters that have PU wheels tend to offer a smoother ride so this is the material to look out for.
Wheels size - Wheels on scooters for toddlers and 2 year olds also tend to have two 120mm wheels at the front and a smaller rear wheel. The larger front wheels offer extra stability. Larger wheels are also better for cruising along the pavements as they go over bumps and cracks easily offering a smooth and quick ride.
Lightweight - a lightweight scooter is a must. When learning to scoot, young children often pick up the scooter to change direction.  They also need to pick it up to go up kerbs or a step. A light scooter will make it easier for them to control when cruising. Additionally, when a toddler or 2 year old gets tired of scooting,  a light scooter is easier for an adult to carry home or back to the car.
Foldable - a scooter that folds is normally easier to carry and to store as well. Some foldable scooters can be heavier due to the extra weight of the folding mechanism. Other scooters aren't foldable but the t-bar can be removed from the stem for easy storage in the boot or a cupboard.
Balance, Safety and Stability - many scooters have some great factors to help balance, safety and stability. For example, a low, wide deck tends to be easier to get on and off and helps with balance.
Features to Grow with Your Child - young children grow, develop and change at a quick rate. To get the most out of your scooter, it's good to look for features which will grow with your child. These can include height adjustable handlebars. Some scooters have different stages with seats and ride on features so the scooter is suitable for toddlers between ages 1 and 5.
Handlebar height - ideally the handlebars should come up to around waist height on your toddler. If the handlebars are waist height they will find the scooter easier to control. Too high or too low is uncomfortable and harder to control.
Pin Me For Later....