What Are the Best Scooters for Toddlers and 2 Year Olds?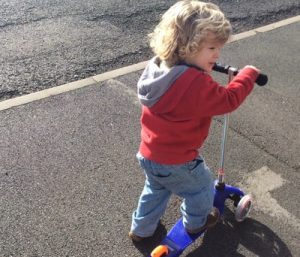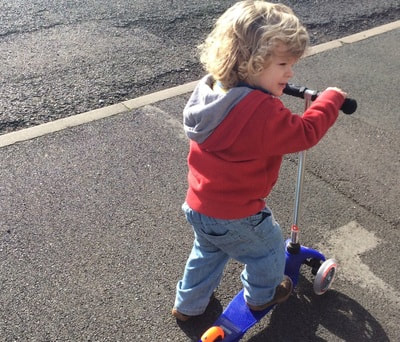 Picture is my son age 2 on a blue mini micro scooter. Well constructed, a smooth ride and very lightweight. Check out reviews here: http://amzn.to/2xBffGa
You can get scooters for toddlers as young as
1 year old
. We didn't buy my son one until he was 2 years old but there are toddlers who are able to use them from a much younger age. There are many options including  
sit down scooters
which transform into kick scooters,
four wheel scooters 
 as well as classic three wheel scooters, all excellent options for very young children.
​
If you're in a hurry or just curious....

✔️ This
scooter
is the most popular one on this page with our readers.
​This article covers what to look for when choosing scooters suitable for the very youngest child (from 1 year / 18 months) to children aged 2 to 3 years. My advice is based on my own experience of owning the
best kick scooter
 and also the worst!! A lot of research has also been done for every kind of child and requirement.
My Top Picks for Toddlers and 2 Year Olds
Best Sit Down Scooter
My top pick of 3 wheel scooters for this age group is the mini micro. There are three versions which I've featured in this article. The first version of the mini micro for the youngest of children is a sit down scooter which converts to a standing one.
I have given a brief description below but there's an indepth analysis of the features on the 3 wheel scooters page.
The version for very young children has an o-bar handle (which is smaller) and a seat. It can be converted from a ride on with seat, to a scooter with a smaller o bar handle, to a scooter with t bar for older kids. ​
Handlebar height - The height of the obar handle is 43cm - this is from the deck to the top of the handlebar (the measurement from the floor to the top of the handlebar is 49cm) The tbar handle is 61cm (67cm from the floor to the top of the handlebars) so it really  does grow with your child.  Ideally the handlebar height should come to about waist height on your toddler so this should help you decide when buying.
Wheels - The mini micros have polyurethane wheels which offer a really smooth ride.
Top Kick Scooter
Mini Micro Classic
What to Look For When Buying a Scooter for Toddlers?
A Foldable and Height Adjustable Scooter
Globber Primo Scooter
Zoom Cruzer
3 Wheel Budget Option - Trail Twist
Bear in mind that it is aimed at 3 to 5 year olds and the height of the handlebar is 68cm so is going to be better for slightly taller toddlers. It's approximately 2cm bigger than the handlebar height on the standard mini micro. There are reviews of kids about 2 1/2 using this scooter.
Four Wheel Scooter For Toddlers
Ozbozz My First Scooter
The Frozen scooter featured has an adjustable handlebar so can accommodate children of different heights. It is a tri wheel design with two wheels at the rear and a wheel on the front.  It also has a robust frame. Like most character scooters of this nature the design, such as the large wheels and the way they are set out, means this scooter is stable and safe. However, it may be difficult to pick up a good speed like you can on the mini micro for example which can be frustrating for some children, but will suit others.
Specific requirements
Best For 1 Year Olds
Best Helmet
Best Budget
Scooters on Sale - Tips for cutting the Price
It can often be worth hunting around to find the best price for the scooter that you want. This is especially true if you're paying for one that is a little more expensive. Checking out prices online is often the best way to get a good deal. Here are some good links to try.
Deals On Amazon
Ebay