What To Look for When Buying the Best Scooter for a 7 or 8 Year Old?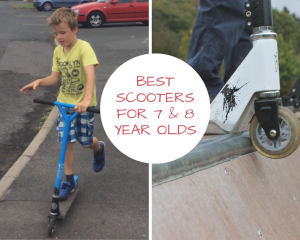 We bought a scooter for my son for his 7th birthday. The top priorities for my 7 year old boy are a quiet, smooth and fast ride and one that could withstand a few tricks.
Whether you're looking for a kick, electric scooter or stunt scooter for your son, daughter or any child of 7 or 8 years old, there are many factors to consider. Check out our buying guide for more information.
*This post may have affiliate links, which means we may receive a small commissions if you choose to purchase through links we provide (at no extra cost to you).
JD Bug Original - Great for the School Run
One of the best picks for 7 year old boys or girls is the JD bug street scooter featured. It's a good choice for cruising along the streets.
Features include:
✔️  Easy to carry and store - it's folds with a single action folding/ unfolding mechanism and has a carrying strap which isn't a feature on many other scooters. It weighs 2.8kg so is one of the lightest scooters out there which will make a difference if you have to carry it a lot.
✔️ Wheels - it has 100mm 86a clear wheels. The 86a refers to the durometer (hardness) of the wheel. The durometer scale goes from 0-100a. The higher the number the harder the wheel. Most scooter wheels are 85a. Softer wheels tend to absorb more of vibrations but have a good grip, great for skate parks but wear out quickly. Harder wheels are more durable and faster. So 86a is a good number for a kick scooter.
✔️ Suitable for kids of all ages - the handlebar is adjustable from 63 cm and the maximum height is 95 cm so can be adjusted to accommodate children of different sizes and it will grow with your child. It's very easy to adjust too. It has a maximum user weight of 100kg, so some adults may even be able to have a go.
✔️Construction - the scooter is well made and constructed from aircraft grade aluminium.
It's an excellent scooter and not much else really compares in this price range.
 Top Tip
A quick, smooth, quiet and fast ride -  Wheels which are made of high quality urethane and have ABEC bearings with a rating of 5 or more will generally offer a smoother and faster ride.
The standard size of wheels on a scooter are generally around 100mm and this is what you will find on many kick scooters. However, if the wheels are slightly larger (110mm or more) than the scooter will tend to offer a smoother ride. This is because larger wheels tend to go over cracks / bumps in the pavement more easily. Larger wheels are better for travelling as they are more comfortable and offer a quicker ride along pavements.
A Great 2 Wheel Kick Scooter - Micro Sprite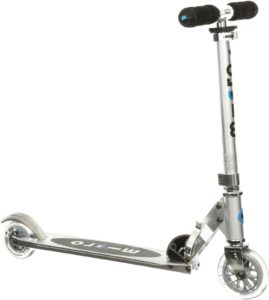 I am a fan of the Micro Sprite scooters as like all scooters in the micro family, they are of outstanding quality. The Sprite features 100mm PU, 87A wheels and ABEC 5 bearings. It has a strong aluminium frame but is super lightweight for a scooter so makes it easier for kids to control and easier for parents to carry / transport  if needed.
Foldable - Simple to fold - makes  it a breeze for transporting in the car, storing or carrying if the need arises.
Cruising - It's perfect for cruising. The bigger 1200mm PU wheels absorb more of the shocks from the road and give a fast, effortless smooth scoot from a to b.
Brake - features a brake at the back.
Handlebar  - ​It also features an easily adjustable handlebar so that can be set at any height between 63 and 94cm . It will be the perfect height for each child and it will grow with each child too.
Other Features - It has a kickstand so the scooter can be stored standing up which is very useful. No more scooters laying around the drive or garage. It comes in lots of different colours too.
Not sure whether to go for the JD Bug original street scooter or the Micro sprite. Compare the JD Bug vs Micro Sprite to help you make up your mind.
Razor S Sports Scooter
The Razor S Sports scooter is another good option of scooter which is study, durable and offers a smooth ride and will not break the bank.
It's easy to fold and lightweight at just 2.4kg. This makes it easy to carry and portable
It has a maximum rider weight of 100kg so older siblings and even adults can have a go.
If also features 98mm urethane wheels which offer a smooth ride and a
It has a fixed handlebar height of 83cm.
Ozbozz Unicorn Scooter (with Flashing Lights)
Looking for someting affordable and fun on a budget? This Ozbozz unicorn scooter is sure to please any unicorn fan with wheels with lights that activate when the scooter starts rolling, (no batteries are required!)
This is a great option if you want something on a budget. It's height adjustable to 3 different height and has a maximum weight capacity of 5okg so it should be fine for most 7 and 8 year olds, although some reviews do state it's on the small side for their kids so it may not have a lot of growing room.
The scooter is foldable and can lock in place so it's easy to carry and store.
If you have a child who's a unicorn fan, check out more unicorn scooters and accessories.
My eldest son had an ozbozz scooter from aged 4 (read my review here)  It was fine for around a couple of years use and it was quite heavily used (almost everyday) but the ride did get quite rattly and bumpy especially towards the end of the scooter's life. Higher quality scooters with better wheels and build should give you more years of use (if they are looked after correctly) and a smooter and more comfortable ride.  What your choose will obviously depend on budget and how important longevity and the quality of the ride is. But for a fun scooter, the unicorn scooter is worth considering.
Bopster 2 Wheeled Folding Children's Kick Scooter

The Bopster is one of the best selling scooters on amazon at the moment with some good reviews. It has some pros and cons.
It's a good choice for the younger rider, perfect for 7 year olds as it's lightweight weighing just 2.8kg so easy to control. It has an adjustable handlebar which as four different height ranges at 62-74-79-84cm which is good as it will grow with your child, although it can't be adjusted to any height like on the JD Bug scooter. It's foldable and easy to carry. The PU wheels are 120mm so offer a smooth, fast ride.
Perhaps a downside to this scooter is that the parts aren't replaceable so it will be difficult to mend the scooter when parts wear out, break or don't work together correctly.
It comes in different colors to suit different personalities.
Globber Flow 125

The Globber 125 scooter is a strong kick scooter built for intensive use with an ultra-reinforced frame, so good for kids who put their scooter through a lot of punishment.
The handlebars are height adjustable and can be set at 3 different settings between 785mm to 885mm. It's aimed at kids from age 6 plus so will be a perfect size for most 7 and 8 year olds.
The 120mm PU wheels offer a smooth, comfortable and quick ride from a to b. This is an excellent choice for the daily school run.
There is a high density non-slip EVA on the deck to give a sure footing, so kids stay safe as they ride.
The scooter weighs 3.1kg, so it can be carried when needed although it doesn't fold.
Micro Cruiser Big Wheel Scooter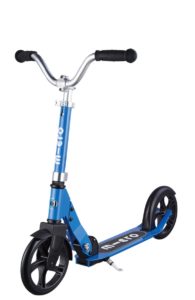 A big wheel scooter is another type of scooter to consider when purchasing a kick scooter for a 7 or 8 year old. Big wheel scooters have some advantages over smaller wheels. They go further and faster with less effort. The bigger wheels will absorb more of the bumps and shocks from the road than a small wheel scooter so the offer a smoother ride too.
On the downside a scooter with bigger wheels is heavier so it won't be as light to carry.
This Micro cruiser big wheel scooter featured has 200mm wheels and is designed for kids aged between 5 and 10 years old with a height range of 110cm to 146cm.
The scooter is height adjustable and foldable.
Some children may also prefer a bigger wheel scooter as they find it more stable to ride on and so will feel more confident.
The scooter weight is 4.5kg so it is heavier than scooters with smaller wheels but it does offer a fast, smooth ride.
It comes in many different colours including  pink, blue, black and purple.
3Style Scooters - 3 Wheel Kick Scooter

If you're looking for a 3 wheel scooter for a 7 or 8 year old, the 3style offers a scooter for kids up to the age of 10 years with an adjustable handlebar to grow with your child.
There are 4 adjustable height settings to suit a range of ages, starting at 58cm and moving to 86cm.
It's lightweight (at 3kg)and foldable handlebars make the RGS-2 easy to carry and convenient to store when not in use.
The steering is learn to steer. The wheels flash when they spin which is an extra attraction for kids at this age.
If you're looking for a 3 wheels scooter, also check out more 3 wheel scooters for older children.
Stunt Scooters
Most stunt scooters are designed for kids age 8 plus, so if you're buying for an 8 year old you have a lot of choice. If you are buying for a 7 year old or a smaller child, also check out this article on scooters for 5, 6 and 7 year olds which has a couple of options of stunt scooters for younger children.
 Question
Why Are Stunt Scooters More Expensive that Kick Scooters?
Stunt scooters have to be stronger to withstand the extra abuse they get from jumps and tricks but they also need to be lighter so the riders can manoeuvre the scooter in the right way. Therefore the materials stunt scooters are made of tend to be more expensive. On the plus side, they do tend to last longer, so an extra investment sometimes pays off in the long run.
Grit Extremist

The Grit Extremist stunt scooter is sure to be a great choice for any budding young scooter rider who wants to do tricks.
It's designed for kids and young riders from beginner to intermediate skill level, looking to develop their technique further
It features a 48.3cm long and 10cm wide deck which is a great size for smaller feet and a one piece 53cm wide and 51cm high bar. The total height of the scooter is 75cm.
It's lightweight  at just 3.5kg but is designed to be super strong to withstand high impact jumps and tricks.  Features include a 6061 heat treated alloy deck with diamond shaped down tube.
A lighter stunt scooter will make it easy for younger children to manoeuvfre and control. ​There is also a hi tensile steel threadless fork and alloy double clamp.
The 100mm 88A PU wheels are built to withstand the excessive force of landings with solid alloy cores.
MGP VX8 Shredder Pro Scooter

The MGP VX8 Shredder Pro scooter is a lighter and smaller stunt scooter which caters for the younger rider.
It features everything you expect to see on a Pro Scooter, just in a easier to handle size.
The deck is  shorter than the full sized 4.5" by 17" (11.5cm by 43cm) and the bars are proportioned for younger riders at 18" width by 22" height (46cm width x 56cm height). The deck is slightly wider than previous MGP shredder models which gives a bit more stability for the younger rider. The total height is 79cm. 
It's an excellent entry level stunt scooter with some fantastic features.
It is strong yet the design and materials eliminate weight, using the highest quality 6061 T4 and T6 heat treated alloy weighing 3.5 kg (7.8 lbs).
The wheels are 100mm, 88a alloy core wheels with high rebound urethane, K2 (ABEC 9 rated) bearings.
It is a scooter at pro levels but designed for the younger rider. Awesome if a 7 year old is serious about skate park trips.
Razor Beast Scooter
The Razor Beast is another great first option of stunt scooter for young kids. It's a good choice for a kid who want to transition between scootering along the street to doing some tricks.
It features handlebars which are slightly lower than other scooters measuring 55cm in height and 44cm in width.
It features metalised 14-spoke 98mm urethane wheels which are perfect for withstanding tricks and stunts.
The brake is a stamped steel rear fender brake
​​The good thing about this scooter is that it's strong and solid but it's fairly lightweight at 3.5kg. It's a sturdy, budget choice scooter for 7 and 8 year olds who want to attempt their first tricks at the skate park.
Grit Mini Flu Pro Scooter

The Grit mini Flux Pro is recommended for kids aged 4 to 8, so is perfect for smaller kids who really are serious about doing stunts and for adults where budger isn't a problem.
The Mini Flux Pro features 110mm 88A PU Wheels with ABEC 9 Bearings wheels. 110mm are unusual to see on a small kid's scooter. 110mm wheels are  slightly bigger than the standard 100mm wheels but most pros and kids who are serious about the skate park many pro scooter riders prefer these sized wheels or bigger. The wheels also feature alloy cores are perfect to withstand the impact from a younger rider's tricks and stunts.
The handlebar is 46cm wide and 50cm high, (18" by 19") so smaller than on the other scooters featured.
The weight of the scooter is 3.3kg which is super lightweight for a stunt scooter and easier for younger children to control.
Stunt Scooter Or A Scooter For Cruising?
Many kids this age ask for a scooter that they are able to do tricks on and my son was one of them. So do you get a stunt scooter or not. Here are some questions that will help you decide.

Has your child expressed a desire to do tricks? 
Ulitmately the decision as to whether to get a stunt scooter or not will depend on whether your child wants to do tricks on the scooter. If they do, you will need to get a scooter designed to do tricks as a general push scooter may not be able to withstand the impacts needed for jumps and tricks. If they just want to use it to get from a to b, go with a normal scooter
What is your budget? 
Stunt scooters tend to be more expensive as they require more heavy duty materials to construct. This means they are generally more expensive. However, it also generally means they stand up to more abuse and last longer too.
Will you need to carry the scooter a lot?
Stunt scooters are a lot heavier than other scooters. So if you suspect you may be carrying this scooter a lot for your child on the school run, you may prefer a scooter just used for crusing.
Age range
Most stunt scooters are aimed at kids aged 8 plus. However, we bought a stunt scooter (the Razor Pro XXX - featured below) for my son aged 7. He is on the tall side but he has managed with his stunt scooter very well. The main thing when looking at the scooter is the handlbar height. The handlebar should come up around waist height for the best control and safety. If it does on your 7 year old, they should manage well with the scooter.
How long do you intend to have the scooter for?
If you intend for them to have the scooter for the next few years, it might be worth getting them a stunt scooter which they can use to cruise on at the moment but have the ability to do tricks on in the next few years if they wish too. However, if you think you may buy another scooter within the next few years you may prefer to get them a cheaper or traditional scooter that you will replace if they want one for doing stunts.
Micro Mx Ramp Beginner Stunt Scooter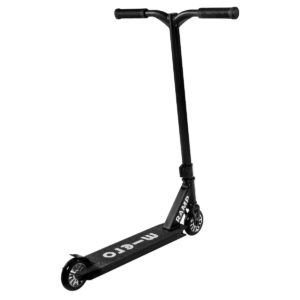 The Micr
o Mx ramp beginner stunt scooter is the newest addition in 2019 to the micro family of scooters. Micro is a giant in the word of scooter manufacturers for children. All their scooters are of exceptional quality.
The mx ramp is designed for children from aged 5 to 12, who are interested in having a go at doing tricks on their kick scooter. To be put it more succinctly, it is an entry level stunt scooter. It's designed to make learning basic tricks easy.
It's features include a one piece bar fixed height handlebar for strength and rigidity. It has a wider handlebar for better control. The scooter is lightweight (3.7kg) so younger kids can easily handle it while practising their new hops and jumps.
The minimum height of the user is 128cm (4ft 2 inches). The height from the handlebar to the deck is 74cm
A fantastic everyday scooter which can be used to get from at to be as well as occasional stunts and trips to the skate park.
Electric Scooter
7 and 8 year old are the perfect age to get an electric scooter.
Electric scooters are super fun.
The E90 Razor electric scooter featured has speeds up to 10mph.
It's able to run up to 80 minutes on one charge.
​
It features a puncture proof urethane front wheel and a puncture proof rear wheel, hand operated front brake, push button throttle and a retractable front kickstand.
Flikr Scooter
Another type of scooter which has gained populartiy with kids from this age group over the last few years are flikr scooters. Riders move these scooters by placing their feet on the footplates and moving their hips from side to side (much like a skiing movement). Flikrs are designed to have fun, they can be used for getting from a to b but they are also used for doing tricks such as spins and wheelies (if you have the right type of Flikr). Read more and find lots more options in this article on Flikr scooters.
The Yvolution A3 Flikr Scooters
Yvolution are the original designers and makers of flikr scooters. The Yvolution A3 is the perfect entry level flikr scooter, designed and sized for kids aged 7 plus. The A3 flikr is solid and durable. It's performance rated PU wheels ensure riders enjoy a smooth glide.
The A3 folds easily for storage or for transporting in the boot of a car. It has a quick response hand brake on the front handlebar so you can be assured kids can easily slow down and stop quickly.
The footplates are anti slip for extra peace of mind. These scooters are awesome fun, give kids a great workout and ideal for use on smooth flat ground such as pavements and paths.
Bikestar Kick Scooter with Air Tyres
The Bikestar is one of the few scooters which has air filled tyres and is aimed at the 7 and 8 year old age range (plus).
The advantage of the air filled tyres is kids can take their scooter on different types of terrain, it can be ridden over all grass and gravely paths and even taken into woodland.  The tyres also offer superior traction over wet surfaces so no worries about slipping around in the rain. Another plus is air filled tyres make the scooter ride much more comfortable, as they provide more cushioning against bumps and cracks in the road.
The handlebars can be adjusted from 76  t0 90cm.  There is a front handbrake and a rear footbrake so kids can easily stop quickly. Other awesome features include a side stand and a skid proof footplate.