What To Look for When Buying the Best Scooter for a 7 or 8 Year Old?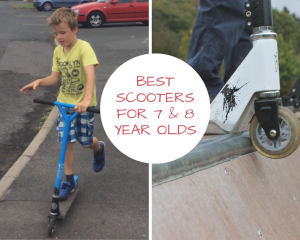 We bought a scooter for my son for his 7th birthday. The top priorities for my 7 year old boy are a quiet, smooth and fast ride and one that could withstand a few tricks.
In a hurry or just curious....
Whether you're looking for a kick, electric scooter or stunt scooter for your son, daughter or any child of 7 or 8 years old, there are many factors to consider. Check out our buying guide for more information.
JD Bug Original - Great for the School Run
One of the best picks for 7 year old boys or girls is the JD bug street scooter featured. It's a good choice for cruising along the streets.Its also the perfect choice if you want a scooter that folds (easy to carry -great for the school run as you can carry it home). It also has a carry strap for easy carrying which I haven't seen on any other scooters.The quality and construction look decent too . It has 100 mm wheels. with ABEC 5 bearings and made from aircraft grade aluminium. Check out more details on the 2 wheel scooters page. 
Scooter buying Guide
Selection of Stunt and Cruising Scooters For 7 and 8 Year Olds
Find below a selection of both stunt and kick scooters suitable for 7 and 8 year olds.
A Great 2 Wheel Kick Scooter - Micro Sprite
I am a fan of the Micro Sprite scooters as they are well made. They feature has 100mm PU, 87A wheels and ABEC 5 bearings. It has a strong aluminium frame but is super lightweight for a scooter so makes it easier for kids to control and easier for parents to carry / transport  if needed.
It folds which makes it great for putting in the car, storing or carrying if the need arises.
Its perfect for cruising although if you want a scooter for tricks its best to go follow a stunt scooter instead.
It also features a brake at the back.
​It also features an adjustable handlebar so will be the perfect height for each child and it will grow with .each child too.
It has a kickstand so the scooter can be stored standing up which is very useful. No more scooters laying around the drive or garage.
It comes in lots of different colours too.
Not sure whether to go for the JD Bug original street scooter or the Micro sprite. Compare the JD Bug vs Micro Sprite to help you make up your mind.
Stunt Scooters
Most stunt scooters are designed for kids age 8 plus, so if you're buying for an 8 year old you have a lot of choice. If you are buying for a 7 year old or a smaller child, check out this article on scooters for 5, 6 and 7 year olds which has a couple of options of stunt scooters for younger children.
Stunt scooters tend to be more expensive. They have to be stronger to withstand the extra abuse they get from jumps and tricks. However, they do tend to last longer, so an extra investment sometimes pays off in the long run.
We got a stunt scooter for our son's 7th birthday. It ticked all the boxes for us.  Unfortunately they no longer make the version of the Razor Pro Scooter which we bought but there are some other good stunt scooter options below. A stunt scooter is more expensive but as they are hardwearing, they and worth considering if you have the budget. Plus, I wanted to buy a scooter that will last for years and so far (3  years later!!) our Razor Pro is holding up really well and I expect this to last years and maybe be the last scooter we actually buy our son.
Stunt Scooter XV Pro Street Model