The Best Hoverboard for 8 and / or 9 Year Olds (and older kids too!)
Hoverboards (also known as self-balancing scooters) are a popular craze. The first hoverboards were built for adults but now it's standard to see kids as young as 8 and 9 on a hoverboard.
The key to using the board is that you balance to ride them (unfortunately they don't really hover - maybe they will in the future). For kids, a smaller, lighter and slower board is easier to control and manoeuvre as well as ensure a safer ride.
Check out our hoverboard buying guide and specific suggestions of excellent hoverboards for kids.
Buying Guide
Wheel Size
There are three main wheel sizes to look out for on hoverboards, which are 6.5", 8" and 10".
Smaller wheels are better for younger kids. The smaller size means these hoverboards aren't as bulky, therefore they are easier for 8 or 9 year olds to manage. Smaller wheels are also better for mastering any tricks and work well on smooth and flat surfaces. Hoverboards with smaller wheels are more compact and lighter to carry.
However bear in mind, that small wheels won't handle bumps in the road or any uneven terrain such as grass and sand. So kids really need to use these on smooth ground (indoors or out)
8" wheels tend to offer a bit more stability and will add some extra weight to the hoverboard. But they're still fairly compact.
The hoverboards with 10-inch wheels tend to be better off-road and on uneven terrain. If you're looking for a hoverboard to use on rough terrain, choose one with all-terrain tyres.
Speed
Some hoverboards reach speeds of 10mph. However, for kids, it is probably best to look for a slower speed. The slowest hoverboard speed we've found is the Razor Hovertrax 1.5 which has a top speed of 6mph. Others hoverboards in this article have top speeds of between 7 and 8mph.
Training Mode
Many boards offer a training mode for beginners. This is especially useful to help young kids master the hoverboard. When their confidence builds, they can graduate onto the normal mode.
Safety
Safety is obviously paramount. To ensure the hoverboard is safe, look for one which is CE & UL2272 certified. When purchasing, check out the company's warranty and returns policy. If something does go wrong, you want to be able to contact the company quickly and be able to return the hoverboard easily. It's often easier to buy from a UK company.
When riding for fun, it's safer for kids to stay on smooth surfaces. Surfaces with bumps can cause riders to jerk forwards and lose control which is obviously not what you want for young children. Kids should slow down to walking speed or get off the hoverboard if the path becomes uneven at any point.
It's also highly recommended that kids wear a helmet, knee pads and elbow pads for extra protection.
Charging Time
The charging time does seem to vary wildly between different boards, but most will be charged in under 4 hours. Being aware of the charging time is important so you can plan ahead. If kids are likely to want to be on their hoverboard most of the day, a quick charge time will be more essential than for kids who want it for occasional use.
Battery Life
Most hoverboards will sustain a run time of around 60 minutes. The battery life will be affected by many features such as the weight of the person using the board and the terrain they are riding on.
Weight of Hoverboard
Obviously the lighter the hoverboard, the easier it will be to carry so it's a statistic worth paying attention to. You may need to carry boards up an incline, street kerb or if it runs out of battery.
A lighter board is also easier for kids to control.
Construction
The hoverboard should have a tough and rugged frame which is durable and will withstand the abuse kids are likely to throw at it. The best hoverboards will be made out of tough materials which are also lightweight, and quite often this is what you are paying extra for when you buy a decent board.
Razor Hovertrax 1.5 Self Balancing Electric Scooter
The Razor Hovertrax 1.5 is an excellent entry level board with everything young beginners need in their first hoverboard / self balancing electric scooter. A low top speed of 6mph and a training mode make it a great choice for young children.
There's an Everbalance smart feature that keeps the Hovertrax on an auto-level which makes getting on and off the board a breeze. Additionally, simple controls and a training mode make the Hovertrax 1.5 ideal to learn the ropes.
Furthermore, anti-slip, rubber, traction pads keep kids in perfect balance for foot-controlled, seamless manoeuvring.
Once you've mastered the hoverboard on the training mode, change the mode to normal. And for extra thrills, kids can learn to perform 360 degree turns and other manoeuvres.
You get around 45 minutes of continuous use with each charge, so outings to the park are jam packed with fun. It's the lightest hoverboard featured on this page weighing just 7.5kg, so it's easy to pick up when you need to.
A handy battery power indicator keeps riders aware of how long they have left to ride. It's not the quickest charging board, with an initial charge time is 6 hours and a recharge time of 4 hours between rides after the first charge. But if you remember to charge the hoverboard after each use, this shouldn't be a problem.
Perfect for both indoors and / or out use. The official age recommendation is from 8 plus.
Overall, this is an excellent first choice in hoverboard for young kids.
Razor Hovertrax 2.0 Self Balancing Electric Scooter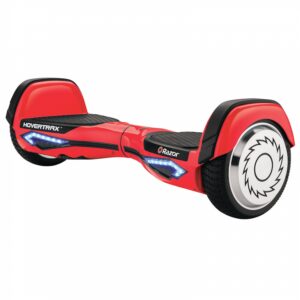 Another hoverboard for the 8 plus age group by Razor is the 2.0. The main difference between the two boards is the Hovertrax 2.0 has a higher top speed of 8mph and a longer battery life of up to 60 minutes on one charge. But you will pay more for the extra speed, so it'll be up to you if this is worth the extra money.
The Hovertrax 2.0 also features the Everbalance smart technology which auto levels the scooter. Razor hoverboards are the only boards that include this technology. It does make mounting and dismounting the boards easier which is ideal for beginners.
This is another awesome choice for beginners. It features a training mode and normal mode. Once you've mastered the basics, the Hovertrax goes forwards and backward and also spins.
The max weight of the riders is 100kg so there is no reason most adults can't have a go. The weight of the board is 9.65kg.
Both Hovertrax boards offer a smooth, quiet ride and feature silent dual hub motors.
Overall, the Hovertrax 2.0 isn't cheap but it's difficult to go wrong with this board for beginners of the 8 plus crowd.
Zinc Smart X Hoverboard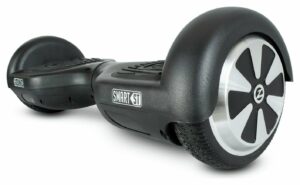 With a top speed of 7mph, this is another good entry-level choice  - the perfect speed to glide in style.
The Zinc Smart X comes equipped with a battery and balance indicator. The wide 6.5" wheels can go both forward and reverse. Impressively, it can cope with inclines up to 15 degrees.
A single charge allows the hoverboard to travel up to 3 miles in one go (up to 60 minutes). It's a hoverboard at the lighter end of the scale weighing 8.3kg, making it a bit easier to pick it up when you need to.
Kids will love the lights and sounds on this board. Parents will love the reasonable price tag.
Bear in mind, the official recommended age for this hoverboard is 14 years and above.
Hover-1 Rival
What you need to know about the Hover-1 Rival is that it has 6.5 inch wheels and a maximum speed of 7 mph so you don't have to worry about young kids going too fast. Many hoverboards have a top speed of 10mph, so it's a bit slower which will suit 8 and 9 year olds better.
The hoverboard has a range of 3 miles (about 30 minutes) on one charge. It takes up to 5 hours to charge.
Kids will love that when you have your feet on the footpads, the front LED lights illuminate which is fun! The wheels themselves also feature eye-catching multi-coloured LED lights. The anti-slip footpads are also great for safety.
The motor will power the hoverboard up slight inclines and it works best on a smooth, flat path. It can be used both indoors and outdoors.
Another plus point is that the board is very lightweight at just 6.8kg, so it's easy to pick up when you need to.
With a maximum rider weight of 72kg, this is fine for kids and some teens but some adults will exceed the weight limit.
Hover-1 Chrome Metallic Blue Bluetooth Speaker
Check Price on ebay
If you want Bluetooth with your hoverboard and the Hover-1 8.5 inch wheels are too big, then check out this smaller hoverboard with smaller 6.5 inch wheels.
It's light at just 8.75kg so it is easier for younger kids to control as well as lighter to carry.  The top speed is 7mph.
What's really good about this board is long battery life. Impressively the board can travel up to 6 miles and sustain a run time of up to 90 minutes.
The Bluetooth capability gives extra functionality such as notification of speed and battery life, control over the LED lights and ride settings. Other functions include tripometer, odometer, GPS location and route recording.
The charge time is 4.5 hours which is longer than most but should be no problem to charge in the evening or overnight.
The official recommended age for this scooter is 15 years and above.