What to look for when buying the best scooter for 9 and 10 year olds?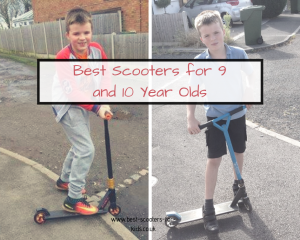 Top Street/Kick Scooters
Traditional / Street Scooter - the traditional scooter will be great if they want a scooter to get from a to b. Perhaps they use one on the school run or like to use their scooter at the park. This have lighter decks normally made of aluminium and tend to be cheaper than other stunt scooters
Cool Kick Scooter - JD Bug Original Street Scooter
The JD Bug Street Scooters are one of the most popular brands of scooter at the moment in the UK.
They are robust and hardwearing and have lots of features This one is great for the school run and for scooting along the streets in general. Its not designed for stunts though, so bear this in mind.
Wheels
The 100m wheels are hardwearing with ABEC 5 bearings and a durometer of 86A (the measurement 86A refers to the hardness rating of the wheel. 86A is quite a hardwearing wheel but still soft enough to give a smooth ride - softer wheels tend to absorb the shocks from the pavement better).
Check out the scooter buying guide for kids to find more out what it all this means.
​
Foldable
The scooter come in different colours and you can fold them. As it's foldable it's not recommended for tricks and stunts but to cruise along the street as the name suggests.
Adjustable Handlebar​
​It has an adjustable handlebar measuring 630mm to 950mm. This will suit pretty much all 9 and 10 year olds regardless of their height and will give them growing room too.
Long lasting
There are reviews of older teenagers using this scooter so it should last a few years.
The scooter is actually recommended for kids from 7 years to adult and has a weight capacity of 100kg. So most adults will be able to have a go as well.
Lightweight
It weighs about 2.8kg so is fairly lightweight for a scooter for older kids. It also features a built In black shoulder strap so is designed to be easy to carry when not in use.
Razor Sports S scooter
Strong but lightweight
This scooter features a robust steel t tube and aluminium deck which is designed to withstand frequent use, and be durable so that it lasts.  It weighs 2.76kg, so makes it easy to carry when needed.​Foldable
It's foldable so is great for storing and carrying.
Wheels
The wheels are urethane and have smooth rolling bearings.
There is also a rear fender break to help with safety and control.
Age Recommendation
This can be used for kids and adults. The maximum weight limit is 100kg so there's nothing to stop older siblings, teens and adults have a go as well.
​
They come in cool bright colours including 
pink 
and 
green
 and it's reasonably priced too.
Cool Stunt Scooters
Stunt scooters - 9 or 10 is a great age to get the first stunt scooter as most stunt scooter are designed with kids aged 8 plus in mind so, you don't have to worry about the stunt scooter being too big for them. They tend to be heavier scooters with reinforced parts to withstand the impact from tricks and jumps. Because they are made of heavy duty materials they tend to be more expensive than a traditional scooter. However they are likely to last a lot longer potentially for years if you buy the right scooter.You can also use stunt scooter for cruising the streets as well as doing tricks but you can't use traditional scooters for doing trricks as they are not designed to withstand this kind of punishment.
There are tons to great stunt scooters out there that are perfect for 9 and 10 year olds who are beginners to an intermediate level on a scooter. Some of the names to look for include Razor, Grit, Madd Gear and Slamm.
Madd Gear Mini Pro Scooter - Good choice for smaller riders
If you're looking for an entry level stunt scooter for a 9 year old child, the Madd Gear Mini Pro Scooter is a great option.
Smaller size for kids
It has all the features of a pro scooter but it's handlebars are slight narrower and shorter for kids. It's deck is also about 2.5 inches shorter than the full pro version. This makes the scooter a lot easier for children to do stunts on them.
It is designed to last the abuse that kids will put it through when attempting tricks and learning new stunts at the skate park.
​Wheels
It features wheels with a 100mm 88a anodised alloy core with high rebound urethane. The wheels are strong and fantastic for doing tricks.
Strong and easy to control
​The scooter has been designed to be as lightweight as possible but extrememly strong. It weighs 3.55kg. Lighter stunt scooters are obviously easier for kids to control when doing stunts and tricks.
Deck and Fork
​The deck is made of the integrated 6106 T4 & T6 heat treated alloy, fluted with 3 degree concave. The scooter also features a threadless IHC fork.
Bar height
The bars measure 22 inches / 55cm. The scooter is designed at kids age 8 and above. Ideally bars should sit around the bottom to the middle of a child's hips.
If you're not sure what the specifications mean check out the stunt scooters buying guide.
Two Bare Feet - Budget Stunt Scooter
Stunt scooters can be expensive as they need to have high quailty materials to last and stand the abuse riders put on them.
However, perhaps the child you are buying for just wants to try out a few tricks and it may be a something they only do for a little while before moving onto a new hobby.
Features:
It has some fantastic features, heavy duty quad clamp, 100mm 88A  high rebound PU wheels  and a strong deck.
Handlebar height
The handlebar height from the ground to the top is 31 inches (approx 79cm).

Verdict - This is a great stunt scooter to buy when you don't want to fork out lots of money on a hobby that may only last a short while. ​
​Razor Beast Scooter
The Razor beast is another entry level stunt scooter at a much lower price point that the Madd Gear scooter.
Handlebars
It features fixed pro style riser handlebars with a height of 21.5" (540mm) and a width of 17.75" (450mm),
​
Wheels
It has metalised 14-spoke 98mm urethane wheels.
It also has a rather cool pro-style deck, with full deck grip tape and featuring stylised a beast logo.
It also features a triple stacked clamp for optimum clamping performance.
Slam Urban VII
An excellent choice for the entry level / intermediate stunt scooter rider. It's a scooter which features some really high end specs and is great for developing trick and stunt skills.
Handlebars
The handlebar height is 22.4" tall & 20.5" wide.  The handlebar height from the floor to the top of the handlebars is 30.5" (75.5cm). It's deck is 4.5 inches wide and 18.8" long.
​Wheels
It features 110cm 88a PU cast alloy core wheels, which are durable and will withstand all the punishment a 9 or 10 year old rider will through at it.
The great thing about this scooter is that as it's slightly larger than the other scooters feautres it should last for years to come, until they are a teenager. You can always replace wheels and other parts if needed. ​
Dirt Scooter
Dirt scooters are designed for rougher ground, off road. They are great for scooting over grass, gravel or on dirt tracks. Many kids like to try them out on bmx trails. They can also be used for off road tricks, stunts runs and manoeuvres. They are also strong and made of heavy duty parts to withstand the impact of different terrain. The wheels are also bigger for the same reason. ​​ Perfect for introducing 9 and 10 year olds to an action sport and getting them out experiencing different environments.
​
The Osprey offroad dirt scooter is a solid and well constructed scooter designed to take the punishment on rougher terrain.
Handlebars
It has chrome handle bars with large rubber grips for superior traction and a hardy aluminium deck.
​Wheels
It has 200 x 50mm front and rear, pneumatic rubber tyres, supported on hardy aluminium core wheels (3 piece hubs) which offer great grip on all surfaces and will allow you to perform high impact manoevres.
The stainless steel rear brake gives extra stopping power - even on dirt!
The scooter has been well tested and is at an excellent price point too.
If you're interested in a dirt scooter, consider checking out our 
dirt scooter buying guide. 
​
Three Wheel scooter
There are some great 3 wheel scooter available for 9 and 10 year olds at the moment. The top of the range choice is the maxi micro deluxe scooter.
Age and Height Recommendation
It is recommended for kids between ages 5 and 12 or who are between 110 and 152cm tall. The maximum weight limit is 11stones 1lb or 70kg.
Handlebar
It has an adjustable handlebar with a height range of 67cm to 92cm. The handlebar stem is anodised aluminium to prevent corrostion. It is also foldable
Super smooth ride
The scooter has high quality PU wheels and bearings which offer a super smooth ride. No worries about a rattling scooter here.
​
Easy to carry and store
It's super lightweight at just 2.5kg. This makes the scooter easy to carry when needed and as it can be folded down it's easy to store too.Read a full review of the maxi micro scooter (with classic and deluxe versions included).
Also check out some more 3 wheel scooters for older children.
​
Electric scooter
Electric scooters are fun and offer some super speed for kids.
Razor electric scooters are a popular brand in the UK.
The E100 is a good choice for 9 and 10 year olds.
Top speed
It can reach speeds of up to 10mph. A kick start is requried to get the motor started.
Brake
The brake is hand operated at the front and there's twist-grip acceleration control.
​
Run time
The scooter provides up to 40 minutes continuous use on one battery charge.
Other Considerations When Choosing a Scooter
Coolness factor - at this age kids may be concerned that they need to have a scooter that looks cool. So its worth checking in with them about the kinds of styles they like and prefer. Plus reading reviews from other purchasers to see if their kids liked the scooters. Stunt scooters are probably considered to be cooler at this age and they can be used for cruising too so this may effect your decision.
Sturdy - my almost 10 year old primarily uses his scooter for getting for a to b. However he naturally tries little jumps on his scooter so he definitely needs something robust to withstand the abuse he gives it. ​
​An older child might be covering longer distances on their scooter when crusing so they may benefit from a scooter with larger wheels. Scooters with larger wheels are great for going quickly and covering longer distances. So, are worth considering if the commute to school is a longer distance or they may be travelling further distances as they get older (perhaps to high school).
More Types of Scooter
Space Scooters
The space scooters deck is curved and the back is much higher than the deck at the front. To use it hop on the deci, then shift your weight between your feet to get going. Essentially you have to pump the platform up and down. However, the space scooter can also be used like a traditional kick scooter, giving two scooter experiences in one.
Scissor Scooters
A scooter that has become more popular in recent years is the scissor scooter. This type of scooter has two footplates, one for each foot so you don't propel the scooter with a foot like you do with a traditional push scooter. Instead, you either move your legs in and out, move from side to side or wiggle your hips to move the scooter.
These scooters are fun and they are great for building leg muscle and improving co-ordination. I'm not sure they will replace the traditional kick scooter but are perfect for taking down the park for some fun. ​