What Are the Best Scooters for 4 Year Olds?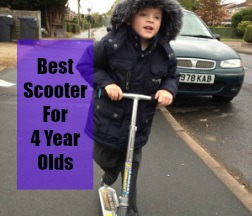 When buying a scooter for a 4 year old girl or boy, perhaps the most important question to ask is whether you should get 2 or 3 wheels. The answer will be very much dependant on the child in question and the features you require.
In a hurry or just curious.....
✔️ This scooter is the most popular one on this page with our readers.
If your child has had experience of a 3 wheel scooter and are confident in riding one, I would definitely consider graduating onto a wheel scooter. My eldest son and nephew both received 2 wheels for their 4th birthdays and they both enjoyed riding them straight away.
A less confident child or those that are new to getting a scooter may prefer 3 wheels.
The scooters features have been separated into different sections to help you navigate the article. Find:
3 Wheel Scooters for 4 Year Olds
The handlebar is adjustable from 49cm to 69cm from the ground.
Maxi Micro
3 Style Scooter
Another option of 3 wheel scooter that is worth considering is the 3style scooter (featured below). The main selling point is it's height adjustable handlebar so you can make sure it's the right height for your child.
The is great choice for 4 year olds as the handlebar can be adjusted a huge amount with five different height settings from 62cm to 90cm. This means the scooter has the capacity to last them for years. The rider weight range is 20kg to 80kg. The features on this scooter mean that it can easily be shared between siblings of different heights and small adults can even have a go.
It features 120mm front PU wheels and a rear 100mm wheel. Kids this age will love the LED coloured flashing light on the wheels.
The scooter is also foldable for easy storage and to fit in the boot of the car when needed.
One of the downsides is the scooter weighs a little more than the maxi micro and other lightweight scooters due to the height adjustable handlebar and folding mechanism. So if you're looking for a scooter that you wand to be able to fold and carry when your little one has had enough, there are lighter options.
It has a lean to steer mechanism which is fairly common on 3 wheel scooters at the moment. So riders, lean left to go left and right to go right.
Where this scooter scores highly is the price. It's cheaper than the maxi micro and with excellent features the lower price point makes this one even more appealing.
Best 2 Wheel Scooter for 4 Year Olds
JD Bug Junior Street Scooter
Micro Sprite