What Are the Best Scooters for 4 Year Olds?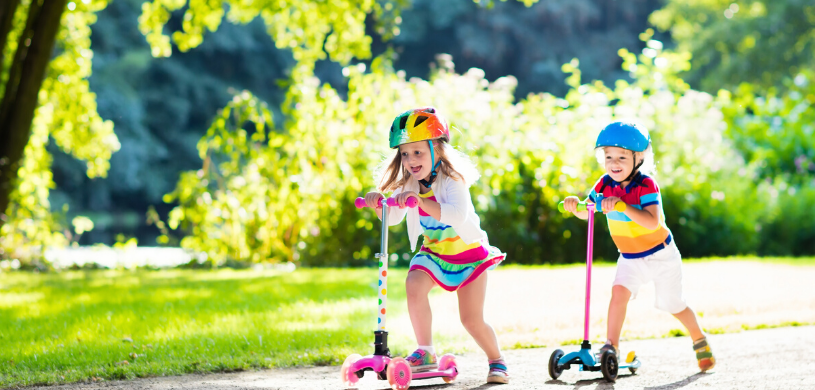 When buying a scooter for a 4 year old girl or boy, the most important question to ask is whether you should get 2 or 3 wheels. The answer is dependant on the child in question.
If your child has experience of a 3 wheel scooter and is confident in riding one, I would definitely consider graduating onto a 2 wheel scooter. My eldest son and nephew both received 2 wheels for their 4th birthdays and they both enjoyed riding them straight away.
A less confident child or those that are new to getting a scooter may prefer 3 wheels. My youngest son used a 3 wheel scooter until he was 5.
This article covers 4 types of scooters:
*This post has affiliate links, which means we may receive a small commission if you choose to purchase through links we provide (at no extra cost to you). As an Amazon Associate we earn from qualifying purchases.
3 Wheel Scooters for 4 Year Olds

The Mini Micro scooter is designed for kids between ages 2 and 5 years old, with a maximum weight limit of 20kg (45 lbs or 3 stone 3lbs)
It's a good choice of 3 wheel scooter for many 4 year olds. I bought this one for my youngest son. He is now 4 years old and coming up to his 5th birthday. He is quite small for his age (around 1 metre tall). He still rides this scooter daily and it will last him at least another year. The maximum recommended height for kids to use this scooter is 110cm.
High quality polyurethane wheels offer a smooth and quiet ride (there's no rattling with this scooter!) The 120mm sized wheels at the front are slightly larger than standard wheels and are a great size for cruising.
A flexible fibreglass and reinforced footplate absorb bumps in the pavement for an extra comfortable riding experience.
The handlebar is adjustable from 49cm to 68cm.
The scooter weighs 2.5kg. A lightweight scooter makes it easier for young children to lift and control the scooter. Kids will need to pick up the scooter to mount kerbs and steps, so a light scooter makes this easier.  ​As it's so light, the mini micro is a breeze for adults to carry too (essential when your kid has had enough scooting and you need to carry the scooter back home or to the car). The scooter doesn't fold, however the handlebar can be removed from the base with one click for easy storage and transportation.
If you're buying for a 4th birthday and for a smaller 4 year old, it's possible to get 2 years use out of this depending on the height of your child.
Maxi Micro

Tall 4 year olds may grow out of the Mini Micro scooter quickly so it's also worth considering the Maxi Micro scooter. There's several versions of this scooter. We've featured the Maxi Micro Deluxe Pro which is the top of the range option.
The Maxi Micro Deluxe Pro is a 3 wheel scooter designed for 5 to 12 year olds with lean to steer steering. It's recommended for children from 110cm to 152cm. The handlebar is adjustable from 72cm to 91cm.
Like the micro, the maxi has polyurethane wheels which offer a smooth ride. The wheels are extra wide adding extra stability. It's weighs 2.9kg so it's still light to manoeuvre and carry. Currently it costs about £30 more than the mini micro, however it will last a number of years.
The wide chopper handlebars on the pro maxi micro version not only look great but give greater control when riding.
A fantastic feature of micro scooters is that all parts are repairable or replaceable, keeping the scooters on the road indefinitely. It can easily be passed onto younger siblings or sold second hand. It's a great way to keep scooters out of landfill.
The maxi and mini micro scooter are both high quality scooters. They've had years of tried and tested use with excellent reviews. If you would like one for your child but you're not sure which one to get, check out this comparison of the mini micro scooter vs the maxi scooter.
Other Versions of the Maxi Micro
Micro make several versions of the Maxi Micro which can be confusing. However, each version has different sizing or features. The Maxi Micro deluxe version (below) has a lower handlebar adjustment than the pro version. It can be adjusted from 67cm to 97cm - the handlebar goes as low as the highest handlebar height on the Mini Micro scooter. It also has light up wheels which kids love.
3 Style Scooter
The 3style scooter has excellent features and scores high on affordability. It's cheaper than many similar styled scooters.
The handlebar is adjustable from 52cm to 86cm. Ideally, the scooter handlebar should be around waist height on a child.  A handlebar which is too low will mean your child is hunched over so it's uncomfortable to ride. A handlebar which is too high makes the scooter difficult to control. This scooter offers the perfect height for a 4 year old.
It's foldable so easy to carry when young kids have had enough of scooting. It's also easy to store, put in your boot or carry on top of a pushchair of a sibling. At 3.5kg, it's heavier than more expensive scooters such as the Micro range.  However, it is still light compared to some other scooters and this weight should be fine for a 4 year old.
The wheels are made of polyurethane and measure 120mm at the front and 100mm at the rear. One thing little kids will love is that the wheels light up.
You can replace some of the parts on the 3 style scooter if you need to fix it. The replacement parts available include wheels and brakes.
Check out more 3 wheel scooters for younger kids and 3 wheel scooters for older kids.
Ansio Kids 3 Wheel Kick Scooter

This is a fine choice for 4 year olds. The handlebar has five different height settings between 66.5cm to 90cm. The scooter can be set to optimum height for a 4 year old with plenty of growing room. The adjustable handlebar also allows easy sharing between siblings of different heights as long as they're under the weight limit of 40kg.
4 year olds will love the LED light up wheels. Light up wheels allow kids to be easily seen in the darker evenings during winter, such as at dusk on the school run.
There are two versions of the Ansio scooter, a foldable version and a version which isn't foldable but which allows you to remove the handlebar from the base. The foldable version is a few pounds more.
Like many 3 wheel scooters, riders control the steering by leaning left to go left and right to go right.
The Ansio 3 wheel scooter is cheaper than the maxi micro and other 3 wheel scooters with light up wheels. If you are on a budget, the Ansio ticks a lot of boxes without breaking the bank.
Best 2 Wheel Scooter for 4 Year Olds
JD Bug Junior Street Scooter

Known for it's quality and durability, JD Bug is one of the bestselling brands of scooter in the UK. The JD Bug Junior Street scooter has an age recommendation of 4 to 8 years and is perfectly sized for this age group.
The JD bug Junior is perfect for a 4 year old who is ready to graduate onto 2 wheels.  The maximum weight for the scooter is 50kg. With a height adjustable handlebar between 63cm and 84.5cm, there's plenty of growing room so it will last a 4 year old a few years.
It features a 120mm front wheel and a 100mm rear wheel with ABEC 5 bearings. The wheels are great for cruising and offer a smooth ride. The wheels are tough and durable (durometer 88a - to find out what this means check out the scooter buying guide for kids.) Higher end scooters will often give the wheel durometer and 88a is a good hard wearing, durable wheel .
It's super light weighing just 2.3kg (5lbs 4oz). A folding mechanism makes it a breeze for adults to carry on the school run. .
It comes in different colours (pink, red or blue) so there's a good choice for 4 year old boys and girls.
The footplate is also a bit smaller than standard (44cm (l) by 9cm (w)) making it easier for young children to manoeuvre and control.
JD Bug MS 120
The JD Bug MS120 is similar to the JD bug junior scooter featured above with a couple of differences.
The MS120 wheels are both sized at 120mm, whereas the junior scooter has a 120mm front wheel and 100mm back wheel. A scooter with slightly bigger wheels will go a little quicker and cover longer distances in a shorter amount of time. Although the difference is minimal with these two scooters.
The deck is slightly bigger on the MS120 at 49.5cm by 10cm. Kids have more growing room on the deck but smaller feet will find the junior scooter easier to control.
The MS120 is slightly more expensive.
The height adjustments on the handlebars are similar. The lowest height on the MS120 is 67cm and the highest is 87cm, so it doesn't go as low as the junior scooter. It's lightweight at 2.7kg but not as light as the junior street scooter.
This may be worth considering for a taller 4 year old, but if in doubt the JD bug junior scooter is probably the best choice.
Weskate Scooter
The Weskate scooter is a similar price to the JD Bug. It's aimed at kids aged 3 to 10 years.
The handlebar is height-adjustable to three different heights at 70cm, 75cm and 85cm. It quickly folds and is easy to carry.
The wheels are 120mm and when they spin they light up.
It's a lightweight scooter at 2.4kg, so not too heavy to carry if needed.
It has a footplate measures 40cm by 9.8cm which is a nice size for small feet with some growing room.
Ozbozz Scooter
The Ozbozz featured is Unicorn themed.  The lowest height setting is approximately 71 cm from the ground to the top of the handlebars so it is better for tall kids. It has 3 adjustable height settings up to 81.5cm on the maximum.
It weighs approximately 2.5kg.
I would say this is a great choice if you are on a budget.
We bought a blue Ozbozz 2 wheels scooter for my oldest son's 4th birthday who was on the tall side for his age. My son definitely loved it and it lasted a couple of years for us. I have written a full review of the Ozbozz Lightning Strike too.
There is also a dinosaur themed version of the Ozbozz scooter featured below:
Micro Sprite

If you're looking for a scooter that will last, it may be worth spending a bit more. The Micro Sprite is an excellent 2 wheel scooter. (It's made by the same people who make the mini and maxi micro scooters). It has a height-adjustable handle (from 63cm to 96cm) so grows with your child for many years. The construction and design of the scooter are excellent.
Its 120mm front wheel makes cruising easier and the ride smoother.
The wheels are made of PU with ABEC 5 bearings (offering a smooth ride). It's a great beginner scooter. The recommended age is from 5 years and up but there are reviews of 4 year olds using this. The lowest height on the handlebars is fine for 4 year olds who are able to handle a 2 wheel scooter.
It weighs 2.7kg which is light and no problem for adults to carry.  It is foldable which will make it easier to carry, transport and store.
I think a 4 year old who's capable of riding on 2 wheels will be fine on this. It comes in several different colours including blue, red, black and pink. Check out more details on the 2 wheel scooter page.
Micro Cruiser
The Micro Cruiser is another scooter from the Micro brand. It has big wheels of 200mm which means kids can go faster and further with less effort. Bigger wheels also offer a smoother ride as they absorb the shocks from bumps on the road better than scooters with smaller wheels.
The Cruiser is aimed at kids from aged 5 years with a minimum height of 110cm so if your 4 year old is smaller than that, it might not be the best choice. As the recommended age range is 5 years, it really is a parent's decision as to whether their child is capable of handling the scooter.
Having said this, many 4 year olds graduating to a 2 wheel scooter may prefer something with bigger wheels as it can feel more stable which can lead to more confidence when they're riding. The footplate on the scooter is also low to the ground which gives a child more stability when balancing or riding on the scooter, again increasing their confidence. The other plus about a low footplate on a scooter is that there is less distance for little legs to have to reach the ground to kick, meaning that the ride is much more comfortable.
The scooter is on the heavier side of 4.5kg.
The cruiser is an investment for a young child. The scooter has a maximum height recommendation of 146cm and can be used by kids up to 10 years old. All parts on the scooter are repairable and replaceable so with proper care it can last for years and be passed onto siblings.
The cruiser is foldable, height-adjustable and comes in lots of different colours including pink, purple, red, black, aqua and blue.
Folding Batman Scooter
This scooter isn't going to be for every 4 year old but the reason I include it is that 4 years old is the age that many kids become superhero mad. My own boys loved spiderman and batman at this age and my nephew was superhero crazy too. In 2023, batman is still a popular superhero craze. If they are big enough to enjoy this scooter and are confident to ride a 2 wheel, many superhero fans will love the batman theme on this one.
The scooter is affordable if you're on a budget. The scooter has a batman themed design making it extremely fun and attractive for kids.
My eldest son and nephew both graduated onto a 2 wheel scooter at age 4. They had both been using a 3 wheel scooter for a while but received a 2 wheel scooter for their 4th birthday and just used it straightaway without any problems.
The batman scooter folds making it easy to carry when kids have had enough or put in the boot of the car.
​It also features an adjustable handlebar height so will grow with your child.
The scooter is cheap and cheerful. ​What you may compromise on (that you may get from the more expensive scooters) is the smoothness of the ride and the overall quality of the scooter. The ride may be a little bumpy as the scooter has plastic wheels. More expensive scooters normally have polyurethane wheels which offer a smoother, superior ride. Polyurethane wheels are more durable and last longer. However, you will pay more for scooters with PU wheels
Having said this, most kids don't really seem to notice the bumpier ride and enjoy the scooter anyway.
The batman scooter also features comfortable foam handle grips and a rear foot brake.
Stunt Scooters
If you have a daring and very competent 4 year old who wants to have a go at a few tricks (perhaps they have an older silbing they want to copy), it may be worth getting a dedicated stunt scooter. Stunt scooters are stronger than kick scooters so they can withstand the extra impact from jumps and tricks. It is difficult to get stunt scooters for kids as young as 4 years old. Most start from age 8 but there are a few for kids from age 4 and 5.
If you would like a stunt scooter for a 4 year old, check out the MGP Mini Pro Rascal scooter and the Slamm Tantrum V8 featured below.
Madd Gear Mini Pro Rascal III

The Madd Gear Mini Pro Rascal scooter is the ideal first stunt scooter designed for the smaller rider with smaller hands and feet.
It features a smaller deck than standard  measuring 43cm by 10cm (17" by 4"). The one piece bar and nylon core with high speed PU wheels are perfect for first jumps and tricks.
It is aimed at age 4 plus so is the optimum choice of stunt scooter for this age group.
It weighs 2.94kg which is super light for a stunt scooter. A lighter scooter will make it easier for them to control the scooter on the street and at the skate park while learning to do jumps, hops and stunts.
The smaller than standard bars will also give them additional control over the scooter. To give you an idea of its size, the total height of the scooter is 68.6cm (27").
Slamm Tantrum V9 Scooter
The Slamm Tantrum V8 scooter is an excellent stunt scooter with top notch features designed for younger children under 8 years (from aged 4 plus).
A smaller bar and deck than on standard sized scooters makes this a good choice for the smaller rider. The total height of the scooter is 74cm
100mm nylon wheels core wheels are enough to withstand the weight of the younger, beginner rider when trying their first jumps and tricks. The BMX style handlebar grips add comfort to little hands when riding.
The look of the orange and black scooter with blue handgrips and wheels is cool and unique. It's hand-built by Slamm.
Additionally, the deck measures 49.5 cm by 11.5cm (4.5" by 19.5"). There's plenty of space for young feet.
Overall, a nice choice for 4 to 7 year olds which has been expertly designed and made by the team at Slamm. It is also very competitively priced.
Scooter with Air Filled Tyres
The Bike Star Kick scooter has pneumatic tyres so is an excellent option for kids who want to scoot on grass or uneven surfaces. The air filled tyres give a smooth and comfortable ride especially when going over sticks, stones or bumps in the path.
It's good for getting kids used to how things work on a bike as in addition to the tyres, there is a hand brake and the scooter is easy to steer. The tyres are 10 inch.
The scooter is durable and hardwearing. It is heavy so at 6.2kg, it's not one that parents will want to carry.
What Else Should I Consider When Choosing a Scooter?
Height of the child in question - The height of the child may also be a deciding factor in which scooter you buy. The scooters featured all have different handlebar heights. Some scooters feature low handlebar settings for smaller 4 year olds whereas others have slightly higher handlebars. Ideally, you would like the handlebar to be about waist height on your child.
Weight - Consider the weight of the scooter. Some scooters are very lightweight and they are easier for young children to control and manoeuvre. They can pick them up when necessary (perhaps when lifting it up a kerb). If your child is strong for his age, a light scooter may not be as important. Stronger kids will be able to control heavier scooters. ​