What Are the Best Scooters for 4 Year Olds?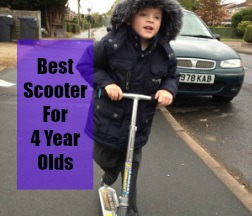 When buying a scooter for a 4 year old girl or boy, perhaps the most important question to ask is whether you should get 2 or 3 wheels. The answer will be very much dependant on the child in question and the features you require.


In a hurry or just curious.....
If your child has had experience of a 3 wheel scooter and are confident in riding one, I would definitely consider graduating onto a 2 wheel scooter. My eldest son and nephew both received 2 wheels for their 4th birthdays and they both enjoyed riding them straight away.
A less confident child or those that are new to getting a scooter may prefer 3 wheels.
Also find stunt scooters, budget scooters and superhero themed scooters below.
3 Wheel Scooters for 4 Year Olds
Firstly there is the mini micro scooter. The mini micro is designed for kids between ages 2 and 5 and with a weight limit of 45 pounds.
It's a good choice of 3 wheel scooter for many 4 year olds and you can read more about it on the 3 wheel scooters page. I have bought this one for my younger son. He is now 4 years old and coming up to his 5th birthday. He is quite small for his age (around 1 metre tall). He still rides this scooter daily and I think it will definitely last him another year.
In quick summary the micro scooter has polyurethane wheels which offer a really smooth ride. The 120mm sized wheels are the front are slightly larger than standard wheels and area a great size for cruising.
The footplate is flexible fibreglass and reinforced footplate to absorb bumps in the pavement.
The handlebar is adjustable from 49cm to 69cm from the ground.
The scooter weighs just 3.3lbs or 1.5kg. A lightweight scooter makes it easier for young children to lift and control the scooter which it is essential for them to do when they are picking it up to go up kerbs etc. ​It's also easier for adults to carry when required too.
If you're buying for a 4th birthday and for a smaller 4 year old, it's possible to get 2 years use out of this.
Maxi Micro
Taller 4 year olds may grow out of the mini
scooter quickly and for this reason it's also worth considering the maxi scooter.
The Maxi scooter is a 3 wheel scooter that's designed for 6 to 12 year olds, so is the follow on from the micro scooter.
It's handlebar is adjustable from 67cm all the way up to 93cm. It's lowest height is only about a cm bigger than the handlebar on the mini micro scooter, but it will grow with your child for many more years.
Like the micro, the maxi has polyurethane wheels which offer a really smooth ride. It's heavier at 2.5kg compared to 1.5kg, so it is heavier to carry around. It's also more expensive but it will last a number of years.
 
Best 2 Wheel Scooter for 4 Year Olds
JD Bug Junior Street Scooter
 JD bug is one of the bestselling brands of scooter in the UK.It's a brand known for its quality and durablilty.
The JD bug junior is the perfect 2 wheel scooter for a 4 year old who is ready to graduate onto 2 wheels. The scooter itself is designed for ages 4 and above. The maximum weight for the scooter is 50kg so it should last 4 year olds a few years.
It features 120mm wheels with ABEC 5 bearings. The wheels are a great for cruising and offer a smooth ride. It features tough durable wheels (durometer 88a - to find out what this means check out the scooter buying guide for kids.
There's a folding mechanism which will make it easier for adults to carry on the school run. It weighs 2.4kg or 5lbs 4 ounces.
It comes in different colors (pink, red or blue) so a choice for 4 year old boys and girls.
The handlebars are height adjustable.
The minimum handlebar height is 630mm and the maximum handelbar height is 845mm so plenty of room to grow with your child making it perfect for this age range.
The footplate is also a bit smaller than standard making it a good choice for younger riders too.
Stunt Scooters
If you have a daring and very competent 4 year old who wants to have a go at a few tricks (perhaps they have an older silbing they want to copy), it may be worth getting a dedicated stunt scooter. Stunt scooters are stronger than kick scooters to withstand the extra impace. It is difficult to get stunt scooters for kids as young as 4 years old. Most start from age 8 and there are a few for kids age 5 and above. However, if you would like a stunt scooter for a 4 year old, a good one to try is the madd gear mini pro x scooter.
Madd Gear Mini Pro x scooter
The Madd Gear mini pro x pr scooter is the idea first stunt scooter designed for the smaller rider with smaller hands and feet.
​
It features a smaller deck than standard (at 4 inches wide and 17 inches long), one piece bar and  anodised alloy core wheels with high rebound urethane (perfect for any jumps and tricks).
It is aimed at age 5 plus but if you're looking or a 4 year old this is probably the closest you will find to a stunt scooter for this age group.
More Options of 2 and 3 wheel scooters
Still not found what your looking for in the right price range. Check out some more ideas of both 2 and 3 wheel kick scooters below.
A Height Adjustable Scooter
Another option of 3 wheel scooter that is worth considering is the 3style scooter (featured below)
.
 The main selling point is it's height adjustable handlebar so you can make sure it's the right height for your child.
The 3style scooter has some excellent features and scores very highly on affordability too. It is cheaper than a lot of similar styled scooters and at the time of writing the same price as the Vokul scooter above.
The handlebar is adjustable from 52cm to 86cm so will grow with your child. A handlebar should ideally be around waist height on a child so this scooter should offer the perfect height for a 4 year old. A too low handlebar can mean your child is hunched over so it's uncomfortable to ride. If the handlebar is too high it can make the scooter difficult for them to control.
There is a folding mechanism which is great when little kids have had enough of scooting. It can then be folded up and carried. It's also easier to store, put in your boot or carry on top of a pushchair of a sibling.It does weigh heavier than more expensive scooters such as the mini micro due to extra weight of the adjustable handlebar and folding mechanism. However, it is still fairly lightweight compared to other options and this weight should be fine for a 4 year old.
The wheels are made of polyurethane and 120mm in size. Bigger wheels don't absorb the shocks from cracks and bumps on the pavement and glide over them more easily. The bigger wheels also mean that you can cover longer distances more easily (less kicking required). This makes scooters with larger wheels great for the school run!  One thing little kids will love is that the wheels light up.
We bought the Ozbozz Lightning Strike for our elder son's 4th birthday who was on the tall side for his age. The lowest height setting is approximately 71 cm from the ground to the top of the handlebars so it is better for tall kids. It has 3 adjustable height settings up to 81.5cm on the maximum.
It weighs approximately 2.5kg.
I would say this is a great choice if you are on a budget.
My son definitely loved it and it lasted a couple of years for us. I have written a full review of the Ozbozz Lightning Strike too.
Micro Sprite
If you're looking for a scooter that will last, it may be worth spending a bit more. 

The micro sprite is a good 2 wheel scooter.
(Its made by the same people who make the mini and maxi micro scooters above).
It has a height adjustable handle (from 63cm to 96cm) so will grow with your child as they get older. 
T
he construction and design of the scooter is very good.
It has a bigger front wheels to make cruising easier and the ride smoother.
The wheels are made of PU (offering a really smooth ride) with ABEC 5 bearings.
Its a great beginner scooter.
The recommended age is from 5 years and up but there are reviews of 4 year olds using this. The lowest height on the handlebars should be fine for most 4 year olds.
It weighs 2.7kg which is on the heavier side, so it would be harder for adults to carry. However it is foldable which will make it easier and better for storing too. 
I also think a 4 year old who's capable of riding on 2 wheels will be fine on this. It comes in several different colors including blue, red, black and pink. 

Check out more details on the 2 wheel scooter page. 
Folding Spiderman Scooter
My nephew is spiderman crazy so loves his spiderman scooter which is exactly the same as the one opposite.
He had been using a 3 wheel scooter for a while but received this one for his 4th birthday and just used it straightaway without any problems.
What I like about this scooter is that it folds. This is great when the kids have had enough as it's easy to carry back to the car or back home.
​It also features an adjustable handlebar height so will grow with your child.
​What you may compromise on (that you may get from the more expensive scooters) is the smoothness of the ride. The ride may be a little more bumpy. Having said this, my nephew doesn't seem to notice and really does love the scooter.
It also features foam easy-grip handles.
A Scooter with Flashing Wheels - The Vokul
It weighs 3.5kg which is light for a stunt scooter and lighter than it the full sized pro x scooter. However, if you compare it with kick scooters designed for younger children it will weigh quite a bit heavier.​This is due to the tougher construction needed for a scooter which can withstand the tricks and jumps.
​It is well designed with excellent specs so the extra investment should last kids for a while. ​
The is great choice for 4 year olds who want a cool but very affordable 3 wheel scooter that will grow with them. It's stylish too.
It comes in many different colour including blue, green and pink and has some fabulous features. ​
The handlebar is adjustable so will be able to be adjusted to be the right height for your child. It's designed for kids aged up to 6 years old. If you would like a scooter to last longer than that, it may be worth also considering the iscoot (featured below) or the maxi micro (above) which have taller maximum handlebars.
It features 120mm front PU wheels and a rear 80mm wheel. Kids this age will love the LED coloured flashing light on the wheels.
The maximum weight capacity is 35kg or 77 pounds.
It weights just under 2kg which is heavier than the mini micro but still fairly lightweight and should be fine for most 4 year olds.
It has a lean to steer mechanism which is fairly common on 3 wheel scooters at the moment. So riders, lean left to go left and right to go right.
It can't be folded but like the mini micro the handlebar can be taken out of the base of the scooter. This makes it easier to store in the boot of a car or at home.
Where this scooter scores highly is the price. It's features are excellent but the low price point makes this one even more appealing.
What Else Should I consider When choosing a scooter?
Height of the child in question - The height of the child may also be a deciding factor in which scooter you buy. The scooters featured below all have different handlebar heights. Some scooters feature quite low handlebar settings for smaller 4 year olds whereas others have slightly higher handlebars. Ideally you would like the handlebar to be about waist height on your child.
Weight - You may also want to consider the weight of the scooter you are buying. Some scooters are very lightweight and they are easier for young children to control and manoeuvre. They can pick them up when necessary (perhaps when lifting up on a kerb). If your child is quite strong for his age, a very lightweight scooter may not be as important and he or she should be able to control a slightly heavier one. ​