Fliker Scooters - Are They Any Good?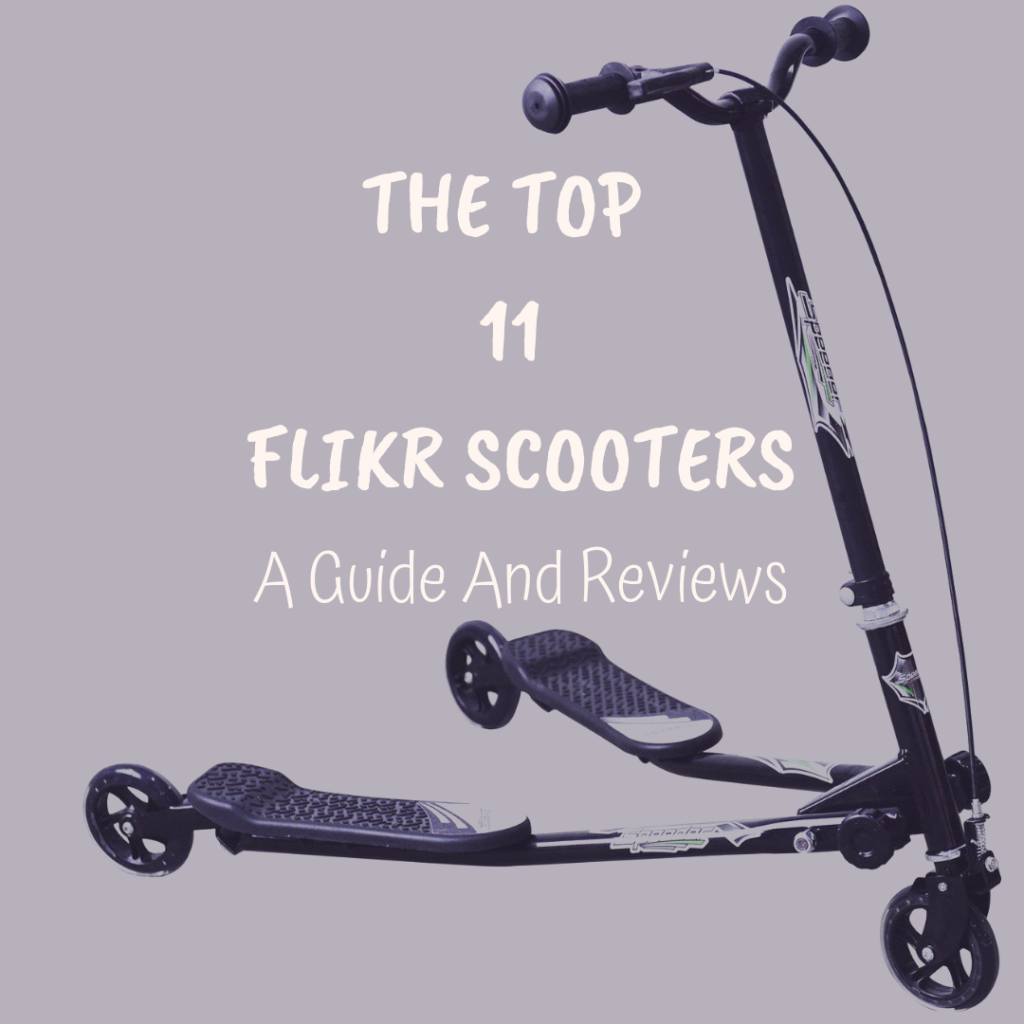 What is a Fliker Scooter?
Fliker scooters (also known as tri, wiggle or carver scooters and sometimes spelt as Flicker) have been around for a few years now. They have two footplates instead of one.  Each foot goes on a separate footplate. The rider then shifts their weight from side to side or moves their hips to propel the scooter along.  Sometimes this looks like they are wiggling (hence the term wiggle scooter). The rider can also ride the scooter in a traditional way (pushing the scooter along with just one foot while keeping the other on the footplate). Or you can even do tricks on them by flicking them up on two wheels.
Why Get a Fliker Scooter?
Reason number 1 - they are fun! In an age where kids aren't getting outside enough for fresh air and exercise, the Flicker scooter is a novel way to encouraging kids to move and enjoy their time outdoors.
Reason number 2 - it's good exercise. It gets kids moving in a different way. Their friends will be desperate to have a go too.
What Age for a Fliker Scooter?
There are Fliker scooters for kids from around the age of five, although some five year olds may struggle to get used to the idea. It will really depend on the child, but most should be fine for age 6 or 7.
Y Flikers by Yvolution - the Original Fliker brand
Fliker scooters haven't been around for very long! This innovative scooter design came about from the well respected scooter maker and brand Yvolution. Yvolution created something that was very different from the other kids' scooters you see on the playground. And the fun factor of the Fliker design made the incredibly popular with children in a very short space of time.
Yvolution make various types of Fliker scooter. Beginners on the Flikr scooter will enjoy the Air series Y Flikers which are lighweight, sleek, sturdy, durable, great to learn on but also offer different challenges as their skills progress. Once kids have mastered drifting, they can move onto mastering tricks.
*This post has affiliate links, which means we may receive a small commission if you choose to purchase through links we provide (at no extra cost to you). As an Amazon Associate we earn from qualifying purchases.
Yvolution A1 Air Y Fliker Kids Scooter
The A1 air scooter is the smallest of the fliker scooters, designed for kids aged 5 and up. It's an ideal first fliker for beginners and younger riders, as it's easy to ride and very safe.

What's To Like About This Scooter? 
With a smaller, lighter frame for smaller children, this is a great sized Fliker for kids who measure 113cm and taller. The perfect frame height and width for 5 to 7 year olds. It won't be long before they are drifting with awesome control. The A1's features have been designed with safety in mind, but this doesn't take away from the fun factor! Its features include:
A quick response handbrake - easy to use for younger riders.
Rugged anti grip footplates - offer superior grip and control
Performance rated PU wheels - Industrial designed super-grip caster wheels offer a smooth, comfortable and easy glide journey.
Twist and stow folding system - Simply twist and pull the folding knob and fold the handlebars to the ground. Suitable for neat storage in garages, storage rooms, or even for travelling in the car.
It's the smallest in yvolution air range of scooters. Frame size is 85 cm in height and 46cm in width.
At 6kg this is a lightweight frame for a Fliker scooter making it easier for younger ones to control and parents to pick up, fold and carry when needed.
Yvolution A3 Air Y Fliker Kids Scooter
The A3 Air Y Fliker scooter is from the makers of the original Fliker scooters. It's aimed for kids aged 7 and up and provides a reinforced frame, high grip footplates, quick response brake and a foldable handlebar.
What's To Like About This Scooter? 
With a bigger frame for children aged 7 plus with a minimum height of 128cm, it's big, smooth and super strong. It's a good size for children to learn to do their first Flikr tricks. Riders report a scooter that easily glides and is a pleasure to ride. Its features include:
The twist and stow folding system - it's ready to fold and go where you want to take it.
Biggest in yvolution air range of Fliker scooters. Frame size is 96 cm in height and 54cm in width
Quick response ABD handbrake, easy grip handlebars and anti slip footplate for safety and peace of mind
Maximum rider weight is 80kg
Performance rated PU wheels ensure smooth drifting capabilities
The scooter weighs 8kg
The Homcom Tri Scooters
The Homcom brand of scooters are branded and sold by a company called MHStar based in the UK. They are mainly sold via amazon and ebay and you can read lots of reviews of the scooters on these sites. The standout feature from the Homcom brand is the price. They provide a scooter an afforable option of tri scooter which has good reviews at a competitive price.
HOMCOM Kids 3 Wheels Tri Slider Scooter
The Homcom tri scooter is affordable with some impressive features. It's foldable, aimed at kids aged six plus. A fine option to go for when you just want to have a go and try this kind of scooter out.
What's To Like About This Scooter? 
This is an affordable option of tri scooter for the younger rider. Its frame size is a good option for the 6 plus age group.
It can be folded down - convenient if you want to put it in the car boot and for storage.
Front handbrake makes it easy to control and slow down
Heavy duty steel frame. It has and adjustable height from 76cm to 100cm so will grow with your child.
With 125mm PU wheels, the scooter is designed for easy acceleration, drifting and turning.
Aodi Swing Scooter

Who's the Aodi swing scooter aimed at?
The Aodi has a height adjustable handlebar of 95cm to 110cm. This means that it can suit older kids - 9 to 12 year olds will particularly do well with this kind so height range. The maximum weight capacity is 100kg so there's no reason why adults can't hop on and have a go as well.
It features 145mm PU wheels and has a front handbrake.
Like many other Flicker type scooters, it can conveniently be folded for easy transportation and storage and works best on flat and smooth surfaces.
Lonlier Y Flicker Wiggle Scooter,
If you're looking for an affordable wiggle scooter for young kids aged 5 and up, the Lonlier Flicker also ticks all those boxes. The scooter is foldable and comes in several different colors. This is good choice for younger kids especially if budget is an important consideration.


What's To Like About This Scooter?
This has some excellent features for kids aged 5 plus (including a height adjustable handlebar) without the huge price tag. Probably a good fit for most 5, 6 and 7 year olds, depending on their height and ability.
It can be folded down - convenient if you want to put it in the car boot and for storage.
The handlebar is height adjustable handlebar so will grow with your child. There are bigger tri scooters for older children which go up to 103cm or more so bear this in mind if you're buying for an older child.
The anti skid and wear resistant footplates measure 25cm (l) x 9.8cm (w), which is a nice size for smaller feet!
The front handbrake makes it easy to control and slow down.
The heavy duty steel frame is durable
Additionally, the Lonlier tri scooter comes in a range of colours to suit different personalities and preferences.
The max user weight is 50kg which will allow most kids to jump on and have a go.
The Kidzmotion Tri Scooters
The Kidzmotion tri scooters are branded and sold by a UK company. These can be bought on amazon or direct from their website. Again amazon have many reviews of their scooters.
It's notable that Kidzmotion offer tri scooters designed for and aimed at the older child and teenagers.
Kidzmotion Wriggler 3 wheel Swing Scooter
The Kidzmotion Wrigger is a mid range scooter, with sizing and design perfect for the 5 to 9 age group. It's another top pick for a beginner with height adjustable handlebars and it's foldable too.

What's To Like About This Scooter?
An excellent option for beginners to learn drifting, master sliding and try wheelying.
A height adjustable handlebar for 78 to 87cm  ensures the scooter is set at the best height for each child. The width of the frame is 60cm.
The large 125mm PU rear wheels are designed to swing freely and ride smoothly
Wriggler is foldable for easy storage and features a cable front brake and twin rear brakes make it easy for young children to slow down stop.
The maximum rider weight 85kg so the load capcity will easily fit the age group required.
Kidzmotion Swagger 3 wheel Swing Scooter
The Kidzmotion Swagger is a mid range priced scooter, with larger sizing and the perfect design for the 10 to 13 age group. It's another top pick for a beginner with height adjustable handlebars. And it's foldable too!
What's To Like About This Scooter. 
There's not many flikr style scooters with the ideal sizing for the 10 plus age group, which makes the Swagger the obvious choice for the older child. It's geared up to be a comfortable, awesome ride for kids who are a little bigger and can handle more speed.
The handlebars on the swagger can be adjusted between 96cm to 110cm so reach incredibly high to adapt to the height of the tallest of children. The width of the frame is 60cm.
The 145mm PU rear wheels are bigger and will get kids a longer way in a shorter time.
The Swagger is foldable for easy storage and features a cable front brake and twin rear brakes make it easy for quick braking and emergency stops.
The maximum rider weight 100kg so even adults will be able to have a go on this thing.
Kidzmotion Shway 3 wheel Swing Scooter
Do you want an even bigger frame for a teenager? The Kidzmotion Shway is the choice for you.  It's extra large frame and extra large  wheels provide teens with a fast, fun blast of a ride.

What's To Like About This Scooter. 
This is the only self propelled Flikr style scooter designed with the teenager in mind. It's unique in that it has 200mm wheels which are the largest found on this type of scooter. Bigger wheels will glide more smoothly, so the Shway will be quick and rollover those bumps and cracks effortlessly.
The handlebars on the Shway can be adjusted from 110cm up to a whopping 117cm so teens will be able to find a comfortable handlebar height regardless of how tall they are.
The 200mm PU rear wheels will glide at a super speed giving teens the adrenaline they crave.
Like all other Kidzmotion self moving tri scooters the Shay is foldable and features a handbrake for ultimate control when stopping.
The maximum rider weight 100kg. There's nothing to stop adults within the weight limit joining in the Flikr fun with this socooter.
Yvolution Carver Series
The Yvolution Carver scooter are designed to take kids of all ages to the next tier of Flikr scooter. It works in the small way as the other Flikr scooters, shifting your weight to self propel along. But once you have used these scooters to get up to speed on basic drifting you can up your skills to the next level.
The scooters feature FLEX technology so you can open up even more options for carving, including 360-degree spins (while in motion) and powerful carves with maximum control.
The carver scooters are the perfect option for kids with a daredevil streak who like a bit of added adrenaline with their ride and are open to having a go at a few tricks.
The are 3 versions of the scooter, the C1 designed for kids age 5 plus, the C2 aimed at 7 plus and the C3 aimed a 9 plus. Check them out below.
Yvolution Flikr C1 Carver Scooter
The C1 is sized for the smaller, younger child with a daredevil streak. It's recommended for kids from age 5 and from 113cm tall.

What's To Like About This Scooter. 
This scooter is a good option for younger children who are beginning with a Fliker but want the option to progress to the next level of Fliker tricks.
The frame is sized at 85.5cm high and 54.5cm wide.
It's designed with safety in mind with a quick response brake for those urgent stops and rugged grips on the footplates, giving parents peace of mind when their young kids ride this.
It weighs 7.5kg and has a max rider weight of 80kg.
Awesome for tearing up the school run.
Yvolution Flikr C3 Carver Scooter
Aimed at age 7 plus, the C3  is super fun and perfect for trying out wheelies. Pick up some speed, then lean back and pull on the handlebars to lift the front wheel.

What's To Like About This Scooter. 
The quick response brake gives riders maximum control, quickly change direction and try out some impromptu spins.
Simple lean on the handlebars to pull off 360 degree spins and mega drifts.
The performance rated industrial caster wheels can really pick up some speed for more thrills and action. Ideal for racing and having fun.
It features reinforced steel tubing for an extra safe and reliable ride.
Like all carvers, it's foldable for extra portability.
Yvolution Flikr C5 Carver Scooter
The C5 is for serious fun at the skatepark for the age 9 plus crowd from 134cm (all the way up to adults) It's an extreme ride where you can power carve, make 360 degree turns, manoeuvre quickly round obstacles

What's To Like About This Scooter. 
The C5 offers a multidirectional riding experience. The Flex technology allows you to speed up quickly while maintaining balance. Have fun riding at speeds of up to 25 km/h or perfecting spins, fast carving and long sweeping drifts
The height of the scooter is 104cm so older kids, teens and the maximum rider weight of 100kg means that adults can also have fun riding this.
Like all the other Yvolution Flikers, this scooter has very responsive hand brakes for ultimate control and performance rated PU wheels for speed.
Yvolution Flikr Lift Scooter
The name of this scooter says it all! It's set up with a revolutionary patented lift system, which lets you pull off wheelies including sideways wheelies. The lightweight frame is geared up for insane stunts, spins and cool tricks.
What's To Like About This Scooter. 
This is the ultimate Flikr for kids aged 7 plus (from 128cm) to learn incredible tricks and have maximum fun.
Front and side wheelies, 360 degree spins, powerful carving and drifts are all catered for.
The patented lift technology means that kids can lean back and pull wheelies without going back too far.
It has performance super grip wheels for speed and a quick response brake for coming to an emergency stop
It can also fold quickly and easily with the twist and fold storage system.
More Flickr, Wiggle, Tri Scooter Questions
Where Can You Ride these Types of Scooters?
The scooters work best on flat and smooth surfaces. They don't work well uphill or on uneven terrain. They are mainly used for fun than commuting.
Can 4 Year Olds Ride a Flikr Scooter? 
Some 4 year olds can ride a flikr scooter, although others will struggle. It very much depends on the child, so it's not possible to give a yes or no answer. The main thing is if you buy a flikr scooter for a 4 year old, go for the smallest frame size possible and choose a tri scooter designed for a younger rider . On this page that is the Yvolution A1 Air Flikr Scooter.