What Are the Best Scooters for College?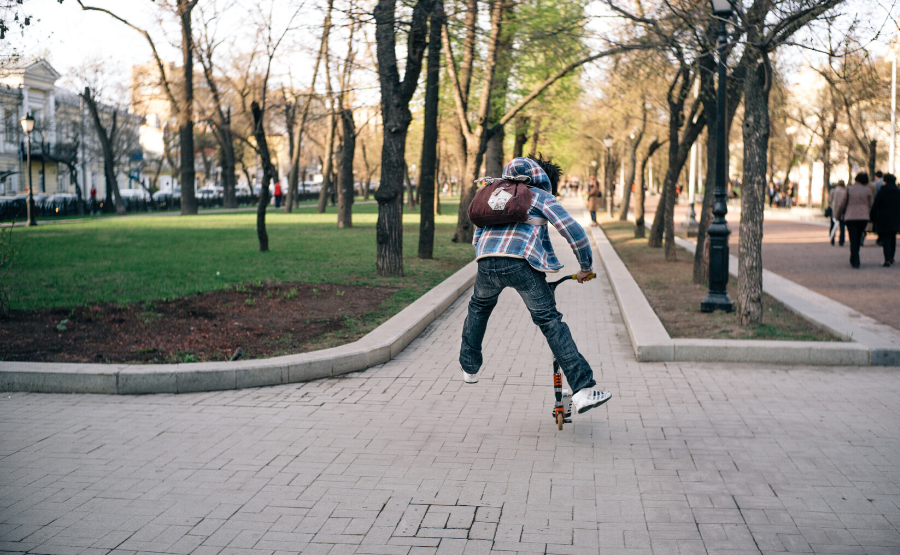 Why get a scooter for college?
For several reasons. You'll save money on travel. It's excellent for the environment. They are brilliant for keeping fit. No sitting in traffic jams on the bus or in a car. Perfect for getting to and from college. And ideal for scooting around campus.
Ten of the best scooters for college students are featured below. You might also want to check out our guide on what to look for when purchasing a scooter for college before you decide which one is right for you.
*This post has affiliate links, which means we may receive a small commission if you choose to purchase through links we provide (at no extra cost to you). As an Amazon Associate we earn from qualifying purchases.
Razor A5 Kick Scooter

Reasonably priced, big and fast 200mm wheels, lightweight, foldable with an adjustable handlebar - there's a lot to like about the Razor A5.
Having said this, a maximum handlebar height is 97cm, which means it's probably not the best choice for the tallest of college students. Check out the Razor A6 (below) for a taller handlebar.
Need to take it on a bus or train? It easy to fold down and weighs 4.2kg, so it's convenient for hopping on and off public transport.
The extra large urethane wheels mean you can get to where you need to go quickly and speedily with fewer pushes.
Another useful feature is a low to the ground deck. A ground clearance of just 6cm means your kicking leg doesn't have to go down too far when you're pushing along. This leans to a more comfortable ride.
There's a kickstand for easy storage on a college campus.
Razor A6 Kick Scooter
The Razor A6 excels in 2 areas:
it's big 254mm wheels are awesome for commuting. They will get you to college quicker and faster than scooters with smaller wheels. And fewer kicks are needed!
Its extendable handlebar reaches up to 106cm accommodating the tallest of college students.
It's handy kickstand A means it's easy to store on campus. it's also foldable. Weighing 5 kg it's not the lightest scooter but light enough to pick up, fold and take on a bus.
Overall Verdict
The only choice for very tall people. the best choice if and speed and long commutes are what you're looking for.
Micro Black Scooter

The Micro Black is a top of the range all-rounder. Where this scooter stands out is it's designed to last. It's high-quality components and parts are all replaceable meaning this scooter can last through college years and beyond.
It's outstanding features include:
A superior and comfortable ride. The micro black features a low to the ground deck. This means you're kicking leg doesn't have to reach far to push along making scooting much more comfortable.
Outstanding 200mm polyurethane wheels that offer a quick, enjoyable ride and glide smoothly.
A fully adjustable handlebar. Find your optimum height between 73 cm and 102 cm.
Portable and foldable, this scooter weighs 4.7 kg which means it's no problem for most college students to pick up to take on public transport or transport in a car.
Overall Verdict
The Micro range are the crème de la crème of scooters. It's difficult to go wrong with this well designed, high quality choice.
JD Bug Scooter



The JD Bug 150 is ideal for a nifty ride around campus. Something lightweight to pick up, carry and is easily folded.
In fact, one area where it surpasses big wheel scooters is how compact it is when folded up. Measuring 69 cm by 10 cm by 20 cm. it's a good choice if you need to fit a scooter in a locker or another small space.
The midsize 150mm wheels aren't as quick and fast as the large 200mm wheel scooters. However, they still offer a speedy ride. Additionally, they are smooth rolling and comfortable to scoot on
If you're looking for a scooter that you need to pick up and carry a lot, perhaps to go on the bus or around campus you won't find a much lighter scooter that can accommodate college students
The maximum height of a 99 cm is tall enough to accommodate a wide range of students but not the best choice for tall or very tall people.
Overall Verdict
You won't find a lighter scooter which is such good value for money. The mid-size wheels make it ideal for short commutes and getting around campus.
Hudora Big Wheel RX-Pro 205


The Hudora big wheel scooter is competitive on price but ticks lots of boxes for the college student.
205 mm PU wheels ensure a speedy durable and comfortable scoot to and from college.
The height-adjustable handlebar extends from 79cm to 104cm which will be ideal for most students including all those who are tall.
Equipped with the carry strap, you can carry the Hudora on your shoulder around campus. A kick stand means it can be stored upright too.
The Hudora doesn't exude the same quality as a scooter such as the Micro black and it's parts and aren't so easily replaceable. But if you're looking for a scooter that does the job at a reasonable price this could be the best choice for you.

Overall Verdict
A competitively priced all rounder that will suit most college students and get you to college quickly
Razor A5 Air Commuter Scooter​


What's different with the Razor A5 air commuter scooter? The obvious answer is the air filled tyres.
Pneumatic tyres have a lot of advantages. They give greater traction on wet surfaces so are better when it's been raining. More cushioning ensures a very comfortable ride. They offer a superior ride on a commute with cobbed paving or other uneven surfaces.
On the downside, they tend to add more weight to the scooter. They can also be slower to start off when scooting. You may also have to factor in the additional hassle of maintenance, such as ensuring the tyres are correctly inflated and dealing with any punctures.
What you also get with the Razor A5 air commuter scooter is anti-rattle handlebars and soft rubber hand grips.
Like most scooters it's foldable. At 5.6 kg this isn't the lightest of scooters, but that is to be expected due to the extra weight of the air filled tyres.
At 5.6 kg this isn't the lightest of scooters to carry but this is to be expected with heavier air filled wheels.
Overall Verdict
A good choice of college scooter with air filled tyres which give or an extra cushioned ride. Ideal for extra traction on wet surfaces and absorbing the bumps from uneven surfaces.
Razor E300 Electric Scooter
The E300 is a good electric scooter for short journeys to and from college or trips from one end of campus to another. It has a kickstand for storage when you arrive.
The battery has up to 40 minutes of continuous use for one charge and there is a top speed of 15 mph. Both the battery life and the top speed are dependant on many factors including the weight of the rider and the terrain the scooter is on.
One downside of the E300 is that it weighs 19 kg which is heavy. You won't want to be carrying this scooter around campus.
The wide, pneumatic tires offer a cushioned, speedy ride. Slow down when necessary with the hand-operated rear brake.
Overall Verdict
A reasonably priced electric scooter. Best for short journeys. Comfortable and Speedy
Xiaomi Mi Electric Scooter Pro
If you're serious about getting an electric scooter for the college commute this one is definitely worth considering.
Sure it's not cheapest, but the features are amazing and it has a decent amount of good quality reviews to stand behind the price.
There's a lot to like about this scooter:
Impressively, the scooter can fold down in 3 seconds! Now, it's not the lightest scooter at 14.2kg but it's light enough to pick up when needed and take on the bus or train. Conveniently, fold the scooter up on campus when you get there.
The battery life is good! You'll be able to ride up to 45km / 28 miles on one charge. There's an indicator to alert you when it's running out.
8.5 inch pneumatic tyres roll along for a smooth ride. They add a bit more cushioning, help prevent slips and absorb shocks.
A bright headlight and red rear lights give peace of mind when driving in tusk or in the dark.
3 speed modes offer flexibility to use at different times. There's an energy-saving mode a standard mode and a sports mode. It's super easy to change between modes just tap the switch twice continuously.
For more information read a full review of the Xiaomi Pro scooter. 
Overall Verdict
An impressive, foldable electric scooter with excellent battery life. Ideal if you're serious about getting to college quickly on two electric wheels
JD Bug 200 Scooter
Another competitively priced scooter that's worth a closer look is the JD Bug 200mm commuter scooter.
It has big 200mm smooth rolling wheels with speed hubs and ABEC 9 rated bearings Get where you need to go quickly and comfortably. Perfect for easy rolling for students to and from college
Where this scooter scores highly is it's portability. It's easy to fold and even though this is a big wheel scooter it is lightweight compared to its competitors, weighing in at only 4.5 kg.
Therefore if you are looking for something to take on public transport, carry up hills or flights of stairs this is a good option.
A low to the ground deck means the rider doesn't have to stretch his foot too far to kick along. This helps ensure a comfortable ride and lessens the strain on your back.
Overall Verdict
The JD Bug 200mm community scooter certainly ticks a lot of boxes. Competitively priced foldable, lightweight, big smooth rolling high quality wheels - it's difficult to go wrong with this one.
Scooter Buying Guide For College Students
What should you look for in a scooter for a college student?
The features you should look for on a scooter for college will depend on how you will use it. For example, a scooter for long commutes may have different features than one which you just use on campus. Read on for some considerations.
How high does the handlebar adjust?
Most handlebars are adjustable. However, you want to make sure the handlebar can adjust to the optimum height for you. Ideally, this will be around waist height. This is particularly important if you are tall. Make sure the handlebar adjusts high enough.
Portability
It's likely you will need a lightweight scooter. It's also advisable that your scooter can fold down quickly and easily.
This is especially true if you need to pick it up to carry it for any part of your journey, perhaps you will need to go uphill or take it on a bus.
You may also need to carry your scooter around campus.
Where will you store your scooter
When you arrive on campus you need to consider where you will store your scooter. Is there a bike shed? if so you may be able to store it there and a kickstand will be useful to keep upright. Alternatively, you might have a large locker where you can keep a small scooter. If you have to take it with you to your lectures or lessons you will need to make sure it can fold down small enough to put under the desk and is light enough to carry with you.
Wheels
You will see that kick scooters have various wheel sizes. Scooters with wheels of 200 mm or more are quicker and faster than their smaller wheeled counterparts. However bigger wheels will add weight to the scooter so won't be the lightest for carrying around campus. I would advise going for bigger wheels if you have a long commute. But for the nifty campus scooter go for something smaller - 150mm sized wheels are a good choice.
Some scooters have air-filled / pneumatic tyres. These add more traction when scooting on wet surfaces. They are more comfortable for scooting over uneven terrain such as cobbled paths. However pneumatic tyres add weight to the scooter. You also have to factor in they need maintenance to ensure they are correctly inflated and to deal with punctures.
Electric scooters
Electric scooters are another choice for college students. They are obviously good for quick commutes. You can get to your destination without having to wait in any traffic. The downside is that currently you aren't legally allowed to ride electric scooters on the pavement or in cycle lanes. Having said this, many commuters do still use electric scooters and many areas turn a blind eye. This is because the law on electric scooters is likely to change in the UK in the coming months. However this isn't definite
Cost
There are many scooters to suit different budgets. You might find it difficult to tell what the differences are between budget scooters and ones at the higher end of the market.
Generally, the higher cost of scooters means you will get a stronger scooter which is also lighter. The parts will be of top-notch quality so should last longer. Parts on higher end scooters are often replaceable which means that although the initial outlay is more you'll end up saving money in the long run.
I would advise spending as much as you can on your scooter. Remember, the benefits are high. You will save money on transport including the costs to get to college as well as costs when visiting friends. They are great for keeping fit and will reduce your environmental impact.
More FAQs
Which is best? Bike vs scooter
You may be unsure whether to get a bike or a scooter for college. There are obviously pros and cons to each one. The pros of a scooter are that they're easier to navigate around the campus than on a bike. A scooter is also easier to store. It's very likely you will be able to fold a scooter up and carry it with you to keep under a desk while you're in class. Scooters also tend to be cheaper. They are also easier to take on a bus or train.
On the other hand, a bike is quicker. But generally, they require more maintenance and are more expensive.
Are scooters allowed on campus?
It can very much depend on the rules of the individual campus and is certainly an important thing to check out before you purchase a scooter.  It may be that you can ride a scooter to college but will need to fold it up and carry it when on campus. If this is the case you would definitely need something lightweight and easily foldable.
Some colleges allow kick scooters but have banned electric scooters. So double-check before you buy.
Other useful kit:
A shoulder strap
If you can have to carry a scooter a lot a shoulder strap will be a lifesaver. Some scooters already come with a shoulder strap. If they don't, consider getting one separately. A light scooter is way easier to carry around campus if you attach a shoulder strap.
A scooter lock
Keeping a scooter in a bike shed? Then you seriously need to consider a lock to keep it safe and secure. Scooters are expensive and like bikes are a target for thieves. If you're leaving a scooter unattended a scooter lock is a must.
Clothing
Riding in the rain or cold? Then you'll want to make sure that your clothing will keep you warm and dry. Keep safe with bright reflective clothing during dusk or in the dark.
Shoes
Shoes are easily scuffed and worn out when riding scooters a lot. Consider getting a skater type of shoe with a gum rubber sole. Designed for skateboarders, they will also be hardwearing and durable for scooter riders too.