How To Buy An Eco-Friendly Kick Scooter For Kids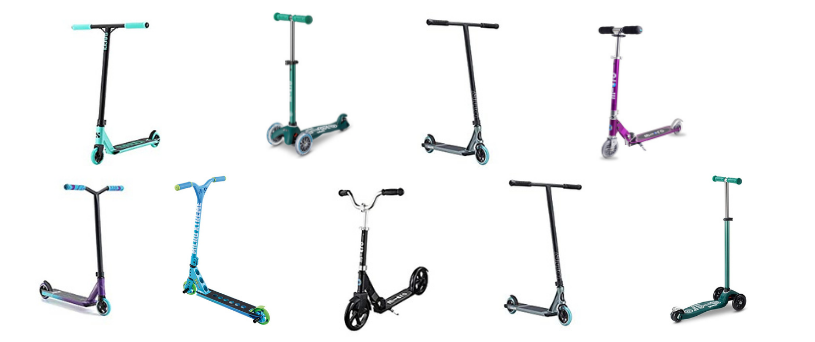 Looking for an eco friendly kids kick scooter?
The bad news is there isn't a kid's scooter that is 100% eco friendly. The good news is there are scooters with parts made from recycled materials, which are designed to be repairable and / or are made from recyclable materials.
This article lays out everything you need to consider when buying a more eco-friendly scooter. It suggests some eco-friendly models which include the new ECO range by Micro and stunt scooters such as the Blunt range which can be repaired instead of going into landfill.
What Should You Look For When Buying An Eco-Friendly Scooter?
Repairable and replaceable parts
The best thing you can do is buy something that is going to stay out of landfill as long as possible. Many scooter companies provide replacement parts for all key parts of their scooter. If all the parts can be replaced, your child can potentially keep the scooter for years. It can be passed down onto siblings, cousins and friends or sold on a site like eBay. Many stunt scooters have replaceable parts for all their key components. Companies such as Micro have designed all their scooters so that every part is repairable and replaceable, keeping them out of landfill potentially forever.
Recyclable materials
Many scooters are made of materials that can be recycled. Aluminium is a popular material to make scooter handlebars and footplates. All aluminium can be recycled after use. In the UK, you can take old aluminium scooters to your nearest household recycling centre.
It probably goes without saying you should avoid scooters with plastic parts. Many scooters for young children have PVC wheels and hard plastic footplates which is hard to recycle.
However, some scooter parts are now being made of recycled plastics which is keeping those plastics out of our landfills. This includes the plastic used in Micro's Eco scooter range. The footplate is made from recycled fishing nets, so the materials used are keeping plastic out of the ocean.
Mini Micro Eco Friendly Scooter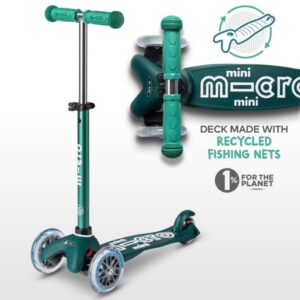 Micro scooters have released a new eco friendly range of three wheel scooters. The decks are made from recycled plastic from discarded fishing nets that would normally pollute the oceans. This helps reduce ocean pollution, stops waste from going into landfill and reduces the use of valuable resources.
The other great thing about Micro scooters is that all their parts are repairable or replaceable. This means that if the scooter is looked after, it can be kept on the road for a lifetime and not end up in landfill. All the parts are easy to purchase on the Micro scooters website.
The mini micro scooter featured is extremely well designed for 2 to 5 year olds. It comes with an adjustable handlebar that suits children from 80 to 110cm in height. The handlebar can be removed from the base for easy transportation and storage. The high quality PU wheels offer a very smooth ride. Young kids find it easy to learn to scoot with the lean to steer mechanism. It's also very light. At just 1.95kg, young kids can easily lift it up kerbs or steps. When kids first learn to scoot, they often pick up the scooter to change direction so the design on this scooter makes it easy for young kids to do this.
Maxi Micro Eco Friendly Scooter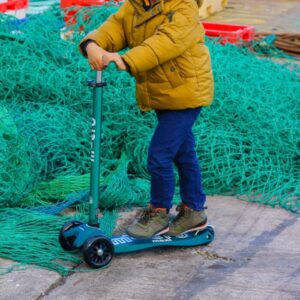 The Maxi Micro Eco-friendly scooter is another 3 wheels scooter with a deck made of recycled ocean plastic. The Maxi Micro is designed for kids aged between 5 and 12. There is a height adjustable handlebar that you can set at any point between 68-91cm. This accommodates kids from approximately 110cm to 152cm tall.
Another feature is the anodised stem - this gives extra protection against wear and tear so you can use the scooter for longer.
An extra grippy deck gives greater control. There's a rear brake for safety. The scooter uses an intuitive lean to steer riding system so riders lean left to go left and right to go right. You can remove the base from the deck when you need to transport or store the scooter.
Like the Mini Micro, the deck is made from recycled fishing nets that are removed from the ocean, cleaned and broken down into chips. The chips are then melted, coloured and poured into a deck mould.
Like the Mini Micro Eco scooter, the Maxi scooter has replaceable parts so that the next generation of kids can continue to use the scooter.
How to Buy an Eco Friendly Kick Scooter
Avoid the cheapest scooters
I have bought many cheap scooters in my time and the problem is that they last for a year or two at most. Then you have to buy a replacement scooter, so you consume more valuable resources. In addition to this, the cheap scooter you had cannot be passed onto anybody else. It needs to be recycled or ends up in landfill.
Cheap scooters are often made of materials that aren't recyclable. For example, many of the cheapest three wheels scooters for toddlers and preschoolers have plastic decks and wheels.
Cheap scooters are often made of parts that can be repaired or replaced. Once a wheel or another scooter part has worn out, you have to get rid of the scooter and buy another one.
I can hear people say that's all very well said and done, but what if you haven't got the money to buy a more expensive scooter?
This is definitely a problem for many consumers. I know, I've been there. I have purchased cheap scooters because I've been on a tight budget. The good news is, there are a couple of solutions.
Firstly, be aware that if you spend a little extra now, you will save money in the long run. It's true that if you buy cheap, you buy twice. Scooters with high quality components and repairable parts can last many years, rather than just one or two.
If stretching your budget isn't an option, consider my next tip for buying an eco-friendly scooter which is to buy secondhand.
Buy Secondhand
There are so many ways you can buy scooters second hand nowadays. EBay and Facebook marketplace are two options. When you buy secondhand, look for a scooter with repairable and replaceable parts so that you can address any issues if things go wrong.
Buy A Scooter With Replaceable and / Or Repairable Parts
Before you purchase a scooter, look to see if you can buy replaceable parts to replace parts if they wear out. A quick Google search normally gives you an answer. Obviously the more parts you can replace the better. We have featured some options below.
Pro Stunt Scooters
If you're looking to buy an eco friendly scooter for your child, one option is to go for a high end pro stunt scooter. Most pro stunt scooters have replaceable parts. And they are also easy to come by online at sites such as skate hut.
Stunt scooter parts are also likely to last longer as they are designed for heavy use and punishment from jumps and tricks.
Stunt scooters can easily be ridden on the street as well as used at the skate park. And as they aren't being put under much impact when used as a kick scooter, they are going to last a long time.
Also, many parts on pro stunt scooters are made from materials such as aluminium which is easily recyclable when finished with. In the UK you can just take it along to your local household recycling centre.
Avoid cheap stunt scooters. The materials in cheaper stunt scooters tend to be plastic and soft metals, which means they're more likely to break or become damaged while riding. Not only is that dangerous when kids are using these stunt scooters on the skate park but the scooters are unlikely to be easy to repair. The parts in cheap stunt scooters normally aren't as easily replaceable or readily available to buy.
Sacrifice Unisex-Youth Sacci Junior Scooter

The Sacrifice Junior scooter is aimed at the beginner stunt scooter rider but this would be equally as good as a kick scooter as well.  It's a good choice for younger kids from
It's durable and strong with a deck made of heat treated aluminium and a bar made of steel. Both of these materials can be recycled.
It's fully upgradeable and compatible with aftermarket parts.
It's lightweight at just 3.6kg so easy for young kids to control and manoeuvre. The maximum load capacity is 60kg.
Blunt Scooters
Blunt scooters are a brand of stunt scooters. Their scooter have parts that are easily replaced and readily available on the Internet. Do a quick Google search to find parts that you purchase online.
Blunt Scooters One S3 Complete Scooter


The S3 complete scooter is a great beginner and / or developing stunt or kick scooter for kids aged between 5 to 10 years.
It's built up from a high level of durable pro scooter parts so will endure the impact young kids can throw at it.
The S3 complete is great for cruising along the streets or attempting some first tricks at the skate park.
The total scooter height is 79cm. The bar spins 360 degrees for tricks.
The bars are made of Chromoly steel and the deck from aluminum. Both metals can be recycled.
The overall weight of the scooter is 3.6kg, which makes it easier for young kids to control.
You can buy replacement parts and upgrade the scooter if and when you need to.
Blunt Scooters Prodigy S8 Street Edition

The Prodigy S8 is a step up from the S3 complete scooter. Perfect for the intermediate stunt scooter rider looking to move to the next level of tricks. It also makes a good kick scooter too!
It's a taller scooter and measures 88cm. Ideally, stunt scooter riders want a scooter that comes up between hip and waist height, so you can measure your child and see if the height of this scooter suits them. This makes it a good choice for the tween and teenage age group.
Its deck and bars are made of aluminum which is easily recycled.
It features 120mm x 24mm wheels which are speedy and fast. They are great for intermediate riders performing tricks but will also give a smooth ride from a to b. It has a long and wide footplate which is great for bigger feet.
The total weight of the scooter is 3.48kg
You can easily replace worn out parts. There are many stockists online, a quick google search will help you find the part you require.

Micro Scooters
Below are are range of Micro scooters. They are all modular which means that all their parts can be removed, repaired and /or replaced. There is a full suite of replaceable parts on the Micro website, so you can easily obtain the part you need when you need it.
This makes these scooters much more eco friendly than other scooter as you can keep them on the road rather than throw them into landfill and purchase another scooter.
They also hold their resale value well, so you can sell them on eBay or Facebook marketplace at a decent price if you look after them well.
Micro Cruiser
The Micro cruiser is a big wheel scooter aimed at kids between 5 and 10 years old who are between 110 and 146cm.
The 200mm wheels are designed to help kids scoot super quickly from a to b. Bigger wheels go quicker. They also absorb the bumps and cracks in the pavement well leading to an ultra smooth and comfortable ride.
The wide bike-style handlebars make controlling the scooter a breeze. A low footplate also adds stability. The handlebars are adjustable so you can ensure the Cruiser is the perfect height for your child. Stand it upright with the handy kickstand - meaning it's less likely to get scratched and damaged as you won't need to lean it against a wall or lay it on the ground.
It can be folded so is easy to store too.
Replacement parts are readily available on the Micro website.
Micro Sprite
The Micro Sprite is a 2 wheeled kick scooter for kids aged between 5 and 12 years old.
The handlebar is adjustable and is suitable for children up to 152cm tall so can last your child for years.
It's foldable and light, weighing just 2.7kg. This makes it easy to transport and store.
It has handlebar controlled steering.
The Sprite has been built to last for years throughout a childhood. Easily replace parts if they wear out and pass onto siblings or friends when finished with.
Micro Trixx Scooter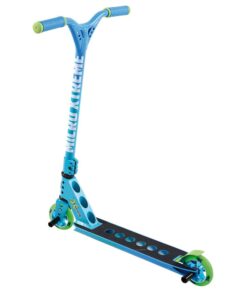 The Micro Trixx is Micro's stunt scooter offering. It's designed for kids aged between 5 and 12. It's smaller than other scooters so that it's lighter making it easier for kids to manoeuvre The more compact frame makes it easier for children to manage its weight and size. The smaller than normal footplate for little feet gives children more control when performing tricks at the skate park. And a shorter handlebar gives more control when performing jumps and tricks.
All the key parts can be repaired or replaced. So you can substitute worn out parts when needed.
It is made out of lightweight aluminium which is an easy to recycled material when parts do need replacing.
Help With Repairing Your Scooter
You've purchased a scooter with replaceable parts and now you need to repair it. But you have no idea where to start. Have no fear, help is at hand. Here are some ideas:
Halfords
Halfords will repair scooters in-store. You can read more about their scooter repair service on the Halfords website.
Micro Scooters
If you have a micro scooter, they have repair scooters in different parts of the UK. However, if you're not close to one of these centres, there are other options. You can buy the replacement part you need and use their instructional videos on their website to see how to repair it. You can even book an appointment with a Micro scooter engineer who will call you back for further help. Find out more on the micro scooter website.
YouTube
YouTube has a wealth of videos with help for repairing scooters. Do a quick search and 9 times out of 10, you'll find what you need.
Bike Shops
Some independent bike shops will also be able to help you with your scooter repair. Why not give them a call to see if they can help.