JD Bug Original Street Scooter Review

*This post has affiliate links, which means we may receive a small commission if you choose to purchase through links we provide (at no extra cost to you). As an Amazon Associate we earn from qualifying purchases.
Why We Love The JD Bug Original Street Scooter
The JD Bug Original Street Scooter is a fantastic, well designed scooter at a very affordable price.
We've been reviewing scooters for many years  and the JD Bug Original Street Scooter tops the list of best scooters time and time again.
The scooter first appeared in the early 2000s when the popularity of kick scooters for kids first took off.
Despite being around for many years, it's still one of the best kick scooters for kids in 2023.
Find out why we like it so much.
Affordable
You can currently pick the scooter up for around £55 on Amazon. When you're looking at paying £125 for the rival Micro Sprite scooter, it's a hell of a lot cheaper! Yet, it equals and even exceeds the Micro Sprite (which is an excellent scooter) on many of it's features. You can compare the differences between the JD Bug and the Micro Sprite scooter here.
Huge Height Adjustable Handlebar Range
The real plus of the JD Bug Original Street scooter is the handlebar. It adjusts from 63cm all the way up to 95cm.  The huge height adjustment accommodates children as young as 4 or 5 up to the teenage years. Even adults who are under the maximum weight limit can ride the JD Bug.
The quick release clamp on the handlebar makes changing the height easy and you can choose any height you want!
Super Light
This super light scooter weighs just 2.8kg making it one of the lightest kick scooters for kids on the market. Being light is a real advantage. A light scooter is much easier for kids to control and manoeuvre. Plus, it's easy to carry and transport.
Foldable And Portable (with Carry Strap)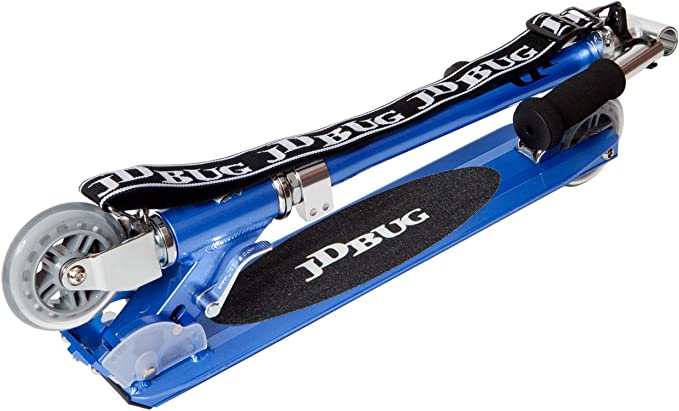 A simple, easy to operate single lever folding mechanism makes folding the scooter a breeze. A plastic guard prevents fingers becoming caught, so kids can learn to fold and unfold the scooter independently. It's compact size makes the scooter easy to store. Put in the boot of the car or a locker at school. On top of this, unlike any of it's competitors, the JD Bug Street Scooter comes with a convenient carry strap making it easy to carry the scooter on your shoulder.
A Smooth, Comfortable Ride
The scooter is well designed and constructed making the riding experience easy and enjoyable for kids.
Hard wearing 100mm clear urethane wheels offer a smooth and comfortable roll along the pavements. The strong deck is made of aircraft grade aluminium and measures 510mm by 100mm so there is plenty of room for growing feet. A large, rear spring brake brings riders to a slow and controlled stop. The brake is easy for even the youngest kids to use. For extra peace of mind, there is a non slip footplate to make children feel secure while they are riding the scooter. In addition, the soft foam hand grips are warm and comfortable.
Lots of Colours
The JD Bug comes in a wide variety of colors to suit all tastes. Choose from sky blue, black, pink, purple, reflex blue or red.
What Else Should I Know?
The maximum weight limit on the JD Bug Original Street scooter is 100kg. This means that many adults can have a go on this scooter but only if they don't exceed the weight limit. You may find the JD Bug is a little small for some adults to have as their principal scooter. If you're a tall adult looking for a scooter, you will probably want a scooter that adjusts higher than the maximum height of 95cm on this scooter.
On the downside, the scooter lacks a kick stand.  If we could improve the scooter in any way, it would be to add a kickstand. However, kickstands aren't essential, just a nice extra!
Who Should Get the JD Bug Original Street Scooter
This is a great scooter for kids of all ages. It's excellent if you're looking for a kid's first 2 wheel scooter as it's easy for young riders to use. In addition, it will grow with your child. Having said this, this is also a great 2 wheel kick scooter for older kids too. The height adjustments on the handlebar also mean that siblings and even parents can have a go.
Who Shouldn't Get This Scooter?
If you're looking for a scooter for jumps and tricks, this isn't the right scooter for you. Stunt scooters have fixed handlebars which can't adjust or fold. This is because points where scooters fold and adjust are not designed to withstand the force and impact of jumps and tricks. A folding mechanism on any scooter is a weak point that could break under pressure in the middle of a stunt.
Specifications at a Glance
Feature
JD Bug Original Street Scooter
Foldable
Yes
Brake
Rear Footbrake
Accessories
Multi mount clip and shoulder strap
Bearings
ABEC 5
Deck
510mm x 100mm
Wheels
100mm wheels
86a durometer
PU wheels (clear hub)
Max rider weight
100kg
Handlebars (height adjustment)
63cm-95cm
Age Recommendation
4 plus
Weight of scooter
2.7kg
Overall Verdict
We love this scooter for:
the huge height adjustment on the handlebar
the quality of build at an excellent price point
it's portability
a great riding experience.
If you're looking for a kick scooter at an affordable price for your child. It's difficult to go wrong with the JD Bug Original Street Scooter.
You can buy the JD Original Street Scooter and AmazonUK