Razor Power Core E100 Vs Classic E100 - Which is the Best?
Razor sells two versions of the E100 scooter. The first is the standad E100 scooter. The second is the Power Core E100. The Power core E100 was designed to be lighter, have a maintenance free in hub motor and deliver 20 more minutes continuous use. Compare the stats between the two below.
*This post has affiliate links, which means we may receive a small commission if you choose to purchase through links we provide (at no extra cost to you). As an Amazon Associate we earn from qualifying purchases.
Feature

Power Core E100

E100

Age Recommendation

8 plus

8 plus

Price

Speed

Up to 11mph

Up to 10mph

Tyres / Wheels

8" pneumatic front tyre
Urethane rear wheel

8" pneumatic front tyre
Urethane rear wheel

 Ride Time

60 minutes

40 minutes

Acceleration Control

Twist grip acceleration

Twist grip acceleration

Brake

Hand operated caliper front brake

Hand operated front brake

Frame and fork material

All Steel frame and fork

All steel frame and fork

Maximum rider weight

54kg

54kg

Batteries

24V (2x 12V)

24 V (2x12V)

Kickstand

Yes

Yes

Motor

Kick Start In Wheel Hub Motor

Kick start chain driven motor

Frame Height

35"

36"

Frame Width

33.7"

34"

Scooter Weight

12kg

13kg
Pros and Cons of the Power Core E100
Pros
The Motor
The Power Core E100 features a different motor to the classic E100. It has an in hub motor which doesn't require any maintenence (it will have no chain aligment or tension issues).  It is a higher torque motor so promises better acceleration and a higher top speed (11mph).The motor is also quieter.
Increased ride time
​The ride time is 50% longer than the classic at 60 minutes per charge
Lighter
It is slightly lighter than the E100 and is cheaper too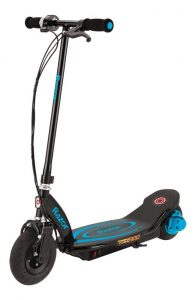 Cons
On paper the Power Core E100 looks much better than the classic. However, the reviews have been mixed. Although there are some excellent reviews from many people, there seem to have been charging issues with some scooters. Check out the reviews on amazon here.
Pros and Cons of the Classic E100
Pros
Award winner since 2003.
The classic E100 has been around since 2003, so it's an electric scooter which has stood the test of time.
Design
The classic design features a kid sized deck and frame perfect for kids aged 8 plus.
Motor
It has a reliable high torque chain driven motor
Other Features
It has some great features, speed up to 10mph, a pnuematic front wheel which gives comfort to the rider.

Cons
Motor
Although the motor is realiable as it is chain driven it may need some maintenence such as tightening the chain.
Ride Time
The ride time is 40 minutes which is good but not as good as the power core scooter which has 60 minutes ride time.
Price 
It's currently more expensive than the power core E100
Other Points to Consider
Kick Start Mechanism
There are many similarities between the scooters. Even though they have different motors they both have a kick start mechanism. This means that the rider needs to kick the scooter along to get the motor going.
One Speed.
Both scooters have one speed. So once the motor is on, the scooter goes at that one speed. It is either on or off. For the classic E100, the speed is 10mph. For the Power Core E100, the speed is 11mph.
Brakes
Both scooters have hand operated brakes. However the power core E100 has a hand operated caliper brake. The brake on the classic E100 is also hand operated but it is a bit more basic.
​Price
At the time of writing, you can pick up the E100 power core at a slightly cheaper price than the classic E100.
See The scooters in action