Micro Classic Scooter for Adults: A Review
Micro gifted us a Micro classic scooter for my teenage son (age 14) and myself to test drive. And we had so much fun!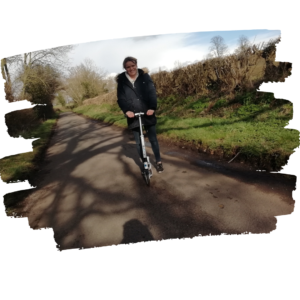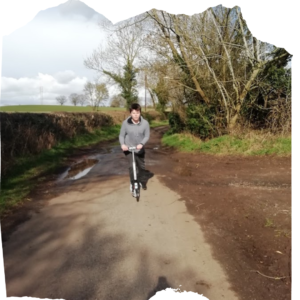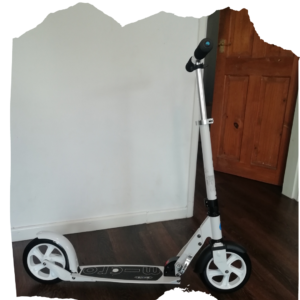 It gave us the opportunity to give the Micro Classic a thorough review. Read on to find out everything you need to know about this scooter, including what we liked, what we didn't and who this scooter is best for.
Key Features of the Micro Classic
Large Wheels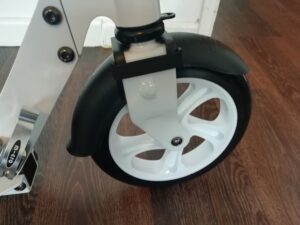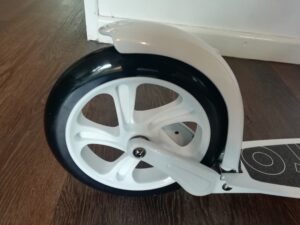 On opening the box, the first thing my husband wanted to know is why are the wheels so big. The answer is that larger wheels go faster with less effort. The Classic's wheels are an impressive 200mm. This is awesome when scooting, as you need fewer kicks to get the Micro Classic up to speed. You go much quicker than on a scooter with smaller wheels. The large wheels also glide over the bumps and cracks in the pavement easily giving a comfortable ride.
The wheels are made of high quality polyurethane (PU) which roll along extremely smoothly. You don't have to worry about punctures. Bigger wheels mean more polyurethane, so they last a lot longer than their smaller counterparts.
Foldable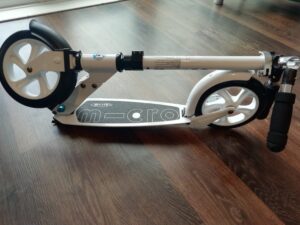 The scooter is quick to fold! Just lift the lever and push two buttons on either side of the scooter to fold. I did find folding the scooter a little tricky at first. It would be easier if there was just one button to press when you folded it or if you could do the folding action with your foot.
Having said this, once I got used to folding it, it became easy and didn't take any time at all. It's just a case of finding the knack! A folding scooter is very handy if you need to lift it onto a bus, up some steps or in the car boot.
Low Deck
The deck measures about 5cm from the ground of the floor. It's important to have a low deck on a kick scooter as the further your kicking leg has to reach down to the floor to push along, the harder you have to work. The Micro classic does a good job of having a low deck without it being too low. Some scooters have such low decks, they scrape bumps in the pavement, which can be dangerous if you're going quickly. The Micro's deck is high enough to avoid any scrapes and low enough to give a comfortable ride.
How Does it Feel to Ride the Micro Classic Scooter?
Fun is the first word that comes to mind! Speedy and smooth also sum up the riding experience. If you want a scooter for your commute, it's a superb choice.
It takes a few kicks to get up some momentum, but then it's an effortless ride. The Micro can pick up some speed, especially going down a slope. There's no rattling. You can feel the high quality build of the scooter when riding it. It feels easy to control. I enjoyed resting the top of my kicking foot at an angle on the back of the deck and rolling along between pushes.
My teenage son loved it! He has ridden many scooters in his time and he complimented the Micro for being smooth and fast. He uses it for trips to the local shop and when lockdown is over, it will be great transport to get to his friend's houses.
If you're using the scooter for the first time, make sure you practice using the brake before getting up to speed. It can surprise you how fast you're going when you suddenly need to stop! Luckily the rear foot brake is big, easy to use and very responsive.
Who's the Micro Classic Best For?
This is a brilliant scooter for teenagers and adults. The telescopic handlebar adjusts to any height between 73cm to 102cm. This means there is a suitable height setting for all four of our family from my 9 year old son (who is 4'4") to my husband (who is 6' 1"). My husband had it on the highest setting and it was perfectly sized for him. Incidentally, my husband also loved whizzing around on the Classic.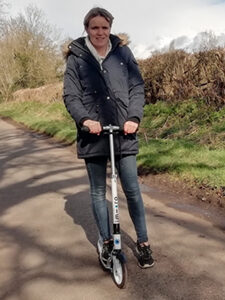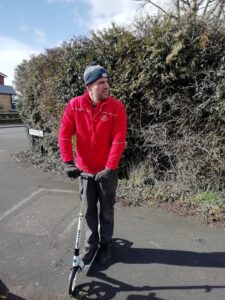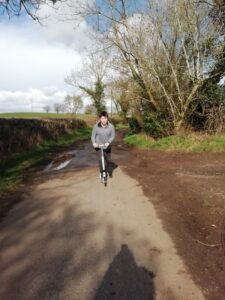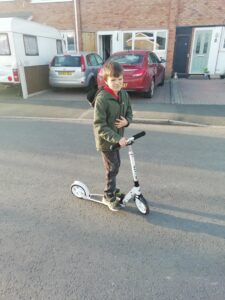 It is an ideal scooter for commutes to work, college or school. Fold it to take on the bus or train. The folded dimensions are 74cm x 12.7cm x 30cm so it's possible to store this under a desk at work.
It's also an excellent choice for adults who want to scoot alongside their kids on the school run or at the park. Teenagers will love the speed and the fun factor.
It weighs 4.7kg. This is fine to lift onto public transport, in the car boot or to carry up a flight of stairs. I folded it and carried it for a while on our test drive to see how heavy it was. I could carry it for a fair while (about 5 minutes while walking) but you wouldn't want to carry it for a long time unless you're super strong.
Other things to know
The Deck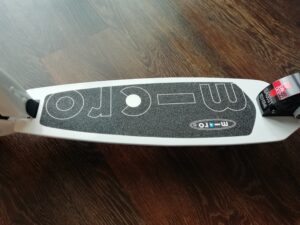 The deck is wide and has plenty of foot space. It measures 41cm in width and 12.7cm in length. I had enough space for one foot and to rest my kicking foot at an angle in between pushing along. There was also plenty of space for my husband's size 11 foot.
Kickstand
I love a kickstand on a scooter. It makes it easy to store in a garage, shed or bike stand. One small gripe with the kickstand is that although I could push it back in with my foot, I had to use my hand to pull the kickstand out. It would be even better if you could operate it fully with your foot.
Grips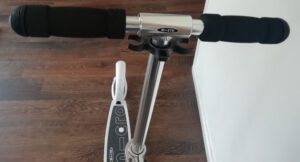 The grips are often overlooked when choosing a scooter. It's not until you ride a scooter you realise how important they are. You don't want cheap, flimsy grips that rub on your hands. This isn't the case with the Micro Classic. The grips on the Micro feel soft, thick and comfortable while riding.
Handlebar
The handlebar was a breeze to adjust. Simply pull out the lever, move the handlebar to the required height and push the lever back in again.
What I'd love to see is a carry strap included with the Micro classic. We had to go up quite a steep muddy incline on our travels, so it would have been brilliant to transport the classic with a carry strap once folded. The good news is you can purchase these separately from Micro to use with their classic scooter, so it doesn't need to be a problem.
What Else Do I Like about the Micro Classic?
The brilliant thing about Micro scooters is that all their parts are repairable and replaceable. This means you can keep the scooter on the road and out of the landfill for a long time.
Yes, the initial outlay can be expensive compared to some other scooter brands. But whereas a cheaper brand will be off the road in a year or two, you can repair or replace parts on the classic keeping it going for years. This is better both for the environment and for your wallet. All the replacement parts are available to purchase on the micro website.
Alternatives to the Micro Classic
If you are looking for a scooter for commuting it's worth being aware of alternatives and the unique features they offer so you can make an informed decision.
Scooters with suspension
Scooters with suspension offer an even more comfortable ride as the suspension absorbs the shocks and bumps from the pavement. Suspension is good if you're scooting on rough terrain such as on bumpy paths. The downside of suspension is that it adds extra weight to the scooter. Not so great if you need to lift it up steps or carry it for part of a commute. Scooters with suspension are also more expensive.
If you think you'd suit a scooter with suspension, check out the Micro Suspension Scooter
Scooters with air Filled Tyres
As stated earlier, the Micro Classic has high quality PU tyres rather than air filled tyres. I prefer PU tyres on a commuter scooter for many reasons. Firstly, you don't have to worry about punctures. Secondly, they offer a smooth glide. Scooters with air filled tyres are heavier, which again isn't great if you need to carry your scooter. They are often slower too.
The good thing about air filled tyres is that they offer a more cushioned ride, absorbing more of the shocks and bumps from the pavement. They also offer more grip on wet surfaces and you can ride them more easily on rough terrain.
Lighter and Smaller Scooters
I love that the Micro Classic has amazing, large wheels for a fast ride. However, scooters with big wheels weigh more and are bigger when folded. If you want a smaller, lighter and more compact scooter, look for options with smaller wheels such as the Micro Speed. The Speed's 145mm wheels still enable a quick ride but it's lighter to carry and more compact when folded.
Smaller scooters can be better if you need to pick them up and walk with them during a commute or if you need to carry them up a flight of stairs or a steep hill.
Overall Verdict on the Micro Classic
We loved the Micro Classic. If you're looking for a high quality, large wheeled scooter for fun or a quick and comfortable commute, it's difficult to go wrong. Smooth and fast. Durable and strong. It's going to last a long time if it's looked after. It's truly an excellent kick scooter for teenagers and adults alike.
You can buy the Micro Classic scooter direct from their website. It comes in white and black. There's also the option to personalise the grip tape.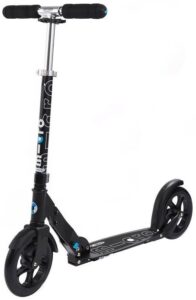 If you're still not convinced, this video from Micro shows the scooter in action.