Ozbozz My First Scooter – Review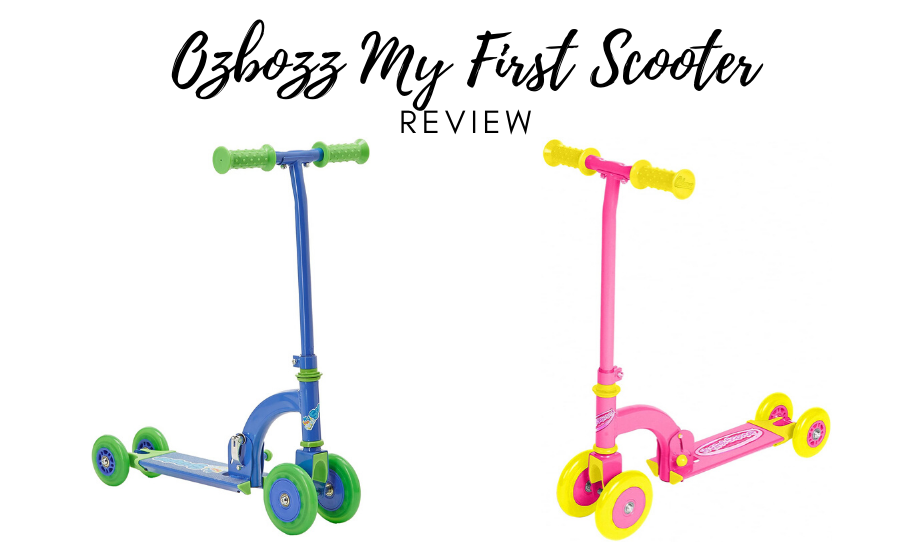 If you're looking for a cheap and cheerful first scooter for a toddler or preschooler the Ozbozz ticks both boxes. But if you're wondering whether it may be worth spending more on another scooter for your little one, this may also be true.
This article answers the questions you have about the Ozbozz My First scooter to help you make the right decision for you and your child.
*This post has affiliate links, which means we may receive a small commission if you choose to purchase through links we provide (at no extra cost to you). As an Amazon Associate we earn from qualifying purchases.
Ozbozz - My First Scooter
The Ozbozz My First Scooter is best for 2 to 4 year olds.
With a design which converts from 4 to 3 to 2 wheels, this scooter adapts to the needs of a young child.
The Ozbozz features handlebar operated steering and conveniently folds.
The Price and Value for Money
One thing is certain, the Ozbozz cannot be beaten on price.
But is it a case of buy cheap buy twice?
Well,  how long do you expect a £20 scooter to last for? Generally, it does its job of being a standard first scooter for a toddler or preschooler.
The lifespan of the scooter is short (approximately a year), by which time many little ones will be ready to move onto the next scooter.
Having said this, something like the Mini micro will cost you more but you will get more years of use out of it. And it can be passed down to siblings.
Design
Designed for young children, the recommended age range is 2 to 5 years.
What's really unique about the scooter is its ability to convert it from 4 to 3 to 2 wheels. The tiniest tots can start out with the stability of four wheels. As their confidence and ability grow it's easy to convert the scooter to three wheels.
As already mentioned the scooter has handlebar controlled steering as opposed to lean to steer.
Other design features to note is a short deck that is sized for little feet. The small deck size makes it easier to control.
We especially like the bright and colorful design with coordinating hand grips which is visually appealing to young kids. Choose between pink and green.
Weight and Weight Limit.
How much does it weight and how much can it support?
The Ozbozz is exceptionally light at just 2.7kg.
Lighter scooters make it easy for kids as young as 2 to pick it up to go up and down curbs. Being light also makes it easier to control and manoeuvre.
A maximum weight limit of 20kg (which is just over 3 stone) will accommodate most little ones.
Brakes
There are no brakes on this Ozbozz.
What? No brakes!? I hear you ask.
No brakes might sound like a disadvantage. But what you will find is very young children will rarely use a brake on a scooter. They tend to slow down by using their feet. So not having a brake, fits in with the design aim of being for the youngest of kids.
Additionally, as the scooter isn't the fastest and takes a fair amount of kicking power, the scooter is unlikely to run away with children.
Having no brakes helps keep this scooter very light, which is an important feature in a scooter for young kids.
Speed
The scooter can be surprisingly nippy although it isn't the fastest scooter for a young child. This may certainly suit a 2 year old.
However, one thing to note is the Ozbozz does take a lot of kicking to maintain its speed.
Scooters such as the micro have been designed to pick up some speed so little ones can easily cruise without much kicking.
Older kids may get frustrated
As kids get older they may get frustrated with this scooter, whereas other scooters designed for kids to this age can be ridden quite quickly as children get bigger.
Foldability and Portability
The scooter folds which is obviously good for easy transportation and storage. Easy to put in the boot of a car and doesn't take up much space.
Some reviewers complain that the scooter is a bit stiff when being folded. It may help to add some WD-40 to help it fold more easily.
Handlebar
The handlebar measures 67cm from the bottom of the ground to the top of the handlebars which is a nice size for the 2 to 4 age group.
One downside is that the handlebar height isn't adjustable.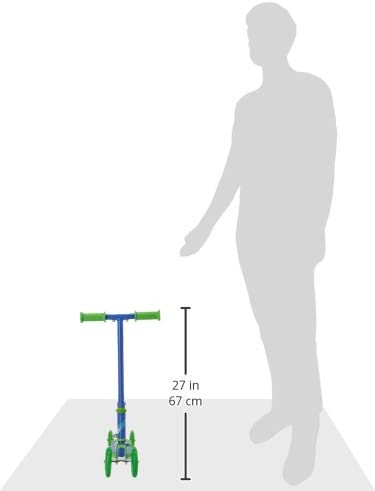 Wheels
The wheels are plastic. This isn't the best material for the wheels on a scooter, Ideally, you would want wheels to be made of polyurethane. Polyurethane offers a much smoother ride and is the material you would find on a higher end scooter such as the mini micro.
Plastic wheels will do the job. However, kids may find that they can feel every bump and vibration as they scooter along. However, this probably won't bother most kids.
The plastic wheels also work better on smooth asphalt rather than pavements with lots of bumps and cracks in the ground.
Assembly
It's fairly easy to assemble, although the instructions could be clearer. It should be complete in 10 minutes. The scooter comes with its own mini tool kit although you may find it easier if you have your own.
Specifications
| Feature | Ozbozz My First Scooter |
| --- | --- |
| | |
| Price | Check Price on amazon |
| Age Recommendation | Ages 2 to 4 |
| Handlebars | One fixed height at 67cm (floor to top of handlebars) |
| Wheels | Plastic |
| Weight of scooter | 2.7kg |
| Max rider weight | 20kg |
| Foldable | Yes |
| Brake | No Brake |
Frequently Asked Questions
Does the scooter have light-up wheels? 
No, unfortunately not. Although the colours of the scooter are bright and appealing.
W0uld this be suitable for a 5, 6 or 7 year old? 
The scooter would be too small for most children in this age group.
Will the scooter stand on its own with 4 wheels? 
Yes, it will keep upright with 4 wheels.
Alternatives
There are many alternatives to the Ozbozz scooter.
One of the most popular is the Mini Micro. But many parents wonder if this scooter is worth the money?
Mini Micro Scooter

In a word, yes - especially if you buy it for a 2 year old. You can get 3 years of use out of the micro and hand it down to siblings too.
It designed to be super lightweight and easy to control for the youngest of children.
Each part of the Micro scooter is replaceable. So if something wears out, it can be repaired or the part replaced.
The micro also features polyurethane wheels, a height-adjustable handlebar and has lean-to steer steering.
3 Style Scooter

The 3 style scooter is a mid-range budget scooter.
It's approximately half the price of the mini micro but about double the price of the Ozbozz scooter.
It has lean to steer steering, polyurethane wheels (for a smooth ride), a height-adjustable handlebar starting at 48cm for the youngest of kids).
You can compare the 3 style scooter and the mini micro scooter here.
Find more alternative scooters for toddlers and for 3 year olds.