The Micro Speed Scooter - A Review
The Micro speed is a good choice for teenagers and adults looking for a nifty scooter for quick, shorter rides.
Like all Micro scooters it's well built and well designed.
But is it the right choice for you?
Read on to find out more.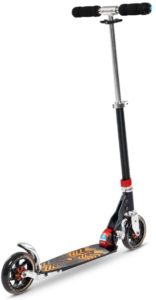 Everything You Need to Know About the Micro Speed Scooter
Do you have unanswered questions about the Micro Speed?
It can be difficult to know if you're investing in the right scooter when you're unsure what all the specs mean and how they will affect your ride.
That's why we have come up with an easy to read and understand guide explaining the pros, cons and specs of the Micro speed.
*This post has affiliate links, which means we may receive a small commission if you choose to purchase through links we provide (at no extra cost to you). As an Amazon Associate we earn from qualifying purchases.
Specifications at a glance
Feature
Micro Speed Scooter
Price
Check Price on amazon
Check price on Micro Scooters
Age Recommendation
Age 10 to Adult
Handlebars
Fully height adjustable from 68cm to 96cm
Wheels
145mm PU wheels
83° Shore A

Weight of scooter
Just under 4kg
Max rider weight
100kg
Foldable
Yes
Brake
Rear foot brake
Scooter Deck Length x Width
34cm x 12 cm
Scooter Folded Length x Width x Height
67cm x 12cm x25 cm
Scooter Material
Aluminium
Other features
Kickstand
Strap Holder
(strap sold separately)
Is the Micro Speed Scooter for you?
The Micro Speed has been designed with teenagers in mind but can also be used by older kids and adults.
If you're looking for a fast, agile ride for hop on and off journeys this could tick the boxes you require.
If you want a scooter for longer commutes, there are probably better choices.
What are the best features of the Micro Speed?
The speed does a good job of combining bigger wheels with a scooter which is comfortable to ride and lightweight. The wheels measure 145mm so are big enough to provide a speedy ride (hence the name) but not so big as to add lots of weight to the scooter.
The JD Bug 150 street scooter also has mid sized wheels without compromising on weight but these types of scooters are far and few between.
Additionally, the speed has an integrated shock absorption in the wheel, acting like the suspension on a bike to absorb bumps in the road, offering a comfortable riding experience.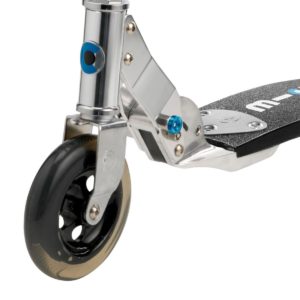 An extendable handlebar which extends from 68cm to 98cm will help you find the ideal size for your height.
Many riders will also appreciate that the rear fender brake also acts as a mud guard, keeping the splash off the bottom of your trousers when scooting along.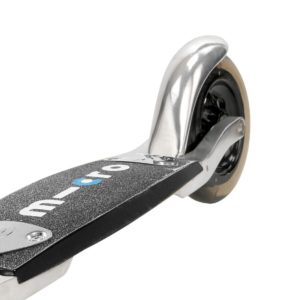 Foldability and Portability
Like most scooters in the micro family, the sprite is seamless to fold. The scooter weighs just under 4kg, which is light considering it's features and the larger wheels.
You may find that 3.8kg still feels quite heavy to carry for long distances but to pick up and store or take on and off public transport it will be a easy for most people.
Another thing to note is that when the speed is folded down it is quite compact compared to other scooters for teens and adults. It folds down to 67cm x 12cm x 2 5 cm. You'll find this is a lot smaller in dimensions to other scooters aimed at teens and adults. This is because the wheels are slightly smaller than other scooters aimed at this age group.
The small folded size can be advantageous if you want to fit it under a desk or in a small corner for storage. You may even get it in some lockers. But you can measure the space you have to check before you buy.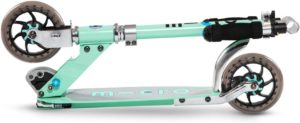 Conveniently you can attach a shoulder strap to the scooter (they are sold separately) if you have to carry it a lot.
Durability
One of the best features of micro scooters is the scooter parts are all repairable and replaceable. This means that you can keep the speed on the road for much longer than other scooters. It also saves putting the scooter in landfill and buying another one down the road - which is great for the environment.
Aesthetics
Does the Micro Speed look good? 
In a word, yes. It's slim, sleek with a shine to it.
You can get this scooter in different colours - black and orange,  silver and unusually mint green. The mint green is quite an unique colour for a teen / adult scooter. Great if you want to look a little different and stand out from the crowd. The black and orange looks kind of different and funky too.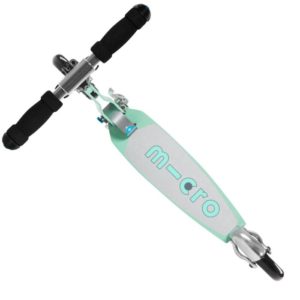 Sometimes, you may pay a little more for the black and orange and mint green than the silver. So if you want to save a few pounds look out for those price differences.
Weight Capacity
The max rider weight is 100kg, which is suitable for most adults to ride it.
Other Features
The speed has a handy kickstand which can be used for parking and storage. Stand it up rather than lay it on the floor or against a wall. It means it takes up less horizontal space while storing and prevents scratches to it's shiny surface.
Where Could the Micro Speed Be Improved?
One of the criticisms of this scooter is that the deck is too low to the ground. A low to the ground deck is generally a desirable feature on a scooter because it means that your kicking leg has less distance to go to push along. This means a more comfortable ride for most people. The downside is that sometimes the scooter make get scratched and scraped along the bottom of the deck and this has been a complaint of the Micro Speed for some riders.
Ideally this scooter is better when riding along smooth pavements rather than roads which may have a lot of bumps in it.
What's the Difference Between the Micro Speed and Micro Speed Deluxe
The Micro speed deluxe features a flexible wood and fibreglass deck. This helps smooth out bumps along the pavement and softens the ride. The deluxe tends to cost about £10 to £20 more.
Overall Verdict
The Micro speed is a fairly unique scooter. Scooters which have mid sized 145mm wheels for teens and adults are few and far between. There is only one alternative with similar sized wheels that comes to mind (the JD Bug 150 - see below). So, it's pretty stand alone in the market.
Micro advertise the fact that it's light and agile, and this is what it is. If you're looking for a nifty scooter which is light to carry but comfortable and easy to ride this could be for you.
It's a good scooter for quick, hop on and hop off journeys. Excellent for use on the school run, college or to the shops or a friend's house. For a serious commuter scooter, a scooter with a bigger wheel is probably a better choice. But if you are likely to go on public transport and use it for short journeys either side this could be a perfect option.
I am always a fan of micro scooters as their quality is second to none. And you can also replace and repair parts. Yes, there's a more expensive outlay in the beginning but it's easy to keep this scooter on the road for a long time. Replaceable parts are easily available to purchase online on the micro website.
A Video Review of the Micro Speed
This video gives a good overview of a rider who's used the speed for 3 weeks.
Alternatives
If you aren't sure that the speed is the scooter for you, there are other scooters to consider. The JD Bug 150 scooter has similar sized wheels and features and is cheaper. The Micro black scooter has bigger wheels and a good choice for longer commutes