Razor E300 Electric Scooter Review
The Razor E300 is speedy and can be used by teens and adults.
It features solid and durable tyres that give a comfortable and easy ride.
But, it is quite heavy and takes a while to charge.
It's affordable and will be one a lot of people consider as it won't break the bank.
The question is, is it right for you?
*This post has affiliate links, which means we may receive a small commission if you choose to purchase through links we provide (at no extra cost to you). As an Amazon Associate we earn from qualifying purchases.
Specifications at a glance
| Feature | E300 |
| --- | --- |
| Age Recommendation | 13 plus |
| Price | Check Price on amazon |
| Tyres/Wheels | 10 inch pneumatic wheels (front and rear) |
| Ride Time | 40 minutes |
| Acceleration Control | Twist grip acceleration |
| Brake | Hand operated rear brake |
| Frame and fork material | All steel frame and fork |
| Maximum rider weight | 100kg |
| Batteries | 24V (2x12V) |
| Kickstand | Yes |
| Motor | High torque, chain driven motor |
| Assembled Product Dimensions | 41"L x 17"W x 42"H |
| Weight | 23.7kg |
| Top Speed | 15mph |
Kick Off, Power And Speed
No kick off is needed on the E300. Just turn it on using the switch at the base and twist the throttle to get going.  One thing to note is that there is no variation on the throttle. It's just on and off.
The handlebars are about the same size as on a bike so you can put the same sort of accessories on there such as a light if you wish too.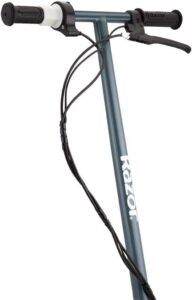 Its top speed is 15mph and it's 200 watt motor gives it a decent amount of power. However, do note that the speed of the Razor E300 will very much depend on the weight of the rider as well as the terrain you are driving on. For example, it may need a bit of kick uphill if you are a heavier rider.
Heavier riders may find it hard to reach the top speed of 15mph and although it copes well with grass and other uneven terrain, it will go the fastest on smooth pavements in urban environments.
However, if you do find the scooter slowing down at any point, perhaps uphill or towards the end of its battery life, you can use leg power to give it an extra kick and keep you going.
Battery and Motor
The E300 features two rechargeable 12V batteries, combining to 24 volts.
The batteries give you 35 minutes to 40 minutes of constant riding on the electric scooter. As previously said, you can use your foot to push the scooter along giving you peace of mind that you can still keep the scooter going if the battery runs down.
It takes 10 to 12 hours to recharge the batteries. This is a long time, so if you plan to use the scooter frequently it may be worth planning ahead and making sure you have enough time to charge the scooter when you need to. It's also worth noting that it shouldn't be left to charge longer than is necessary and it's also important to charge it after every use.
Lead-acid batteries are cheaper but they do weigh a lot. It can be lifted up by an adult but you wouldn't want to carry it for a long time.
As it takes a long time to charge the batteries. It needs to be charged for about 18 hours before its first use and about 12 hours between each use after that. It's always worth keeping in mind how you can extend the battery life. It's a good idea to keep it switched off at the base when it's not in use to help save the battery. Also for long periods when you don't use it try and ensure you charge it about twice a month.
When riding you can always switch between using the scooter as a kick scooter and an electric scooter to help preserve the battery life for longer as well.
Age Recommendation and Weight Capacity
The Razor E300 is recommended for teenagers and adults to use and the maximum weight capacity is 100kg.
Can Kids Ride the E300?
The official recommended age for this scooter by Razor is 13 plus. However, there are reviews of kids younger than 13 using the scooter. The scooter can be quick so it's worth asking whether the child in question will be able to handle the speed. It's also heavier than other models which can make it more difficult for younger kids to manoeuvre. Overall, it's a personal choice as to whether each rider can handle the scooter.
There are other electric scooters that Razor make that may be better for younger children. They include the Razor E200 and the Razor Power Core E90 - both offer slower speeds and also a cheaper price.
Wheels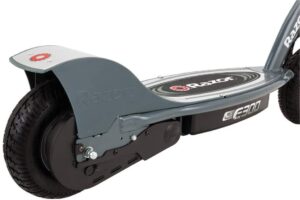 One impressive feature of the E300 is the extra wide 10 inch inflated tyres. They offer a cushioned ride with plenty of tread and work especially well on urban environments such as pavements. As well as smoother surfaces, the tyres also do well on more uneven paths with grass and light gravel. You may find that more uneven terrain will slow the scooter down but this will be the case with the majority of electric scooters.
Overall, the big chunky thick tyres are great - you don't have to worry about little bumps anywhere.
Other Features
Brake: The E300 has a nice rear brake which is operated via the handlebars and works well.
Weight and Portability:
The E300 is heavy! It's not designed with portability in mind. You can't fold it and it weighs 23.59kg or 53lbs. Most adults will have no trouble lifting the scooter but you won't want to be carrying it for a long time. This should be fine for most riders. But if you're looking for something to take on public transport it's not a great fit.
Other things to note are the power button, DC power outlet and a retractable kickstand can be found on the base of the scooter, on the side.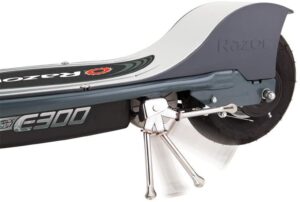 Assembly
Assembly is pretty easy and generally takes around 10 minutes. You will need to fit the handlebar to the base with an allen key. And you will also need to ensure the tyres are inflated to 45 psi, although most scooters are sent out with the tyres inflated.
How To Assemble The Razor E300
This video shows how to assemble the scooter.
How Could the E300 be Improved?
There are a few things to note before purchasing the E300.
The scooter runs on a lead-acid battery. As already mentioned these types of batteries are cheaper but they do work well. However, the downside is they take a long time to charge and add a lot of weight to the scooter. This is why many scooter buyers are willing to spend a little more for a lithium battery. But if you can live with the inconveniences of a lead acid battery it will save you a bit of money at the point of purchase.
The charge time of 12 hours is long. A shorter charge time would obviously be good. But if you are fastidious about charging it after each ride and planning ahead, it shouldn't cause too much of a problem.
Another potential improvement Razor could make on the E300 is having a variable throttle. The throttle is either on or off.  But again the trade off is in the scooter's price. If you like the scooter but a variable throttle is important to you, you can upgrade the scooter yourself with a variable throttle which you could purchase from ebay.
If any of these inconveniences are likely to bother you it may be worth looking at other options. But having said this, you may have to pay more for features such as a variable throttle, pnuematic tyres and a shorter battery charge time.
Overall Verdict
If you're looking for an affordable scooter for a short commute or for fun rides out and about, the E300 could tick all your boxes.
Its best feature is the fat tyres that offer a comfortable ride and can cope with bumps, twigs and gravel on the road.
It's speedy and durable and comes in at a very competitive price point.
However, it's fair to say it doesn't have all the bells and whistles of a top commuter scooter. There's no battery indicator, light or lock. Heavier riders may struggle to reach the top speeds and it's not the best for long journeys. Having said this,  it's an excellent price, comfortable ride and speedy so will still suit the needs of many teens and adults.
Alternatives
If you aren't sure that the Razor E300 is the scooter for you, there are many other electric scooters to consider.
For kids and teens, Razor make various models of electric scooter including the Power Core E90 and the Razor E200.
For adults who want to commute, you may want to consider the Xiaomi M365.