Razor E200 vs Razor E300 - Which is the Best Electric Scooter?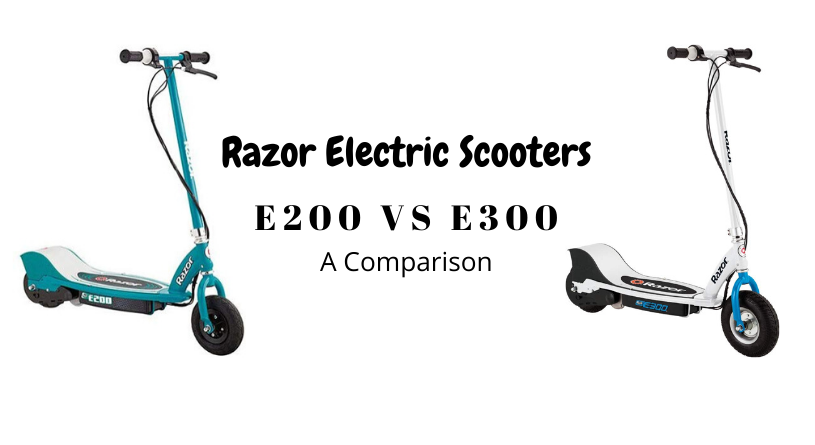 Looking for a speedy scooter for an older child, teen or even an adult? Can't decide whether the Razor E200 or the E300 scooter would suit you the best?
Both models are great for speedy rides across the neighborhood, leisurely rides at the park or short journeys. But with slightly different specifications and price points, it can be hard to decide between them.
To help make a decision read our comparison of the Razor E200 vs E300.
| Feature | E200 | E300 |
| --- | --- | --- |
| Age Recommendation | 13 plus | 13 plus |
| Price | Check Price on amazon | Check Price on amazon |
| Tyres/Wheels | 8 inch pneumatic wheels (front and rear) | 10 inch pneumatic wheels (front and rear) |
| Ride Time | 40 minutes | 40 minutes |
| Acceleration Control | Twist grip acceleration | Twist grip acceleration |
| Brake | Hand operated rear brake | Hand operated rear brake |
| Frame and fork material | All steel frame and fork | All steel frame and fork |
| Maximum rider weight | 70kg | 100kg |
| Batteries | 24V (2x12V) | 24V (2x12V) |
| Kickstand | Yes | Yes |
| Motor | High torque, chain driven motor | High torque, chain driven motor |
| Assembled Product Dimensions | 37"L x 16"W x 42"H | 41"L x 17"W x 42"H |
| Weight | 18kg | 23.7kg |
| Top Speed | 12mph | 15mph |
Age Guidance
Both scooters are officially recommended for kids aged 13 plus. Having said this, there are many reviews of much younger kids using both scooters. The Razor E200 is smaller and has lower speeds making it a better choice for younger kids. The speedier and slightly larger E300 is the better choice for older and bigger kids, teens and adults.
Whether the faster E300 is suitable for your own child is a personal parental decision. It's will be a judgement call according to the person riding the scooter, taking into account their confidence and abilities.
Top Speeds
If you want a speedier scooter, than go for the E300 which has a maximum speed of 15mph compared to 12mph on the E200.
Neither scooters need a kick-off, just step on, twist the throttle and off you go. Both scooters have twist-grip acceleration to control the speed.
Bear in mind that the weight of the rider will have an effect on the max speed of the scooter. Heavier riders will go more slowly. Also, the terrain may slow the scooter down as well as weather conditions.
Going uphill and on more uneven terrain will always affect the speed of the scooter whichever one you choose. Also as the scooter battery charge wanes it may cause the scooter to slow down somewhat.
Lighter, smaller kids will always go faster on these scooters than heavier adults.
How Long Do The Batteries Last?
Both scooters have a 40 minutes maximum ride time and the batteries take approximately 12 hours to charge. Heavier riders will run the battery out much quicker on both scooters so this is something to bear in mind.
There are a few things you can do to help you take care of the batteries on both the E200 and E300 scooters which very much applies to all electric scooter batteries.
1.)  Always make sure the scooter is turned off when it's not in use.
2.) Try not to deplete the battery to completely zero charge. Try and leave some charge in the battery at the end of each ride. Even if you don't burn the battery charge over the course of one ride, charge it in the evening anyway. Charging the battery regularly and not leaving it discharged for a long time will help lengthen the battery life.
3.) Store it at an optimum temperature and in dry conditions. Don't leave it in very low temperatures such as in a garage or shed during cold nights overnight. Likewise, keeping it out in the hot sun during the day won't help the battery life either.
4.) Finally, if you don't use the scooter for a significant period of time, occasionally charge it. Once every 30 days is a good guideline.
Frame Size and Weight Capacity
The E300 is slightly bigger in size and weight than the E200. The E300 has a supersized deck and frame, making it the best choice for older, taller and heavier riders. It weighs 23.7kg so it is heavy! You don't want to have to carry the E300 for very long at all.
The E200 still features a full sized deck which is fine for teens and adults up to 70kg. It is lighter but at 18kg, it's not one to carry for long distances either.
These scooters aren't ones to get for taking on public transport as they aren't foldable and they're heavy to lift and carry. Much better for leisure and fun use than commuting!
Motor
The E200 features a 200 watt high-torque, chain-driven motor compared to the 250 watt high-torque, chain-driver motor on the E300. Obviously the motor is more powerful on the E300 helping it reach a 15mph top speed.
The motors do make some noise when riding but aren't particularly loud.
Watch the video below to hear how much noise the E200 makes and what the rider can hear. (It also shows you the top speeds rideable by a 6ft 4 in adult - kids should go much faster due to being lighter!).
Some maintenance may be required such as lubrication and chain alignment at times.
Tyres
Both scooters have pneumatic tyres which offer a comfortable and smooth ride. The pneumatic tyres will brake better than urethane tyres in the wet and on slippy surfaces. They offer more traction which is what you want at higher speeds.
The difference in the wheels between the two electrics scooters is the size. The E200 has 8 inch wheels compared to 10 inch wheels on the E300. The bigger wheels on the E300 mean that it will get you further much more quickly.
The tyres work best on smooth, flat surfaces such as pavements. They will work on terrain such as short grass but aren't really designed for use on rough ground, so don't get either of the scooters if you want an off-road electric scooter.
Other Features
Both scooters have a kickstand which will allow you to stand the scooters anywhere for while you take a break. It also means it can be stored upright.
There is a hand-operated rear brake on both scooters for easy stopping and extra control.
Can Adults Ride the E200 and E300?
In a word yes, but there are things you need to be aware of. Adults are heavier. Therefore they are likely to find the scooter will go much slower than when a child is riding it. A 40kg child will speed around whereas a 100kg adult won't. Adults will also find the battery life runs out much more quickly.
If you're looking for a commuter scooter, the bigger E300 might be okay for very short journeys but it's probably better to look for another model in most cases. However, if you want just a bit of fun, it could be the scooter for you.
Videos
See the E200 in Action

See the E300 in Action 
Overall Verdict
There isn't much to choose between the two scooters with the two major differences being the speed and the size.
If you want a speedier scooter go with the E300. It will also last longer for many kids and teens as it has a bigger frame to suit growing riders.
If you want something a little more steady, lighter and smaller or if budget is a top consideration go for the E200. It's a good choice for more cautious kids, teens and adults.