Razor E90 Power Core Electric Scooter Review
Add power to your kid's ride with this Razor E90 electric scooter.
Recommended for ages 8 and up kids kick off, push the green button and off they go.
An easy to ride and fun scooter designed for younger kids which also packs in speed and power.
What You Need to Know About the Razor E90 Power Core Electric Scooter
Do you have unanswered questions about the Razor E90?
Get all the info on the specs and an indepth review so you know whether this is the right electric scooter for your child.
Find below our easy to read and understand guide explaining the pros, cons and specs of the Razor E90.
*This post has affiliate links, which means we may receive a small commission if you choose to purchase through links we provide (at no extra cost to you). As an Amazon Associate we earn from qualifying purchases.
Specifications at a glance
| Feature | E90 Power Core |
| --- | --- |
| Age Recommendation | 8 plus |
| Price | Check Price on amazon |
| Tyres/Wheels | Urethane |
| Ride Time | 80 minutes |
| Acceleration Control | Push button |
| Brake | Hand operated front brake |
| Frame and fork material | All steel frame and fork |
| Maximum rider weight | 54kg |
| Batteries | 12V |
| Kickstand | Yes |
| Motor | Kick Start In Hub Motor |
| Assembled Product Dimensions | 32.5" L x 16" W x 36" H |
| Weight | 10kg |
Kick Off, Power And Speed
Kids will need to use leg push power, like a classic scooter, to give the scooter a kick start.
But it's simple to get started. Kick off, push the green button and power away. The power button is just under the right hand side of the handlebar. The kick start works well for kids.  There's no danger of an accidental start and kids can get used to some movement before the motor kicks in.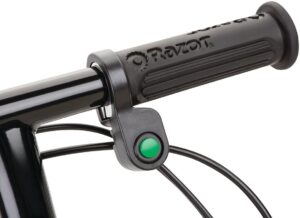 Ensure you get a good kick off and you will immediately feel the power kick in. The first time the power might surprise young kids a little. So be aware of that.
With a 90 watt motor (which is maintenance free), the E90 power core model reaches speeds of 10mph. And there is 50% more ride time than previous models.
The simple push button acceleration control is ideal for young kids as it's simpler than the twist acceleration you find on other electric scooters. However, on the downside, kids will need to keep pressing the button on longer rides which might make their thumb ache a little.
Also, it is noisy! It's not a silent ride like more expensive adult scooters, although this is unlikely to be a concern for most kids.
Battery and Motor
The E90 power core features a rechargeable 12V battery.
With an impressive 80 minutes of continuous riding, you won't need to worry about charging right away. And you can actually get a good distance ride.
The 12V lead-acid battery has a charge time of up to 12 hours. This is long, but as the ride time is now 80 minutes, you will find it will need charging a lot less than previous models.
Top tips
Switch the scooter off at the base when not in use to save the battery.
Ensure you charge the scooter for 12 hours before you take it out for its first spin. It's best to charge for 12 hours in between uses even if the green light comes on before the 12 hours is up. Also, avoid charging for more than 24 hours at a time, to prevent damage to the battery.
Additionally, make sure you fully charge the battery before storing the scooter for a longer period of time.
Age Recommendation and Weight Capacity
Razor age recommendation is 8 years and up. It holds a maximum weight of 120Ibs (54kg).
Can a 6 or 7 year old ride the Razor E90?
There are many kids aged from around 6 who ride this scooter despite the official age recommendation. So it's a personal decision down to parent and carer discretion. But reviews suggest many kids this age seem to handle the scooter well.
Is it a Good Choice for 10 and 11 Year Olds?
If you are buying for an older child, it is worth considering a taller electric scooter as they are likely to grow out of the E90 quite quickly. The Razor E200 is well worth a look.
Wheels
The urethane wheels is puncture proof and works best on smooth and flat paths. The wheels should offer a comfortable ride for kids within the weight limit, although it may feel slightly bumpy occasionally. As kids get older they may prefer a pnuematic tyre to ride to cushion the ride. But for the age and weight range this scooter is designed for, the urethane wheel should feel fine to ride.
Other Features
Brake: Stopping is achieved via a hand brake which is actually rather good.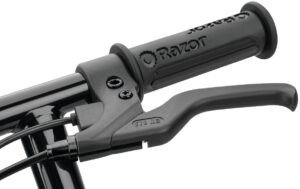 Weight and Portability: The E90 isn't designed with portability in mind. It's not foldable and weighs 9.9kg so is heavy to carry. As it's intended use is for kids and not for commuting this isn't really a problem. And in fact, it's normal for most electric scooters in this price range.
Other things to note are the power button, DC power and a retractable kickstand can be found on the base of the scooter, on the side.  And if you like to have a pick of colours, you can purchase the scooter in black and green and black and pink.
Maintenance:  Another plus point of the E90 is little maintenance is required. No need to worry about alignment, chains or inflating tyres.
Assembly
Assembly is super easy. It's a 10 minute job and the tool you need (a 5mm allen wrench) is included. Just one step is required and that is to attach the handlebars. Kids will be out and on the go in no time.
How To Assemble The Razor E90
This video shows how to assemble the scooter.
How Could the E90 be Improved?
There are a few downsides of the E90:
The charging time of 12 hours is long. If you forget to charge it, it's tiresome to have to wait. However, planning in advance can help. Just do the full charge straight after riding or overnight. In the morning, off you go!
Another gripe, there is no variable throttle. Kids can go one speed only. And holding the button down can be tiresome on longer journeys. But for short rides and whizzing around, little ones probably won't notice.
The ride can be a little bumpy and noisy. As the tyres aren't pneumatic it's best ridden on smooth surfaces. It's not the best on wet surfaces but generally kids will be riding this when it's dry on pavements and smooth paths. Therefore there isn't a lot of need for traction on the wet.
The scooter is designed solely for use on flat surfaces which is fine for fun kids use. However, don't expect it to have the same power to climb uphill.
If any of these inconveniences are likely to bother you it may be worth looking at other options. But having said this, you may have to pay more for features such as a variable throttle, pnuematic tyres and a shorter battery charge time.
Overall Verdict
If you're looking for a reasonably priced first electric scooter from a reputable brand, it's very hard to go wrong with the Razor Power Core E90. It's easy to use and manoeuvre, speedy, has a long continuous ride time of 80 minutes and is durable.  If nothing else it's a jam packed fun ride.
Yes, there are a few gripes as mentioned above. However, these need to be balanced out with the price you pay.  Some of the downsides may bother an adult but are nothing to kids who are just whizzing round for fun.
Overall, it's certainly a power packed scooter and young kids will absolutely love it.
Alternatives
If you aren't sure that the speed is the scooter for you, there are other scooters to consider.
Razor make various models of scooter including the Power Core E100 and the Razor E200 and E300. You can see a comparison of the Power Core E90 and E100 here. 
Another alternative is the Zinc Volt Electric scooter. It's less powerful and speedy than the E90 but has a quicker charging time and is less expensive. It may be a good option for the youngest of kids wanting an electric scooter. You can read more about in our article about the best electric scooters for kids.