@nbsp;
Ozbozz Lightening Strike Scooter Review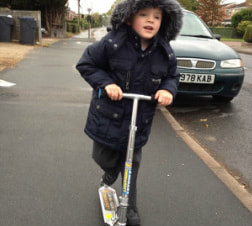 We bought the Ozbozz scooter for my eldest son for his 4th birthday. It has flashing lights which my son loved. He had been used to riding a 3 wheel scooter since he was 3 and made the transition to 2 wheels very easily.
It was a few years ago, (my son is now 12) so the scooter design has changed a little bit, but the features and specifications are still very much the same.
What I loved about this scooter was it was easy to fold and carry  (although the folding mechanism was a little stiff to use a times - finger strength required!)
*This post has affiliate links, which means we may receive a small commission if you choose to purchase through links we provide (at no extra cost to you). As an Amazon Associate we earn from qualifying purchases.

When folded it was extremely convenient as I could put it on the back on my youngest son's pushchair when my 4 year old got wanted to walk or eat something instead of scoot. It was also fairly light to carry (not as light as some other scooters) but easy enough for most people to carry along. The folding scooter made it easy to put it in the car and take to the park.
My son enjoyed using the scooter. The ride isn't the smoothest or quietest but was good enough for my little boy at the time.
The handlebar is height adjustable with three different heights so will grow with your child.
The flashing lights on the scooter was a nice initial surprise for my son but we lost the back of the battery compartment so after a while we didn't bother with them. My son forgot about them, they are a nice extra but not that important.
We used the scooter pretty much daily for a couple of years although it did get a bit rattly as time went on, but that is a downside of the cheaper scooter. Having said this, it held up to my son using it very well. At this point, the scooter was still useable but the folding mechanism was getting stiff and it was on its way out. However we still have it for when our nephews come around to play. For the price we got a lot of use out of it.
| Feature | Ozbozz Scooter |
| --- | --- |
| Age Recommendation | 5 plus |
| Brake | Rear Footbrake |
| Dimensions | 69 x 34 x 81.5 cm |
| Foldable | Yes |
| Handlebars | Height Adjustable from 71 - 81.5cm |
| Other features | Soft handlebar grips |
| Price | Check Price on amazon |
| Weight of scooter | 2.76kg |