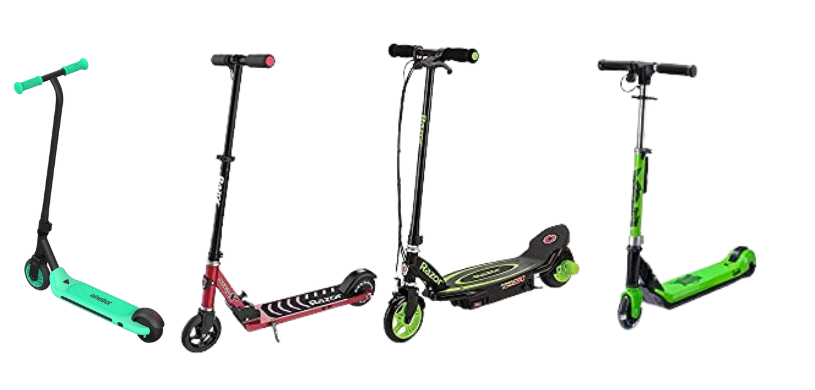 A few years ago, electric scooters were very much designed for older kids. They were too speedy for children aged 7 and below and also not easy for them to control. However in the last few years, there have been quite a few options that are fantastic for younger riders. Whereas electric scooters were heavy and bulky, today there are lots of sleek, light options that are much easier for small riders to manage.
Read on to see the best electric scooters for 7 year olds in 2023.
Speed -  Most electric scooters designed for older kids (from around 8 plus) are designed to go up to 10mph. Some 7 year olds will enjoy going this fast. However, if you think this is a little fast for your 7 year old, the first 3 scooters in our list have a lower maximum speed.
Gyroor H30 Kids Electric Scooter

With a 3 height adjustable handlebar, a top speed of 6mph and the option to use the scooter as either an electric or push along scooter, the Gyroor H30 Kids Electric Scooter is a nicely designed scooter for 7 year olds.
Kids will love the light up deck and front wheel. The lights are also great for ensuring kids visibility during darker days. Parents will love the speedy 2 hour fast charge time.
It's easy to use. Put one foot on the board and kick the scooter up to 3mph. When up to 3mph, step on the button on the deck to accelerate. To stop, just step on the rear fender brake.
The scooter is nicely sized for 7 year olds. The lowest height is 74cm. As kids grow this can be adjusted to 80cm and 86cm.
The top speed on the scooter is 6mph which is a good speed for young kids. You don't have to worry about them zipping off too quickly but they still get a thrill from riding it.
With a top range of 6.3mph, kids should be able to get a decent amount of use on the electric scooter between charges.
Finally, wear-resistant 4.5 inch PU wheels are again a nice size for young kids and offer a smooth ride. There's also a non-slip silicone rubber sleeve grips, and T shape handle tube for added comfort and safety.
How does the motor start? - Most electric scooters require kids to kick start the scooter and reach 3mph before they can start the electric motor. There tends to be three ways to start the motor.
A push button, usually found on the handlebar grip which is simple for 7 year olds to operate
Twist grip acceleration involves twisting the handlebar grip and holding on to accelerate the scooter (which is a little more difficult).
Pressing a button on the deck with your foot, which is also fairly straightforward.
Segeway Zing A6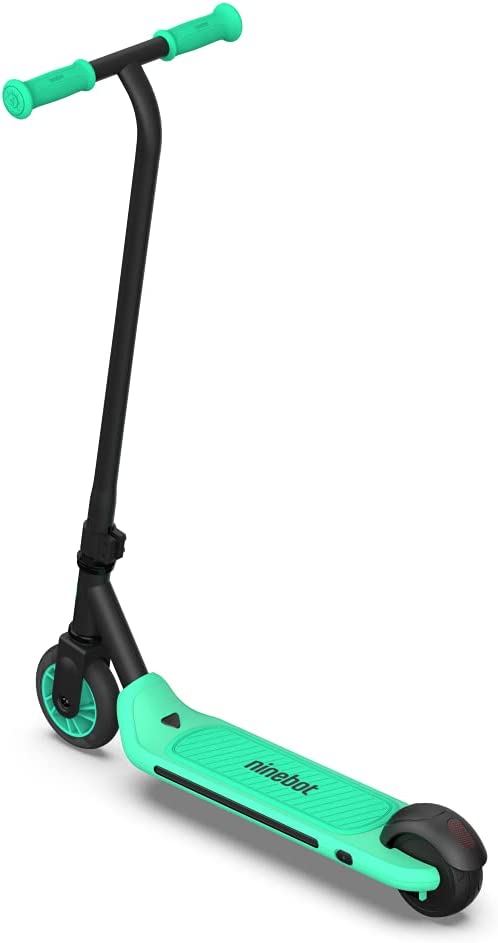 If you're looking for something a little more speedy for your 7 year old, the Segway Ninebot has a  quicker top speed than the Gyroor H30 at 7.5mph. It also has a fast charge time of 3.5 hours and a range of approximately 5km (3.1 miles) on a single charge.
There are 3 speed settings / gears for the scooter. With a maximum speed of 8km/h (5mph) first gear is great for beginners. In second gear the top speed is 10km/h (6.2mph) and in third gear you can reach the top speed of 7.5mph.
Be aware that speed and ride time are affected by the weight of the rider and the terrain they are riding on. Heavier riders scooting on rough terrain will go more slowly than a lighter rider on a flat, smooth surface.
The Zinc A6 features a 5 inch PU perfusion tyre at the front and a 4" solid rubber tyre at the back. No need to worry about punctures! The front tyre is soft so offers a more comfortable ride whereas the back wheel has great grip and anti-skid performance.  Kids can slow down and stop by pressing on the rear fender brake.
Another plus of the scooter is that it weighs just 4.6kg, which is light for an electric scooter. A lighter scooter is easy to carry and for kids to use.
Like on many electric scooters which are suitable for 7  year olds, there are lights on the footboard and the front wheel which kids are going to love.
Hybrid Scooters - - It's great for kids of this age to be able to use an electric scooter as a kick scooter when the battery runs out. Nowadays, electric scooters for kids are lighter and sleeker so most can be used as both an electric scooter and a kick scooter.
Bigger heavier electric scooters can be harder to kick along and get home when the battery dies.
Xootz Elements Electric Scooter
If you're looking for an electric scooter on a budget for your 7 year olds, consider the Xootz elements electric scooter. It's aimed at kids from 6 years plus so is ideal for 7 year olds too. As well as being affordable, it has an adjustable handlebar, folds and has a quick charge time so it ticks a lot of boxes.
The maximum speed is 8km/h (5mph) and it has a range of up to 10km (6.2 miles). It has a super short charge time of 60 minutes. When the battery runs out the Xootz can still be used as a traditional kick scooter.
Kids need to kick start the motor on the scooter. The motor is activated by a thumb throtte which is easy for 7 year olds to use. They can slow down with the rear foot brake.
The scooter has solid PU wheels which light up - another bonus for kids.
What you may compromise on with the scooter is the build quality but if you're looking for something cheap and cheerful, it's worth checking out. Read some reviews over on amazon.co.uk to see what you think.
Portability  - If you need to carry the electric scooter or transport it, it's good to look for one that folds and is light to carry. A scooter which folds also takes less space to store.
Razor E90 Scooter
Although the Razor E90 has an offical age recommendation of 8 years plus, there are reviews of many 7 year old kids who use the scooter so it's worth checking out. Parents can use their own judgement to see if it's appropriate for their child. The Razor E90 is made by a reputable US brand and has been around for many years so it's stood the test of time.
The scooter can reach speeds of up to 10mph so it is much speedier than the other 2 scooters featured. Kids need to push along and reach 3mph on the scooter, they can then kick start the motor by the pressing push button throttle to accelerate. The push button control is straightforward and easy for young kids to use.
Solid urethane wheels offer a comfortable ride on flat pavements. Again, no worries about getting a puncture or pumping up air filled tyres. Solid wheels are fine for 7 year olds who don't need as much cushioning when riding scooters.
The Razor E90 has a good battery life. Kids can have 70 minutes of continuous use on one charge which is a lot for a kid's electric scooter. The downside is it takes 12 hours to charge.
Another negative is the scooter is quite bulky, so not easy to carry and transport. It's also not a great hybrid scooter. As it's so heavy it's not the best for kick along scooting.
Overall though, if you're looking for a scooter that is from a reputable brand, has a good battery life and is fairly speedy, this is a great option!
Brake
There's a hand operated front brake for easy braking.
Ride Time The ride time between charges varies considerably from scooter to scooter. Most electric scooters last at least 30 minutes between charges. The longest ride time of the scooters in this article is the Razor E90 which is 80 minutes.
Charge Time  - Another figure to pay attention to is charge time. Some scooters have a super quick charge time of 60 minutes, others take 12 hours. However even though the Razor E90 takes 12 hours to charge, kids can ride the scooter for up to 80 minutes.
Razor Power A2 Electric Scooter
Another offering by US brand Razor, is the A2 electric scooter.  Like the E90 (featured above), it's also aimed at kids from aged 8 plus and has a top speed of 10mph. Again it up to parents to decide if it's a good fit for their 7 year old. The handlebar adjusts low enough to accommodate 7 year olds, it folds and its light. However, it is pricey compared to other electric scooters for kids.
The urethane wheels measure 140mm at the front and 125mm at the back. Bigger wheels tend to give a more comfortable ride as they glide over cracks in the pavement easily. Again they're puncture proof.
As already mentioned the scooter can reach a top speed of 10mph. It has a 40 minute run time between each charge. The scooter needs to be charged for 8 hours the first time you charge it. After that it takes 6 hours to fully charge.
At just 6.46kg, the scooter is very light. As it folds, it's easy to transport in the back of the car or store wherever ther's some space.
The height adjustable handlebar can go as low as 63.5cm which means is great for smaller children. It extends all thew way up to 85cm so there's plenty of growing room for 7 year old kids.