@nbsp;
The Best Electric Scooter for An 11 Year Old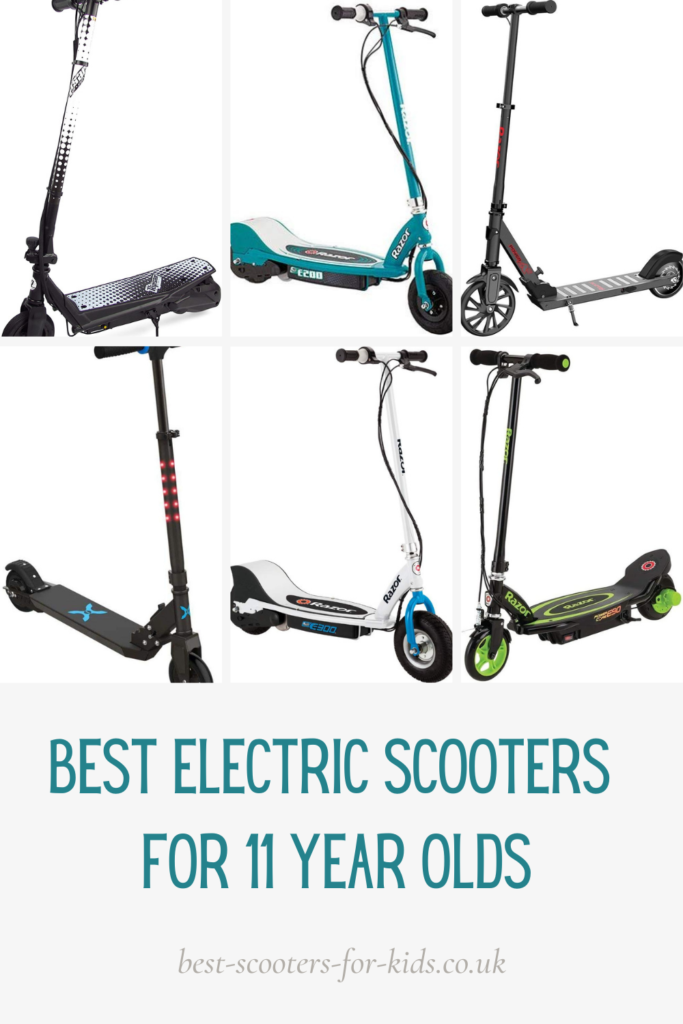 There are numerous electric scooters that are suitable for 11 year olds. The main question you may need to answer before you choose which one is suitable for an 11 year old is how much power and speed do you think they will be able to handle?
​
Check out some reviews of scooters below as well as a comparison chart which shows at a glance all the scooters which may be suitable. And scroll to the end for some videos of each scooter in action.
Razor E90 Scooter

The Razor E90 power core scooter is designed for kids aged eight and up. Made by a reputable brand (Razor), the E90 has been around for a few years so has stood the test of  time.
Run Time
One of the plus points of this scooter is its long run time. The scooter has up to 80 minutes of continuous use, which is double the time of other Razor models (where the battery lasts for around 40 minutes).
Kick Start and Speed
It requires a kick start to start the motor. It has button acceleration control on the handlebar. There is one speed on the scooter and no variable acceleration. So it's on (at one speed) or off. The max speed is 10mph (this may be affected by the weight of the child and whether they are going up or downhill)
Tyres
The urethane front wheel tyre absorbs the worst impacts. The airless rear tire is made from TP for a smoother ride and increased traction. As the wheels are solid, you don't need to worry about punctures.
Charging Time
One downside of the Razor E90 is that it takes 12 hours to charge between each use. It's strongly recommended to charge it fully before the first use and then charge it fully as often as possible. However, please note, you also have to be careful not to overcharge the battery as this can shorten the lifespan of the scooter.
Weight Limit
There is a weight limit of 54kg.
Cost
If you're looking for an e-scooter on a budget, it's one of the least expensive electric scooters for kids currently.
✔️ Speed - Most electric scooters for kids have one speed of between 6 mph and 15mph. Most 11 year olds will be fine with 10mph. It's not too slow or too fast. Most kids will go this fast on their bike. However, if you have a particular confident child, you may look at a scooter which goes a little quicker than 10mph. These are often aimed at teens but some 11 year olds may have the ability to use them. Of course, it will depend on the child, so it's your call. There are videos at the end of this article where you can see the scooters in action and this may help you make a decision.
Ripsar 24v Kids Electric Scooter with Air Tyre
​

A similar scooter to the Razor E90 is the Ripsar kids electric scooter.  It's also aimed at the age 8 plus group but there are a few differences.
Handlebar
The handlebar can be adjusted to 3 different height settings at 85cm, 90cm and 95cm. It can also be folded down.
Motor and start
Whereas the E90 features a hub motor, the Ripsar electric scooter features a chain run motor. A hub motor is lower maintenance and quieter.
The Ripsar features twist grip acceleration and there is one continuous speed.
Speed 
It's maximum speed is 16km/h (10mph) which is similar to the Razor E90. The maximum speed of any electric scooter depends on the weight of the rider, the gradient and type of terrain riding on.
Run Time
No official run time is given for the Ripsar Electric Scooter but the battery life seems to run for approximately an hour. The battery life will vary according to several factors such as the weight of the rider and the terrain the scooter is used on. If you use the scooter on an uphill gradient, it will drain the battery much quicker.
Charge Time
An initial charge of 14 hours is required for the first battery charge. After this, the battery recharges in around 8 hours.
Tyres
It features a pneumatic tyre at the front and a urethane rear wheel. The pneumatic tyre just gives the scooter a bit more comfort and a smoother ride over the bumps and cracks in the pavement.
✔️ Tyres - You will generally see either solid wheels (usually made out of urethane) or air filled tyres on electric scooters. Solid wheels have the advantage that they are puncture proof. However, air filled tyres offer more comfort over bumps and cracks in the pavement and give a smoother ride.  Air filled tyres are better the older and heavier a child gets. You won't see an electric scooter aimed at adults which has solid tyres as they will wear down quickly with the extra weight and won't give much comfort on the ride.
Razor Power A5 Electric Scooter
Another offering by Razor is the A5 electric scooter. A unique feature of this scooter is the 200mm solid wheels. The bigger wheels give a smooth ride over bumps and cracks in the pavement. The scooter handlebar is height adjustable up to a whopping 104cm. This gives plenty of growing room for 11-year-olds. As the handlebar adjusts so high, both adults and children can use the A5 electric scooter as long as they are under the maximum weight limit of 80kg.
Speed and Run Time
It has a maximum speed of 10mph and a continuous ride time of 40 minutes. To get going, kids just need to step on the scooter, kick off and press the thumb-activated throttle.
Foldable
The scooter is easily foldable and features a patent-pending, anti-rattle folding mechanism that provides a quieter ride
Scooter weight
The scooter is light for an electric scooter weighing  7.16kg. making it easier to pick up when needed.
Charging Time
The battery requires an initial charge of 10 hours, after this, it has an 8 hour charge time. Not the shortest charge time, but not the longest either.
✔️ Hub Motors Vs Chain Driven Motors - Electric scooters can either have a hub motor which is located in the wheel of the scooter or a chain driven motor which is in a separate area on the scooter. Many consider hub motors to be better as they require less maintenance. They don't have a complicated system of chains and gears. Therefore they break down less often and are easier to repair and maintain. Chain driven motors may require some maintenance. The downside with a hub motor is that it makes the wheel of the scooter harder to replace if you need to. Hub motors are also heavier so may add to the weight of the scooter.
E200 Razor Scooter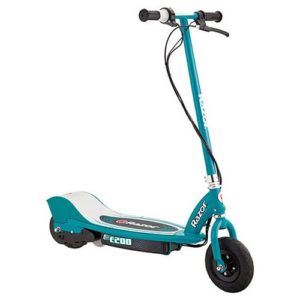 If your 11 year old is a speed freak, it may be worth considering the Razor E200 scooter. With a top speed of 12mph, it's slightly faster. However, it's worth noting the official recommended age by Razor is 13 years old but reviews suggest kids younger than 13 use this scooter. This scooter has been around for a little while, so it's stood the test of time but it is a heavier and bulkier than some of the newer electric scooters out there.
Kick Start and Speed
Unlike some other electric scooters, it doesn't require a kick start to get going. Just jump on, turn the twist grip acceleration on the handle bar and off you go. It can reach speeds of up 12mph (although like all electric scooters the actual speed will depend on the height, weight and balance of the child). It also features a hand operated rear brake. It has no variable acceleration and travels at one speed only.
Tyres
One difference from the E90 is that both the front and rear wheels have 8 inch pneumatic tyres for a smooth ride.
Motor
The Razor E200 features a 200 Watt, high torque, single-speed, chain-driven motor.
Frame Size
The frame size is 105cm high (41.3 inches) from floor to top of the handlebars. It measures 94cm (33 inches) in length.
Charge Time 
Perhaps one downside of the E200 is it has a rather long charge time of 12 hours. This should be fine if you use it once a day and charge it overnight, but because the charge time is so long you need to plan for it.
Weight Limit
The weight limit is 75kg
✔️ Battery - E-scooters for kids generally have either a sealed lead acid battery or a lithium battery. Lead acid batteries are cheaper but they are slower to charge. If the scooter has quite a high charge time, it generally is because it has a lead acid battery. Lithium batteries tend to feature on newer models of scooter for the simple reason they are quicker to charge.
Razor E300
​


The Razor E300 has a recommended age limit of 13 plus. However, there are reviews of 11 year olds and much younger children using it. It is nippier than the other scooters featured on this page so it really is an adult's call whether this will be okay for their 11 year old. Like the E200, this scooter has been around for a few years at the time of writing.
Speed and Run Time
The max speed is 15mph and it has a run time of 40 minutes
Scooter weight
Bear in mind this scooter is a lot heavier than the other scooters featured and weighs 23.5kg
Tyres
One real plus point of this scooter is that it has front and rear air filled tyres, so  will offer a comfortable ride over bumps and cracks in the path.
Motor
The E300 doesn't require a kick start. It has a chain-driven motor to reach the scooter's 15mph speed. The speeds the scooter can reach will be dependant on the weight of the rider adn the terrain they are riding on. There is no variable speed which may be a concern for a younger rider.
Frame size
The frame height is 113cm (44.5") and the width is 101.6mc (40"). This is bigger than other scooters on this page.
Charge Time
Like the E200, the downside of this scooter is the charge time. It takes up to 12 hours to charge, so there is a long wait in between uses.
​
Weight limit
The weight limit on this scooter is 100kg. This means that all older kids and teens can enjoy the scooter as well as adults underneath the weight limit too.
Other features
This scooter has a handlebar that can fold down which makes it easier to store and transport the scooter.
✔️ Weight limit - Electric scooters have different weight limits that vary greatly. For example the E90 has a weight limit of 54kg whereas the E300 has a weight limit of 100kg. This may have an influence on which electric scooter to buy an 11 year old. If there is an elder sibling in the family or adults who may want a go on the scooter it may not be possible on scooters with lower weight limits. Most 11 year olds will be a way of the 54kg weight limit but if you see this scooter as lasting a few years, it may be worth going for a scooter with a higher weight limit as long as they can handle any extra speed and power.
SEGWAY E-Scooter Zing E10
There's a lot to like about the Segway Zing E10 electric scooter for 11 year olds. Firstly, it's charge time is only 4 hours (compare this to 12 hours on some of the Razor scooters and it seems a massive plus point). It also features LED lights which most kids are going to love. It's designed for 8 to 14 year olds, so 11 year olds should be able to use it for a few years before they graduate onto something else.
It has a maximum weight of 50kg. The average weight of an 11 year old is just 35.5kg so it should be fine for most kids this age with some growing room too.
Speed and Range
The scooter has a range of 6.3 miles at a speed of up to 10mph. There are 3 ride modes. Start with safe mode. By pressing the throttle slowly you can easily make your way up to 6.2mph. As your confidence grows you can either kick along or press the throttle to bring the speed up to 10mph.
Foldable
Another plus point of the Segway is that it can be folded and it only weighs 8.4kg which is super light when compared to other scooters.
Dimensions.
The scooter is 95cm high (which is a nice height for most 11 year olds). The full dimensions are H95 x W40 x D91.5cm.
Ride and Tyres 
The Zing E10 is also equipped with a spring shock absorption system, which can effectively absorb the bumps from sand, grass, and dirt roads. With high elastic rubber tyres, you can ride smoothly and have fun
✔️ Frame size - the more powerful scooters do tend to have a slightly bigger frame as they are designed for teens and adults. So, if you have a small 11 year old, a smaller size frame may be better for them.  Although there are reviews of young children using the bigger frame sizes and getting on fine.
Comparison chart
Scooter
Razor E90
Ripsar Electric Scooter
Razor A5
E200
E300
Segway Zinc E10 Scooter

Age Recommendation
8 plus
8 plus
8 plus
13 plus
13 plus
8 to 14
Speed
Up to 10mph
Up to 10mph
Up to 10mph
Up to 12mph
Up to 15mph
Up to 10mph
Tyres/Wheels
Urethane front wheel
Rear tyre made from TPU
6" pnuematic front tyre
Urethane rear wheel
200mm solid wheels
8" pneumatic front and rear tyres
10" pneumatic front and rear tyres
Solid 6.7" rubber-coated
Ride Time
80 minutes
Not stated
Up to 40 minutes
40 minutes
40 minutes
Up to 6.2 miles
Acceleration / Control
Button Control
Twist grip
Thumb activated
Twist grip
Twist grip
Thumb activated
Brake
Hand operated front brake
Hand operated front brake
Rear fender foot brake
Hand operated front brake
Hand operated front brake
Hand brake and rear fender foot brake
Frame and fork material
All steel frame and fork
Metal frame
Anodized aluminium
All steel frame and fork
All steel frame and fork
Maximum Rider Weight
54kg
54kg
80kg
70kg
100kg
50kg
Battery
12V lead acid rechargeable battery
24V (2x12V) lead acid rechargeable
22V lithium-ion pack
24V (2x12V) lead acid rechargeable
24V (2x12V) lead acid rechargeable
Kickstand
Yes
Yes
Yes
Yes
Yes
Yes
Motor
Kick start in wheel hub motor
Chain Driven
Kick start in hub wheel motor
Chain driven
Chain driven
Frame Height
32.9"
37.4"
40.9"
41.3"
44.5"
37.4
Frame Length
33"
28.7"
34.8"
37"
40"
36
Scooter Weight
12kg
13kg
7.16kg
18kg
23.5kg
8.4kg
Folding handlebar
No
Yes
Yes
No
No
Yes
Videos
Still Undecided?