Best 3 Electric Scooter With Seats for Kids Reviews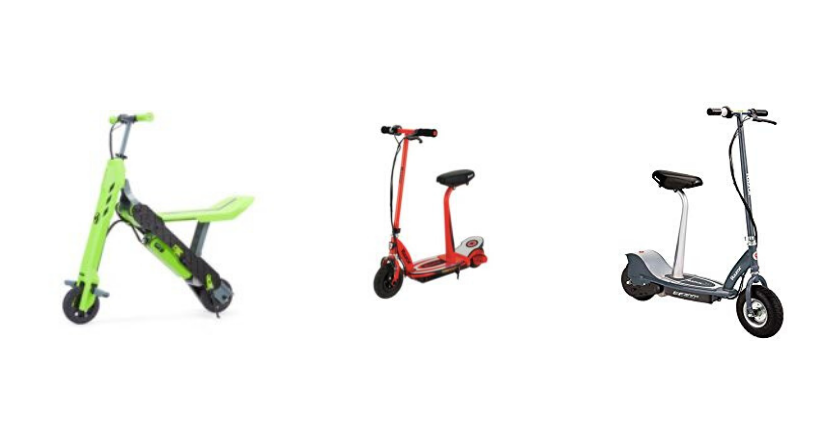 Electric scooters with seats are fun! Check out three excellent, zippy electric scooters with seats below. Perfect for kids who want a fun ride while chilling out at the same time.
The electric scooters featured can all also be used as a stand alone electric scooter, so there's the option of not using the seat and then changing your mind and sitting down again. Some scooters do need tools to make the conversion, whereas others do not.
*This post has affiliate links, which means we may receive a small commission if you choose to purchase through links we provide (at no extra cost to you). As an Amazon Associate we earn from qualifying purchases.
Razor Power Core E100S Scooter.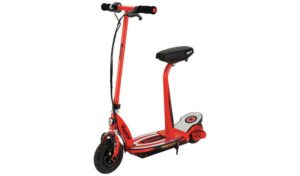 This is a nippy seated scooter with a top speed of 11mph. It features Razor's Power hub motor which gives riders better acceleration and a higher top speed.
The motor is maintenance free unlike previous models of electric scooters with no chain tension or alignment needed. What's really awesome about the E100S is that it can be used as either a stand up or sit down scooter.
The padded seat is detachable so it can be ridden as a normal scooter or chill out on your ride and sit down. Scoot manually up to 3mph to kick start the scooter. Once achieved, twist the throttle to engage the motor.
A hand operated brake and anti-slip footplate keep every rider safe.
There is quite a significant charge time of 12 hours to use the scooter. However, once charged riders can get up to 60 minutes continuous use before charging again. The maximum user weight is 54kg, so this model really is for kids.
Razor E300S Seated Scooter
If seated and going at speed is your think, the E300S is an super quick electric scooter with a seat. Going up to 15mph you can really go far on this thing.
It has an 100kg weight capacity so adults can enjoy a ride on the E300 but lighter kids will be more likely to reach the top speeds and maintain better velocity when going up inclines. It will slow on steep hills as most electric scooters do.
It's well built with a sturdy super- sized deck and frame making it a good choice for teens in particular.
Like with the E100S, the seat is detachable so you can swap between using the scooter standing up or sitting down an enjoying the ride.
The wide front and rear pneumatic tyres make it a speedy, comfortable and smooth ride. The air filled tyres will give you better stopping power, won't get stuck in the pavement cracks and offer superior traction on wet surfaces (don't ride it in the rain though!).
It does have a long charge time of 12 hours, however one charge will allow up to 40 minutes of continuous use.
The scooter is recommended for ages of 13 plus, although reviews show much younger riders do use the scooter. It will be up to individual judgement about whether it's suitable.

VIRO Vega 2 in 1 Transforming Electric Scooter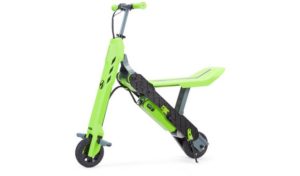 The VIRO Vega 2 in 1 Transforming Electric Scooter describes itself as first and only transforming electric scooter-to-mini bike. Although it could also come in the category of electric seated scooter.
What's really good about the Viro is that it's easily transformed - no tools are required.
With a maximum speed of 10 mph and performance brakes, the Viro Vega is super fun.
It can easily fold and be put away for easy storage or to fit in a car boot but at 22kg, bear in mind that it's heavy.
There is an anti-slip footplate and performance brake for peace of mind.
The charge time is long, with a charge of 10 to 12 hours needed for a range of up to 6 miles. But at a speedy 10mph, this is to be expected.
It also includes LED lights, 100W chain drive, height-adjustable handlebar and kickstand.