The Micro Downtown Scooter Review
The 2 wheel Micro Downtown scooter is designed to get around town and commute with ease. It's made by Micro which is a brand well known for it's iconic, award winning and precision engineered scooters. The perfect urban ride. An easy get around for busy people.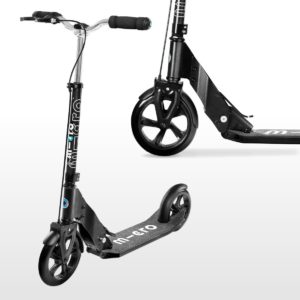 Who's It For?
The Micro Downtown Scooter is for teens or adults who want to commute to college / work or go further on their scooter. The 200mm wheels get you further, faster.
It's also good for adults who are new to scooters. The ultra-wide chopper style handlebars offer increased stability and control.
How Does It Feel To Ride?
The 200mm PU wheels on the scooter offer a quick, smooth and incredibly comfortable ride with minimum effort.
The extra wide handlebars (at 52cm) on the scooter offer stability and makes steering a breeze. If feeling sturdy and safe on a scooter is a priority for you, the Micro Downtown scooter is an excellent choice
For easy stopping, there is a handbrake - which may be a priority for many adults.  A handbrake is often more intuitive to use than a footbrake, especially for people who have been used to breaking on a bicycle. A gentle touch is all that's needed to bring the Downtown to a smooth stop.
A rear footbrake also comes as standard. The foot brake is really useful for quick stops.
The ground clearance of the scooter is just over 4cm. A low ground clearance is a real plus point as it means your kicking leg doesn't need to go down as far to push along. The low ground clearance makes it best for smooth pavements around the town and the city. If there are a lot of bumps, twigs, stones etc on your route there is a risk the scooter may scuff along the bottom, so a scooter with a higher deck clearance may be better for you.
The handlebars are height adjustable to any point between 82cm and 102cm. Easily adjust the handlebar to the optimum height for you. The right sized handlebar is especially important for a comfortable ride Too low and you will stoop. Too high and you will lose some control and manoeuvrability.
If you are a tall adult, there are scooters where the handlebar adjusts up to 106cm which may be more suitable.
See the Micro Downtown In Action
Weight Capacity
How Heavy is It and Can It Support My Weight? 
The weight limit on the scooter is 100kg or 15.7 stone. There are scooters for heavier riders if the weight capacity isn't enough.
Is It Foldable and Portable?
Can I carry it easily? 
The Micro Downtown scooter has an innovative kick-to-fold system, so it's easy to fold when you need to. When you have finished riding, the scooter stands on its own. Or just gently kick on the folding block and it folds down easily.
The folded dimensions are 83cm x 21cm x 52cm. The folded dimensions can be important if you're looking to fit the scooter under a desk at work or in another small space.
Watch to, stand kick and fold the Micro Downtown
The Downtown scooter weighs 6kg which will be fairly easy for the majority of adults to pick up and  carry on public transport, put in the boot of the car and store.  There are lighter scooters such as the JD Bug Street 200 series scooter (check out other scooters for adults) if 6kg sounds too much or you are likely to be carrying the scooter for a long distance or length of time.
Construction, Design and Durability
The Micro Downtown is constructed from aluminium which is lighweight but strong. It's a solid scooter. The deck measures 33cm(l) by 14cm(w). The footplate should be able to accomodate on foot flat.
Being made by Micro you can be reassured that the scooter has been well designed and constructed. The Swiss company places great emphasis on how their scooters are precision engineered and great attention to details is paramount.
Every Micro scooter has been built to last. Their parts are repairable and / or replaceable so the scooters should last a lifetime.
If you look after a Micro scooter you should be able to keep it out of the landfill, making the downtown a solid investment.
Overall Verdict
The Downtown is a robust, durable, well designed scooter that's ideal for commuting longer distances. Get further and faster with less effort.
The unique selling points of the Micro Downtown are the handbrake which are rare on kick scooters, the ultra-wide handlebars and the kick to fold system. If you are looking for any of these features on a scooter, it's well worth considering this scooter.
The scooter is an investment. You an easily replace the wheels or other parts that get worn out when needed, which will allow you to use the scooter for years to come.
If you are looking for a reliable, safe and comfortable scooter for a commute - this is an excellent choice.
*This post has affiliate links, which means we may receive a small commission if you choose to purchase through links we provide (at no extra cost to you). As an Amazon Associate we earn from qualifying purchases.
Technical Specifications
Feature
Micro Downtown Scooter
Price
Check Price on amazon
Age Recommendation
Teens and adults
Handlebars
Fully height adjustable from 82cm to 102cm
Wheels
200mm PU wheels
80 +/- 3, A Shore
Weight of scooter
6kg
Max rider weight
100kg
Foldable
Yes
Brake
Handbrake
A rear foot brake
Handlebar Width
52cm
Scooter Deck Length x Width
33cm x 14 cm
Scooter Folded Length x Width x Height
83 cm x 21 cm x 52 cm
Ground Clearance
4cm
Scooter Material
Aluminium
Other features
Stands alone