The Best 3 Wheel Kick Scooters For Adults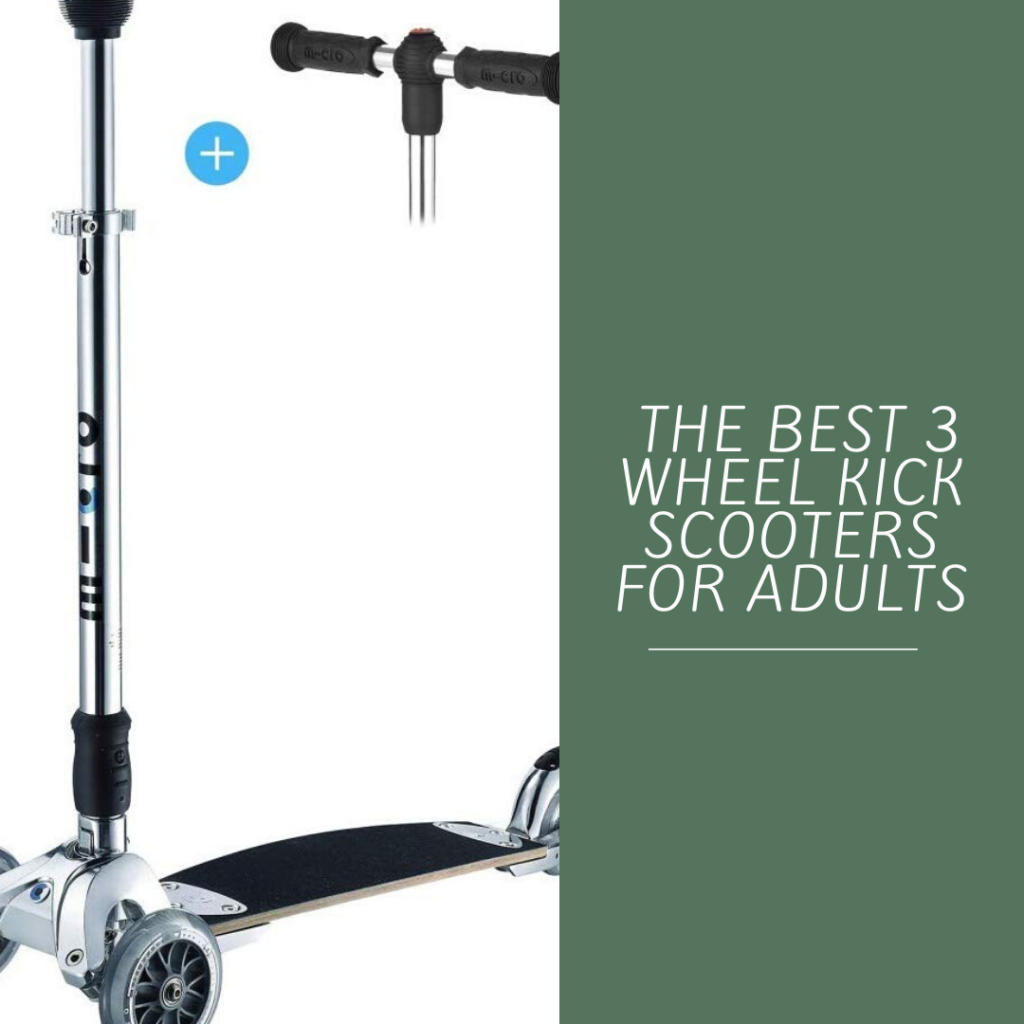 Are you looking for the best 3 wheel kick scooters for adults? There are many reasons why adults want a 3 wheel scooter.  They are an eco-friendly way to get from a to b quickly. They offer stability when scooting - perfect for mornings when it's wet on the pavements. Less chance of losing your balance or skidding on slippery surfaces.
3 wheel scooters are also a good option for adults who want to start scooting for the first time or have mobility challenges.
Whatever the reason there are a number of factors to consider when purchasing a 3 wheel scooter for an adult.
1.) Weight capacity
It's essential to make sure the scooter can accommodate the weight of it's rider. There are 3 wheel scooters specifically designed for adults which have a weight capacity of 100kg and are featured in this article.
For smaller adults, particularly women who tend to be lighter - there is an option with a weight capacity of both 80kg.
2.) An adjustable handlebar with big enough height adjustment
Look for a handlebar which can be adjusted so that's it's an optimum height for riding. A handlebar which is too low means the rider will have bend over or stoop. This is very likely to result in a bad back.
The three wheel scooters designed for adults featured in this article have a maximum height of up to 103cm and this should be fine for adults of most heights. The tallest people might prefer a 2 wheel scooter with a higher handlebar but most adults will be okay with 103cm or less.
3.) Wheels
Most 3 wheel scooters have either 100mm or 120mm wheels. The bigger wheels are probably the better choice as bigger wheels will go faster and more quickly. They are also less likely to wear down as quickly. Most wheels are made of urethane which so no flat tyres or punctures. Urethane offers a smooth, fast and durable wheel.
The options for 3 wheel scooters that accommodate adult are currently limited. However, we have found 3 options to choose currently choose from.
The big scooter brand micro make two of them (the Micro Kickboard and the Micro Monster).
The third option is the Globber Ultimum that is suitable for both adults and kid's use. For an adult scooter, it's competitive on price.
*This post has affiliate links, which means we may receive a small commission if you choose to purchase through links we provide (at no extra cost to you). As an Amazon Associate we earn from qualifying purchases.
Micro Original Kickboard Scooter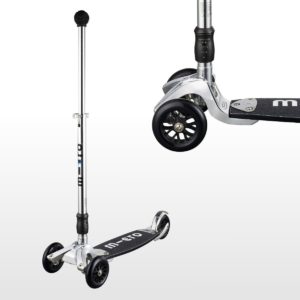 This is a foldable 3 wheel scooter aimed at kids and adults from aged 12 plus.
It has a weight capacity of 98kg (15 stone and 7 pounds).
It features a robust frame.
The deck is constructed from shock-absorbing, flexible, wood and fiberglass deck which ensures a smooth ride.
The scooter weighs 5kg. It's easy to fold so perfect for taking on and off public transport or putting in the boot of a car.
The handlebar is adjustable from 71cm to 100cm so you can make sure it's the optimal height when navigating the streets.
The wheels are 120mm and the 3 wheels are perfect for teens and adults who want a stable ride.
The handlebar on this scooter is interchangeable. So you can use a traditional T-bar handle to give optimum control or surf pavements in style with the joystick handle.
To steer the scooter, lean in the intended direction of travel.
Micro Kickboard Monster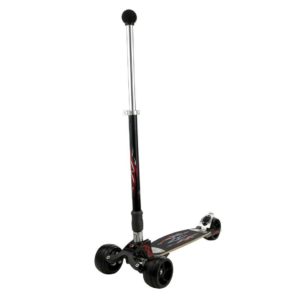 The Micro Monster is aimed at teens and adults from aged 12 plus.
It features three 120mm wheels which are 
extra wide so this scooter really adds extra stability.
Like the Micro kickboard (featured above) the Monster features an interchangeable joystick and T-bar handle allowing you to mix and match your scooting style. There is a T-bar handle for new riders who prefer stability and a joystick handle for a fast, exhilarating "surf" like scoot.
The maximum rider weight is 100kg and the handlebar is adjustable from 69.5 to 102 cm.
The scooter folds with the folded dimensions measuring 75 x 32 x 18 cm. The weight of the scooter is 5.3kg.
Globber Ultimum

The Globber Ultimum has a handelbar which extends to a whopping 101cm, accommodating most adult riders under the weight limit of 100kg. Globber recommends the scooter for riders from aged 4 to adult. So kids and adults can both hop on and scoot along.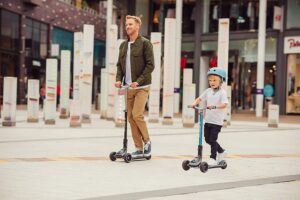 It features an extra wide deck with anti-slip side grips giving safety, stability and comfort.
There are 6 height settings on the handlebar between 76cm and 101cm, so you can find the perfect height setting.
The 125mm front wheels are slightly bigger than the wheels on other 3 wheel scooters. Bigger wheels offer a smoother ride as they go over the bumps and cracks in the pavement easily, so this is a plus point.
The Globber Ultimum also features adjustable steering. There's an easy-to-use knob on the scooter deck, so you can adjust the turning radius of the front wheels to suit your desired riding style.
The scooter is easy to fold for storage or transportation in the boot of the car.
Overall an excellent 3 wheel scooter that's perfect for adults at a competitive price point.
Other Options to 3 Wheel Scooters
There are other options to 3 wheel scooters.
Scooters for wet weather
If you are looking for a scooter to be more stable in wet weather, another option would be to go for a scooter with pnuematic tyres which will have more of a grip on the pavement. Although they are harder to manoeuvre uphills and tend to be heavier.
Scooter which feel stable
An option is to look for a scooter with a deck which is low to the ground. Also scooters with big wheels can offer the feeling of more stability.
Electric Seated Scooters
If you're looking for something which is easier to ride if you have mobility problems, consider an electric seated scooter.