7 Best Roller Skates for 4 Year Olds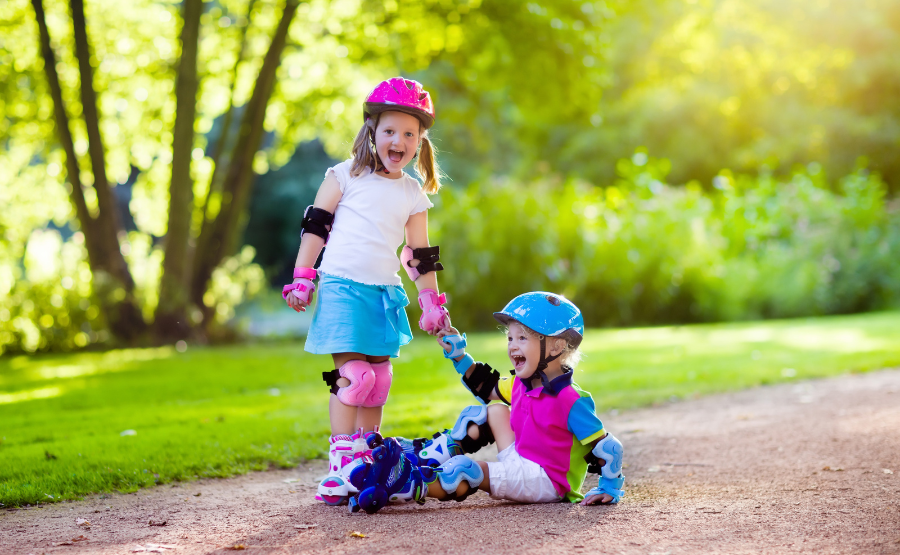 Kids can start learning to roller skate around 4 years old. Roller skating is a great activity to improve balance, keep kids fit and have fun.
By age 4, most kids can stand on one foot for a few seconds and their balance is good enough to start learning how to skate.
Buying Guide for A First Pair of Roller Skates
When buying rollerskates for 4 year olds consider the following:
Light roller skates
Lighter skates make it easier for young kids to learn how to skate. Heavy roller skates will make it harder for kids to pick their feet up and manoeuvre.
Polyurethane vs PVC wheels
Wheels made out of polyurethane are better than wheels made out of PVC as they absorb more shocks from the pavement which means a more comfortable ride. PVC wheels aren't the best as they don't offer any grip. Many roller skating rinks won't let people use skates with PVC wheels because of lack of grip which is dangerous on a rink. However if your 4 year old goes extra slow on their skates, PVC wheels can be okay to start learning.  PVC wheels are cheaper than polyurethane wheels.
Skates with polyurethane wheels have a durometer rating with a number up to 100A. The number refers to the hardness of the wheels. Higher numbers translate to harder wheels. For example 88A is harder than 78A. Soft and hard wheels both have pros and cons. Soft wheels offer more grip and absorption from shocks in the road which means the ride will be more comfortable, however they will wear out quicker. Harder wheels offer a quicker, faster ride but less absorption of shocks so a little less comfort. Harder wheels are more durable and long lasting than softer wheels.
Wheel size
Smaller wheels are normally best for beginners as they roll more slowly than larger wheels. However, you can get roller skates for young kids which have bigger rear wheels mounted on a wider base at the back with smaller front wheels for extra stability, These make great roller skates for 4 year olds too.
Adjustable Size
Adjustable roller skates grow with a child's feet until they're ready to graduate onto their next pair meaning they'll last longer. The easier they are to adjust in size the better.
Easy to Put On and Take Off
Roller skates that are easy to get on and off will make it easier for parents and carers and 4 year olds will be can learn to do it themselves too.
Good Ankle Support
Good ankle support offers more stability for kids when learning how to skate and helps prevent injury.
Toe Stop
Most roller skates come with a toe stop. This can be used for setting off and braking. Toe stops made of polyurethane or rubber offer more grip than a toe stop made out of other materials such as PVC.
Are they learning to skate indoors or outdoors?
If they are learning to skate indoors, make sure you choose skates that are suitable for this. Make sure the brake is non marking.
Cost
Light roller skates with polyurethane wheels, high ankle support and long lasting toe stops are better but they cost more than a heavier roller skate with PVC wheels. How much you spend will depend on how much use you want to get out of the roller skate and what features are important to you.
Safety Gear
Don't forget the knee pads, elbow, wrist pads and helmet.
Tips for Fitting Roller Skates
Roller skates should have a close fit so they don't rub the feet. However, don't make them too tight!
Ensure kids are wearing comfortable socks. If you are trying the roller skates on before you buy make sure they are wearing the socks they would be wearing while they are skating.
SULIFEEL Rainbow Unicorn Adjustable Roller Skates for Kids with Light up Wheels
These size adjustable roller skates tick all the boxes for 4 year olds who want some grown up boots for use indoors and outdoors.
The smaller shoe size is adjustable in between 9C and 12C (it will fit a foot length between 6.7in and 7.5in).
The wheels are polyurethane with an 82A durometer. The 82A wheels are soft so offer good grip and absorption of shocks from the road.  Soft wheels are great for beginners as they won't be able to go as quickly as wheels with a higher durometer because they are more grippy.
The skates feature a cuff nylon buckle, power strap and lace closure system which fastens the feet properly into the skate and ensures a snug fit.
The front stopper brake is made of rubber for easy and comfortable stoppoing. There is a breathable memory cotton inner liner to keep feet fresh.
There is just one button needed to adjust the size.
Most importantly 4 year olds are going to love the rainbow lights on the wheels.
The skates are also available in blue

Xootz Kids Quad Skates
The Xootz roller skates are size adjustable from sizes 9 to 12. They are easy to adjust, just push the tab down and pull the skate out to the desired size. Once kids are wearing the skates, the quick lock straps secure their feet in place.
The feature a plastic shell which helps protect little feet from knocks and bumps. However they aren't as comfortable to wear as nylon boots.
The wheels and the stopper are made of PVC which isn't the best due to the lack of grip from PVC wheels and lack of grip from the PVC stopper too. However, if you are just using theses to teach your 4 year old to learn how to skate you can hold their hands while they are learning and make sure they don't go too quickly. They are competitively priced so you could use these boots to try out roller skating to see if it's something your 4 year old likes before buying a more expensive pair.
They come in both a pink and a blue design.

SFR Stomper Adjustable Skates

.
SFR skates are a well known roller skate brand with over 25 years experience in the industry.
The STR stomper adjustable skates are designed for little kids who are learning to skate and come in sizes from 6 to 9 so ideal for 4 year olds with smaller feet. There's a twist lock to adjust the size. They have larger rear wheels mounted on a wide wheel base with smaller wheels at the front. This gives little ones extra stability when learning to skate. The wheels are made with polyurethane for a smooth glide and can be used indoors or outdoors.
A low foot bed position gives a lower centre of gravity which makes it easier to balance for first time users.
The stopper is at the back which makes it harder to fall over backwards. The skates offer good ankle stability and are an excellent choice for young beginners.
They come in pink and blue.

Hudora My First Quad Roller-skates
The Hudora My First Quad roller skates are a similar style to the SFR roller skates featured above. They come in Euro sizes 26 to 29 which is 8.5 to 11 in a UK shoe size.
The polyurethane wheels with a hardness of 82A are larger at the back and smaller at the front. The back wheel measures 80mm by 20mm and the front wheel is 40mm by 18mm. The wheels offer a smooth roll both indoors and outdoors.
The roller skates feature a buckle and a velcro strap so you can adjust the fit to the foot of the child. There is good ankle support.
They are also available in blue

NEMONE Bunny 4 Size Adjustable Light up Roller Skates

The Nemone Bunny roller skates are adjustable between UK sizes 9C and 12C (or 10C to 13C in US sizes). To ensure they fit you can measure your child's feet using their method. Have them stand against a door on a piece of a paper. Draw a straight line from the door to the edge of your child's big toe. Measure the line. For the best fit, you child's foot should be between 6.7 to 7.5" (170 to 190mm).
The skates feature 82A polyurethane wheels which are 54mm in size. This wheel is soft which gives extra grip to beginners.
There's cuff buckle, fastener and laces for a secure fit.
The cute design features a detachable bunny at the front of the skate. The wheels light up for extra fun.
Xootz Beginner Trainer Skates
If you're looking for something cheap and cheerful to give a taster of roller skates to a 4 year old, consider these training skates by Xootz.
They're not for zipping around the pavements, however they are good to try on in the living room and try out in the garden or on the drive. You can hold their hand and try them out on some paths too.
They go over a kid's shoes so they can keep comfortable in their favourite trainers while trying out the roller skates.
The skates are fully adjustable from size 5 to size 11. They skates have PVC wheels  so won't give much grip but kids shouldn't get up much speed using the rollerskates. They are mainly just to practice balance and co-ordination before graduating onto a better pair. The stopper is made from polypropylene.
How to teach a 4 year old to learn how to skate
Show little ones how to keep their legs bent and lean slightly forwards for the best skating position.
Encourage them to stand and then walk in their skates first
Once they've mastered standing and walking, encourage them to roll.
Hold their hands while they're wearing the skates to help build up their confidence. You can start by holding both their hands and facing them. Then graduate onto just one hand so they can skate as you walk by their side.
When he or she feels confident rolling holding your hand, let them try on their own
If they're allowed to skate indoors with carpet before they go outside this can help cushion their falls.
Start in small sessions. Don't keep going if they get frustrated or aren't enjoying it. This will be counter productive
Practice lots! Practice makes perfect.
The most important tip is to enjoy it!