Review of Mini Micro Scooter with T Bar
Please note: This is a review of the mini micro classi scooter. Since we bought the mini micro classic scooter for my son, micro released a  newer version of the mini micro scooter, the deluxe version (which has a height adjustable handlebar). You can by both versions of scooter, but the deluxe is more expensive. You can read more about the differences between the classic and deluxe versions of the mini micro on the best scooters for toddlers article.
A Very Smooth Ride
Having had experience of rattling, cheaper scooters with my elder son, I was really surprised at how smooth the mini micro scooter is.
I think this is down to the wheels made of polyurethane and the sturdy build of the scooter. Many scooters with folding mechanisms tend to rattle and as this scooter doesn't fold it means it's stronger and lighter than many of it's counterparts. It is a really quiet ride too. No rattling and bumping over cracks in the pavement.
The wheels on the front are 120 mm which are slight bigger than a standard scooter wheel size of 100mm. Bigger wheels offer a smoother ride along the pavements as they go over bumps and cracks more quickly and easily.
They are also easier for young children to control.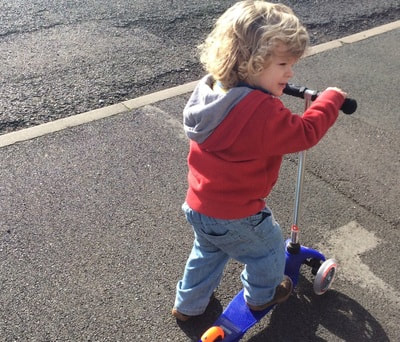 My son, Callum aged 2 on his mini micro scooter
Lightweight
Another feature that really impressed me was how lightweight the scooter is. It's only 3.5 pounds and easy for me to pick up and carry. It's also really easy for my son to pick up too. This is great when they first learn to scoot as they will pick up the scooter to move it. This is part of the learning process and as my son got used to the scooter, he quickly learn to lean to turn the scooter left and right as described below.
Lean to Steer Mechanism
The scooter has a lean to steer mechanism. This means that the child leans left to go left and right to go right. They don't use the handlebar to steer the scooter as with other scooters. This has been great for my younger son. The only thing I would say is if your child already has experience of a scooter which is controlled by the handlebar, (Ie you move the handlebar to go left or right rather than lean) it may take them a while to learn how to use the lean and steer mechanism. My older son found it difficult to adapt on this scooter whereas my younger son, who'd never used a scooter before found the lean and steer mechanism easier to operate.


*This post may have affiliate links, which means we may receive a small commissions if you choose to purchase through links we provide (at no extra cost to you).
Longevity
One of the reasons I chose the scooter is that it's designed to last. We have been through several cheaper scooters with our eldest son, which typically last about a year. I bought this when my boy was 2.5 years and am hoping it will last until he's 5 years old. So far it has lasted well. The scooter has a modular designed which means all parts can be replaced easily. Therefore the scooter should last for years. Also, if the scooter is in good condition, the resale value on sites like ebay are quite high so you should be able to regain some of your initial outlay It should also be a good scooter to hand onto younger siblings.
Update - my son is now 4 and still riding on this scooter. The scooter is still in excellent condition and he loves it. The maximum weight on the scooter is 20kg so as long as they are under this weight, they should be fine.
Handlebar Height
The handlebars come in at 61cm. However this is the measurement from the scooter deck to the top of the handlebars The height from the floor to the top of the handlebars is 67cm. Ideally when choosing a scooter, its best to have the handlebars around waist height for kids to use the scooter as it's easier to control. If you think about it, if you were on a scooter, the best height for the handlebars for most people would be around waist high. Having said this when I got the scooter for my toddler, the handlbars were higher than waist high (see picture above) and he still managed on it. But if I were to make the decision again, I may have got the version of the mini micro with an obar. The obar is 49cm tall so is better for younger and smaller children. You can see by the picture of my son on the scooter at age 3, the handlebars are around the right height for his size.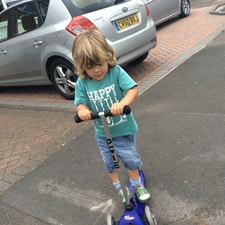 My son aged 3 on his mini micro scooter.
The handlebar of the mini micro scooter is not adjusable. The reason for this is because if an adjustable handlebar was added, the scooter would be a lot heavier, which would mean the scooter is harder for younger children to maneouvre and control. This is why there is a version of the scooter with different handlebars to accomodate different sized children.
The mini mini micro opposite features a seat to accommodate 1 to 2 year olds, a obar handle (size 49cm) to accommdate 2 to 3 year olds and a tbar handle (size 61cm) to accomodate 3 to 5 year olds.