The Best Balance Bikes for 1 Year Olds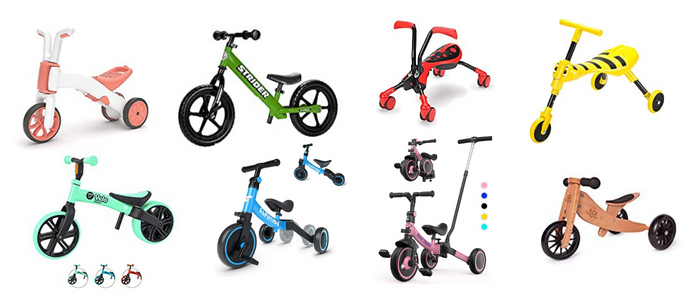 Are you looking for the best balance bike for a 1 year old?
You'll be pleased to know there are lots of options.
Many of them convert from ride ons to balance bikes to ensure they your 1 year old can use them straight away.
If they are ready, there are also options of balance bikes with very low seat heights that kids can start using right away.
Read on for lots of advice and suggestions of the best balance bikes for the very youngest of children.
Can a 1 Year Old Ride a Balance Bike?
Yes and No!
There is a huge range of development in 1 year olds.
Most kids aren't ready until age 2 or 3 to ride a balance bike, However, some exceptional kids can ride a balance bike at the age of 18 months.
In fact, the Strider balance bike is designed for kids aged 18 months to 3 years.
A 1 year old needs to be walking confidently before they can ride a balance bike. They also need to have long enough legs to push along the floor. To ensure this is the case, you will need to measure a child's leg inseam to make sure they can put their feet flat on the floor while seated on the balance bike.
To ride a Strider balance bike, 1 year olds will need to have an leg inseam of at least 30cm (12")
If your child isn't ready to ride a balance bike this young, there are plenty of options of bike ride ons that convert into balance bikes as your child grows.
Read on to discover lots of options of the best balance bikes for 1 year olds.
Chillafish (Tricycle and Balance Bike in 1)
Recommended for kids aged between 1 and 2, the design of the Chillafish is genius. It's super easy to convert between a tricycle and a balance without any tools!
1 year olds can have a go at the balance bike and if they're not quite ready for 2 wheels yet, it's super quick to change back to a trike.
It can be used both indoors and outdoors. The tyres are non-marking and anti-skid.
In addition the seat is height adjustable, from 22cm in 3 wheel mode to 25cm in two-wheel mode. This ensures little legs will be able to reach the ground to push along.
Looks wise, it comes in various colours. The Chillafish is certainly a great ride on / first balance bike for little explorers.
Yvolution Y Velo Junior Toddler Balance Bike
The big win for the Yvolution Y Velo Junior balance bike is the super low seat height. Measuring just 10.5", the minimum seat height is the lowest you can find on a balance bike, meaning that little legs on kids as young as 18 months will be able to reach the floor to push along.
Another great feature for young children, is the double rear wheel. 1 year olds can practise with the double rear wheel giving extra stability while they're learning to ride. Once they've mastered their balance, the double wheel can be switched to a single wheel.
And that's not all there is for young riders! A steering limiter prevents toddlers from over steering and crashing the bike while they're learning and small 10" wheels are easy to manoeuvre and control.
With an age recommendation of 18 months to 4 years, the only downside is they can't use the balance bike for longer!
Strider Balance Bike
Since 2007, the Strider Classic Balance Bike has been used by children as young as 18 months on their cycling journey.
With a low seat height of just 28cm (11"), the Strider has one of the lowest seats on the market making it an ideal choice for 1.5 year old babies to hop on the saddle.
Not only can the Strider accommodate young kids, the adjustable seat height extends to 42cm, so will grow to with your child until they're at least 3. Plus, both the seat and handlebars are easily adjustable with a quick release clamp. No tools required!
12" wheels foam rubber tyres are hardwearing but the best thing about them is they're puncture free.
Another plus for 1 year olds, is the bike is super light weighing just 2.7kg. This will make it easy for them to control and manoeuvre the bike. Parents will like the fact that it's light enough to carry.
Strider Rocker
Strider have developed the rocker to go with their Strider bike which is ideal for 1 year olds. The bike attaches to the top fo the rocker and little ones can get used to the bike while on the rocking base.
When they're ready remove the rocking base to use the Strider like a normal balance bike.
What a fab idea!
Strider Sport Bike
The Strider Sport balance bike is a similar bike as the Strider Classic above except it accommodates kids up to the age of 5 years old. It's slightly more expensive but for an extra 2 years of use, it could be worth the extra investment.
Like the Strider classic, the original seat is adjustable from 28cm to 42cm so will accommodate kids from 1.5 years old. However the Strider sport also comes with an extra seat posts that extends up to 48cm, so it can keep up with your child's growth spurts up to 5 years old. In summary, it fits little legs with an inseam of 30-51 cm (12-20 in.).
The other upgrade on the Strider Classic is a padded seat which adds a bit of comfort to kids riding the bike once they've outgrown nappies.
Scramblebug

A scramblebug is a 4 wheel ride on / balance bike that kids can used from as young as 10 months up to 2 years. It's a great option for kids who are too young or small for a 2 wheel balance bike.
With non scratch caster wheels the scramblebug is ideal to use indoors but it can also be used outdoors on flat, smooth surfaces.
The wheels spin 360 degrees so the scramblebug can move in any direction.
A 3 click folding system makes folding and transporting the scramblebug effortless.
Skuttlebug
With 3 large wheels and steering, the Skuttlebug is a step up from the Scramblebug. It's designed for kids aged between 1 and 3 years old.
Non marking wheels can be used indoors and outdoors on flat, smooth surfaces.
Being light and easily foldable, the Skuttlebug is super portable to take wherever you want to go.
Kinderfeets Bamboo Tiny Tot Balance Bike

If an eco-friendly bike is important to you, check out the Kinderfeets tiny tots balance bike. It's made of solid and durable birch wood, a replenishable source. In addition, it's packaged in recycled cardboard and a tree is planted for every bike sold.
Designed for kids from 1 year old with a minimum height of 75cm, the tiny tots bike converts from a trike to a balance bike when kids are ready.
EVA airless 7" tyres are puncture free. And another eco-friendly feature is that they are biodegradable.
The trike has an extra wide base for easier balance and easy driving. When your child is ready, the bike converts using the supplied wrenches.
XIAPIA Baby Balance Bike
Sturdy, super light and designed for babies as young as 10 months, this is an excellent first balance bike with four wheels.
The bike has 135° limited turning to avoid babies falling down to one side.
The bike can be used for kids up to 3 years but it's best for young children between ages 1 and 2.5 years.
It weighs just 1.7kg so it's easy to pick up and move around.
Non marking EVA wheels are great for use on smooth, flat floors both indoors and outdoors.
There are two designs of the Besrey balance bike, the 5 in 1 version and the 7 in 1 version. Both with a very clever design.
Each bike converts from a 3 wheel push along, to a pedal tricycle and a balance bike offering different riding options for kids from 1 year to 4 years old.
In ride on / push along mode, kids use their feet to push the bike along. The lowest seat height is 11.8", enabling young children to be able to reach the floor and push along.
When kids are ready you can install pedals so kids can propel the trike forward. Or convert the trike to a two wheel balance bike.
The 7 in 1 version of the bike also comes with a parent handle and a wheel clutch which allows toddlers to rest their feet on the pedals while parents push and steer. Larger 9" wheels with a built in shock-absorbing mechanism provide a safe, smooth, and seamless riding experience across rough terrains
FAQs
What is the best age to ride a balance bike?
Most kids are ready for a balance bike around the age of 2 years. My own son started riding a balance bike at 2 years and 3 months. Of course, all kids are different. If your child is a confident walker they can be ready at ride a balance bike at 1 year old, normally around 18 months.
What is the best balance bike for a 1 year old in the UK?
The best balance bike for a 1 year old is one they can sit on with their feet flat on the floor so they can push along. If the seat is too high and their feet dangle, they won't be able to move the balance bike forwards.
To make sure the seat height is low enough for your 1 year old, measure their leg inseam. The inseam is the measurment from the floor to the top of their crotch. The seat height on a bike should be 1" less than a child's inseam. This will ensure their feet can push off along the floor and they can get on and off the balance bike.
The balance bikes with the lowest seat heights are the Strider and the Yvolution balance bikes.