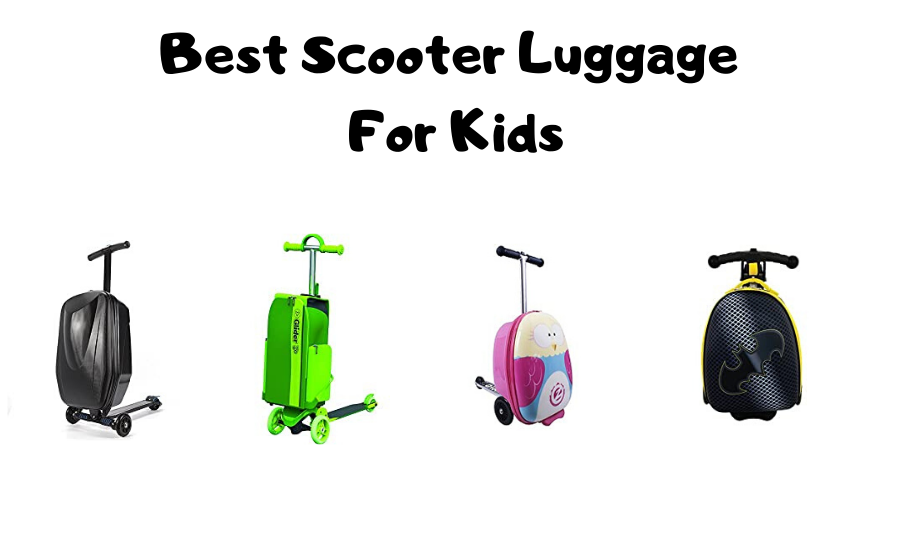 Scooter luggage is an ingenious idea for kids and parents. They let kids take charge of their own suitcase so the adults in charge have one less thing to worry about. Additionally, kids won't be moaning for having to walk as they can scoot instead!
Ideal for airports, kids can ride their scooter luggage to the terminal instead of having to work for miles in larger airports. It helps them keep up. And it's fun!
They are also great if you have to travel by train or bus. In fact, any trip where you may need to walk at some stage.
If you have to walk when you reach your destination, the scooter luggage may also save your sanity.
What to look for when purchasing scooter luggage
Light - a light suitcase that kids can easily manoeuvre with a scooter and pick up and carry is ideal.
Luggage size - The capacity of the luggage varies greatly between brands. So remember to check out how much room the suitcase can hold. You may prefer a small size for just the essentials or something larger for a weekend trip. If you are traveling on a plane,  you will need to make sure that the suitcase is small enough to fit as cabin luggage. Otherwise, it will need to be checked in which defeats the point of getting scooter luggage for many people.
Age - scooter luggage tends to be perfect for kids aged between 4 and 8 or 9 years old. You will want to ensure that the suitcase you pick is recommended for their age group.
Can the scooter be detached? - some suitcases can be completely detached from the luggage. This is great for when you go on holiday as not only can the scooter be used for carry on luggage on the airport, the scooter can be used independently when you get to your destination.
Does it also work as a pull along suitcase? - Many pieces of scooter luggage have the option to fold in the scooter so it can be used as a pull along suitcase as well as a ride on. Some also have carry handles so you can pick it up and carry it. Others transform into a backpack.
Height Extendable Handle - a handlebar which can adjust can suit the height of different children and accommodate your child as they grow.
*This post has affiliate links, which means we may receive a small commission if you choose to purchase through links we provide (at no extra cost to you). As an Amazon Associate we earn from qualifying purchases.
Flyte 18" Midi Scooter Suitcase

If you're looking for themed and attractive to young children, you will love the Flyte 18" Midi Scooter Suitcase
There are many characters to pick. Whether you go for a dinosaur, panda or unicorn there is a lot to love about the scooter luggage.
Perfect for kids aged between 4 and 8, the handlebar height measures 75cm which is optimum for this age group. The maximum rider weight is 50kg.
A rock and roll steering system (sounds cool) just means that you lean left to steer the scooter left and right to go right.
The closed dimension of this luggage is around 48 x 33 x 25cm with a 25 litre capacity so perfect for storing travel essentials for flights but check before you fly.  There's more than enough room to keep everything you need to entertain kids during a flight. Inside you will also find a zippered pocket and straps to keep your child's things secure.
A lifesaver for parents and kids at the airport but it's also ideal for days out, short weekend trips, use on a train or just playing in the garden.
Top Tips When Using Your Scooter Suitcase Luggage
Make the most of your scooter suitcase and avoid any problems with the following tips:
Test them out before you go! Let your kids scoot around at home so they feel confident in the airport or on holiday.
Practice folding and unfolding them. The last thing you want is to be struggling while trying to fold up the scooter at the airport (or on the aircraft). If you're adept at folding and unfolding the scooter luggage before you go this won't be a problem
If it feels stiff when folding and an unfolding the luggage, add a little lubricant. It can make a big difference.
If you want to store the scooter luggage in the overhead locker, check with the airline cabin carry on size restrictions before you go. If in doubt, contact the airline to make sure! A quick email can save you lots of trouble on the occasion that the measurements aren't within the airline allowances. All airlines have slightly different overhead luggage measurements so it's worth being cautious.
If the luggage is stored in the overhead cabin, a quick tip is to have a smaller bag inside the scooter luggage with the essentials your child needs for the flight. This can then be stored under the seat in front, so you don't have to keep accessing the overhead compartment to get what you need.
Your scooter suitcase is also perfect for trips to the shopping mall! Keep your shopping in the front as your kid scoots round!
Flyte 15" Mini Scooter Suitcase
For younger children, (aged 2 to 4 years) Flyte make a smaller version of their suitcase.
It has all the features of the 18" version of the Flyte, just on a smaller scale.
A slighter smaller 21 liter capacity and a smaller handlebar make this version of the Flyte lighter and easier for younger children to control and ride.
When closed, the case measures around 43 x 28 x 23cm, so should fit in with most airlines' cabin bag size limits.
Gone Travelling Monster Scuit Case
The Gone Travelling Monster Scuit Case is similar to the Flyte 18" case but in a bright, colourful monster design.
Ride it like a scooter, pull along as a piece of luggage or fold it up and carry it. Folded up it measures H55cm x W35cm x D28cm.
The handlebar can be adjusted to two height points, the lowest is just above the top of the suitcase and the highest point is approximately 77cm.
The scooter has a maximum weight limit to 50kg.
Micro Black Adult 3 Wheel Scooter Hand Luggage

This Micro scooter luggage is designed for adults and is an excellent piece of kit. It's solid with a weight capacity of up to 100kg. It allows adults to scoot right up to the gate, which is great if you are in a hurry or want to save your legs.
The Micro scooter is designed to carry your laptop and other business items which not only makes it great for trips but also commuting.
Inside the luggage there is a compartment with a padded tablet table. The suitcase also features a bigger compartment which is divided in two. The front part has space for a bigger laptop and pens and papers. Behind that is space for clothes and other items. In total, there is space for 33 litres.
The extendable handle has two height options. It extends all the way up to 105cm at the highest point.
Micro scooter luggage can be used as pull along luggage as well as a scooter. The scooter weighs 6.1kg in total.
Folded the dimensions measure 62cm by 38cm by 29cm (double check with your airline that it will work as a piece of hand luggage before travelling).
Micro Kickpack Luggage Scooter


The Micro Kickpack luggage scooter is suitable for kids aged 12 plus to adult. Impressively it can be used by older kids, teenagers and adults.
The wonderful thing about the Micro Kickpack is that the luggage part can be detached from the scooter so the scooter can be used separately. This is fantastic if you want to use the scooter on holiday. The scooter itself can be folded if needed. The luggage has adjustable straps on the back so carry it as a backpack.
The luggage has room for a phone and lots of organisational pockets, perfect for pens, wallets and other items. There is also a deep side pocket on one side for things you may want to keep out of reach. On the other side handy side pocket for things you need to grab on the go. The main compartment has lots of room for your stuff (a 26 litre capacity in total). Additionally, at the front, the luggage features a light which has different settings such as fast flash and slow flash.
The folded dimensions of the combined scooter and luggage are  (H)67cm, (W)31cm, (D)33cm.
Unfolded the dimensions measure (H) 95cm, (W)33cm, (L) 66cm
The scooter handlebar extends up to approximately 95cm.
On top of this, you can also use the Micro Kickpack as a pull along luggage trolley.
BATMAN M14658 Scooting Suitcase
Holy Smokes! Batman fans are going to love whizzing around the airport like their favourite superhero on this scooter luggage.
The suitcase is cabin sized measuring 55 x 35 x 30cm (but check with your airline to make sure it comes within their regulations). Perfect for storing toys, games, a change of clothes and other essentials for your trip. The case is hardwearing EVA to prevent from the knocks that kids may subject it to. Additionally, the case has a storage pocket and lockdown straps.
The scooter itself features 120mm PVC wheels to help kids get around. An adjustable handlebar allows it to be the optimum height for the child in question. Pull the yellow handle loop and to fold the scooter away and lock it in place. The scooter is controlled via a lean to steer mechanism. So kids need to lean left to turn left and right to go right. A rear brake allows kids to stop when needed.
Peppa Pig Scooter Suitcase
If you have a Peppa Pig fan who needs scooter luggage for an adventure, look no further!
Recommended for the 3 plus age group, the scooter easily folds up and the handlebar down when needed.
120mm PVC wheels do the job for young kids scooting on small journeys in an airport or when they are on holiday.
The scooter also features lean to steer steering, a reactive rear foot brake for a smooth stop as well as an adjustable handlebar so it can reach the ideal height for each rider.
The suitcase features internal pockets and securing straps. Durable EVA material has been used to construct the outer case ensuring it will withstand the punishment little kids may subject it to.
Spider-Man Scootin Suitcase

Kick start your little superhero's holiday by scooting around the airport, with this spiderman scooter suitcase.
In terms of features, it's similar to other character scooter luggage.
It's recommended for kids aged 3 plus and with an adjustable handlebar from 73cm to 82cm. 120mm PVC wheels are sufficient for kids to glide around the airport. The scooter has 3 different functions. Use it as pull along luggage, a scooter or carry it. Unfortunately, the scooter can't be detached from the suitcase.
It weighs approximately 3.kg and measuring H55cm x W35cm x D30cm when folded so is cabin sized dependant on the airline. Check before you fly, but it should fit in most overhead plane compartments.
Disney Princess Scootin Suitcase
With the same features of the spiderman scooter suitcase featured above, this is an excellent pick for Disney Princess fans.
To recap, the size of the scooter is 85 x 35 x 30cm when folded. Although designed to fit in the overhead compartment on airplanes, it's important to double check with the airline before you fly as each one has slightly different regulations.
The 3 modes are a scooter, drag along suitcase and a carry on when folded. As well as perfect for little ones from age 3 to get around the airport, it's also great for outings to the park when kids want to carry their toys and other items. Perfect for storing a picnic blanket and some small outdoor toys to play with.
Other features to note are 120mm PVC wheels and an adjustable handlebar from 73cm to 82cm.
Our Top Pick
For a safe bet go for either the 15" or 18" Flyte scooter luggage. There are many designs to choose, from Stephen the Spaceman to Polly the Panda, you are bound to find the perfect pick for your little one. The Flyte has been around for several years (since 2015) and is still going strong. It's won quite a few awards and it's a popular piece of kit loved by both parents and child. There's a lot of space inside and it scoots around well. What's not to like?