8 Best Scooter Locks – Buying Guide, Reviews and Recommendations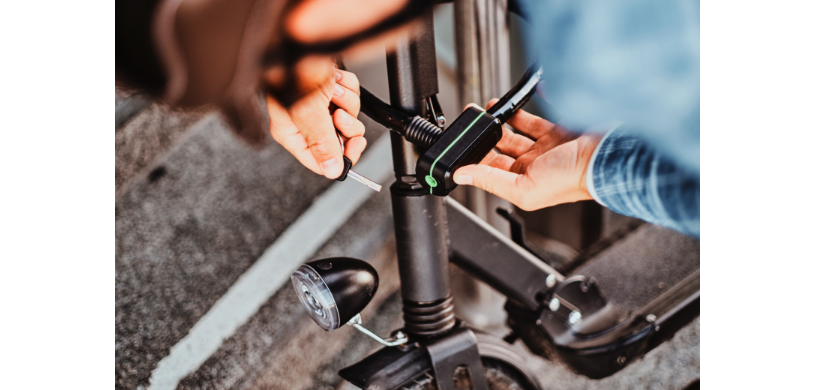 When purchasing a lock for your scooter, the first thing to decide is the type of lock you want. There are three main types of lock that we look at in this article (a u-lock, chain lock and cable lock)
The lock you choose will depend on how much money you want to spend and the level of security you want for your scooter. The level of security depends on how expensive your scooter is, how long you plan to leave your scooter and where you plan to leave it.
For example, if you have an expensive scooter and are leaving it outside for a long time in a high crime area, you want the highest security level you can afford. If you only leave it for short periods of time, such as to pop into a shop in a low crime area, it may be you decide you can spend a bit less.
Here is a quick rundown of the 3 different types of lock featured in this article.
U-lock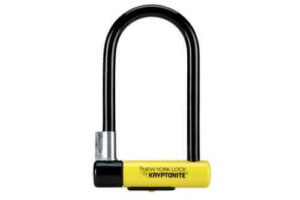 A u-lock is named according to its shape and is an excellent deterrent for thieves. They vary in terms of quality – the best ones are impossible to cut with bolt cutters.
The locking mechanism on a u-lock is not easy for hammers and chisels to break.
Ideally, you want the lock to be sized so that it goes around things with as little space left as possible. This makes it difficult for thieves to insert a crowbar and get enough leverage to break it open.
U-locks are ideal for fitting around a thin post such as a bike rack or a pole but their shape means it's difficult to fit around larger posts such as a street lamp.
Chain lock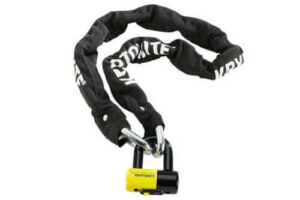 Chain locks have more length, so it's easy to attach your scooter to a multitude of fixed objects. They are a good option in high-crime areas. A good chain lock is difficult to cut with a hacksaw or chisel. However, in theory, it is possible for most chain locks (under 12") to be cut with bolt cutters. They are also heavier to carry.
When using a chain lock make sure the padlock is just as sturdy as the chain, otherwise, thieves will work on the padlock instead. Also attach the chain as high up as possible so that the padlock can't be smashed with a hammer against the floor.
Cable Locks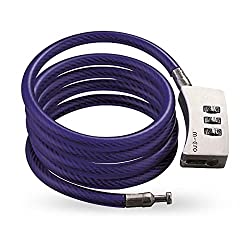 Cable locks are versatile. They are easy to attach to different fixed objects. They are also inexpensive. However, they offer the least security of all the locks featured. Bolt cutters and wire cutters can cut through most cable locks. However, they still work well in low-crime areas. They are a good option to deter opportunist and amateur thieves from stealing scooters which often happens with electric and stunt scooters.  They are also good to prevent the wrong kid from leaving with the wrong scooter at school pick up time.
Remember any lock is better than no lock!
 Top Tip
No Lock Is 100% Thief Proof - Professional thieves use a range of tools (such as angle grinders) to break event the toughest of locks. With enough determination and time, they can break through most locks. This is good to know as you can make your scooter as theft-proof as possible by not only buying the most difficult lock to break you can afford but also by ensuring you use other methods too. There are lots of tips throughout the article to help.
Kryptonite New York FAHGETTABOUDIT Lock
This FAHGETTABOUDIT Lock scores 10 out of 10 on the Kryptonite security rating and is the strongest lock that Kyptonite make.
It has an 18mm triple heat-treated steel shackle (Kyrptonite's thickest lock). The short shackle, with interior dimensions of 3.25" by 6" ensures the highest security. Thieves will have a hard time getting any kind of tool inside the u-lock to break it open. It's tough to get leverage with a u-lock with a small shackle like this one. Another advantage of having a smaller shackle on the u-lock is that it's lighter side for carrying.
The downside of the shorter shackle is that it's difficult to lock to a variety of fixed objects. Therefore, make sure this sizing will work for you and your scooter. If it doesn't, the other option is to buy a bigger u-lock or a chain lock.
It comes with 3 stainless steel keys, one with a LED lock. Register the keys online and Kyrptonite will replace them if they are lost.
It also has a lifetime warranty.
Kryptonite New York Standard Lock
The Kryptonite New York Standard lock has a slightly lower security rating than the New York mini lock (featured above) at 9/10. However, it has a larger and thinner shackle, making it more versatile as to where you can attach your scooter. It is also cheaper than the mini New York lock (featured above).
It features a 16mm hardened steel shackle, slightly thinner than the mini lock. The interior locking dimensions are 4" by 8". which are bigger than the mini lock.
Like the mini lock, it comes with a double deadbolt design which means it locks on both sides of the shackle. There are 3 keys and it also comes with a lifetime warranty.
Kryptonite Keeper 12 Standard
If you like the idea of a u-lock but not the price tag of the Kyrotonite u-locks already featured, check out the Kryptonite Keeper 12 Standard.
It rates as a 5 on Kryptonite's security scale but the cost is a lot less than other u-locks.
It's an excellent option for low crime areas especially if you want a lock just while you pop into a shop or a cafe for a short period of time.
The lock itself has a 12mm hardened performance steel shackle and the hardened double deadbolt design you find on the Kryptonite locks already featured.
It comes 2 stainless steel keys
 Top Tip
2 Locks are Better than One - If you leave your lock in a high crime area, consider using 2 locks instead of 1. First of all, it's likely to deter thieves and secondly it will take them longer to break two locks even if they do try.
Kryptonite, Keeper 785 Chain Lock

The Keeper scores a 5 /10 on the Kryptonite security rating. It's great for short stops in urban areas or longer stops in low crime areas and has a very competitve price tag.
The beauty of this chain is that it provides the strength of a ulock with more flexibility to wrap around a pole or other fixed object.
It's 85cm long and is covered in a thick nylon sleeve to protect bikes and scooters from scratches.
The lock has a drill resistant cylinder and an anti pick system so it's very resistant to thieves picking locks.
The chain is made of 7" heat treated steel locks which are very hard to cut.
Master Lock Street Certified Cuffs
If you have a big budget and want a tough lock, the master lock street cuff and cable lock is police approved
The hardened laminated steel construction with a hardened pivot link gives optimal resistance to bolt cutting. Additionally, the pivoting link prevents a fixed anchor point, taking away the use of leverage for thieves.
It features a 10 pin cylinder lock that has four keys. Conveniently, the push button lock means you can lock it without using the keys – making securing your scooter quick.
An ABS cover protects your scooter from scratches when using the lock.
It weighs 1.6kg and can fold down compactly, making it easy to store and carry.
It comes with a lifetime warranty, so this is the only scooter lock you'll need to buy.
It's available in two sizes with the link of the chain either 36cm or 55cm. The longer chain will give more versatility when parking your scooter.
 Top Tip
Consider a Cover Your Scooter - covering a scooter can help deter thieves. A thief cannot see what's underneath the cover so he doesn't know the value of the scooter or the type of lock he would need to break through. These unknowns can deter thieves from even trying. It's a case of a thief assessing the risk and the reward and he can't do either if he can't see what's underneath. It therefore may be preferable to move onto a more visible scooter or bike down the road.
Scoot Lock
The scoot lock is a good option of cable lock for kids. It attaches to a scooter so you don't have to worry about forgetting it - everywhere the scooter goes the lock goes too.
Once the lock is fitted, it's easy to use. The long adjustable cable makes it easy to adjust it to a tree, railings or post. A four digit number is used for the lock, so you don't have to worry about losing a key.
Obviously the lock isn't going to deter a determined thief but it's a good level of security to have on a scooter at school to stop it being accidently taken or stolen.
The lock itself is lightweight so it won't impede a child from scooting or make it heavy to pick the scooter up.
Additionally the front badge acts as a reflector which acts as an extra safety precaution during autumn and winter evenings.
There are five bright colours to choose from and the scooter lock also works with bikes too.
Micro Bike and Scooter Lock
This scooter lock comes from a highly reputable scooter brand and it's inexpensive - so two plus points right out the gate.
The lock sits on the scooter stem when not in use. You know it's always there ready to use when you need it. It's light, so won't add much weight to the scooter - which can be important if you have to carry it for any length of time.
It has a tough, long 1.2m steel cable which works with most bikes and scooters. On top of this it's also compact.
There is a triple combination lock, so you don't need to worry about kids losing a key.
Choose between black, pink and blue.
Master Lock Street Cuff and Cable Lock
A tougher option of cable lock is the the master lock. It has a 1m long braided steel cable for maximum strength.
You affix the lock via the wheel or the handlebar on the scooter: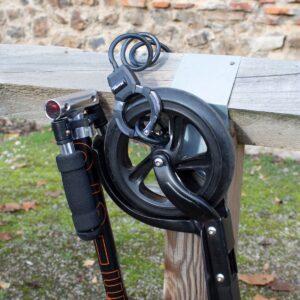 It features an anti-theft lock with an integrated pin tumbler keyed locking mechanism for superior pick resistance
It also comes with a lifetime warranty.
Features to consider when buying a scooter lock
Weight
Some locks can be extremely heavy to carry around. The best scooter locks are as light as possible.
Lock that permanently attaches to a scooter or a separate lock?
Some scooter locks attach onto the scooter itself (usually on the scooter stem). The advantage of these locks is you don't have to remember to bring the scooter lock along, wherever the lock goes the scooter goes too.
You may prefer a separate lock that you can switch between more than one scooter or a scooter and a bike.
If you buy a lock that you will carry separately from the scooter, think about the size and weight of the lock. Will it fit in your bag or backpack? Perhaps there is a side compartment where you could store it?
How does it attach?
Can you park and attach the lock to a multitude of different places? How long is the cable, chain or how big is the u-lock? Will it be able to attach to a post, gate or fence?
Usability
How easy is it to secure and unlock? If you are buying for a child is it easy for little hands to use?
Key or Combination Lock
Would you prefer a scooter with a combination lock (no worries about losing a key) or a key (no worries about forgetting a combination lock.) If you prefer a combination lock – how easy is it to use? Are the numbers big enough to see? What do reviewers say?
Cost
It doesn't make sense to buy a lock which costs almost as much or a good proportion of the scooter's price. Some people recommend spending about 10 to 20% of the scooter's value on a lock but how much you want to spend will also depend on the type of scooter you have, the level of crime in the area you leave the scooter and the amount of time you leave it for.
If you are buying a lock for an electric scooter or a more expensive stunt scooter, it stands to reason that you will want to spend more money to get the most durable and tough lock you can find, as obviously these are the kinds of scooters that attract theft.
Extra tips to prevent scooter theft
1.) Always use a lock - any lock is better than no lock
2.) Avoid leaving your scooter in areas where there is lots of crime.
3.) Choose a public location that is well lit and easy to see. If there is an area with a camera nearby (such as in a local shopping centre), this can help deter thieves. Who wants to be caught on camera?
4.) Always secure your scooter to an immovable object.
5.) Avoid leaving your scooter outside wherever possible. Can it be left under a desk at work or during a meeting?
6.) Attach a tracker so if it does get stolen you have a better chance of recovering it.