The Top 3 Skateboard / Scooter Combos for Kids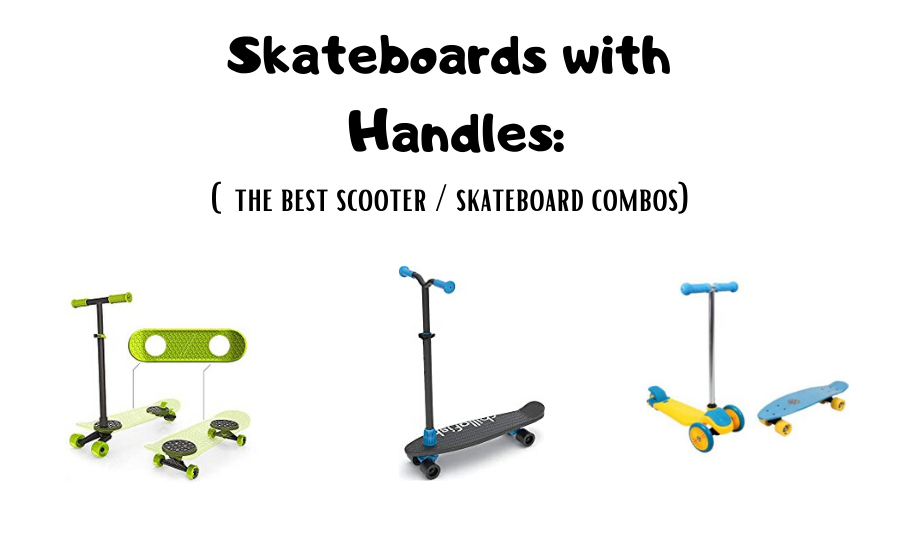 Do you have a child who can't decide between a scooter and a skateboard and you're not sure which one to get. Or perhaps you're looking for a skateboard with a training handle. Well, look no further for scooter and skateboards in one package.
There are few skateboard and scooter hybrids for kids to choose between. They each have a removable handlebar and easily convert between a skateboard and a scooter without tools. Some combos make great training skateboards for kids, others are ideal for enjoying the fun of both a skateboard and a scooter.
In this article, we have looked at 3 different options. The best one to get will depend on the age, size and weight of your child. The Morfboard is a good choice if you are equally undecided between a scooter and a skateboard. The Chillafish is preferable for young kids who are more excited by the skateboard element and are looking for a training skateboard. And the Maui and Sons is a competitively priced option for the smallest of children (toddlers / preschoolers).
Read on to find out more.
*This post has affiliate links, which means we may receive a small commission if you choose to purchase through links we provide (at no extra cost to you). As an Amazon Associate we earn from qualifying purchases.
Morfboard Skate & Scoot Combo
This is a great 2 in 1 skateboard and scooter hybrid which is perfect for younger kids to blast through the neighbourhood. It's easily swapped between the two functions. No tools are required.
Scooter
The scooter handle can easily be attached and is easily and quickly adjustable from 55cm to 73cm. The handlebar measurements are on the low side, which makes it a better choice for younger kids. It sits well in the 6 to 9 year old age group. A maximum rider weight of 68kg will ensure that older siblings can have a quick go as well.
For safety, the rear wheel works with an insert lever brake for immediate stopping. The scooter has a lean-to steer mechanism which means kids will have to lean to steer left and right rather than use the handlebar to control the direction. This will be okay if kids are already used to this system but will take a bit of getting used to for kids that aren't. There are handgrips for ultimate comfort when riding.
Skateboard
Easily change the board by removing the scooter extension. Lock and release technology means you can transform the board in seconds.  The skateboard is a brilliant option for a fun ride and a to try few tricks. Featuring 53 mm urethane wheels for a buttery smooth ride on any surface performance. This is a great skateboard for having a go.
Overall this is a good buy for the 6, 7 and 8 year old kids who can't decide between a scooter and a skateboard. It's one device that gives double the play value. Perfect for playing outside on the street.
And if this isn't enough, there are other components you can purchase separately for even more fun. Transform the board with bounce and balance attachments for more indoor and outdoor play (sold separately).  The balance attachment is particularly awesome for improving core strength and balancing skills (great for indoor use).
Chillafish Skatieskootie, Training Skateboard with Detachable Handle
The Chillafish is marketed as a training skateboard and for that purpose it does the job superbly well. It also comes with a handlebar extension for a scooter too.
It's aimed at kids between the 3 to 8 years age group and the training skateboard has been really well thought out for this age. An elongated wheelbase makes the skateboard more stable so it helps kids stay upright. The longer wheelbase makes it much more difficult to tip the skateboard forwards or backwards.
There are 3 coloured deck plates that can easily be switched in and out. Perfect for customising the look of the scooter. Additionally, you can change between 3 different tails which range from flat, medium and sharp. This is so kids can customise the feel of the ride from simple and safe to etchy and quick. Polyurethane wheels and ABEC 7 bearings ensure the skateboard gives a smooth ride.
So what about the scooter? Chillafish market their product as a training board with a handle rather than a scooter and skateboard, and that description is probably very accurate. On the plus side, the scooter handlebar can be easily switched in and out. It's perfectly sized for younger kids from age 3 as it's height adjustable from 66cm to 81cm. The handlebar is on the smaller side once kids are pushing towards age 9. On the more negative side, some reviews complain that the handlebar is slightly wobbly which can be frustrating if you plan on using it as a scooter a lot.
In summary, this really is an excellent training skateboard for younger kids to have a go. The scooter handlebar adds another dimension but if you think the scooter element will be used a lot it might be worth considering another option.
Maui and Sons Beginner Scooter Skateboard Combo

The Maui and sons beginner skateboard and scooter combo is very much for the little kids (I would suggest 3 to 5 years, but some toddlers might also be find on the scooter).
The combo offers versatility and options for little ones who are keen to try out both a scooter and skateboard. It's actually a combination of two Maui and Son's product (the sharkboard scooter and the 22" cruiser skateboard). So you can purchase the products separately if you prefer.
The aluminum handlebar is easily removable to convert the product with ease. The bar is one height and is on the short size (measuring 19" or 48.2cm), so you can't adjust the product as you go shortening the lifespan. The PVC wheels are great for trying out both scooting and the skateboard for short distances. However, they lack the durability and smoothness of ride of polyurethane wheels which the other skateboard and scooter combos have.
The price is the lowest of the skateboard / scooter options featured on this page. A maximum weight capacity of 50kg will accommodate the 3 to 5 age range without a problem.
All in all, if you're looking for a fun toy for little ones to try out both a scooter and a skateboard it ticks all the boxes at a competitive price. But if you're looking for something that will grow with your child or an option for a bigger kid it may be worth spending a little more.