Micro Cruiser Vs Micro Sprite - Which One Is Best for Your Child
The Micro Cruiser and the Micro Sprite are both high quality 2 wheel scooters aimed at kids from aged five plus. The Micro Sprite has smaller wheels, a handlebar with a huge adjustment range and accommodates kids until 12 years old. The Cruiser has larger wheels which takes kids further with fewer kicks. It's handlebar doesn't adjust as high but it still lasts kids until age 9 or 10.
The best scooter for your child will depend on how old and tall they are and what they want from a scooter.
This article looks at the differences between the two scooters and highlights what they mean for your child's scooting experience. Are the Cruiser's bigger wheels better for your child? Or should you go for the standard features of the Sprite?
Comparison Table
| Feature | Micro Cruiser Scooter | Micro Sprite Scooter |
| --- | --- | --- |
| Age Recommendation | 5 to 10 | 5 to 12 |
| Handlebars (height adjustment) | 74cm to 88cm | 64cm-93cm |
| Wheels | 200mm wheels | 120mm front wheel and 100mm rear wheel |
| Bearings | ABEC 5 | ABEC 5 |
| Weight of scooter | 4.5kg | 3.28kg |
| Max rider weight | 100kg | 100kg |
| Foldable | Yes | Yes |
| Accessories | Kickstand | Kickstand |
| Brake | Rear Footbrake | Rear footbrake |
| Footplate length | 38cm | 48cm |
Micro Cruiser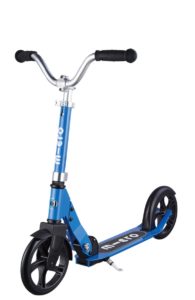 The Cruiser is a big wheel scooter which is quickly becoming one of Micro's most popular scooters for children in the UK. And it's not hard to see why, it looks stylish and sturdy. The big wheels give a smoother ride which goes faster and further will less effort. Perfect for the school run and for weekend outings.
Wheels - the 200mm PU wheels give a smooth comfortable ride. The advantage of the Cruiser's bigger wheels compared to the Sprite's smaller ones is that bigger wheels will better absorb the shocks in the road from bumps and cracks in tbe pavement. The bigger wheels will also go faster and further will fewer kicks so less effort - meaning that younger kids don't get tired so easily and older ones can go more quickly and longer distances. Less effort is needed to pick up the pace!
Some younger children also find the bigger wheels more stable which gives them increased confidence when learning to ride on a 2 wheel scooter.
If you live in an area with lots of bumps and cracks in the pavements, the cruiser's wheels will do much better on these kind of surfaces than smaller wheels. Kids can feel the bumps with the smaller wheels more and bigger wheels won't get stuck on small cracks or bumps.
Age and Height Recommendation - the scooter is recommended for ages 5 to 10 with a height between 110cm and 146cm. If you compare the sprite and the cruiser side by side, the sprite's handlebar extends much further meaning it can accommodate taller kids whereas some children will outgrow the cruiser before age 10 if they are on the tall side.
Handlebar - the handlebar is adjustable from 74cm to 88cm so will grow with your child.  The handlebars are wider than on the sprite and a chopper style. Not only do they look cool, the wider handlebars give riders enhanced control.
Footplate - the footplate measures 38cm in length which is a smaller length - again great for younger children within the height range. The footplate has a ground clearance of 6cm which is low to the ground for a big wheel scooter giving riders more stability. It also means a more comfortable ride as the kicking leg is less distance to go to reach the ground and push along.
Foldable - the scooter is foldable which makes it easier to carry and store. As the wheels are bigger it's won't fold down as compactly as the sprite.
Scooter Weight - the weight of this scooter is 4.5kg. This is heavier than many other two wheel scooters and is simply down to the extra weight of the bigger 200mm wheels. The heavier scooter may be a consideration if you want to carry it long distances. However, if you are just moving it in and out of a car boot or something similar, it should be fine for most people to handle no problem!
Brake - the brake on the cruiser is a big flex brake.
Verdict - this scooter is an excellent choice for the first time scooter rider from aged 5 plus.
Micro Sprite
The Sprite is a 2 wheel scooter designed and engineered by the Micro brand. It's been a favourite of many kids and their families for many years now and has stood the test of time. The Sprite is a lightweight, portable and adjustable scooter which is designed to last kids for many years.
Wheels - the scooter has a front 120mm PU wheel and a rear 100mm PU wheel. The front wheel is slightly bigger than on many 2 wheel scooters giving the rider a front powered ride. The bigger front wheel will help give the scooter a smooth ride. Obviously the wheels aren't as big as on the cruiser but wheels add weight to the scooter so it means that the Sprite is much more lightweight.
The wheels are made of 87o ShoreA polyurethane which means the wheels are extremely solid. The higher the o number the more resistance the wheels have to indentation and wear.
Age and Height Recommendation - it's recommended for kids between the ages of 5 and 12 years who have a height of between 110cm to 152cm.
Weight - the scooter weighs just 2.7kg. This makes it easier to carry for longer distances. Younger kids may also find the lighter scooter easier to control. For example if they need to pick it up to go down a kerb, it will be easier for them to do so.
Footplate - the footplate is 48cm (10cm more than the cruiser) meaning it can easily accomodate the size of an older chid's feet.
Handlebar - the handlebar is  height adjustable between 63cm and 95cm. It adjusts a lot higher than the handlebar on the cruiser meaning that it will be fine for kids up to age 12. In fact, even teens and adults can have a go at riding this scooter provided they are below the maximum weight limit of 100kg.
Foldable - the Sprite can be quickly and easily folded. It's simple fold and streamlined shape makes it a great choice to take on public transport, put in the car or fold down wherever you need. The folded dimensions are 66cm(l) x 25cm(h) x 10cm(w).
Other Considerations - you can purchase a carry strap separately to go with the sprite making it easier to carry when you need to.
Verdict - if you're looking for a lightweight scooter that easily folds this could be a great choice. It's a good choice for older, growing kids, lasting up to at least 12 years old. It's lighter weight and the addition of a carry strap make it an awesome choice if you need to use public transport.
What Else is There to Consider
Micro scooters are a well known brand. It's quality, design and engineering make them a favourite scooter with many families who progress from the 3 wheel scooters onto 2 wheels and again onto commuter or stunt scooters for their kids.
Micro design all their scooters so that the parts can be easily replaced or repaired. This means it keeps scooters out of landfills for longer. Once each child has finised with the scooter, if they are looked after they can be passed on to siblings, cousins or friends.
Comparison Video
See the sprite and cruiser in direct comparison.
Other Versions of the Micro Sprite.
There are three main versions of the Micro Sprite Scooter as follows:
Micro Sprite Classic - this is the scooter detailed above.

Micro Sprite LED -  this version is the same as the classic with the addition of LED flashing lights.

Micro Sprite LED Neochrome - this version has a cool neochrome design and LED flashing lights on the wheels.

Micro Sprite Deluxe - this version has chopper style handlebars and an integrated light on the stem. Read our review of the Micro Sprite Deluxe scooter.