Micro Sprite Deluxe Review
Micro gifted us a Micro Sprite Deluxe for my 9 year old son (Callum) to try. It was perfectly sized for him to put the scooter through its paces. Find out what he and I thought!
*This post has affiliate links, which means we may receive a small commission if you choose to purchase through links we provide (at no extra cost to you). As an Amazon Associate we earn from qualifying purchases.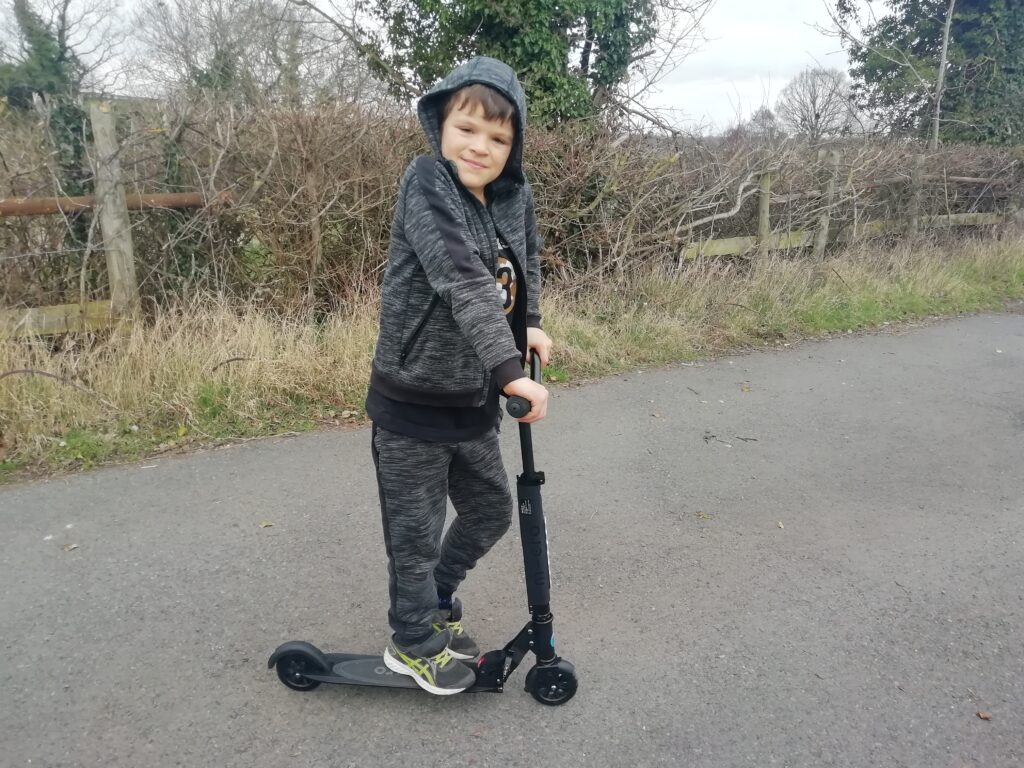 The Ride
Callum took to the scooter straight away. He whizzed off happily and easily, picking up speed. The scooter has durable 120mm PU wheels which offer a lovely smooth and quick ride. We tried the Sprite Deluxe out on quite a bumpy path full of small stones and this didn't hinder him on the scooter at all.
One thing that impressed me is how quietly the scooter rolls. If you've ever had a cheap scooter, the rattling can be annoying. There is no rattling on the Sprite. It's a pleasure to watch and listen to a child ride on it.
The long brake on the back wheel made it easy for my son to stop. There was no need to slow down by putting his foot out, so no scuffing his shoes.
The light construction and design of the scooter contribute to an agile and nimble ride.
There's a handy kickstand, which I love. We scooted to the park and just stood the scooter up rather than laying it flat on the ground. This stops it from getting dirty and scuffed. You know what kids are like - they always find the muddiest part of the playground to throw things down on.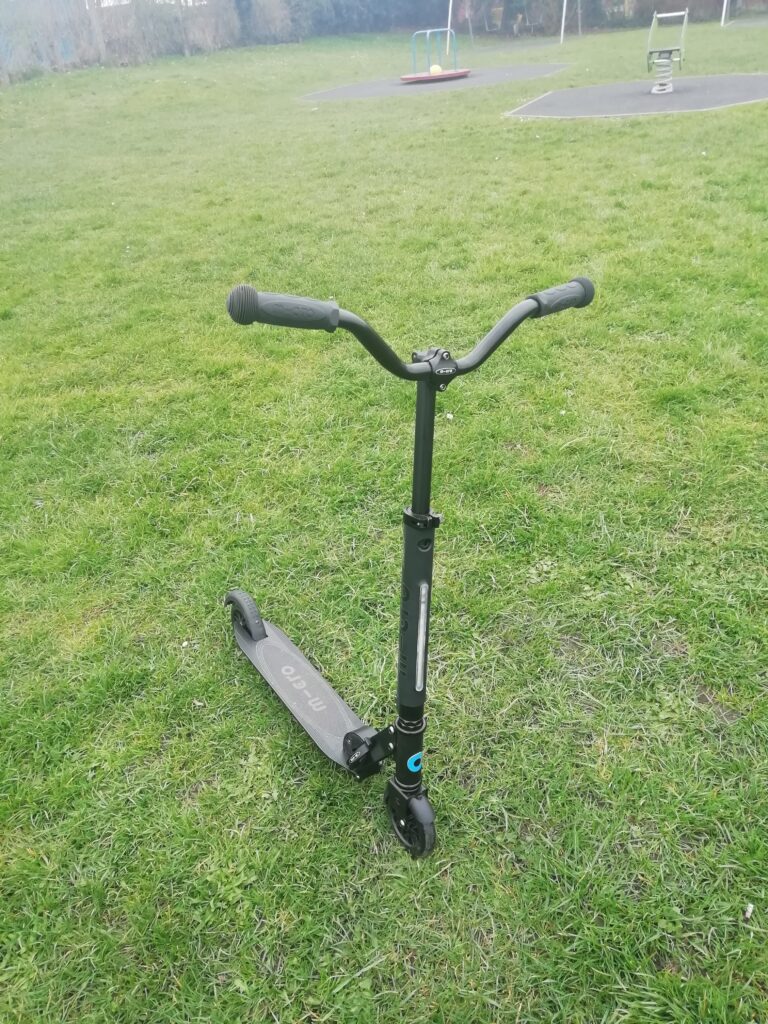 I managed to operate the kick stand with my foot, but it took a few goes to get the knack of doing this. To be honest, kids are going to find it easier to pull the kickstand out with their hand.
The Front Light
What impressed my 9 year old the most was the front light. He loved the fact that you could make the light flash when riding. A blue switch at the back turns the light on and off. Press it twice to activate the flashing mode.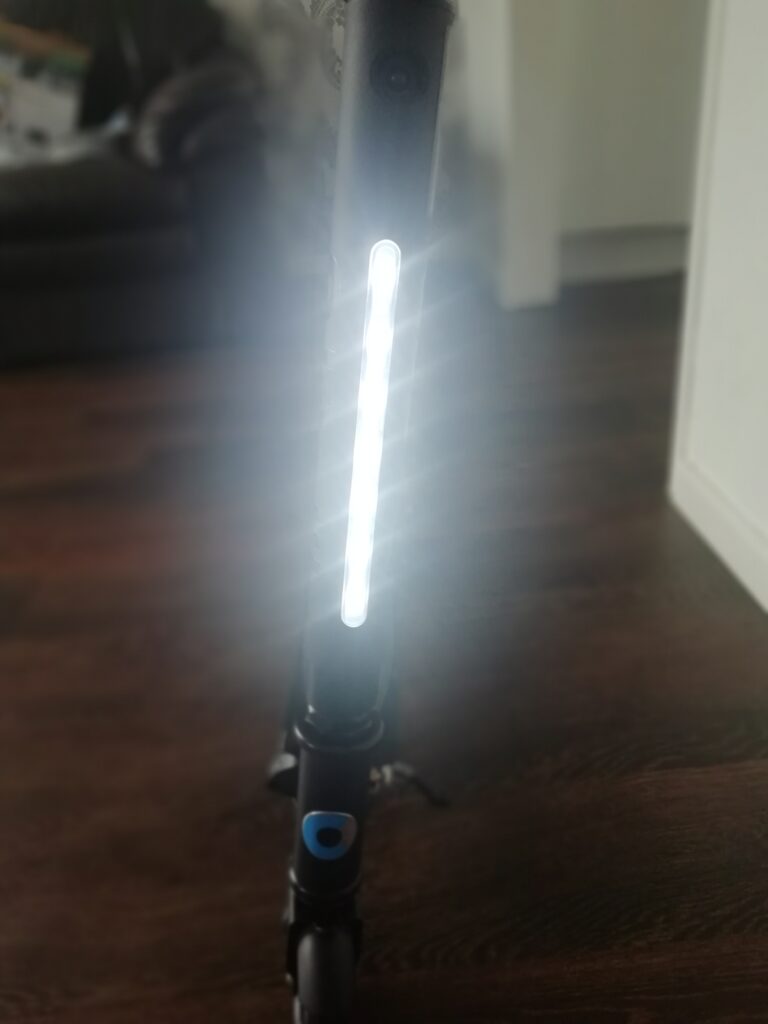 The light is going to be brilliant during the autumn and winter months when sunlight is fading during the late afternoon school run. The Sprite Deluxe also has reflective strips on the back of the wheels so kids will stand out when scooting at dusk.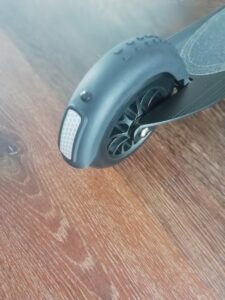 Height adjustable
It's so quick to adjust the height on the Sprite Deluxe. The wonderful thing about Micro Sprite scooters is they have a telescopic handlebar to secure the scooter at any height between 73cm and 98cm. Micro recommends the scooter for kids between 110cm and 152cm. Callum is 132cm (4'4"). We adjusted the bar to the perfect height for him and I noted the handlebar will extend much further. There is plenty of growing room. The Sprite Deluxe could last him for a few years.
We adjusted the handlebar to its highest point and my 14 year old (who's about 5'9") and over the height recommendation hopped on and had a go. He loved it and it would be fine for him to use now and then if he wanted. (although he's still growing, so maybe not for much longer).
And yes, I jumped on too. I'm under the weight limit of 100kg and the highest part of the handlebar suited my 5'5" height. Despite being a kid's scooter, the Sprite Deluxe is strong enough to take some adult usage as long as you are under the 100kg weight limit.
Wheels
Both the front and rear wheels are 120mm PU wheels. Like everything on the scooter, they are high quality and durable, giving a smooth and agile ride.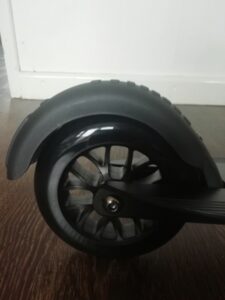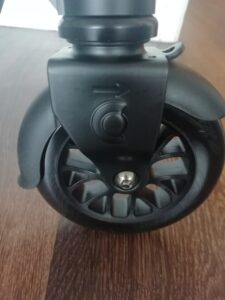 Foldable and Lightweight
The scooter easily folds. My 9 year old could fold it independently. Simply pull up the lever and press one button to fold. Ideal for storing in the bike sheds at school, in the car boot or in a cupboard at home. The chopper handlebars mean that it's not as compact as the classic Sprite but it's still no problem to store in our cupboard at home.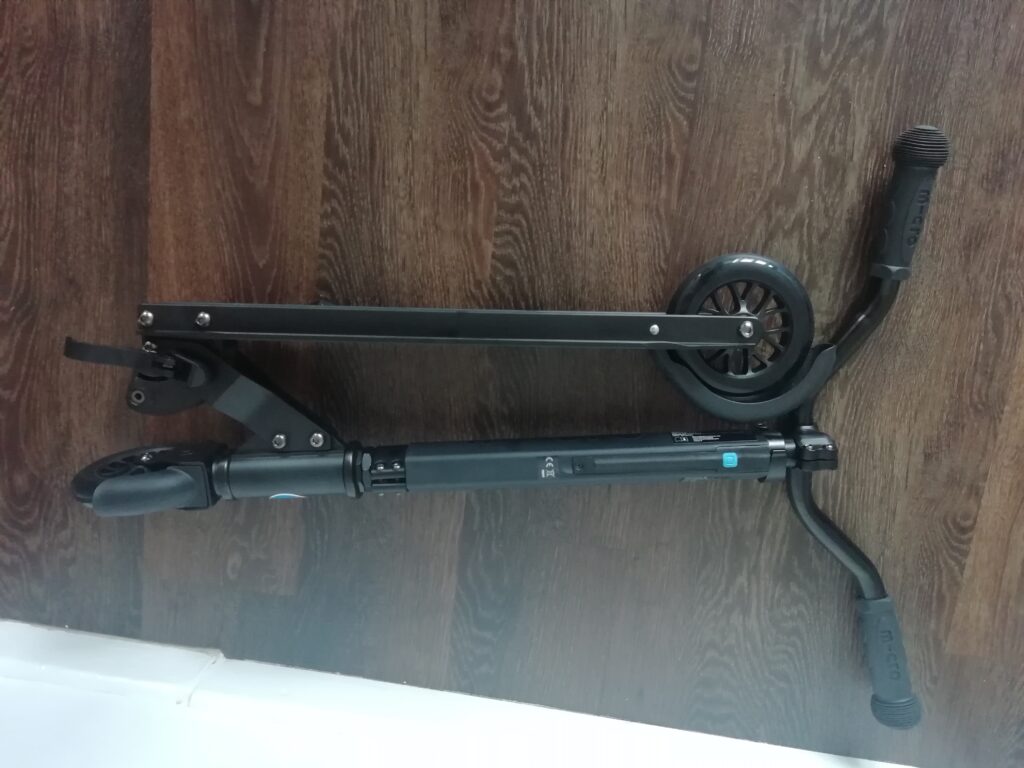 The other notable factor is how light the scooter is, weighing just 3.3kg. Callum delighted in picking up this scooter and telling me how he could carry it. This is going to be great for several reasons. If you have a younger child (aged 5) it's light for parents to carry if they get fed up with scooting. Lighter scooters are also easier for the youngest of kids to control. They can conveniently lift the Sprite Deluxe up and down kerbs. Older kids will find it easy to carry up a steep hill or a few stairs. If you want an even lighter scooter, the original Micro Sprite scooter is just 2.7kg, so worth considering.
Handlebars
The Sprite Deluxe features chopper style handlebars. The wider curved handlebars make it easy to balance and therefore young kids are in complete control of the scooter. My 9 year old has dyspraxia which can affect his co-ordination. Although he is proficient on scooters, features such as wide handlebars give him that extra bit of stability which makes scooting easier.
The chopper style handlebars look pretty cool too!
Hand Grips
The hand grips are rubber and very durable. We've had several scooters where the hand grips get tattered and worn. My boys seem to have a knack of pulling them off the scooter and then they fall apart. This is often a problem with foam handgrips on a kid's scooter. They aren't durable enough to withstand knocks, scrapes and the treatment that kids put them through.
The Sprite Deluxe's rubber handgrips are much more resistant to punishment from the kids. They are less likely to get damaged, scratched or scraped when knocked or thrown on the ground compared to foam ones. The handgrips also seem tightly fixed and difficult to tear apart, which is excellent. My son tells me they're comfortable on his hands. The ends of the bumpers also help to protect hands if kids fall.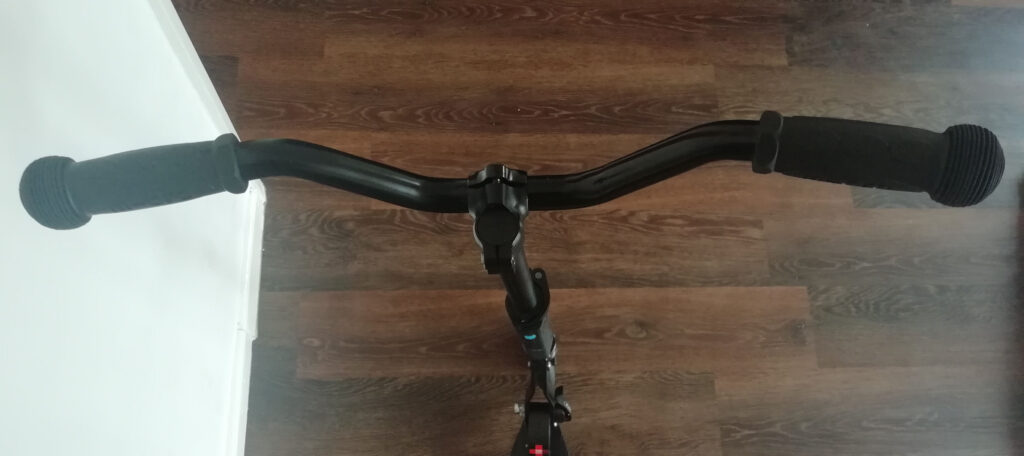 The Deck
The deck is solid and strong. I was particularly impressed with the grip tape as is it so durable. On other scooters, the grip tape can wear away quickly but this isn't the case with the Sprite Deluxe. It gives kids extra grip so they don't have to worry about slipping.
The deck measures approximately 34.5cm (l) by 10.5cm (w) and gave Callum plenty of footspace.
Assembly
There is a bit of assembly. You need to attach the chopper style handlebars to the scooter. This is a doddle to do (I did it so it must be!) and took just a couple of minutes. If you get stuck, you can watch this video.
Longevity
I rave about Micro scooters and one of the principal reasons is because all Micro scooter parts are repairable and replaceable. We have gone through many scooters since my kids were little and the reason is that once a part wears out on many kick scooters, it's difficult to replace. This isn't the case with Micro Sprite Deluxe. Just go on their website and you can buy any part you need to repair your scooter.
This means the Micro Sprite Deluxe is going to last a long while. When your child has outgrown the scooter, you can keep it out of landfill and pass it onto siblings, cousins and friends. Or you can sell it on sites like Ebay. Micro scooters hold their value well.
Overall Verdict
This is a fabulous 2 wheel kick scooter for kids. It's easy, smooth and comfortable to ride, light, durable and strong. The design and construction are second to none. And it's going to last a long time too.
The wide chopper handlebars make it a superb choice for young kids starting out as it makes the scooter easier to control. It is also a wonderful choice for kids until they're 11 or 12.
Check it out at micro-scooters.co.uk