Globber vs Mini Micro Scooter
Globber scooters entered the scooter market a couple of years ago and have become a key brand in the scooter market rivaling longtime brand Micro scooters.
So can globber give micro a run for their money? This article compares some of the mini micro and globber versions.
​
Firstly comparing the globber 5 in 1 vs mini micro 3 in 1 deluxe plus aimed at kids aged 1 plus.
Secondly comparing the globber primo and mini micro deluxe and classic for kids aged 2 or 3 and above.  Scroll down toward the end of the page to see the comparison.
Globber Evo 5 in 1 vs Mini Micro 3 In 1 Deluxe Pro
Both scooters offer an age range of 1 to 5 years.
The scooters both have unique offerings for kids of different ages so the best choice for your child may depend on how old they currently are.
Age Range
Stages
Compare the different stages / levels below:
Globber
Level 1 - A seat with footrests a parent controlled push bar. The push bar is height adjustable
Level 2 - The footrests are removed so children can learn to use their feet to scoot along with the parent push bar
Level 3 - The parent pushbar is removed and the child uses the seat.
Level 4  - The seat is removed
Level 5 - The handlebar can be adjusted.

*This post may have affiliate links, which means we may receive a small commissions if you choose to purchase through links we provide (at no extra cost to you).
Mini Micro 3 in 1 Deluxe Plus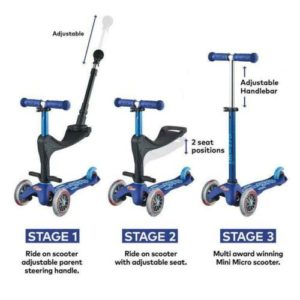 Check Price on ebay 
Level 1 - Ride on scooter with adjustable parent steering handle and footrests.
Level 2 - Ride on scooter with adjustable seat at 2 different heights
​Level 3 - The scooter is converts into the Micro Mini Deluxe with adjustable handlebar (aged for kids from around 2 to 5 years)
Steering
When steering both scooters features a lean to steer mechanism. This means that kids lean to steer left and right rather than turning the handlbar.
One feature the globber has that the mini micro doesn't is the steering lock. Press a button and the steering can be locked.  The idea is that when kids are first learning to scoot as they don't have to worry about steering until they have mastered scooting which can be done in a straight line.
Seats
The seat on the mini micro is adjustable to two different heights so it will be easier for little legs to reach the ground to scoot along on the lower seat and longer legs won't be bent too much on the higher seat.
The Globber has just one seat height.
Wheels
Both scooters feature polyurethane wheels which give a smooth ride and speedy once they have mastered scootering.
Weight Limit
Both scooters have a rider weight limit of 50kg.
Weight of Scooter
When used as a stand alone scooter, the globber weighs 2.5kg and the mini micro weighs 1.8kg.
​They are both lightweight but the mini micro is much lighter than the globber.
Lightweight scooters give young children who are learning to scooter an advantage. They are able to control the scooter much more easily. They are also able to lift and turn the scooter when needed so don't always need to steer at the beginning. It's also easier for small children to lift the children up and down kerbs and steps.
Additionally a lightweight scooter is easier for parents to carry and move when little kids have had enough scooting.
Handlebar Height​
Mini Micro Deluxe
The mini micro comes with a height adjustable handlebar of between 49 and 67cm. The handlebar can be adjusted at any point within this range.
This is perfect for very young kids who want to use a scooter. Ideally handlebars should be no higher than waist height. Any higher than this makes it difficult for young children to control.
Globber
The Globber has an adjustable handlebar height from 67.3cm to 78.7cm which is quite a bit taller than the micro. This makes the scooter more suitable for the 3 to 6 year age group so it may last your child a bit longer. It may work better for toddlers who are a little bit taller.
Deck
Both scooters have a low to the ground deck which makes it easy to get and off the scooter
Comparison Chart (Globber 5 in 1 vs Mini Micro 3 in 1)
Scooters
Stages
Adjustable Handlebar
Weight
Steering
Globber EVO 5 in 1
Parent handle, footrests, seat, scooter with adustable handlebar
67-78cm
​(Adjustable to 3 different heights)
2.5kg (when used as a stand alone scooter
Lean to steer
Button to turn off steering while learning
Mini Micro 3 in 1 Deluxe Plus
Parent handle, footrests, seat, scooter with adustable handlebar
49 - 67cm
(Adjustable at any height within this range
1.8kg (when used as a stand alone scooter)
Lean to steer
Which One?
It's actually very difficult to pick a winner out of these two as actually they both offer different things.
​
If you're buying for a very young child the mini micro may be your best pick as it's lighter and the handlebar on the deluxe scooter is shorter. A slightly older or taller child may do better with the globber as the handlebar adjusts a lot further.
Globber Primo Vs Mini Micro Classic and Deluxe
If you're buying for an older child you will most likely be looking at the differences between the globber primo and the mini micro classic or deluxe.
Scooters
Adjustable Handlebar
Weight
Steering
Age Range
Globber Primo
67-78cm
​(Adjustable to 3 different heights)
2.5kg
Lean to steer
Button to turn off steering
3 to 6
Mini Micro Classic
69cm
1.5kg (when used as a stand alone scooter)
Lean to steer
3 to 5
Mini Micro Deluxe
49cm to 69cm
(adjustable to any height within this range).
1.8kg
Lean to steer
2 to 5
Which one?
The table above makes it really easy to see the differences between all 3 scooters but it may not be as easy to make a decision if your not sure which features make it best for your child:
​
For 2 Year Olds - Winner - Mini Micro Deluxe
The globber primo and mini micro classic are aimed at kids age 3 and above.​The mini micro deluxe has a really low handlebar height of 48cm so can accommodate kids from age 2.If you are buying for a 2 year old and have the budget it's worth going for the mini micro deluxe as 2 year olds will find the lower handlebar on this scooter much easier to control.​​
Mini Micro Classic - Advantages
The mini micro classic may not appear to be the best choice as it's pricier than the globber and seems to offer less features. However, one area where it scores very highly and which may affect your ultimate decision is how lightweight this scooter is. As it has no adjustable handlebar or folding mechanism, the scooter is super lightweight. This means that kids can easily move and control the scooter. It is super easy for them to pick up and move up and down kerbs and steps independently. It also makes it easier to learn how to scoot with the scooter is lighter. Parents with back issues will also appreciate having a lighter scooter to carry when it's time to put it in the car or carry it when little ones have had enough.
​
Globber Primo- Advantages
Obviously the price point makes the globber primo very attractive especially for those on a budget.
The adjustable handlebar with three different height settings means that it will grow with your child and the maximum handlebar height is a lot higher than the mini micro classic and deluxe so it scores higher on longevity too. There is potentially another year of use you can have with this scooter.
It is heavier, which means it is harder for little ones to pick up and down steps.
This is perhaps the better choice for taller and heavier children who won't even notice the extra weight. ​