JD Bug Junior Scooter Street vs JD Bug Original Street Scooter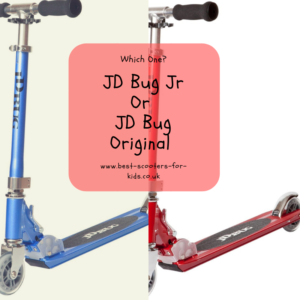 Which One?
If you can't decided whether to purchase the JD Bug Junior Street Scooter or the JD Bug original street scooter, this article has a comparison between the two focssing on several different features to help you decide.
Feature
JD Bug Junior Scooter
JD Bug Original Street Scooter
Age Recommendation
4 - 8
5 - 12
Handlebars (height adjustment)
63cm-84.5cm
63cm-95cm
Wheels
120mm front wheel and 100mm rear wheel
86a durometer
PU wheels (clear with grey speed hub)
100mm wheels
86a durometer
PU wheels (clear hub)
Bearings
ABEC 5
ABEC 5
Weight of scooter
2.3kg
2.78kg
Max rider weight
50kg
100kg
Foldable
Yes
Yes
Accessories
Multi mount clip and shoulder strap
Brake
Rear footbrake
Rear Footbrake
Deck
440mm x 90mm
510mm x 100mm
Recommended Age Range
The junior is recommended for younger children just starting out on a 2 wheel scooter. The recommended age range is 4 to 8 years.
The original is recommended for age 8 plus, although some children as young as 5 or 6 may be okay with this.
It's often not a good idea to go on age recommendations. The size and height of the child is much more important when determining the best scooter. So a tall 7 year old will be much better suited to the original scooter as they will grow out of the junior street scooter much more quickly.
Footplate
One of the major differences between these two JD Bug scooters is the footplate size. The footplate measures 44cm by 9cm on the Junior and 51cm by 10cm on the original. So you can see the original scooter has a much larger footplate.
A smaller footplate is a lot easier for a younger ride to control. If you can imagine riding a scooter with a deck with a long space at the end you can imagine what it's like for a small child to ride a scooter with a too big footplate. A lot more difficult. So if you are buying for a small child the junior is probably the best choice.
The deck on both scooters is made from aircraft graded aluminum which is both a durable, strong but lightweight material.
Handlebars
Both scooters have height adjustable handlebars and they start from the same minimum height which is 63cm. The junior scooter adjusts all the way up to 84.5cm. Whereas the originaladjusts to 95cm. There's a quick release clamp on both scooters so you can choose any height between the minimum and maximum to suit the child. It's super easy to adjust the height.
As you can see both scooters do have a lot of growing room. Obviously the original will be the better choice for a taller child as it not only has 10 more cm on it's handlebar, they will have a bigger footplate on the scooter.
Weight of the scooter
The JD Bug junior weighs 2.3kg and the JD Bug original weighs 2.78kg. Both scooters are fairly lightweight which is good.
​The lighter the scooter the easier it is for younger and smaller children to control. 4 year olds are definitely going to find it more easier to control the JD Bug junior. And younger children are much more likely to ask parents to carry their scooter. A lighter scooter is much easier to carry too.
Weight of the rider
The junior has a maximum weight of 50kg whereas the original has a maximum rider weight of 100kg
Wheels
The JD Bug junior has a front wheel size of 120mm and a back wheel size of 100mm. The original scooter has 100mm wheels front and back.
It is common for scooters for younger children to have slightly larger wheels. The larger wheels gives them a bit more stability and control.
Most standard size scooters will have 100mm wheels.
The wheels both have ABEC 5 bearings and offer a really smooth ride.
Other Considerations
Foldable - both scooters are foldable with a quick release clamp. This is fantastic for when you need to carry and store the scooter. The handlebars also fold down which is good if you need to store the scooter in a compact space, in a school locker for example.
Accessories - the JD bug original comes with a carry strap which is super useful if kids have to transport it.
Foam Grips - the foam grips on both scooter are nice and soft which is perfect for children to offer comfort when they are riding.
Brake - both scooters ​have a rear brake.
Colours - both scooters come in different colours including silver, matt black, sky blue, red glow pearl, pastel pink, reflex blue, and purple matt.
*This post has affiliate links, which means we may receive a small commission if you choose to purchase through links we provide (at no extra cost to you). As an Amazon Associate we earn from qualifying purchases.
JD Bug Jr Street Scooter MS100